Finder is committed to editorial independence. While we receive compensation when you click links to partners, they do not influence our content.
Sonos One review: a smart speaker with solid audio
A smart speaker built for streaming.
Pros and cons
Superb audio quality
Alexa and Google Assistant integration for smart home control
Sonos app works well across streaming services
No Alexa calling
Bulky design
No Bluetooth compatibility
Annoying process to switch Wi-Fi networks
With Sonos' recent move to enable Alexa and Google Assistant, the brand joined the growing list of smart speakers that don't just stream music, but can also control your smart home gadgets, check your bank balance and set timers, to name just a few functions.
So how well does Sonos One stack up against the competition? This smart speaker stands out in the market by offering solid sound first, with assistant capabilities as a secondary feature.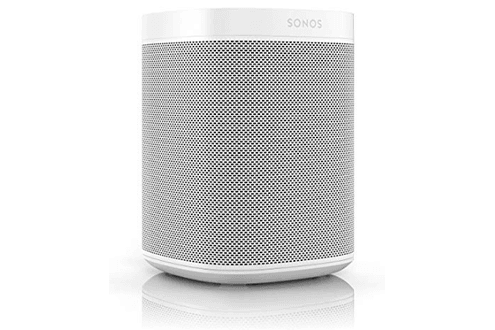 Sonos One: Design
Like Apple, Sonos tends towards understated designs, with minimal "flashy" features and much more of a home decor feel. The result? The Sonos One looks somewhat like Apple's HomePod, but slightly stodgier.
Its design should suit most homes and works the same as the Sonos Play:1 speaker, but just in new white or black finishes.
The Sonos One has simple touch controls at the top, and power and a 3.5mm audio socket at the rear. It's layout is uncluttered and works fine if physical controls are what you crave. But tapping a wireless speaker eludes me.
The Sonos One measures 6.4 x 4.7 x 4.7 inches, and at four pounds can get heavy if you carry it from room to room. But once mounted, the weight gives the speaker robust sound quality.
Sonos One: Audio performance
For years, Sonos focused on its multi-room proprietary mesh solutions for matching up speakers and allowing access to as many music sources as possible.
The Sonos One is no exception: It relies on the Sonos app for control and music selection, outside of using voice-controlled selections.
The Sonos app lets you control multiple Sonos devices, although for testing, I only had the Sonos One. But in theory, you can jam to your favorite tunes on multiple Sonos speakers.
Even with its most basic settings, the Sonos One sits at the top of the audio quality tree — making it a true competitor to Apple's HomePod speaker.
Apple's speaker has a very slight sound edge over the Sonos One, but it's pretty marginal. Unless you're putting them side-by-side, Sonos One's audio quality will please most listeners. That's especially true when using streaming services, because you're faced with audio compression anyway.
Also, while the HomePod only talks to Apple Music, Sonos One can talk to Spotify, Google Play Music, Amazon Music and many more.
Sonos' companion app also allows you to search local sources for music and, like any other Sonos speaker, you can set it up as part of a home audio system. If you have two Sonos One speakers, you can set them up as a stereo pair.
I found that the Sonos One did a great job showing the dynamic range in tunes like Prince's classic Purple Rain, from the opening guitar riff all the way through to the closing wails. The crescendo at the end of David Bowie's Life On Mars sounded superb through the Sonos One, while the thumping beats and digital sound of the Beastie Boys' Intergalactic had just the right amount of oomph.
One drawback to the Sonos One is that it doesn't include Bluetooth support. So you'll have to use the Sonos app on the same Wi-Fi network if you want to use the speaker outside of its digital assistant features.
Sonos One: Digital Assistant performance
The Sonos One is Sonos' first assistant-enabled speaker, now integrated with both Amazon Alexa and Google Assistant.
Because these assistants aren't inherently baked in, you'll need to enable them as a skill on each Sonos One device. Sonos' instructions on how to do so are clear enough, but it took me three attempts to actually get the Alexa app running on my unit.
It's also irritating that to change the Sonos One's Wi-Fi network, at least one Sonos device has to be plugged into your router via an ethernet cable. Want to simply search for fresh Wi-Fi networks and connect to those? Sorry, you can't do that.
One nice upside of the Sonos One's improved speaker is Alexa sounds significantly less robotic than on Amazon's own speakers. Putting the Sonos One side-by-side with the Amazon Echo Spot, the difference was startling. You're still not likely to mistake Alexa for a real person yet, but the Sonos One Alexa experience is more soothing.
There are, however, some small limitations to the Sonos One's Alexa implementation. It's not compatible with the calling feature found on Amazon's own Echo speakers. It's also not capable of taking a command to read Audible audiobooks, although you can manually start those up from the Sonos app.
The Sonos One concentrates on music first. Adding smart features to what was already a great speaker makes for a great product. You can get cheaper smart speakers, but for the asking price, the Sonos One is hard to beat.
Sonos One: Pricing and availability
The Sonos One (Gen 2) is available for $199.
Sonos One: Alternatives
If you like Sonos for its music quality, look into creating an entire Sonos ecosystem in your home, including standalone speakers, soundbars and amp connections.
In the smart speaker space, Apple's HomePod is its competitor. It's a fine choice if you're heavily into the Apple ecosystem. But it can be limiting.
Sonos One: What other reviewers say
| Site | Comment | Score |
| --- | --- | --- |
| TechRadar | "Sonos' debut Alexa speaker is a cleanly designed, feature-rich and great-sounding device that brings together the best of both ecosystems." | 4.5/5 |
| The Guardian | "The company's first foray into smart tech adds Amazon's Alexa to a great wireless speaker to create a formidable combo." | 5/5 |
| Engadget | "If you want clearer music than you can get from an Echo or Google Home, look no further." | 5/5 |
| What Hi-Fi | "Essentially, the One is a Play:1 with Alexa built in, and that's a fine combination in our book." | 5/5 |
| Trusted Reviews | "If audio quality is important to you, and you like the hands-free assistance of the Amazon Echo, this is a match made in silicon heaven." | 4.5/5 |
| CNET | "Alexa gets the sound quality she deserves." | 4.5/5 |
Sonos One at a glance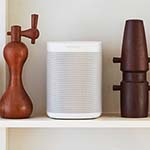 What is the Sonos One? The Sonos One is a home speaker for streaming music over the Intenrnet and the company's first with Alexa digital assistant support.
When did the Sonos One come out? The Sonos One launched in the US in October of 2017.
How much does the Sonos One cost? A single Sonos One (Gen 2) speaker is $199, though twin packs can be purchased at a discounted rate.
More guides on Finder