Finder is committed to editorial independence. While we receive compensation when you click links to partners, they do not influence our content.
Review: Remitly money transfers
Enjoy quick, easy money transfers with competitive exchange rates and straightforward fees.
Good for for inexperienced users with a helpful customer service team.
Not always the lowest prices, so always compare.
SGD 0
Min. Transfer Amount
SGD 20,000
Max. Transfer Amount
Details
Min. Transfer Amount
SGD 0
Max. Transfer Amount
SGD 20,000
Transfer Methods
Online, Bank Account to Bank Account, Cash Transfer
Transfer Speed

Minimum transfer time

Same day
Online Transfer Fee
SGD 4.99
Available Currencies
ALL, AMD, ARS, AUD, AZN, BAM, BBD, BDT, BGN, BIF, BMD, BOB, BRL, BYN, CLP, CNY, COP, CRC, CZK, DOP, EGP, ETB, EUR, FJD, GEL, GHS, GMD, GNF, GTQ, GYD, HKD, HNL, HRK, HTG, HUF, IDR, ILS, INR, JMD, JOD, JPY, KES, KGS, KHR, KMF, KRW, LAK, LBP, LKR, LRD, MAD, MDL, MGA, MKD, MVR, MXN, MYR, NIO, NPR, PEN, PHP, PKR, PLN, PYG, RON, RSD, RUB, RWF, SGD, SLL, THB, TJS, TND, TRY, TTD, TZS, UAH, UGX, USD, UYU, UZS, VND, XAF, XOF, ZAR, ZMW
| | |
| --- | --- |
| Online Transfer Fee | SGD 4.99 |
Why should I consider Remitly?
Large network. Remitly is an online international money transfer service that allows people in the 17 supported countries, including US, Canada, Europe, Australia, Singapore and the UK to send money to over 50 countries around the world, with cash pickup possible at more than 140,000 locations worldwide.
Delivery promise. Remitly guarantees that your money will be delivered by a specified time or the fees are refunded.
Speed. Express options make it possible to have your money there faster, typically within a few minutes if you pay by credit card.
Diverse delivery options. Send money to bank accounts, for cash pickup, directly to a mobile wallet or even for home delivery in select markets.
Rewards. Remitly's referral program makes it possible to earn rewards by referring friends and family members.
What to be aware of
Low maximum limits. A limit of $5,000 is placed on all new accounts (tier 1), and you'll need more ID to increase daily, monthly and 180-day sending limits.
No hedging options. Remitly doesn't have recurring transfers, limit orders and any other hedging tools to help you save money by planning your money transfer in advance.
Inconsistent exchange rate margins. Different countries are charged different exchange rate margins, and the speed of your transfer also factors into the exchange rate you'll be offered.
Remitly's exchange rates and fees
Remitly's fees and exchange rates vary based on sending destination but typically depend on the following:
Amount. The amount you send may change the fee you are charged.
Destination. Sending money to popular destinations is often cheaper than sending it to more remote locations.
Payment. Paying with a bank account is usually cheapest.
Speed. Remitly offers Express transfers that are completed within minutes.
Remitly fees
Remitly's fees can vary based on the country you send from and to. For example, here are the fees charged by Remitly while sending from the Singapore to the Philippines when we checked on 30 July 2020.
Express: No transfer fees for any amount

when your recipient receives in Philippine Pesos.

Paid for with a debit card
Arrives almost immediately
Remitly exchange rates
Remitly updates its exchange rates daily to align with exchange rates on global markets, locking in the exchange rate you see at the beginning of your transaction.
For some countries, you'll find weaker exchange rates than those of competitors. When we checked on 30 July 2020, the following were the exchange rates for popular currencies offered by Remitly:
| | Mid-market | Remitly | Difference |
| --- | --- | --- | --- |
| IDR | 10,670.21 | 10,328.81 | 3.3% |
| INR | 54.39 | 53.55 | 1.6% |
| PHP | 35.72 | 35.45 | 0.8% |
New customers at Remitly
Every new customer gets a special offer on their first transfer with Remitly, which typically offers you stronger exchange rates and lower fees for a portion of your first transfer. Even if you aren't considering using Remitly consistently over time, taking advantage of its new customer promotions can be an easy way to potentially save money on a one-off transfer in its network.
Calculate how much your transfer with Remitly could cost
Choose your currency and how much you want to send in the table below to get an idea of what your transfer could look like.
Disclaimer: Exchange rates change often. Confirm the total cost with the provider before transferring money.
How long does a Remitly money transfer take?
For transfers from Singapore, Remitly only offer the Express option.
Express: As little as 10 minutes
Pay for your transfer with a credit or debit card. When using Express, you'll pay a higher fee but your money will arrive in as little as 10 minutes. However, your credit card may charge a cash advance fee, further increasing the cost of your total transfer.
Remitly offers a cheaper Economy option for other countries such as US and Canada, but this is unavailable in Singapore at the time of writing (30 July 2020).
What currencies can I send with Remitly?
Remitly transfers can be received in more than 50 countries, while users in over 17 countries can send transfers. You can check out the full list here, but the following are some of the most popular:
USD United States dollar
EUR Euro
INR Indian rupee
IDR Indonesia rupiah
MYR Malaysian ringgit
THB Thai baht
PHP Philippine peso
PKR Pakistani rupee
Is Remitly safe to use?
Remitly safeguards your money in a variety of ways:
Registering with regulatory agencies in the US, Canada, the UK and Ireland.
Protecting all transactions with 256-bit SSL encryption.
Monitoring accounts for suspicious activity manually and automatically.
Verifying new accounts to protect users from fraud.
Offering a 100% satisfaction money-back guarantee if your transfer arrives late.
What Remitly's reviews say
Ratings accurate as of 30 July 2020
| | |
| --- | --- |
| Trustpilot score | 4.5 out of 5, based on 28,171 customer reviews |
| CompareRemit | 3.5 out of 5, based on 482 customer reviews |
| BBB rating | B |
| Finder | 2.5 out of 5, staff reviewed |
| Monito | 7.7 out of 10, staff reviewed |
| NerdWallet | 4 out of 5, staff reviewed |
What payment methods does Remitly accept?
You can only make one-off transfers with Remitly. This provider supports international money transfers made from your laptop or mobile device. Money can be deposited to a bank account, delivered to a mobile wallet – like Google wallet – or made available for cash pickup.
For transfers from Singapore, you can only make payment via debit or credit card. Do note that funds may subject to a 3% fee charged by your credit card company if using a credit card.
How much can I send with Remitly?
Remitly's transfer limits are based on the tier you're approved for. To progress through Remitly's tiers to higher maximums, you need to provide more personal information and an ID:
Tier 1. Send up to $5,000 daily, $15,000 monthly and $30,000 every six months.
Tier 2. Send up to $15,000 daily, $30,000 monthly and $60,000 every six months.
Tier 3. Send up to $45,000 daily, $90,000 monthly and $180,000 every six months.
Custom tier. You can speak with a representative to discuss custom sending limits, depending on your needs.
What do I need to send money online through Remitly?
Sending money with Remitly will require the following documentation and information:
Contact information. Your full name and contact information are needed. If you're transferring money from your bank account, you'll also need your banking information.
Proof of ID. A government-issued ID, such as your NRIC, driver's license or passport.
Recipient information. Be prepared with your recipient's name and contact information. If you're transferring to a bank account, you'll also need their bank name, SWIFT code and account number.
Payment method. A valid debit or credit is necessary for all transfers.
| Information needed | Tier 1 | Tier 2 | Tier 3 |
| --- | --- | --- | --- |
| Full name | X | X | X |
| Residential address | X | X | X |
| Date of birth | X | X | X |
| Government-issued photo ID | | X | X |
| Additional information on source of funds | | | X |
| Additional information at request | | | X |
What are the ways I can send money with Remitly?
Remitly offers a wide range of delivery options that are dependent on your sending destination. Remitly's delivery methods include:
Bank deposit: Delivery funds directly to your recipient's bank account.
Cash pickup: Delivery funds to a cash pickup location, just be sure that your recipient brings ID that matches the name on the transfer.
Mobile money: Delivery funds to a mobile wallet, such as GCash and PayMaya in the Philippines, HellowCash in Ethiopia and similar options.
How to make my first transfer with Remitly
Send money quickly from your computer or mobile device with these steps:
Log in or create a free account. Register with an email address, your personal information and your date of birth.
Send money. Choose your recipient's country and enter how much you're sending.
Enter recipient's information. Provide your recipient's name and contact information, including their mobile phone number. If you're sending a bank deposit, also enter your recipient's banking details.
Choose your payment method. Pay with your bank account, credit card or debit card.
Confirm your transaction. Click "Send Money" to complete your transfer.
Check your mobile phone. Remitly will send text updates on your transaction to your phone.

Our experience with signing up
Signing up with Remitly was straightforward and took me less than five minutes total. I had all of my information on hand and ready to go before signing up, including a photo of the front and back of my ID. Here are some key takeaways:
Did I have to interact with customer service? No, everything was done through the website automatically.
How long did it take? The entire process took less than five minutes. It helped that I already had photos of the front and back of my ID saved on my computer.
What was unexpected? The rates offered to new customers are different than the standard rates offered by Remitly, so chances are your first transfer will be cheaper than future transfers.
How to track a Remitly transfer
To track your Remitly transfer you'll need to log into your account or contact customer service by phone.
Online: To track your Remitly transfer online, log in to your account and look for the Transfer history section on the page. This section will display the status of past and current transfers.
By phone, email or chat: To track by phone, email or chat you'll provide the customer service representative with details of your transfer, including the amount sent, the destination and personal information about your account.
Is there a Remitly app?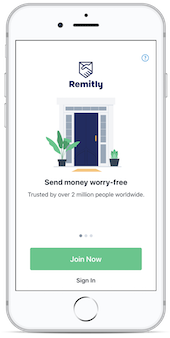 Yes, Remitly has an app on both Google Play and the App Store. The app makes it possible to do the following:
Log in using biometrics. Both face and fingerprint recognition can be used to log in.
Check Remitly exchange rates on the go. Current currency exchange rates and fees can be found in the app.
Share order details with your contacts. Sending key order information to your recipient can be done with just a few taps.
| Reviews accurate as of 30 July 2020 | |
| --- | --- |
| Google Play Store | 4.7 out of 5, based on 64,000 customer reviews |
| Apple App Store | 4.8 out of 5, based on 242,300 customer reviews |
More on the best money transfer apps
Bottom line
If the country you want to send to is supported, Remitly is worth checking out. With its two-speed system, it makes the choice of speed versus fees a straightforward one. However, it is always a great idea to compare your options before making any transfer since you never know how much fees and exchange rates have changed.
See how Remitly compares to other services
Our table below shows you the exchange rate and fees for other money transfer specialists.
Disclaimer: Exchange rates change often. Confirm the total cost with the provider before transferring money.
Frequently asked questions
Why did Remitly cancel my transaction?
Remitly may have cancelled your transaction for a variety of reasons, including:
You had insufficient funds in your bank account to pay for the transaction.
Your account or transaction was flagged for suspicious activity.
The name on your account didn't match your payment details.
The recipient's bank refused the transaction.
Contact Remitly support to find out the next steps needed to complete your transaction.
How does Remitly make money?
Remitly makes money two ways:
Fees: Remitly charges a fee to use its money transfer service.
Mid-market markup: Remitly makes a small percentage on transfers by adding a margin to the mid-market rate.
Remitly has no retail outlets, which helps keep overall costs lower than competitors like Western Union and MoneyGram.