Finder is committed to editorial independence. While we receive compensation when you click links to partners, they do not influence our opinions or reviews. Learn how we make money.
Review: The Build Card
Please note: This card has been discontinued, and it is not available on our site.
Get this card if… your credit score is between 300 and 600 and you've exhausted other loan options.
Pick something else if… you don't want to pay an annual fee or if your credit score is fair or better.
Recommended credit range to apply: 300 to 600 (poor)
Discontinued product
This card has been discontinued, and it is not available on our site.
Compare other credit cards
or
take Finder's credit card quiz
to find one that fits your needs.
The basics
People with poor credit have few options for unsecured cards. Most lenders are simply unwilling to take a chance on so-called subprime borrowers.
The issuer of The Build Card — a company called FS Card — takes a different tack. Rather than shy away from customers with poor credit, it actively scopes out "deep subprime" borrowers with credit scores of between 300 and 600. To be clear, you can't apply for The Build Card on a whim: You must be invited by FS Card.
The Build Card is a mixed bag of positives and negatives. On one hand, it's an unsecured card, so it doesn't require a security deposit
like a secured card does
. It also comes with a respectable $500 starting credit limit.
On the other hand, you'll have to pay $125 to open the card (a $53 one-time account set-up fee and a $72 annual membership fee). The card also offers no grace period before charging you interest on purchases — a significant downside and something that is rare for credit cards in general.
How does credit card interest work?
Ultimately, it's best to consider The Build Card only if you're in a serious cash crunch and have no other options but to borrow money. The card comes with a high 29.9% variable APR for purchases and cash advances, but that's better than what you'll get with a payday loan (as long as you pay your balances in good time).
If your primary goal is to build credit, strongly consider passing on The Build Card. A secured card will likely be a better option — you'll need to put down a security deposit, but the money will still be yours. Many excellent secured cards have no annual fees and require low deposits.
The perks
No security deposit needed.
The Build Card is an unsecured card, so you don't need a security deposit to get a credit line.
You'll also like …
No foreign transaction fees.
You can use your card overseas without incurring fees.
No over-limit fees.
If you tend to spend over your credit limit, you'll like that The Build Card doesn't charge over-limit fees.
What to watch out for
Account setup fee.
When you open your card account, you'll pay a one-time fee of $53.
Annual fee.The Build Card charges a $72 membership fee for the first year. Starting the second year, you'll pay a membership fee of $6 per month.
No grace period on interest.
You'll start accumulating interest on your purchases and cash advances immediately. This is a big difference from other cards, which typically offer grace periods of 20 days or more. To avoid accruing too much interest, do not carry a balance on your card for long.
No balance transfers.
You can only use The Build Card for purchases and cash advances.
It hurts to pay late.
Making late or returned payments could result in fees as high as $35.
What should I know before I apply?
Currently, you must be invited to apply for The Build Card. When you apply, you need to input the offer code that was sent to you.
What credit score do I need?
The Build Card targets cardholders with poor credit scores of 300 to 600.
If your credit score is higher than that range, consider a card for fair credit. If your credit score is lower than that range, look for a secured credit card — and especially consider one that doesn't require a credit check.
How to apply for The Build Card
After you receive your offer code, click the Respond To Offer link on The Build Card website.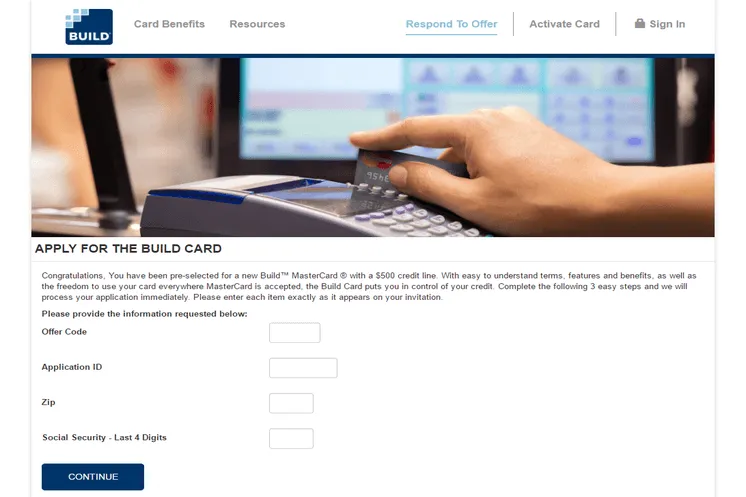 Enter your offer code, application ID, ZIP code and Social Security number, and proceed to the application, which will ask you for personal information like your contact details and annual income.
I got the card — now what?
Online access. Create an account at The Build Card website, where you can manage your card account.
Making payments. There's no grace period on interest — you'll start accruing interest immediately after you make a purchase or cash advance. That said, it's a good idea to pay off your balances quickly.
Avoiding fees. Late and returned payments come with hefty fees of up to $35.
Customer service. For support, call 1-800-634-9558 or access Build's text message service by texting HELP to 88100 anytime.
Compare low score credit cards
Bottom line
The Build Card is a rare unsecured card that targets people with poor credit. However, it's expensive and significantly hampered by its lack of a grace period on interest. That being said, a
credit card designed for people with poor credit
could be the first step in repairing or building your credit.
Frequently asked questions