Finder is committed to editorial independence. While we receive compensation when you click links to partners, they do not influence our content.
Quill discount and promo codes
Best deal: Free Shipping on any size order at Quill.com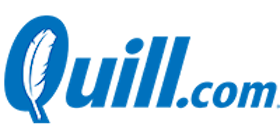 Busy business bees don't always have the time to break for the nearest office-supply store during the workday, especially if those supplies are to support smaller businesses. Acquired by office-supply giant Staples in 1998, Quill is an online shop offering more than a million supplies to keep your office humming. Unfortunately, all HP and Epson products are excluded from coupons, discounts, and cash back offers.
Quill discount and coupon codes
What can I buy at Quill?
Quill sells nearly anything today's offices need, from paper clips and staplers to snacks and cleaning supplies. If your business involves patient care, a special division of Quill carries healthcare and medical supplies.
Office supplies
Paper
Pens, pencils and markers
Folders and filing systems
Desk accessories and organizers
Envelopes and binders
Calendars and planners
Storage and organization
Sticky notes, notepads and labels
Clips and fasteners
Stamps
Tape
Bags and briefcases
Ink and toner
Coffee and snacks
Coffee
K-Cups
Creamer
Sweeteners
Stirrers and straws
Cups, plates, bowls and cutlery
Candy, gum and mints
Water
Soda, juice and energy drinks
Party supplies
Coffee makers
Cleaning supplies
Paper towels
Toilet paper
Tissues
Soaps, sanitizers and skincare
Dispensers
Cleaning chemicals and supplies
Trash bags and cans
Mops, brooms and buckets
Carts
Cleaning gloves
Floor mats
Air fresheners
Vacuums
Light bulbs
Locking devices
Safes
Furniture
Boards and easels
Bookcases and bookshelves
Carts, stands and racks
Chairs and seating
Chair mats
Cubicles and panel systems
Décor, clocks, lamps and writing
Desks
File cabinets
Fireproof cabinets
Safes and secure storage
Standing desks
Tables
Healthcare supplies
Bandages
Dental
Diagnostic and exam instruments
Exam gloves and dispensers
Exam table paper
Furniture
Infection control
Medical coding and billing
Office and patient management
RX prescription pads
Stamps
Topical analgesics
Wound care
How do I use my promo code?
To use your Quill promo code, follow these steps.
Visit the Quill website.
Add the items you'd like to buy to your cart.
Click View cart to continue.
Click Proceed to checkout to continue.
Choose to check out as a guest, sign up or log in.
Enter the code in the box, then click Apply.
Why is my code not working?
If the site doesn't accept your discount, your promo code could be expired, not available in your country or case-sensitive. If you have questions about your promo code, contact Quill directly.
Shipping, delivery and payments
Can I get free delivery?
Orders delivered within the continental US are shipped free with a purchase of $45 or more. Items listed as shipping additional are excluded from free shipping.
Expedited shipping costs extra, as do deliveries to Alaska, Hawaii and the US territories.
Shipping costs
Orders of $45 or more ship free. Orders of under $45 are charged a flat $7.99 per order.
Second-day, overnight and other expedited delivery options are available, though shipping costs vary by order.
How can I track my order?
You can track your package the morning after it ships from your online account. Simply log in and click View order history/tracking to see track the progress of your orders.
Payment options
Pay securely online with Visa, Mastercard, American Express or Discover. To support government agencies, Native American tribal governments and similar organizations, Quill also accepts GSA SmartPay.
If you own a business, you might qualify for a Quill.com Open Account that offers net-30 terms payable by mail or online, subject to credit approval.
What is Quill's return policy?
You can return or exchange most items within 30 days, with a few exceptions. You'll have 14 days to return technology and business machines, computers, laptops, notebooks and tablets. Ink, toner and software must be unopened in their original packaging to be accepted for a return.
Are Quill returns free?
Yes! Print a prepaid label to return your items at no cost. If you can't find your order number, call a Quill customer service representative for returns assistance.
Can I exchange products for a different item?
Yes. Simply request a replacement item at the time of your return, and Quill will accommodate you.
How do I return items to Quill?
Quill offers convenient online returns from your online account. Simply follow the prompts, print your prepaid shipping label and send off your return.
When's the next Quill sale?
You can sign up for exclusive offers from Quill to learn by email when a sale is going on.
We also recommend checking out Quill's ongoing Promotions in the site's footer. You'll find limited-time deals, coupons and free gifts tucked away there.
What sets this brand apart?
Quill understands the needs of the small to midsize businesses that rely on the brand for everyday business needs. It's designed to offer an easy way to shop through a cleanly organized site, offering free shipping and returns without opening an account.
If you work for any of the more than 550 government agencies and organizations that use GSA SmartPay, Quill integrates this commercial service into its site for convenient payments.
What do customers say online about Quill?
Several reviewers complain that Quill offers subpar customer service. Complaints include shipping delays and difficulty returning items, although extenuating circumstances were typically involved. However, an equal number of purchasers compliment Quill on its customer service expertise.
Many businesses have a working relationship with a local Quill representative, and customers seem to have different experiences. Some claim reps are either very helpful or unresponsive to questions or issues. Overall, your experience may vary.
What is Quill's history?
Quill was founded in 1956, when Jack Miller borrowed $2,000 from his father-in-law to start a business out of the back office of his father's poultry shop. In 1996, the company launched Quill.com, jumping eagerly into the forefront of online retail. The company was acquired by Staples in 1998, and accounts for about one quarter of the company's profits. Today, it serves more than 1 million customers.
What about social media?
Connect with Quill on Facebook, Twitter or LinkedIn. It tends to duplicate content across its social media channels. But if you need lighthearted motivation at the office, it could be a great addition to your feed.
How can I contact customer support?
Connect with Quill's support team weekdays from 7 a.m. to 9 p.m. CT or Saturdays from 7:30 a.m. to 4 p.m. at 800-982-3400 or through the site's online chat.
If you have the time, contact Quill through a secure online form for an answer within a few business hours.
If you'd rather send a letter, fax it to 800-789-8955 or send it to:
Quill LLC
100 Schelter Road
Lincolnshire, IL 60069
Why should I shop at Quill?
Pros
Free shipping and returns. You'll get free delivery within the continuous US on orders of $45 or more with the option to return items for free.
Net-30 terms available for businesses. If you own a small to midsize business, you might qualify for Quill's Open Account.
Supports GSA SmartPay. Government agencies, Native American tribal governments and similar organizations can conveniently order and pay for supplies through Quill.
Cons
Some negative online reviews. A few customers report poor customer service.
Potentially slow delivery. Some customers report slow delivery.
Bottom line
Quill offers an enormous range of office supplies to keep you in business, including organizational products, cleaning supplies and snacks. If you don't want to pay extra for overnight delivery, consider ordering online from Office Depot and picking your order up at a local store.
Frequently asked questions
How many promo codes can I use per order?
You can use up to five codes, though not all codes allow for stacking within the same order.
How can my tax-exempt organization shop with Quill?
Send documentation of your organization's status to Quill's tax department for approval to shop tax-free:
Email to tax.exempt@quill.com
Fax to 800-499-8805
Mail to:
Attn: Quill Tax Department
Quill LLC
PO Box 102412
Columbia, SC 29224
Do Quill Brand ink and toner products come with a warranty?
Yes. All Quill Brand ink and toner cartridges include a lifetime warranty.
More guides on Finder