Finder is committed to editorial independence. While we receive compensation when you click links to partners, they do not influence our opinions or reviews. Learn how we make money.
Oneworld Alliance
Book round-the-world flights and enjoy frequent flyer benefits across Oneworld Alliance network.
Oneworld Alliance is designed to give you seamless flight options and frequent flyer privileges when you travel around the world. It has 13 partner airlines – including American Airlines, Qantas, British Airways and Cathay Pacific – and many affiliated brands. In 2018, it also launched the Oneworld connect program to bring more airlines into the alliance.
Smoother flight connections and similar perks and rewards across its partner airlines are standard within Oneworld Alliance. This includes lounge access and the opportunity to use your miles for round-the-world trips.
What you'll find in this guide
Which airlines belong to the Oneworld Alliance?
British Airways
Cathay Pacific
Finnair
Iberia
Japan Airlines
LATAM
Malaysia Airlines
Qatar Airways
Royal Jordanian
SriLankan Airways
S7 Airlines
New Oneworld Alliance member: Royal Air Maroc
In December 2018, the Oneworld Alliance announced Royal Air Maroc as the newest member its network. While an official launch date for the partnership hasn't been set, Oneworld expects it to be around mid-2020. This will make Royal Air Maroc the first full member in Africa, as well as the first new member to join the alliance since 2012.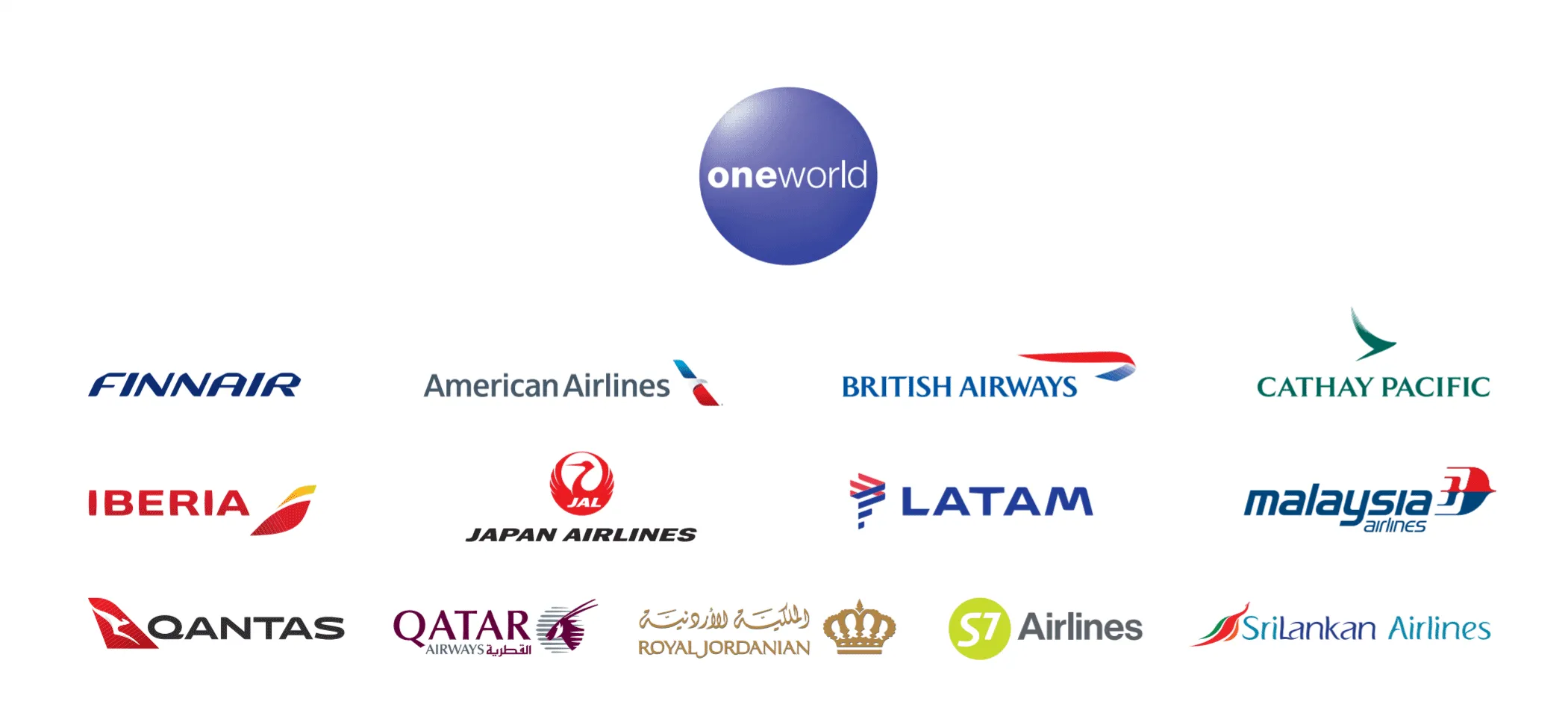 Oneworld connect
In 2018, Oneworld launched a new platform called Oneworld connect — which allows smaller airlines to join the network.
If you're a frequent flyer member of one of the 13 full alliance members, Oneworld connect allows you to enjoy status benefits and frequent flyer perks through even more airlines.
The first Oneworld connect partner is Fiji Airways, with the partnership officially beginning December 5, 2018.
The benefits for Oneworld travelers are being phased in over time, starting with priority check-in for guests with Ruby, Sapphire or Emerald status through any Oneworld member airline's reward program. If you have Sapphire or Emerald status, you can also enjoy priority boarding when traveling with Fiji Airways, as well as lounge access options if your status is held with American Airlines, British Airways, Cathay Pacific or Qantas.
Oneworld affiliate airlines
The Oneworld Alliance also has a number of affiliates operating in conjunction with main member airlines.
For example, while American Airlines is a full member, the regional-focused Compass Airlines and Envoy Air are affiliates. These affiliates extend the network of carriers and flights you can choose from when booking travel through the Oneworld Alliance.
What are the benefits of flying with Oneworld Alliance partners?

The airlines that make up this alliance have banded together to give you more options when you want to travel overseas, including flight connections and partnerships that allow you to visit a wider range of destinations.
Global travel options
Collectively, Oneworld partner airlines fly to more than 1,000 destinations in over 150 countries around the world. This means partner airlines can offer you a wider range of overseas flight options and keep your checked baggage from start to destination.
Round-the-world reward flights
One of the most popular benefits of Oneworld Alliance is the ability to use your airline miles to book round-the-world trips. Reward flights can offer a high level of value compared to other options by letting you visit more destinations.
For example, an economy round-the-world flight with Oneworld Alliance might cost $4,000 including fees and taxes and have five stops. The actual pricing varies depending on a number of factors.
Airport lounge access
Oneworld Alliance gives you access to a wider range of lounges when you're traveling in business or first class, or if you have an eligible level of frequent flyer status with a partner airline.
Depending on your frequent flyer status and the flights you take, this could give you a way to enjoy lounges in airports even when they're operated by a different airline than the one you're traveling with.
Airline miles
If you have an airline rewards membership with a Oneworld airline, you can also earn airline miles when traveling with any partner – as long as the fare is eligible to earn miles. You'll also be able to use your miles to fly with any member airline, provided there's a seat available.
Is there a Oneworld credit card?
No, you won't find a Oneworld credit card. However, if you join a reward program with any of the Oneworld Alliance member airlines, you get to earn and redeem miles across Oneworld flights.
Which US airline is part of the Oneworld Alliance?
American Airlines is currently the only member of the Oneworld Alliance in the US. A cobranded AAdvantage credit card can act as your Oneworld credit card for flights within the alliance.
Compare airline credit cards
Oneworld Alliance status levels
Each Oneworld Alliance airline has its own reward program with different status levels based on how often you fly. The names for these status levels are different depending on your reward program, so Oneworld has established three status levels that allow you to get similar benefits when you fly with a partner airline.
Oneworld status benefits
Ruby
Priority check-in for business class
Preferred or pre-reserved seating
Priority waitlists
Sapphire
Ruby level benefits, plus:
Business class lounge access
Priority boarding
Extra baggage allowance
Priority baggage handling
Emerald
Ruby and Sapphire level benefits, plus:
Priority security checks at selected airports
Priority first class check-in
First class lounge access
Some of these benefits are subject to availability based on the airports you're visiting and your fares.
What are the different Oneworld status levels for American Airlines frequent flyers?
If you own a cobranded American Airlines credit card and want to know what status benefits you'll get with other Oneworld airlines, here's a look at how it matches up:
| American Airlines AAdvantage status | Oneworld status |
| --- | --- |
| AAdvantage member | None |
| AAdvantage Gold | Ruby |
| AAdvantage Platinum and Platinum Pro | Sapphire |
| AAdvantage Executive Platinum and ConciergeKey | Emerald |
Bottom line
Oneworld Alliance makes it easier for you to travel around the world with a network of airlines that offers frequent flyer perks. However, similar airline networks around the world exist, including the Star Alliance and individual airline partnerships. It's still worth looking at other options to find the best fares and benefits before you book your next trip.
Frequently asked questions
Back to top
Image: Shutterstock