We review the best EOS wallets to help you safely store your EOS tokens.
Designed as a scalable and user-friendly version of Ethereum, EOS is a platform for the development of decentralised applications (dapps). EOS coins (EOS) are the native token of the platform, and this cryptocurrency is firmly established as one of the 10 biggest digital currencies by market cap.
If you're planning on buying any EOS, you'll need to find a safe and secure wallet where you can store your coins. There are several options to choose from, so let's take a closer look at the best wallets and the key features they have to offer.
Disclaimer: This information should not be interpreted as an endorsement of cryptocurrency or any specific provider, service or offering. It is not a recommendation to trade.
Compare wallets for EOS
What to look for in an EOS wallet
To ensure that you find a safe and secure EOS wallet, remember to look for the following features:
Mainnet support. Check the fine print of any wallet you're considering to make sure it supports EOS mainnet coins. It's also worth checking whether the wallet will support free airdrops from other crypto projects to EOS holders.
Security features. Ensuring the security of your EOS coins is hugely important. Check what features a wallet offers to protect your funds against hacking and theft, such as 2-factor authentication, advanced encryption and more.
Private keys. You need your private key to be able to send and receive funds using your cryptocurrency balance, so look for a wallet that allows you to retain control of your private key at all times.
Continued development. Make sure that any wallet you choose is continually being upgraded and developed with new features and improvements. This will help ensure that it's as functional as possible and provides protection against the latest security threats.
Customer support. Will you be able to quickly get in touch with the wallet provider's support team if you ever experience any problems? Does the team promptly (and helpfully) respond to customer queries?
Positive reviews. Finally, check out independent reviews from the users of a wallet. Would they recommend it to others? Is it backed by a strong development team? Does it have any security flaws?
Considering these issues will help you narrow the field down to a selection of suitable wallets. Now let's take a look at some of the best wallets for storing EOS coins.
EOS-compatible wallets
EOS and ERC20-compatibility
Since the full release of the EOS platform in June 2018, EOS is no longer
an ERC20 token
on the Ethereum blockchain. If you're choosing a wallet to store your EOS tokens, ERC20-compatibility is no longer relevant criteria to consider.
Infinito Wallet (mobile wallet)
Easy to use, supports multiple coins and tokens, available on iOS and Android
Not as secure as an offline wallet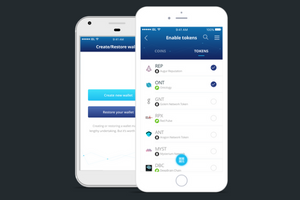 Infinito Wallet is a universal mobile wallet that allows you to store an extensive range of coins and tokens. Not only does it support EOS mainnet coins, it also lets you store bitcoin, Ethereum, Bitcoin Cash, Litecoin, NEO NEP-5 tokens and all
ERC20
tokens.
With Touch ID support, Infinito Wallet offers fast and convenient access to your cryptos without sacrificing security. This multilingual app will also support 12 languages by the end of Q3 2018, and offers an intuitive interface that novice users should be able to understand quickly. Your private keys remain on your device, and your passphrase and private keys are fully encrypted.
And with a host of positive reviews from Android and iOS users, Infinito Wallet is well worth checking out for anyone looking to store EOS alongside a range of other currencies.
---
SimplEOS (desktop wallet)
High level of security, supports multiple cryptocurrencies, secure and easy to use
Not multi-currency as it only supports EOS and mobile version still to come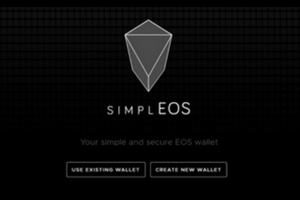 Developed by EOS Rio, an EOS Block Producer candidate based in Rio de Janeiro, SimplEOS is a wallet made for the sole purpose of interacting with the EOS ecosystem. It's completely integrated with all features of the EOS.IO software and is compatible with Windows, Mac and Linux operating systems.
Once downloaded, SimplEOS makes it easy to send, receive and store EOS coins. It offers multiple accounts support, is compatible with EOS airdrops, and includes a voting portal.
Of course, if you want to store coins and tokens other than EOS you'll need to look elsewhere. Support for secure delayed transactions and mobile wallets for iOS and Android are listed as upcoming milestones in the SimplEOS roadmap, so it's another wallet well worth considering.
---
Scatter (browser extension)
Security, convenient EOS management, positive user reviews
A little confusing for new users, desktop app still in beta phase
Scatter is a browser extension for Google Chrome that allows you to interact with the EOS blockchain. Through the use of Single Sign On (SSO) using asymmetric encryption, it allows you to sign transactions and log into applications without ever having to expose your private key or personal details.
When you use Scatter, all your important data is stored on your device. When Scatter does send any data to a blockchain, it's only transmitted as a "hashed fingerprint", which is an irreversible jumble of characters and numbers.
Scatter currently supports the EOS and Ethereum blockchains, but more will be added in future. While the setup process is easy, newcomers to blockchain and digital currency might find it a little difficult to wrap their head around. A desktop version is also in the works, but was in the beta phase at time of writing (July 2018).
---
Greymass eos-voter (desktop wallet)
Has all the tools you need to manage your EOS coins, supports full interaction with the EOS blockchain
Other options may be better suited to beginners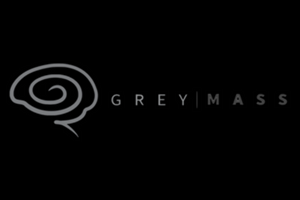 The last wallet on our list is this desktop offering from block production firm Greymass.
Greymass eos-voter supports full interaction with the EOS blockchain in the form of smart contracts. Available for Windows, Mac and Linux operating systems, it lets you transfer and store EOS coins, vote for Block Producers, as well as stake your EOS as either Bandwidth or CPU. All transactions are signed within the app, which means your private key is never transmitted, and there's a temporary usage option if you'd rather not store your keys within the application.
However, before deciding whether it's the right wallet for you, compare its user interface with the interfaces of some of the other options in this list to see how it stacks up against the competition.
Storing EOS in an exchange wallet
If you've just purchased EOS, you may be considering storing your tokens on an exchange. For short-term storage, such as if you're planning to place a trade, this is an option worth thinking about.
However, for long-term storage, exchange wallets aren't recommended for two key reasons:
They're regularly targeted by hackers.
They usually don't allow you to retain full control of your private keys.
As a result, storing your tokens on a cryptocurrency exchange exposes them to security risks, so many crypto users recommend transferring your holdings off the exchange and into a secure wallet elsewhere.
Tips for securely storing your EOS
Want to keep your EOS or any other crypto coins and tokens as safe as possible? Remember these important tips:
Research before you transfer. Before transferring your EOS coins to any wallet, make sure you thoroughly research the pros and cons of the wallet to make sure it's right for you. Also be careful to only use wallets from reputable providers.
Watch out for scams. Hackers and thieves sometimes target crypto holders using fake websites with very similar URLs to those of official, reputable wallets. Double-check URLs before visiting sites and downloading any software.
Test it first. If you're using a new wallet, you may wish to transfer a small amount of cryptocurrency into it first to make sure it's safe, legitimate and works as promised. Once you're happy with its functionality you can then transfer a larger balance over.
Secure your wallet. While it might take a little time to set them all up, make an effort to use all the available security features your wallet provides. There's no such thing as too much protection, so switch all available protective measures on before storing any funds.
Update your antivirus protection. Make sure you've got the latest antivirus protection installed on any device you'll be using to access your wallet. Update it regularly to protect against new threats.
Pick your password carefully. When choosing a password, don't just phone it in; use upper and lower case letters, numbers and other characters to create a code that's essentially impossible to crack.
Check out our comprehensive guide to choosing a crypto wallet
---
Images: Shutterstock
At time of writing the author holds ADA, ICX, IOTA and XLM.