Finder is committed to editorial independence. While we receive compensation when you click links to partners, they do not influence our content.
Kitchen countertop DIY guide
Learn how to choose the right material factoring in details and cost per square foot.
There's a long list of important decisions to be made when renovating a kitchen. From fixtures and fittings to appliances, lighting and the color scheme, there are myriad of difficult choices you need to make to get your kitchen looking and feeling "just right".
One of the biggest decisions you'll need to make is selecting kitchen countertops. There is a huge range of different countertop surfaces available, each with its own pros and cons, and choosing the right one is crucial to the look and feel of your kitchen.
This kitchen countertop guide provides a look at the range of kitchen countertops available and how you can choose the right surface for your needs.
Welcome to the kitchen countertop selection guide
Laminate
Laminate countertops allow you to enjoy the stylish and sophisticated look of a wood or stone countertop for a fraction of the price. Consisting of layers of plastic laminate on a chipboard, ply or MDF board, laminate is available in a broad range of colors and effects – from wood-grain to marble- or granite-effect countertops.
This versatility, along with laminate's impressive affordability when compared with other options, makes it the most popular kitchen countertop option in the US. It's also quite easy to install and can stand up to a fair bit of wear and tear, while maintenance isn't too taxing.
On the downside, heat damage can be a problem, and laminate can sometimes scratch easily. And remember that once the top is damaged, water and other liquids can find a way in and cause the board underneath to swell.
However, for a stylish look at minimal expense, laminate is well worth considering.
How much does it cost?
$40-$65 per square foot.
Natural stone (including granite and marble)
There are few kitchen features more stunning than a natural stone countertop. Granite and marble are the two headline acts in this category, and both offer timeless elegance that is very hard to match with other options.
Granite is highly durable and can withstand a lot of punishment. Not only is it stylish, but it will also last for the life of your home. However, it needs to be sealed (and re-sealed regularly) to ensure it stays resistant to stains, it's heavy (and therefore difficult to install) and is not the most forgiving of surfaces if you drop your fine china. Unfortunately, granite is also quite expensive.
However, it's not as expensive as marble, which is the priciest option on the list. Marble looks spectacular and can add a touch of luxurious opulence to any kitchen. It's strong and durable and will stand the test of time, plus it offers unique color variations for individuality.
Like granite, marble also requires regular sealing and is quite heavy, which makes it difficult to install. However, if you're looking for a top-of-the-line countertop, you can't go past granite or marble.
How much does it cost?
Granite $45–$200 per square foot; marble $75–$250 per square foot.
How much does a dining room renovation cost?
Engineered stone (including quartz-based surfaces)
Along with laminate, engineered stone is one of the most popular kitchen countertop surfaces on the market today. There are a heap of different engineered stone options available, made from natural materials (quartz is most commonly used) that are combined with silicon or resin. They can also be referred to as composite stone countertops or reconstituted stone countertops, and sold under names like Caesarstone and Essastone.
Engineered stone surfaces are worth considering for a number of reasons. They offer the same attractive looks as natural stone but with the added benefit of being less porous than the real thing, meaning less maintenance is required. They also provide a sturdy, durable surface that stands up well to everyday wear and tear, and come in a wide range of colors and effects.
To top it off, the fact that they're made from crushed rock rather than large slabs like granite and marble countertops makes engineered stone options more affordable and they have a smaller carbon footprint.
However, chipping and excessive heat have been known to cause problems with some surfaces.
How much does it cost?
Average $55-$155 per square foot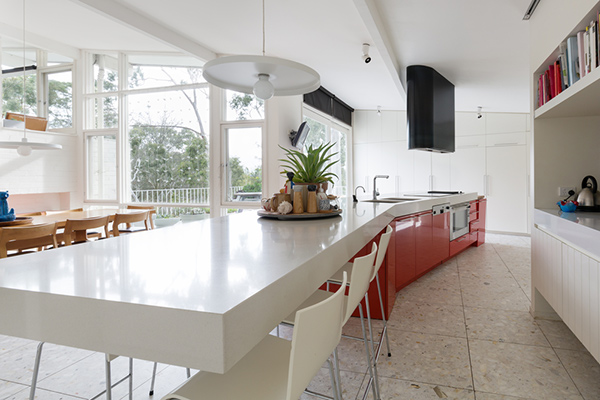 Stainless steel
A stainless-steel countertop is a unique option for kitchen renovators looking for a versatile and hygienic surface. It offers a stylish, industrial-chic look to provide a point of difference for the right kitchen and it's also perfect for food preparation – which explains why it's such a common feature in commercial kitchens.
Durable and resistant to stains, stainless steel also has great heat-resistant properties. It also allows you to incorporate the sink into the surface and create a completely seamless look.
However, it won't resist scratching and you will also notice that fingerprints show up quite quickly on this surface. Specialist stainless-steel cleaning wipes and cream can be used to help keep it looking neat and tidy, or you may wish to opt for a brushed or textured look.
It's not the cheapest option going around either, but it's worth considering if you're a keen chef.
How much does it cost?
$65–$100 per square foot.
Synthetic solid surface
Also referred to as acrylic countertops, solid surface countertops are becoming an increasingly popular choice among American renovators and home builders.
Made from an acrylic resin, these surfaces are versatile enough to be molded into just about any shape to suit your space. They're also available in an extensive variety of colors and textures, allowing you to create a look that's "just right".
Acrylic countertops are hard wearing and will stand up quite well to everyday use, and because they're non-porous they won't stain and are very hygienic. They're also easy to clean and very low maintenance, plus easy to repair if damaged.
However, these countertops have poor resistance to heat – you'll need to protect them from hot pots and pans – and aren't as affordable as some other options.
How much does it cost?
$50-$120 per square foot.
Compare personal loans for your kitchen remodel
Polished concrete
If you're looking for a low-maintenance countertop with a distinctive industrial look, polished concrete should be on your shortlist. This increasingly popular option can be constructed and finished in a range of different ways, allowing you to mimic a granite or marble look or even showcase concrete itself as a design feature.
In addition to its striking good looks, polished concrete is fairly hard wearing and will stand up to the punishment of everyday use for many years.
On the downside, concrete is porous, so it needs to be sealed regularly to protect against stains and heat damage. The labor costs involved in producing a polished concrete countertop mean it will usually cost more than an engineered stone surface.
How much does it cost?
$65-$105 per square foot.
Bamboo
Bamboo is an eco-friendly countertop surface option and also provides a unique, rustic look to any kitchen. Bamboo counters can be sealed with oil or polyurethane and can add warmth and character to your space.
Bamboo stands up well to heat damage and is also one of the more affordable options available. The fact that this type of countertop is made from a completely renewable source will also increase its appeal to environmentally conscious renovators.
However, scratching can be a problem for bamboo countertops and you'll need to make sure any spills are dealt with straight away so they don't cause lasting damage.
How much does it cost?
$30–$40 per square foot.
Tile
Tiled countertops are fairly rare but they do offer a number of advantages. The huge selection of tiles available means you can create a completely unique look and pattern that suits your design preferences down to the ground. Tiles also stand up well to heat damage and scratching, which is quite handy if you like to get messy in the kitchen. And if you can find the tiles you want at the right price, this option can be relatively easy on the budget.
Unfortunately, tiled countertops can be hard work to clean. The grout in particular can be a time-consuming cleaning task, and you'll need to have it sealed to keep the elbow grease required to a minimum.
How much does it cost?
Varies widely depending on tiles chosen.
Could a butler's pantry make your kitchen more functional?
Porcelain
Porcelain is a relatively new player in the world of kitchen countertops, so chances are it'll add a unique touch to your renovation project. Also known as sintered compact surfaces, porcelain countertops are very popular in Europe and on the rise in the US.
Manufactured from a blend of natural raw materials, porcelain countertops are as hard-wearing as they come and will withstand heat damage, scratching and stains. Since they're non-porous, porcelain surfaces are also a hygienic option, adding a degree of functionality to an already appealing option. They're available in a wide range of shapes, sizes and looks to help you create the feel and atmosphere you want.
However, porcelain is heavy and therefore difficult to install, and may be difficult to repair if you have any chipped edges or other flaws. With such a long list of benefits, porcelain is far from the cheapest option around.
How much does it cost?
$60-$100 per square foot.
Wood
The final countertop option on this list is a classic and still a favorite for many Americans. Wood countertops add warmth and a rustic country feel to a kitchen, making them a particularly popular choice for breakfast bars. This style also combines well with other materials, such as natural stone, and there are many options available to create the look you want.
Red Gum, Tasmanian Oak, Spotted Gum and Jarrah are just a few of the popular timber choices, but there are plenty more options available and cost varies widely depending on the type of wood you select. However, if it's properly sourced, wood can be a very environmentally friendly and affordable option.
If you damage a wood countertop, it can easily be sanded back and repolished, which is handy because it does stain and scratch fairly easily. Regular sealing is also required to keep it in tip-top condition.
But if you want to add a beautiful, natural design element to your kitchen, a wood countertop is well worth considering.
How much does it cost?
$30–$200 per square foot.
Apply for Financing
Choosing the right surface
As you can see, there are a number of options available when choosing the right countertop for your kitchen. To help make your choice easier, it's important to remember three main factors:
The look you want. From the grandeur of marble to the versatility of solid surface countertops, the looks you can create with different countertop surfaces are endless. Make sure you choose an option that suits your desired look and feel.
How much maintenance is required. While stone surfaces are beautiful, they need to be sealed regularly to protect against stains. Wood also has many benefits, but needs to be treated to ensure that it resists moisture and heat. Make sure you're aware of how much maintenance each surface requires before making your final choice.
The cost. Remember to consider the cost not only of purchasing the surface, but also of having it shipped to your house and installed. As the above info shows, the difference between a budget countertop and a premium option can have a huge impact on your bank balance.
More guides on Finder