Finder is committed to editorial independence. While we receive compensation when you click links to partners, they do not influence our content.
How to send money overseas cheaply
What's the most affordable way to send money overseas from India? Find out with this guide.
The best way to send money overseas for less is by using a dedicated money transfer service that has lower fees, more options and better exchange rates than what regular bank services offer. Before sending any money overseas from India, you must have a thorough knowledge of the various regulations governing foreign exchange remittances from India.
Definition: Best way to send money overseas
There is no single best way to send money overseas, and the best way for you may not be the best for someone else. There are other factors besides the exchange rate to consider when sending an international money transfer, including the transfer fees, the payment method, the speed of delivery and the level of customer service. One person may prioritise the exchange rate, while someone else may prioritise the payment method. You should consider a range of products when deciding which provider is best suited to your personal money transfer needs.
The following information will help you choose the best* money transfer service for your needs
Beware of the traps and pitfalls
You've probably noticed that the exchange rate you see reported in the media (known as the wholesale or mid-market rate) isn't the same rate you get when you make a transaction. Financial services providers make their profit on the margin added to this wholesale exchange rate.
With all this in mind, it pays to compare the products available to make sure you find the best overseas money transfer solution for you.
How can you transfer money overseas?
International money transfers let you send money quickly and securely to countries around the globe using different currencies. There are several ways you can transfer money overseas:
Online money transfer companies
These companies offer the quickest and cheapest way to transfer funds overseas, and they let you set up an online account to send your money electronically. It's a quick way to get your money where you need it to be, but you will need to be comfortable making financial transactions online.
Examples of companies that allow individuals to make online money transfers from India include FxKart, ExTravelMoney, InstaReM , UAEExchangeIndia, Thomas Cook India, BuyForexOnline or BookMyForex. Once you've created an account, these companies transfer these funds to your nominated account.
Some providers have a minimum transfer amount (approximately US$250-US$500), while other companies have no minimum. Other fees involved can include a transfer fee and transaction charges when the money is deposited at the other end.
Electronic funds transfer
You can transfer money to an overseas bank account straight from your own account subject to the transfer meeting Reserve Bank of India (RBI) regulations. This method is also known as an international money transfer, a telegraphic transfer (TT), a wire transfer or a SWIFT transfer. While this option is convenient and secure, it does have downfalls.
It may take several days for the money to go through and there are also a number of fees to consider. Your bank and the bank at the other end of the transaction could charge "sending" and "receiving" fees, while the exchange rate offered can have a huge effect on how much the transaction ends up costing you.
What's the cheapest* way to send money overseas?
Lock in a forward exchange contract
If you don't have enough funds available but want to secure a certain rate now, you can enter into a forward contract. This ensures that you get the lowest rate and the ability to purchase or sell your currency now, at the prevailing rate.
Settlement for the transaction happens on a pre-determined date in the future, depending on the conditions of the contract. Typically, you'll need to provide a deposit, which is usually a certain percentage, to be held as security to finalise the transaction. When the contract is implemented, you'll be required to send the remaining balance on the date stated in your forward exchange contract.
A forward exchange contract is similar to an "agree now, pay later" situation where you can lock in an exchange rate even if you don't have the money available. If rates go down, you won't be affected, but you may lose the deposit that you put in depending on the conditions of your contract. However, if rates improve and go beyond what you locked in, you may not be able to change your contract.
Not all Indian overseas remittance providers offer forward exchange contracts, so check with your provider whether they offer this facility.
Use a service that is fit for the amount you're sending
A lot of transfer companies waive their fees if you transfer over a certain amount. If you're transferring large amounts (thousands of dollars) , it may be best to use a transfer company. For smaller amounts (running into hundreds of dollars), you may want to use a bank transfer.
Definition: Cheapest*
There is no one way to send money overseas that is guaranteed to be the cheapest. You may be able to find the cheapest transfer fee, but the exchange rate may not be as competitive, or vice versa. You may need to send money within 24 hours, while other people may have no time limit. You should always consider a range of products when deciding which provider is best suited to your personal money transfer needs.
Are free international money transfers real?
It's unrealistic to expect truly free international money transfers. Even though international money transfer companies are cheaper than the banks, they still have margins and fees. While international money transfer companies stand to make money from your international transfer, they still make less profits than the banks. International money transfer companies usually charge a margin on top of the market rate and may charge fees for smaller transfers. Keep in mind that when a transfer service says they have no fees, there is likely to be a small fee weaved into the exchange rate offered.
In some cases, to get a truly free transfer, you'll need to transfer large amounts above the $10,000 mark. This is because international money transfers actually save money when you transfer big amounts due to economies of scale.
How do I send money from my bank?
Please note that the process is different for every provider. The example below shows just one of the ways you can initiate a transfer.
1. Log into Netbanking and click on "Funds Transfer" Tab.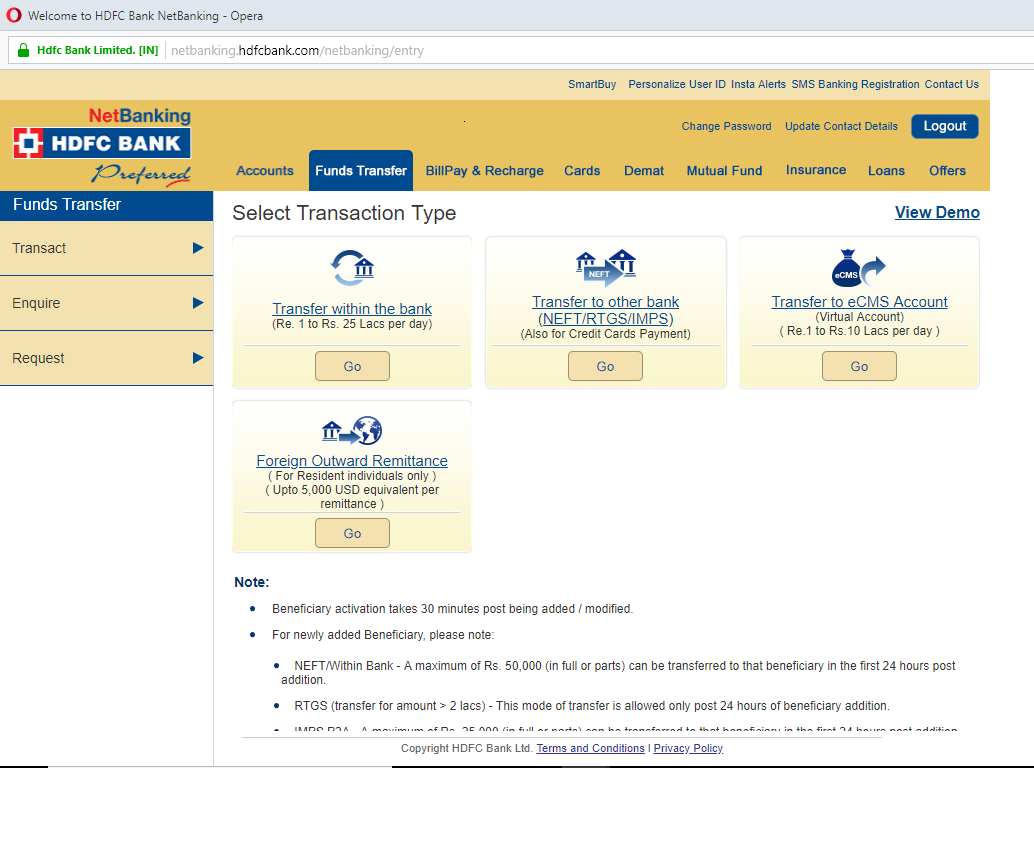 2. Click on "Request" on the left hand navigation menu and then click on "Add a Beneficiary". Then click on "Foreign Outward Remittance".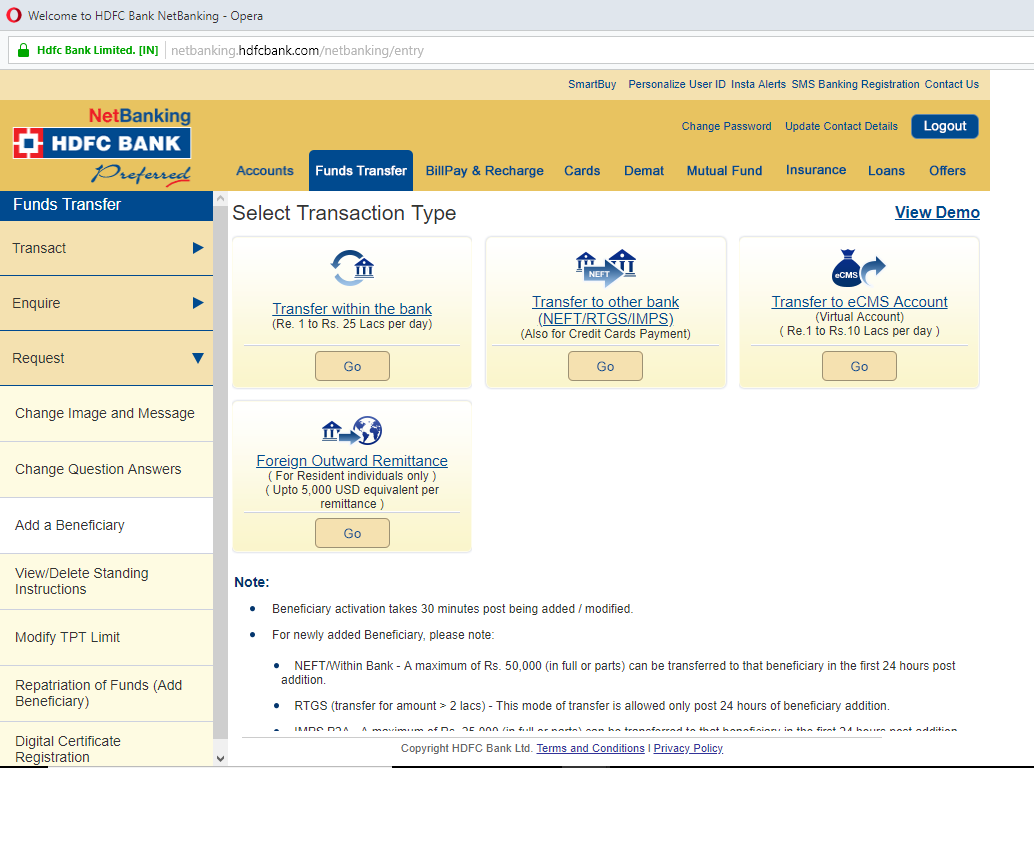 3. Fill in the beneficiary details, select country and currency. Then fill in beneficiary contact number, bank name, address, account number, swift code, intermediary bank details (including bank name, address etc) and click on "Submit".
4. After the beneficiary details have been successfully added to your account (generally around 30 minutes after submission of the details), click on "Funds Transfer" again and then on "Foreign Outward Remittance".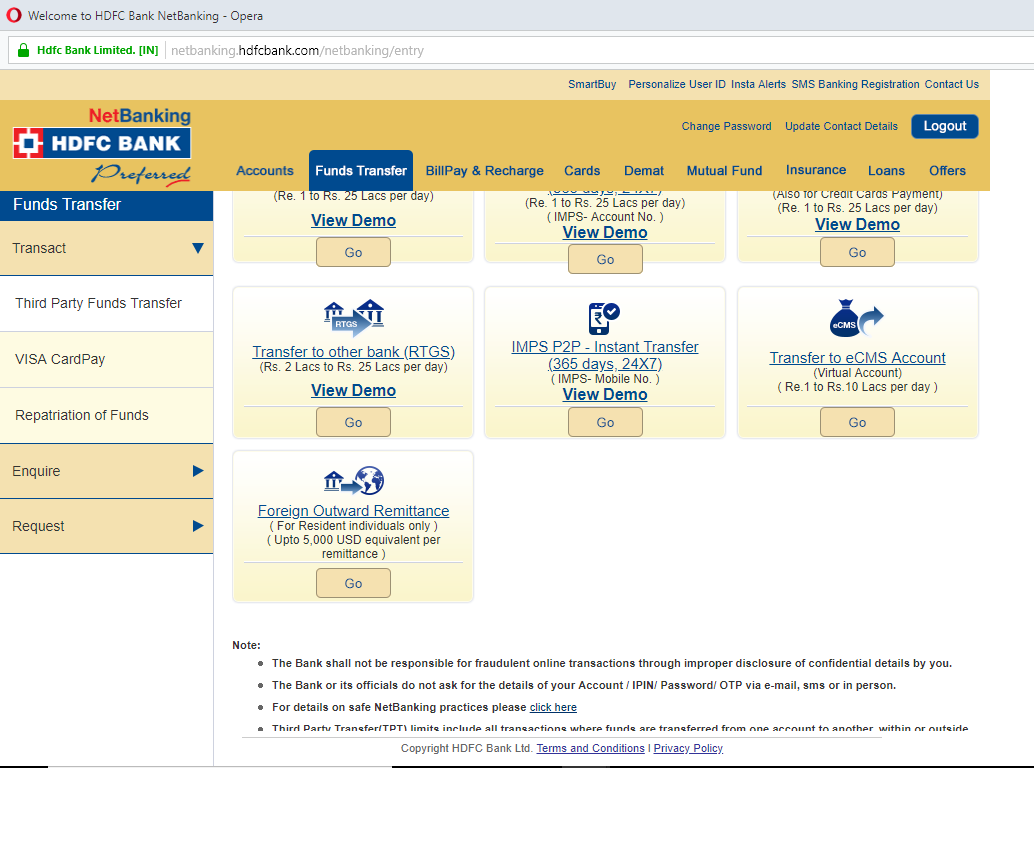 5. Select your own account and the beneficiary account details from the respective drop downs , enter the amount you want to transfer and click submit. Your beneficiary should receive the transfer within 1 to 5 working days.
Wait, I still need more help!
Choosing the best option to send money overseas can seem a little daunting at first, but if you do your research and shop around, you can transfer your funds quickly and efficiently – and save money along the way.