Finder is committed to editorial independence. While we receive compensation when you click links to partners, they do not influence our opinions or reviews. Learn how we make money.
How to fill out SBA Form 355
Step-by-step instructions for completing the small business size determination form.
You have to be a small business to get a loan backed by the Small Business Administration (SBA). But the SBA has a very specific definition of what counts as small. To prove that your business meets those standards, you might have to fill out SBA Form 355 when you apply for government-guaranteed funding.
What is SBA Form 355?
SBA Form 355, also known as the Information for Small Business Size Determination Form, is a document that helps the SBA determine whether or not your business counts as a small business. If it doesn't meet SBA size standards, you aren't eligible for an SBA loan. It applies to all SBA programs except the Small Business Investment Company (SBIC) program, which uses Form 480 instead.
Why is this necessary? The SBA's definition of a small business varies depending on your industry. But in general, your business needs to be independently owned and operated and not be considered a leader in the industry to qualify as small. Other factors that contribute to SBA size standards include your industry's average business size, distribution of different-sized businesses, level of competition and startup costs.
Make sure your business fits these requirements before you apply by using the SBA's online size standard tool.
Do I have to fill out SBA Form 355?
You generally only have to fill out Form 355 if the SBA requests it or you're contesting your affiliation with a business. You don't have to submit it along with your other SBA forms — you'll complete it after the SBA receives your application, if at all.
Your business's lawyer, accountant or other nonemployee representative can complete the form as long as you also provide a letter authorizing them to represent your company. Otherwise, it should be filled out by you or another owner or employee of your business.
What do I need to fill out SBA Form 355?
The hardest part about filling out SBA Form 355 might be compiling all of the information and documents you need to get started.
Information you need
Make sure you have the following information on-hand before you get started:
Your business's DUNS number. This is the number that credit rating agency Dun & Bradstreet assigns to all businesses. You can find yours on the Dun & Bradstreet website.
If your business is in a Labor Surplus Area. This is a civil jurisdiction with an unemployment rate that's at least 20% higher than the national average during the last two years. The Department of Labor has a list of Labor Surplus Areas on its website.
NAICS codes for the main industries your business is involved in. North American Industry Classification System (NAICS) codes are six-digit numbers the SBA uses to identify your business's industries. You can find your NAICS codes on the SBA website.
A list of everyone with a stake in your company. Know the names, addresses and percentages of ownership of all owners, partners, principal stockholders and other members of your organization.
A list of officers of your business. You also need to know the names, addresses and titles of all high-level employees at your company.
A list of your board of directors. Have a corporation? The SBA asks for the names and addresses of your board members as well.
Information on affiliates. You need the same information about all affiliated businesses as you provide for your own business — including your relationship with the affiliate, its annual sales for the past three years and the number of employees it has.
Information on associates affiliated with other companies. If owners, primary shareholders, board members or anyone else who has a say in your company has ownership or ties to another company, you need details on that company, as well as their position and ownership stake.
Number of employees at your business. You'll need to know the number of people currently working at your business and the average number of people on payroll over the past year.
Your business's sales or receipts. The SBA asks for your business's sales or receipts before taxes for the past three years.
What's an affiliate?
Like small businesses, the SBA has a specific definition of what an affiliate is. Generally, it's any business that has control over another business. This can include the following types of relationships:
Stock ownership. When your company owns the largest share of stock in another company.
Stock options or convertible securities. When your company has the option to buy controlling stocks or securities in another company.
Merger agreements. When your company has a written merger agreement with another business.
Common management. When your business's officers, directors, partners or other employees have management positions in another company — this includes the people listed in section 9a.
Connections to new businesses. When your business's former employees or managers start a new company in your same industry and maintain a relationship with you.
Subcontractors. When your company regularly relies on another business to fill contracts.
Economic dependence. When your company wouldn't be able to survive without the existence of another company.
However, the definition of an affiliate can get tricky. You might want to hire an expert or consult with your lender to make sure you're including all required businesses.
Documents you need
Your business and its affiliates must provide founding documents, depending on the legal structure:
Business structure
Required founding documents
Corporation

Annual report to stockholders
Bylaws
Articles of incorporation

Partnership
Limited liability company (LLC)

Articles of organization
Operating agreement

Franchise
You might also need the following documents, if applicable:
Stock option agreements
Collateral agreements on a business loan backed by stock
Proof of arrangements if any trusts or voting trusts own stock in your business
Agreements for any pending mergers or sales of your business's stock or assets
Financial records and tax returns for all affiliates
Past SBA documents that already determined your business's affiliates
How to fill out SBA Form 355
Got all of your information and documents ready? Follow these instructions to complete SBA Form 355:
Part I: Information relating to businesses only
Part II: Information relating to employee-based size standards
Part III: Information relating to revenue-based size standards
Part IV. Information about affiliates
Part V: Information about alleged, acknowledged or possible affiliates of business
This part consists of a series of yes or no questions that you generally don't need to answer if you're simply applying for an SBA loan.
You only need to answer questions 15 to 22 if you're requested to by the SBA or are contesting your business's affiliation with another company. And you only need to complete questions 23 to 28 if you're applying for an SBA contract assistance program — not an SBA loan.
If you're required to complete this section, attach a separate sheet of paper explaining any questions you answer Yes to.

Certification
After completing and reviewing your answers, certify your application on the second page by signing it and entering your name, title, the name of your company and the date. Typically, the SBA prefers it when you write dates as mm-dd-yyyy, though it doesn't specify on this form.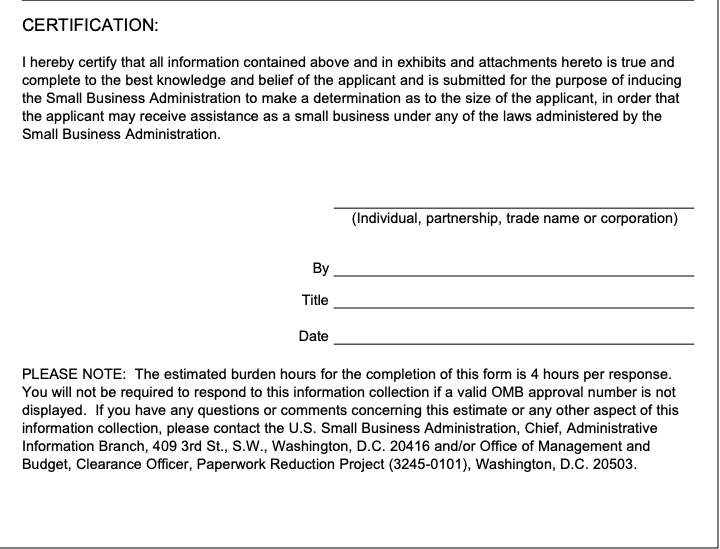 Double-check your form before you submit it
Making a mistake on this form could come with serious consequences. You could face a fine of up to $500,000, 10 years of jail time or both if you purposely or mistakenly misrepresent your business on Form 355. It might be worth having a partner, lawyer or your lender read over your application after you complete it to make sure there are no mistakes.
Where do I submit SBA Form 355?
Send your completed Form 355 to the SBA Government Contracting Area Office closest to your business's headquarters:
Area number
States served
Mailing address
Area I
Connecticut, Maine, Massachusetts, New Hampshire, New Jersey, New York, Rhode Island, Vermont, Puerto Rico and US Virgin Islands
Office of Government Contracting
Boston Area Office
US Small Business Administration
10 Causeway Street
Room 265
Boston, MA 02222
Area II
Delaware, Maryland, Pennsylvania, Virginia, West Virginia and Washington, DC
Office of Government Contracting
Philadelphia Area Office
US Small Business Administration
Parkview Tower
1150 First Avenue, Suite 1001
King of Prussia, PA 19406
Area III
Alabama, Florida, Georgia, Kentucky, Mississippi, North Carolina, South Carolina and Tennessee
Office of Government Contracting
Atlanta Area Office
US Small Business Administration
233 Peachtree Street, NE
Suite 1805
Atlanta, GA 30309
Area IV
Illinois, Indiana, Iowa, Kansas, Michigan, Minnesota, Missouri, Nebraska, North Dakota, Ohio, South Dakota and Wisconsin
Office of Government Contracting
Chicago Area Office
US Small Business Administration
500 West Madison Street
Suite 1250
Chicago, IL 60661
Area V
Arkansas, Colorado, Lousiana, New Mexico, Oklahoma and Texas
Office Government Contracting
Dallas Area Office
US Small Business Administration
4300 Amon Carter Boulevard
Suite 116
Fort Worth, TX 76155
Area VI
Alaska, Arizona, California, Hawaii, Idaho, Montana, Nevada, Oregon, Utah, Washington, Wyoming and Guam
Office of Government Contracting
San Francisco Area Office
US Small Business Administration
455 Market Street
6th Floor
San Francisco, CA 94105
Compare SBA loan providers
Many SBA loan providers help with the paperwork and take care of submitting necessary documentation on your behalf.
Bottom line
Not all small businesses need to fill out Form 355 when applying for an SBA loan. But if yours does, be prepared to spend some serious time on it. The SBA estimates that it might take up to four hours per question — as much as 112 hours. To avoid making mistakes, consult an expert before you submit it to your local office.
Want to learn more about how SBA loans work? Check out our guide or compare your other business loan options.
Frequently asked questions
Related Posts