How to apply for a Second Draw PPP loan
You only have until
May 31, 2021

to get your next application in.
The federal government regularly revises the details of these programs as the coronavirus outbreak affects more businesses. We'll update this page regularly as new information unfolds.
The SBA is opening its Second Draw PPP loan application for business owners who have already received a PPP loan and used their funds — or will use them by Second Draw loan disbursal. The program only runs from January 13, 2021 to May 31, 2021, so submit your application as soon as possible.
Step 1: Make sure you qualify
The Second Draw PPP loan has stricter requirements than its predecessor:
300 or fewer employees
Reduction in revenue of 25% or greater from 2019
Received a First Draw PPP loan
Used full amount of First Draw PPP loan on eligible expenses before or by the Second Draw PPP loan disbursal date
Size requirements can vary depending on your industry. As part of your calculations, you can find your revenue reduction using your average revenue loss year-over-year or by comparing a single quarter in 2019 to that same quarter in 2020. Also, your business isn't disqualified if it has already received forgiveness on some or all of your First Draw PPP loan.
Step 2: Compare lenders
Many small business lenders currently offer PPP loans. Because rates, terms and loan amounts are set by the SBA, factors like expected turnaround time and additional eligibility requirements should play a bigger role in your decision.
At the end of the day, you may have an easier time working with the lender you used for your First Draw PPP loan. It already has your information — and you're already familiar with its processes — which may help reduce the time it takes to apply and submit your application to the SBA.
If you aren't satisfied with your previous lender, you can use the SBA Lender Match tool, explore your options through a service like SmartBiz or compare online lenders to find an option that better suits your business.
Apply for a PPP loan
Choose from several online lenders offering PPP loans that you can apply with today.
Step 3: Prepare for the application
Any owner with at least 20% equity in the business will need to be included on the Second Draw application. You may also need to submit copies of your annual tax forms, quarterly tax forms, payroll records and evidence of employee retirement or group insurance coverage. However, you may not need to provide additional documentation if you meet these requirements:
Used 2019 figures to determine First Draw PPP loan amount
Use 2019 figures to determine Second Draw PPP loan amount
Apply through the same lender
Businesses requesting a loan of $150,000 or less don't need to submit any additional documentation with an application, but it will be required if you choose to pursue loan forgiveness.
Step 4: Fill out the application
The Second Draw PPP loan application is largely the same as the First Draw application — with a few critical differences. You can download the official application to get started now.
1. Provide basic information about your business.
Submit basic contact and tax details to identify your business, including:
Type of business
Business legal name
DBA or tradename
Year of establishment
NAICS Code
Business address — not PO Box
Tax identification number (TIN), employer identification number (EIN) or Social Security number (SSN)
Business phone number
Primary contact name
Primary contact email address

2. Calculate your loan amount and purpose.
The Second Draw application requires slightly more information than the First Draw PPP loan application. In addition to average monthly payroll costs, loan purpose and number of employees, you need to provide:
PPP First Draw SBA loan number
Reduction of gross receipts totaling a loss of at least 25%
Businesses borrowing $150,000 or less don't need to provide gross quarterly receipts or supporting documentation at the time of application, but it will be required when you submit an application for PPP loan forgiveness.

3. Provide basic information about owners.
You need to provide the following information about each owner who has 20% or more equity in the business.
Owner name
Title in the company
Ownership percentage
TIN, EIN or SSN
Address

4. Answer questions about the business and owners.
Like the First Draw application, the Second Draw PPP loan application requires you to certify information about your personal and business history, including any past SBA loan defaults and past felony convictions.
5. Read and sign representations, authorizations and certifications.
This section is slightly different than the First Draw application, but you are still required to read and initial by each section. In general, you need to certify that you or your business is eligible for a PPP loan and that your loan funds will be used to maintain payroll and pay for approved expenses.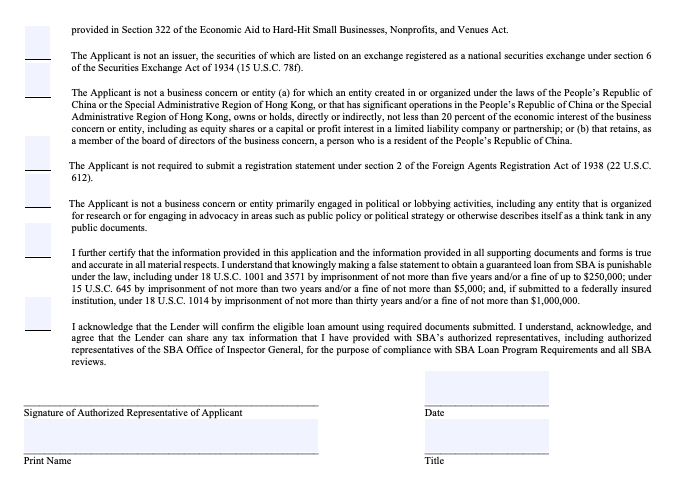 6. Sign and date the application.
Each owner should review the application before signing and dating at the bottom. The business representative or applicant will then need to work with your lender to submit the application and any required documentation.
Step 5: Wait for a decision
Processing times will depend on your lender and how accurate your application is. Like the First Draw, your decision could come within a few days, or it may take a few weeks.
Step 6: Receive your funds
Your lender will likely send your PPP loan funds to your bank account. Like all ACH transfers, this will take one to three business days to process. But if you choose to work with a bank or credit union where you already have an account, you may be eligible to receive your funds the same day you're approved. It depends on your lender, so check with it to get an accurate gauge on your timeline.
The time frame for forgiveness depends on when you receive your funds — but it should work the same as First Draw PPP loan forgiveness. As of January 11, the SBA hasn't released the forgiveness application for Second Draw loans, so keep an eye out in the coming weeks to learn more about what you'll need to have your loan forgiven.
What to do after getting a PPP Second Draw loan
The Second Draw loan is very similar to the First Draw. You will need to rehire staff or increase any reduced salaries, keep detailed records of your spending — up to six years in some cases — and stay in touch with your lender. If you chose not to provide documentation of your business's reduced revenue, you will need to provide it when you apply for forgiveness.
As with every part of the PPP process, review your finances with a financial advisor or accountant.
The Second Draw PPP loan is meant to help businesses that are still suffering the economic impacts of the pandemic. If you haven't already applied for a PPP loan, check out how to get started. You should also consider your other business loan options during the coronavirus.
Frequently asked questions
Answers to common questions about the Second Draw PPP loan application process.
What borrowers don't qualify for a PPP loan?
Certain businesses and borrowers don't qualify for PPP loans, including:
People or entities that received a grant for shuttered venue operators under section 324 of the Economic Aid Act
Publicly traded companies
Businesses that are permanently closed
Businesses engaged in political or lobbying activities
Entities organized under the laws of the People's Republic of China or the Special Administrative Region of Hong Kong
People required to submit a registration statement under section 2 of the Foreign Agents Registration Act of 1938
Can my business qualify if it already received a Second Draw loan?
No. If you or your business already received a Second Draw PPP loan, you won't be eligible for more funding.