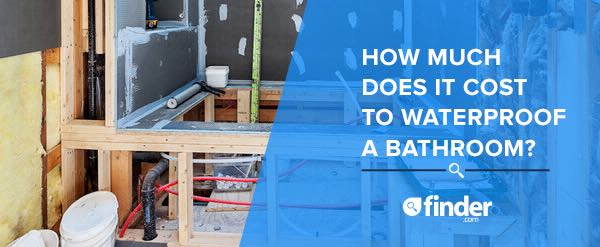 Learn why waterproofing is essential, plus the common building codes and regulations to keep in mind when renovating your bathroom.
Waterproofing is one of the most crucial stages of any bathroom renovation project. If the job isn't done properly, water can leak into the floor and walls and cause major structural damage to your home.
So what does waterproofing a bathroom involve and how much does it cost? Read on to find out.
What is waterproofing and why do I need to waterproof my bathroom?
The bathroom is the largest wet area in your home. Waterproofing involves applying a special membrane, paint, spray or sheeting product to ensure that no water escapes from that wet area into other areas of your home.
If your bathroom isn't properly waterproofed, water leaks can cause significant damage to your property. Mold, mildew, rising damp and peeling paint can all result, but there can also be much more severe consequences including rotting and warping of structural beams or corrosion of metal.
How much does it cost to waterproof a bathroom?
Costs vary depending on the contractor you choose to carry out the work and the waterproofing materials they use. However, as a general guide, waterproofing a bathroom costs anywhere between $3 and $5 per square foot.
For an average-sized bathroom, expect to pay somewhere in the vicinity of $500 to $800, although costs will vary for smaller and larger spaces.
If you're purchasing materials for a waterproofing project, you'll need a few products. These include:
Primer. This enhances the adhesion between bathroom surfaces and waterproofing products. One gallon of primer & sealer will set you back about $25.
Waterproofing product. This is the membrane you apply to stop water leaking out of your bathroom, and spray or paint-on products have been quite popular as of late. To give you an idea of costs involved, 5 gallons of wet area waterproofing, a liquid waterproof membrane, costs about $150.
Bond breaker. Used to stop the waterproofing membrane adhering to bathroom joints, bond breaker is an essential item for your shopping cart. On average, you can expect to pay about $85 for a roll of waterproof reinforcing fabric.
How can I pay to waterproof my bathroom?
Waterproofing a bathroom isn't that expensive of a project compared to other large scale renovations. However, not everybody wants to dip into their savings for a quick home improvement.
A low or no interest credit card can be an extremely useful financial tool as it lets you pay for the waterproofing now, and pay back what you owe with little or zero interest at a later date — just be sure to pay attention to when the card reverts back to a normal interest rate.
Bathroom building codes and regulations
Before we get to the finer details, it's important to start with the fact that your bathroom waterproofing project will need to comply with specific regulations outlined by state and federal building codes. While specific laws and regulations vary from state to state, here are a few guidelines to get you started:
Sink
Placed four inches from side walls
21 inches of clearance in front
Four inches apart if multiple sinks are placed side by side
At least four inches from bathtubs and showers
Toilet
21 inches of clearance in front, although between 24 and 30 inches is ideal
15 inches of clearance from the center line of the toilet to the nearest obstruction
Minimum of 30 inches between the center line of the toilet to other water & drainage fixtures
Shower & bathtub
Minimum floor space of 36 inches by 36 inches
24 inches of clearance in front of shower or tub doors
Must have an anti-scald device equipped
Ventilation & electrical
All lights above showers and tubs must be vapor and waterproof
All utlets must have ground fault current interrupter protection
Electrical switches must be a minimum of 60 inches from showers and bathtubs
Window with a minimum area of three square feet or a fan capable of 50 cubic feet of air per minute
Other waterproofing considerations
Surfaces should be free of adhesion-reducing substances like dust, soap, or grease for optimal bonding
Slip-resistant flooring materials
Plastic sheet or membrane underneath shower floor, walls and surrounding area if possible
Waterproof plumbing fittings
Waterproof joints between tub/shower and wall
Of course, these are just the minimum requirements, so it's best to go above and beyond what's listed here to reduce the risk of home damage due to insufficient waterproofing. For example, even if your bathroom is on the ground floor or doesn't contain any wood, it's a good idea to waterproof the entire floor. You may also want to waterproof the areas around the bath, vanity and toilet.
In some areas, the local council will also need to inspect the waterproofing work completed by a licensed waterproofing professional, so make sure you're aware of whether this requirement applies where you live.
How much does it cost to renovate a bathroom
Who can carry out waterproofing work?
Regulations vary from state to state, but most states allow you to carry out bathroom renovations and waterproofing work by yourself. However, you should always consult your local council to determine any necessary permits, codes, and standards before starting your project.
Most hardware stores sell waterproofing products, and attention to detail is crucial. Not only do you need to follow the instructions exactly, but you also want to be absolutely meticulous so you don't miss any spots.
If you DIY or hire an unlicensed contractor, be aware that the work might also have potential consequences for any insurance claims you may have in the future.
Compare 0% interest credit cards today
How to waterproof a bathroom
Bathroom waterproofing needs to be done before tiling occurs. Before any waterproofing membrane can be applied, the areas to be treated will first need to be correctly prepared and primed. Special attention should be paid to wall, shower, tub, and floor joints, with all surfaces left smooth to guarantee unbroken coverage by the waterproofing membrane.
Once the primer has been applied, silicon sealants are used to waterproof areas where bathroom features meet the walls. This will ensure that no water gets in behind them, where it could potentially cause damage.
Make sure to pay close attention to any edges and corners, as they can become problem areas for water leaks if neglected. A neutral cure silicon is used to seal these areas, while a polyfab (polyester fabric) bandage is also used over these joins to create a "bond breaker".
This flexible bond breaker stops the waterproofing membrane from adhering to joints – without it, small shifts in the building over time could wear away the membrane. A bond breaker is also required around taps, drains and other fittings that break through the membrane.
A liquid rubber waterproofing membrane can then be applied to the relevant bathroom surfaces. The first coat is done horizontally and, once it has dried, the second can be applied vertically to cover any small gaps that may have been missed the first time.
Once the waterproofing has been applied, you'll need to give it enough time to dry and cure, so depending on the climate where you live you might have to wait up to five days for this to occur. Many waterproofing products come with a 10-year warranty, but if the job is done right by a licensed professional, expect it to last much longer.
Tips for getting your bathroom renovation right
How to hire a bathroom waterproofer
Before you choose a licensed waterproofer to work on your bathroom renovation, make sure you've found the right person for the job. Ask them the following questions:
Are you licensed to carry out waterproofing work?
Do you have insurance coverage?
How much experience do you have? Do you have references I can contact or a portfolio?
How long will my bathroom take to waterproof?
How much will it cost?
What warranty applies to your work and the waterproofing product you use?
Make sure you compare a number of quotes before deciding on the right contractor to complete your home renovation.