Finder is committed to editorial independence. While we receive compensation when you click links to partners, they do not influence our content.
Air Miles Credit Cards
Want to earn points for flights, accommodation and other rewards? Compare air miles credit cards and get to your next destination faster.
Air miles credit cards offer you points for every HK$1 spent, which you can then redeem for flights, upgrades and other rewards. You can also enjoy a range of additional features, including complimentary airport limousine services, bonus points offers, airline lounge access and travel discounts. Use this guide to compare air miles credit cards and learn more about them, including how these cards work, tips for earning and using points, features to compare when you're looking at air miles credit cards and insights to help you choose the right card for you.
How does an air miles credit card work?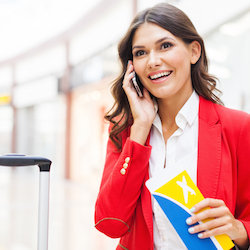 Air miles credit cards earn you points when you use them for eligible purchases. These cards earn a set number of points for every dollar spent (e.g. 1 point per HK$1), which is known as the earn rate. This means the more you pay with plastic, the more air miles rewards you can get. Depending on the type of rewards credit card you use, there are different ways to earn and redeem air miles. Some cards credit points are linked directly to your air miles account and others allow you to transfer points to a variety of eligible air miles accounts.
Is an air miles credit card right for me?
If you're interested in getting an air miles credit card, weigh up these pros and cons. Please keep in mind that these factors may vary depending on the card.
Benefits of choosing an air miles credit card
Redeem flights and travel upgrades faster.
By earning points on your everyday spending you can reach your rewards goals in less time.
Sign up bonus points.
Some credit cards offer introductory bonus points as an incentive for new customers. These offers boost your points balance so you can redeem them for rewards such as flights and holidays faster.
Large range of rewards.
Use your points to redeem rewards including flights, hotels, online shopping and other lifestyle benefits.
Travel perks.
Travel comfortably with flight vouchers, access to airline lounges and free airport limousine services.
Risks when choosing an air miles credit card
High interest rates.
Credit cards in Hong Kong have high interest rates. As such, they are suited to cardholders who pay their balance off each month so that the accumulated interest doesn't outweigh the value of the rewards.
Higher annual fees.
As well as high interest rates, these air miles cards often come with higher annual fees than no frills options.
Temptation to spend.
If you struggle to repay your credit card on time, a rewards card might tempt you to spend for the sake of points when you should be reigning in your purchases.
Offer requirements.
Air miles credit cards that come with introductory offers may have specific spending requirements you need to meet to enjoy these benefits. For example, you may need to spend HK$7,500 in the first 2 month you have a card to get bonus points.

How can I compare and find the best* air miles credit card for my needs?
The mix of air miles credit cards on the market gives you a chance to compare options and find one that suits your individual goals and circumstances. Go through the checklist below to find out which factors you should consider when looking at credit cards that earn air miles.
The air miles programme. Choosing a credit card that earns points for an air miles programme you already use will help you maximise your rewards. If you don't belong to a programme yet, think about which programme you're more likely to travel with.
Points earning rate. Check the standard rate of points you'll earn for each HK$1 spent on the card. Be aware that a different earn rate could apply for certain types of spending (i.e. overseas purchases) or during promotional periods. There are usually some transactions that won't earn points, such as cash advances, so make sure you check restrictions for the cards you're comparing.
Reward values. Consider the types of rewards you want to claim, the amount of points you'll need and how much spending that requires. Check how these values measure up between programmes so you can apply for the card that offers the greatest value based on your spending and reward goals.
Annual fee. Ideally, the annual fee should cost less than the rewards and any complimentary extras on the card that you intend to use.
Promotional rates and features. Air miles credit cards sometimes have promotions for new customers, such as accelerated points earning rates during the first few months. These benefits can add value to the card that you choose, but make sure you read the terms and conditions for details of the requirements and honeymoon period so that they work for you (and not the other way around).
Complimentary extras. Reward and air miles credit cards often come with a selection of complimentary extras such as hotel discounts, airport limousine services and business lounge access. The value of these perks can be used to offset the cost of the annual fee – as long as you know you will actually use them. They can also be handy to have available just in case you ever need them.
How to earn and redeem air miles with a credit card
Earning Points
Points or miles are a key factor when choosing and using an air miles credit card, and there are two main options to consider:
1. Direct earn cards. These credit cards are partnered with specific airline rewards programmes, earning points that are credited directly to your associated air miles account. For example, the American Express Cathay Pacific Elite credit card earns 1 mile per HK$6 spent locally, while the China Construction Bank Hong Kong Airlines credit card has the same earn rate for Hong Kong Airlines's Fortune Wings Club.
2. Indirect earn cards. These reward credit cards earn points that can be transferred to a wide range of air miles programmes. For instance, the Citi Rewards Visa card earns 1 air mile per HK$3 spent, which can then be exchanged for flights on more than 900 airlines. Unlike direct earn air miles credit cards, the point values of these cards may differ when transferred to an air miles account.
---
Using your points
Once you have earned enough points, you can redeem them for a variety of rewards. Here are some of the great redemptions you could make through your air miles programme.The amount of points you need for a reward varies depending on the air miles programme and the type of reward you choose. There are two main categories for rewards: 1) Airport/ flight benefits and 2) retail/ lifestyle rewards.
Airport/ flight benefits. Points can be used for reward flights, flight upgrades, lounge access and other loyalty scheme membership benefits. Flight rewards with the air miles programme's associated airline usually provide a higher point value when compared to other rewards. For example, a return flight from Hong Kong to Bangkok with Cathay Pacific costs 20,000 Asia Miles, while a HK$300 Sogo gift card costs 7,510 points./li>
Retail/ lifestyle rewards. These rewards can benefit you at home or abroad. You can use points to book hotels, car rentals or other travel experiences, as well as more general retail and lifestyle benefits including gift cards, food and wine, jewellery and other merchandise.
How to choose an air miles programme
There are many air miles programmes based all around the world. But you have a handful of these programmes to choose from if you're interested in getting a Hong Kong credit card that earns air miles, for airlines such as Cathay Pacific and Hong Kong Airlines. Here, you can compare air miles programmes based on credit card points earnings to help you choose a programme that will suit your needs.
Cathay Pacific Marco Polo Club. Cathay Pacific air miles cards, such as the American Express Cathay Pacific Elite credit card, can earn 1 mile per HK$6. These points can be redeemed for flights with Cathay Pacific and Cathay Dragon, as well as partner airlines in the oneworld alliance. Some cards also give you free membership to the Marco Polo Club.
Hong Kong Airlines' Fortune Wings Club. The China Construction Bank Hong Kong Airlines credit card enables holders to earn 1 mile for every HK$6 spent. You can redeem the miles on flights, as well as other rewards, such as hotel stays, cosmetics, merchandise and travel coupons.
Asia Miles. Many air miles credit cards in Hong Kong enable people to accrue Asia Miles, which can be used to redeem flights with airlines that are part of the oneworld alliance, rather than miles with a specific airline. Accrual rates vary but can be as high as one mile for every HK$1 spent during the promotional period for the Standard Chartered Asia Miles Mastercard, after which the accrual rate falls back to one mile for every HK$4 spent on dining and online shopping, and one mile for every HK$6 spent in other categories.
Air China PhoenixMiles: If you want to build up air miles for Air China flights, China CITIC Bank International's Air China Dual Currency credit card offers one PhoenixMile for every HK$8 spent.
Japan Airlines Mileage Bank. The AEON Card JAL Mastercard offers air miles for Japan Airlines' loyalty programme, with holders able to accrue them at a rate of one JAL mile for every HK$6 spent on local dining and every HK$8 spent in other categories. 20,000 miles are needed for a set of round-trip economy class tickets from Hong Kong to Japan.
Flexible Programmes. Some credit card loyalty programmes, such as the American Express Membership Rewards and Citi ThankYou Rewards, enable cardholders to accrue air miles which they can then transfer to the airline loyalty programme of their choice. The Citibank Rewards Visa card enables holders to earn one mile for every HK$3 spent locally.
---
Air miles alliances
Air miles programmes have networks of partner and alliance airlines that let you earn and redeem points all around the world. We've included three of the most popular alliances below.
These alliances and partnerships give you more options for redeeming flights and flight upgrades. So even if you choose an air miles credit card that's linked to one airline programme, you may be able to use your points for flights with another airline through these partnerships.
Credit cards have become one of the most popular ways to earn air miles, with both direct and indirect methods for boosting your point balance. Now that you know more about how they work, the potential benefits and pitfalls and what you should consider when comparing air miles credit cards, you can make a more informed decision about the next credit card you apply for so that it really works for you.
Pictures: Shutterstock
Air miles credit card questions from our users
Since air miles credit cards provide many benefits and features, choosing one can be a challenging task. Here, we answer the most popular questions from our users about air miles credit cards and how to earn/redeem points.
The most popular questions about earning air miles points
The most popular questions about redeeming air miles points