Finder is committed to editorial independence. While we receive compensation when you click links to partners, they do not influence our content.
Google Home review
A major player in the smart speaker revolution, but with room to grow.
Pros and cons
That sense of wonder as you turn on Netflix with your voice
Good sound quality
Easy setup
A growing range of supported platforms
No support for Google Play Movies
Can't answer a lot of queries
Occasional quirks with language
The ultimate example of science fiction's take on a smart, digital assistant to manage your life is undoubtedly Iron Man's J.A.R.V.I.S.
Able to respond to every whim of billionaire playboy Tony Stark (in the dulcet tones of Paul Bettany, no less), J.A.R.V.I.S. can not only control practically every element of Stark's life, but also anticipate his needs, allowing him to suit up to become a super hero.
While Google Home is the closest thing many of us have to J.A.R.V.I.S., it's going to be a long time before any of us suit up in iron armor to save the world. In a nutshell, this is still a first-generation product with plenty of room for improvement.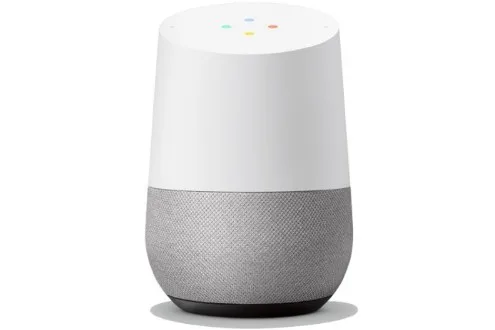 Design
Perhaps the most surprising aspect of the Google Home speaker's design is how compact it is. Google Home has a diameter of 4 inches and stands just 5.5 inches high.
Around the base of the plastic white speaker comes a replaceable grey metal and fabric base that covers the Home's speakers. The base magnetically attaches, with the hold so secure that you wouldn't even realize it was changeable when looking at it.
For connections, the Home has only a power plug port on the bottom. A single button on the back of the speaker mutes the microphone, while a touch-sensitive panel on the sloped top of the speaker allows you to easily adjust the volume and see when the Home is listening to your commands. If you hate saying "OK, Google" over and over, you can also press and hold the top of the speaker to activate the mic.
Also on the top of the speaker are two small holes for the far-field microphones, which can pick up your voice from a distance — even with music playing. It's impressive how well the microphones work, picking up a whisper from across the room.
Audio performance
The Google Home speaker is designed to act as the central hub of your smart home. As you might expect, that means being able to do a lot of things well, including sound.
Because of its size, it's never going to make the foundations of your home shake, but it doesn't distort sound at maximum volume. Compared to the audio quality of a Sonos Play:1, the Home speaker does sound a little fuzzier, missing some of the high-end clarity that Sonos is able to deliver.
But for the vast majority of people who will place a Home speaker next to their bed, it's a perfectly adequate option capable of playing at loud volumes without distortion.
Digital assistant performance
The real selling point of the Google Home speaker is the promise of a digital assistant like J.A.R.V.I.S. On this front, Google Home offers a solid base to build from, but also proves that there's still a long way to go before this technology is ubiquitous.
When you first set up the speaker, you're able to link it with your Google account through the Google Home app (which is also used to set up and control Chromecast devices). You can then set the speaker up to recognize your voice so you can get daily updates about your day (from your main Google Calendar), find out about the day's weather and get news updates from a range of US and international sources.
Because it's connected to the Internet 24/7, you can use the speaker to do menial tasks for you, like solve quick math problems, translate phrases to other languages, define words or get sports results.
And the reality is that for these basic tasks, the Google Home is fantastic. Following a recipe and quickly need to know how many liters are in a gallon? Ask Google. Curious about how your stock shares are doing? Ask Google. Need to know how many calories are in an orange? You get the idea.
But the promise of Google's voice assistant is so much more. Using the power of Google, you can find out almost anything you can discover on the Internet —at least when the service works. It appears that Google Home uses featured snippets — those boxes that sometimes pop up at the top of search results — to answer queries. But if your result doesn't have a featured snippet, Google Home's friendly assistant voice will tell you that it doesn't know how to help you just yet.
That frustration is amplified when you start moving into the smart home control space. I set up a Philips Hue light globe in my bedroom and called the room "bedroom." To control it, I need to specify my "bedroom." If you say "my room" you'll be told that it can't control that just yet.
Of course, these hurdles will undoubtedly be solved via software updates in the future.
Smart home control performance
One of the key selling points of the Google Home is the open platform it supports to control third-party devices. That obviously includes Chromecast and Chromecast-enabled devices, but it also extends to smart home products too.
Among the long list of supported platforms is Philips Hue light globes, Belkin's WeMo ecosystem and Nest products, along with a wide range of others. It also integrates with IFTTT, helping you work around some missing platforms for automation.
To Google's credit, connecting third-party devices is remarkably simple through the Home app. I set up a Philips Hue hub and light globe with the press of a single button on the Philips Hue hub's body. Once the globe was connected to the network — and the firmware updated — I was able to control the light by commanding Google to turn on and off the lights in the bedroom.
Of course, if you have a wider range of products, you'll need to spend a bit of time setting up scenes and groups of lights to fully take advantage of Google Home's system.
The easter eggs
To be honest, while I've been using the speaker to play music and control my home's lighting, by far the most fun aspect of the new speaker has been trying to find the easter eggs that Google has hidden in there to add personality to the device.
Ask the speaker what the meaning of life is and it will regale you with a long definition of life in humans and animals, before quipping at the end, "Oh, and 42."
My kids fell in love with the idea of asking Google a very funny joke, to which Google responded dutifully. Ask Google "How's the serenity?" and it replies, "Heaps of serenity."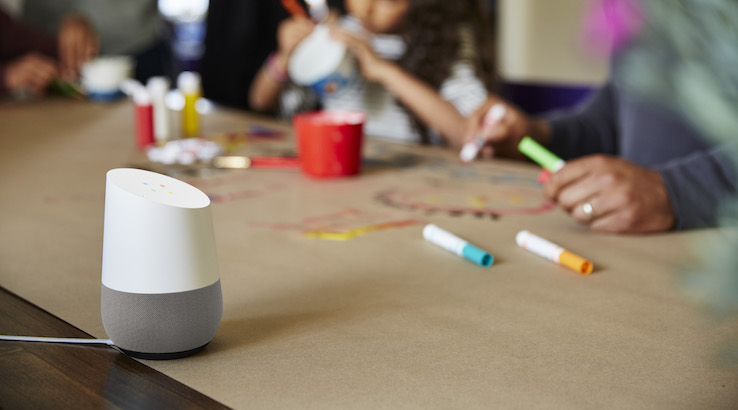 Verdict
The Google Home speaker is not J.A.R.V.I.S., but there's still plenty to like about it. As a speaker, it does a good job of playing back music and can be useful for getting a quick snapshot of your day or the latest news headlines.
At under $100, the speaker feels like a good value. If you're thinking about picking up a speaker and portability isn't an issue, then you could opt for a smart speaker like this.
It may not be J.A.R.V.I.S. yet, and it may never be. But even J.A.R.V.I.S. started somewhere, and it eventually became Vision. Let's hope for a similar development.
Google Home at a glance
What is Google Home? A voice-controlled speaker that leverages online services to answer spoken questions, interface with digital apps and control smart home appliances.
When did Google Home come out? Google Home launched in November 2016.
How much does Google Home cost? Google Home currently costs around $70.
What apps does Google Home support?
Google Home supports a large number of Google and non-Google apps, with more joining the catalog as time goes on. Here are the apps that Google Home currently supports:
Music:
Smart home:
Nest
Philips Hue
TP-Link
Wemo
IFTTT
SmartThings
Alarm.com
Anova
August
Awair
Chk-in
D-Link
Deako
Emberlight
FireBoard
Onelink
Frigidaire
Geeni
Hive
HomeSeer
Honeywell
iDevices
iHome control
Insignia
iRobot
Legrand
Leviton
LG
LIFX
Lightwave RF
Logitech
Iris
Lutron
Mobile Inc
Nanoleaf
Nexx Garage
Nubryte
Osram Lightify
Plum
Quick Remote
Rachio
Ring
Scout
Sensibo
Smartika
Stringify
Telstra
Universal Devices
URC
Vivint
VoiceUPB
Wink
Wiz
Zoma
Artik Cloud
Entertainment
Tasks
Domino's Pizza
Google Calendar
Fun and Games
Streaming devices
Google Chromecast
Google Chromecast Audio
Vizio
BO Play
Toshiba
nVidia Shield
Bang and Olufsen
What else will I need to use Google Home?
Other than a power source, Google Home requires a Wi-Fi Internet connection to access Google Assistant services. You'll also need access to an Android or Apple mobile device to set up Google Home for the first time.
If you're an Android user, your device will need to be running Android 4.2 or later. If you're an Apple owner, your device will need iOS 8.0 or later.
What features will be coming to Google Home in the future?
Google has announced a number of features rolling out to Google Home in the coming months. These include hands-free calling, automatic notifications of important updates like changes to traffic conditions and the ability to display visual answers to questions you ask on your phone or TV.
What audio formats does Google Home support?