Finder is committed to editorial independence. While we receive compensation when you click links to partners, they do not influence our content.
Get expandable memory on your phone with microSD
For many phones, the storage onboard is what you get, and that's it. Phones with expandable memory allow you to add storage if you find you need it in an easy and inexpensive way.

When you're looking into purchasing a new smartphone, you'll notice a number in gigabytes listed after the phone model. For example, an iPhone 7 is sold in three variants: 32GB, 128GB and 256GB. That amount of gigabytes (GB) listed refers to the amount of core storage on the device.
As we all take more photos and videos on our smartphones, we tend to fill up that available storage rather quickly, at which point you've got to either offload some apps or videos to free up some space.
A phone with expandable storage via microSD cards makes it easy to bump up the storage on your phone via the use of tiny microSD cards.
What is a microSD card?
A microSD card is a tiny fingerprint sized storage device that can be inserted into a smartphone with expandable memory capabilities. Storage sizes can range from 2GB upwards. The current SDXC card format (which not every phone will support) supports a maximum size of a whopping 2TB. Though 2TB are not commercially available yet, they might not be far off. Nintendo's latest console, the Nintendo Switch will support up to 2TB microSDXC.
You can currently purchase 512GB microSD cards, but they're seriously pricey prospects. Comparatively, a simple 32GB or 64GB card should only cost you in the region of $20-$70.
What phones have expandable memory in 2017
Now that Samsung has moved back to expandable memory with its Galaxy S7 range and Sony and HTC continue to support expandable memory with their flagship handsets, there's a decent range of smartphones that are compatible with microSD cards. Below are three picks from our best phones of 2017 list that allow for expandable memory.
Samsung Galaxy S7 and S7 Edge
2016's Samsung Galaxy S7 and Samsung Galaxy S7 Edge righted the S6's wrong by reintroducing support for microSD cards with up to 256GB capacity.
For more information on the Samsung Galaxy S7, check out our review. If you're looking for something a little more edgy, check out what we had to say about the Samsung Galaxy S7 Edge.
HTC U Ultra and HTC U Play
HTC's U range supports up to 2TB of microSD storage. These glossy and glassy HTC U Ultra and HTC U Play retail from $749. The 5.7-inch HTC U Ultra features a unique second screen and sells outright through many retailers.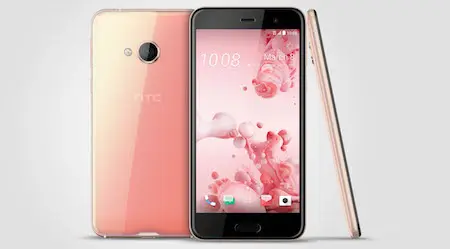 The HTC U Ultra's unique second display allows for uninterrupted user interaction when receiving texts, emails and calls.
View details
Huawei Mate 9
Huawei's big and beautiful Huawei Mate 9 launched to critical acclaim thanks to its valuable partnership with Leica cameras and some very impressive performance from its multi-core processor. Huawei's Mate 9 retails for $599 from several retailers.
More smartphones that take a microSD card
How do I put a microSD card in my phone?
Before you start (and, indeed, before you even purchase a card), the first thing to do is check that the handset you want to use actually supports expandable memory.
The bad news if you're a fan of Apple's iPhone line is that none of them do. Apple has never supported microSD card expansion directly for any of its phone or tablet products. That includes the new iPhone 7 and iPhone 7 Plus handsets. On the Android side of the fence, the general rule is that microSD expansion will be supported by most phones.
On the Android side of the fence, Samsung briefly dipped its toes into the fully sealed, non-expandable space with the Samsung Galaxy S6, but it reversed that position with the Galaxy S7.
Google's older Nexus phones are fully sealed. The Nexus 6P doesn't support expandable data via microSD card and Google's latest, the Google Pixel, has continued that trend.
Most other Android phones, whether budget offerings or premium superphones support memory expansion. It is also worth checking whether or not your phone of choice supports newer higher capacity microSD formats.
The SDXC standard should be supported by most new phones, but older handsets may be limited to smaller capacity cards. There's no point in purchasing a higher capacity card if it won't work with your phone.
Insertion of the microSD card will vary by phone model, with two primary approaches favored. Many metal body phones offer a microSD card slot on the side of the phone, similar to the SIM card slot, and in some cases presented in the same carrying caddy. In this case, inserting your microSD card is a simple matter of popping open the tray with a fingernail or a supplied SIM tool (or in a pinch, an unfolded paperclip or pin) and dropping the microSD card in. Phones with removable batteries often place the microSD card slot in with the SIM card
Phones with removable batteries often place the microSD card slot in with the SIM card slot and may require removing the battery in order to change or add a microSD card. If that describes your phone, you are much better off properly shutting your phone down before yanking the battery out and adding your microSD card.
My phone doesn't support expandable memory. What can I do?
There are a couple of avenues worth exploring if you've got a handset with no microSD expansion capabilities. The first and most obvious is to take stock of what you've got on the phone, working out where you can save space by offloading content.
If you've never backed up your photos to your computer, that can save considerable storage space, as well as being a good general backup precaution. If you've got heaps of applications that you rarely or never use, delete them. Most apps can be downloaded again from app stores if you need them again.
Consider also offloading some content like photos, videos and music to streaming or cloud services. Rather than having a large music library loaded on your phone, use a service such as Spotify, Pandora, Apple Music or Google Play Music to deliver your tunes. Be aware however that this means you'll be using data for each song play, which can add up in cost terms if you're not connecting via Wi-Fi. For these people, we would recommend a high-usage cell phone plan.
Why don't I have all the storage my phone says I should have?
One thing you'll quickly work out is that a phone with 32GB of storage doesn't actually give you 32GB of available space to store your files and apps on. That's partially down to a quirk of the way that data is counted, but mostly because the quoted figure for a given smartphone relates to the entire amount of available storage on the device.
That storage has to include the operating system as well, which eats up storage space all of its own, especially if you opt for a model with a lot of preinstalled applications.
Latest cell phone headlines
More guides on Finder