Finder is committed to editorial independence. While we receive compensation when you click links to partners, they do not influence our opinions or reviews. Learn how we make money.
Delta Skymiles Loyalty Program
An explanation of Delta miles, credit cards and Medallion Status.
If you're looking into frequent-flyer programs, consider Delta SkyMiles as they have great value and can be earned through many credit cards. Additional benefits are offered to those who fly enough to earn Medallion Status.
How much are Delta SkyMiles worth?
Delta SkyMiles are worth an average of 1.4 cents apiece, according to our February 2019 valuation. This is a competitive rate when compared to miles from other frequent-flyer programs.
How to calculate the value of your miles
Search for a flight on the Delta website.
Pick a flight and note its cost in dollars.
Under the Show price in section on the flight results page, click Miles.
Note how much your flight costs in miles.
Divide the flight cost in dollars by the flight cost in miles. For example, if a $110 flight costs 9,000 miles, your miles are worth about $110/9,000 = 1.2 cents each.
Back to top
Do Delta SkyMiles expire?
Unlike several competitor deals, Delta SkyMiles have no expiry as long as your account is open and in good standing.
Here are the mile-expiration policies of a few major airlines for comparison.
| Airline | Do miles expire? | Reward expiration policy |
| --- | --- | --- |
| Alaska Airlines | No | Miles don't expire as long as your Mileage Plan account is not terminated. |
| American Airlines | Yes | Miles expire unless you've earned or redeemed miles through American or an AAdvantage partner within the last 18 months. |
| Southwest Airlines | Yes | Points expire if you don't have at least one qualifying earning activity within the last 24 months |
| United Airlines | Yes | Miles expire 18 months from your last activity date. |
Back to top
How do you earn Delta SkyMiles?
Join Delta SkyMiles — it's free. You'll earn five miles per each dollar spent on Delta flights. The maximum miles you can earn per ticket is 75,000.
Rewards earnings include base fares and carrier-imposed surcharges. They don't include government-imposed taxes and fees.
How to earn miles through Delta SkyMiles
Input your SkyMiles account number when booking your flight.
Or visit your account's My trips section to input your SkyMiles number.
On Exception Fares, your earned miles are based on a percentage of your flight's distance and fare class.
How to earn Delta SkyMiles through co-branded credit cards
Delta SkyMiles credit cards help frequent Delta flyers earn more SkyMiles.
If you want elevated SkyMiles on non-Delta purchases without paying an annual fee, try the Delta SkyMiles® Blue American Express Card. It offers:
2x miles at restaurants worldwide.
2x miles on eligible Delta purchases.
1x miles on all other eligible purchases.
20% savings on eligible in-flight purchases.
No annual fee (see rates & fees).
Back to top
Compare cards for earning Delta SkyMiles
The other cards in this list offer more Delta perks, such as priority boarding, access to Delta lounges and your first checked bag free on each round-trip Delta flight.
The Delta SkyMiles® Reserve American Express Card is the premium option, offering luxury benefits including concierge service and complimentary Delta Sky Club and Centurion Lounge access.
Back to top
Other cards that can earn Delta SkyMiles
Points earned with select travel cards can be converted to SkyMiles.
Convert American Express Membership Rewards points
Convert Membership Rewards points to SkyMiles at a 1:1 ratio with certain Amex cards.
Transfer points from travel partners
You can transfer points to SkyMiles from several loyalty programs. Here are a few major options that have co-branded credit cards.
| Loyalty program | Transfer details |
| --- | --- |
| Hilton Honors | Transfer 10,000 Hilton Honors points and receive 1,000 SkyMiles. |
| IHG Rewards Club | Transfer 10,000 IHG Rewards Club points and receive 2,000 SkyMiles. |
| Marriott Bonvoy | Transfer at a 3:1 ratio — transfer 3 Marriott Bonvoy points, receive 1 SkyMile. |
Back to top
How to earn Delta SkyMiles elite status
Delta's elite-status flyers are called Medallion Members. To reach Medallion Status, you must earn a combination of elite qualifiers:
Medallion Qualification Miles (MQMs).
Medallion Qualification Segments (MQSs).
Medallion Qualification Dollars (MQDs).
Let's break down what these are and how to earn them.
Medallion Status qualification
Abbreviation
What they're based on
Earnings
Medallion Qualification Miles
MQMs
Each flight's distance and fare class.
1 MQM per mile of your flight.

In higher fare classes, you might earn 1.5 or 2 MQMs per mile of your flight.

Medallion Qualification Segments
MQSs
The number of flights you take.
1 MQS per nonstop flight.
Medallion Qualification Dollars
MQDs
Your spending on Delta and Delta-partner flights.
1 MQD per dollar you spend on an eligible flight.
Back to top
How to reach Medallion Status
You'll need a certain number of MQMs, MQSs and MQDs.
| To reach this Medallion Status … | Silver | Gold | Platinum | Diamond |
| --- | --- | --- | --- | --- |
| You must earn … | 25,000 MQMs or 30 MQSs | 50,000 MQMs or 60 MQSs | 75,000 MQMs or 100 MQSs | 125,000 MQMs or 140 MQSs |
| And … | $3,000 MQDs | $6,000 MQDs | $9,000 MQDs | $15,000 MQDs |
MQD waivers
You can waive the MQD requirement with an MQD Waiver. A waiver can be earned by spending a certain amount in eligible purchases in a calendar year with an eligible Amex Delta SkyMiles credit card. Most Delta credit cards are eligible.
You can't use a Delta SkyMiles® Blue American Express Card or Delta SkyMiles Gold card to earn a waiver unless you have another eligible Delta SkyMiles credit card.
| Medallion Status | Required spend in a calendar year with an eligible Amex Delta SkyMiles credit card |
| --- | --- |
| Silver, Gold or Platinum | $25,000 |
| Diamond | $250,000 |
Some Delta credit cards help you earn MQMs
Earn bonus MQMs with personal and business Platinum and Reserve Delta credit cards.
Compare top American Express business cards
You can do this either by earning a welcome offer or qualifying for Status Boost. Status Boost offers bonus SkyMiles and MQMs once you spend a certain amount on your credit card.
Back to top
What you'll get with Medallion Status
Delta's frequent-flyer program can seem complicated, so you might be wondering: Is it even worth trying for Medallion Status?
For certain flyers, even Silver Medallion Status can be attractive. You'll earn more points per flight, qualify for flight-upgrade priority, get waived baggage fees, enjoy status with Delta's international partners and more.
Here are the perks you'll receive for different Medallion Tiers.
Mileage earnings
General SkyMiles members earn 5x miles on eligible Delta or Delta-partner flights. Members with Medallion Status earn even more.
Rollover MQMs
When you earn more MQMs than you need to qualify for a Medallion Tier, Delta will roll them over to the next qualification year.
Flight benefits
Medallion Members may get upgraded to higher fare classes upon request. The higher Medallion Status you have, the more likely you are to get upgraded.
What is Delta One?
You'll find Delta One fares on select long-haul flights. You can lay your seat flat in your own cabin, eat meals curated by Delta's chefs and enjoy complimentary wine, beer and spirits.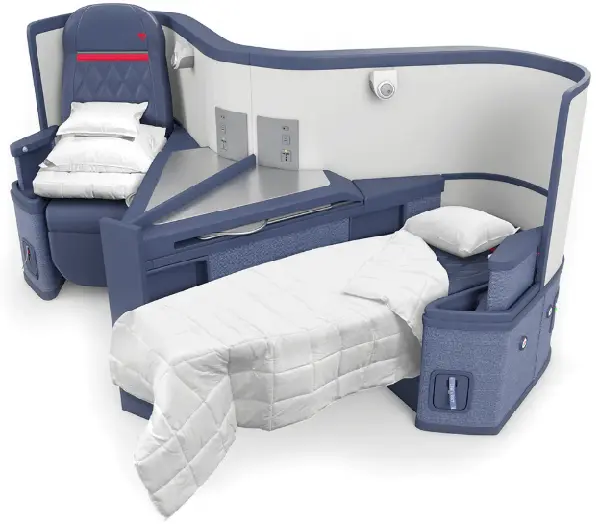 Preferred Seating and priority waitlist status round out Medallion flight benefits.
Fee waivers
Medallion fee waivers can be valuable since Delta charges sizable fees for some transactions.
Airport benefits
Get on your flight faster.
SkyTeam benefits
SkyTeam is a worldwide airline alliance with 20 members, including Delta. After earning miles in the network, you can use them for flights on member carriers.
Hertz car rental benefits
Medallion Members earn more Delta SkyMiles for eligible Hertz rentals.
Gold, Platinum and Diamond Medallion Members get automatic status in the Hertz Gold program.
Delta Vacations
Through Delta Vacations, you can bundle services like hotels, flights and car rentals. Delta offers discounts based on how much you spend.
These discounts are the same for all Medallion Members.
Back to top
Consider a credit card from another airline
Citi® / AAdvantage® Platinum Select® World Elite™ Mastercard®
Read more
Bottom line
Delta is one of the largest US airlines, so it's well worth learning about its frequent-flyer program.
SkyMiles can get you award flights of solid value. You can also earn miles through Delta SkyMiles credit cards and a bevy of other travel products.
If you're a frequent Delta flyer, you could earn valuable Medallion Status with attractive travel benefits.
If you're not sure a Delta SkyMiles card is right for you, consider other airline products.
Back to top
Frequently asked questions
Back to top