What is a Credit Card CVV / CVC Number?
What the 3 digits on the back of your card mean and how they're used to protect your finances.
If you're using your credit card to make a purchase online or over the phone, you'll usually be asked to provide the name on your card, the account number, expiration date and something called your CVV or CVC number. These three or four digits are located on the back of your card and are used to help secure your finances when using your card. Use this guide to find out what these numbers mean, what they're used for and how they help protect your credit card.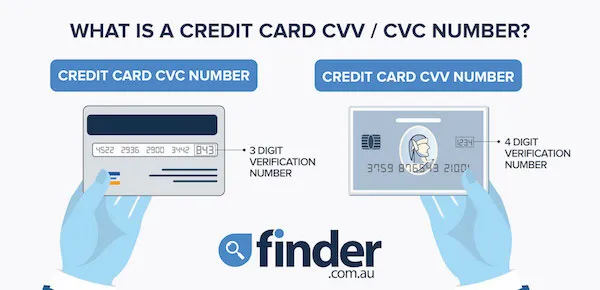 Back to top
What is a CVV or CVC number?
Your CVV number (or card verification value) or CVC (card verification code) on your credit card or debit card is a three or four-digit number on your card. If you have a Visa or Mastercard branded credit or debit card, it'll be a 3 digit number located on the back of your card. If you're using an American Express-issued card, the CVV will be a four-digit number found on the front of your card.
The CVV is an antifraud measure used when you're making a purchase but aren't required to enter a PIN or sign a receipt. This is why you're often asked to enter your CVV number if you're shopping online or making a purchase over the phone. That's so the merchant or payee can verify that you are indeed the cardholder and to avoid people using your card for fraudulent transactions.
As the CVV or CVC number is only printed on your card, it's important that you keep your card safe and secure. If your card is lost or stolen, anyone could use the card to make online purchases or over the phone transactions without your permission. If this does happen, contact your card issuer immediately to cancel the card and keep an eye on your statement to report any fraudulent transactions. The CVV or CVC number is considered a Secure Socket Layer (SSL), which is commonly used technology which is a digitally provided certification process.
Is a CVV or CVC number called anything else?
The credit card CVC and CVV numbers are sometimes called different things depending on the credit card network or credit card company its issues through. For example, Mastercard calls the code CVC2, American Express refers to it as CID, Discover calls their code CID2, and Visa has dubbed it CVV2.
Despite these different names, the codes all serve the same function and are used as a standardized security measure. In the case of "contactless" cards there is generally a chip involved which supplies its own electronically generated series of codes. They are called Dynamic CVV or iCVV.
Are CVV or CVC numbers the same as my PIN?
No, your CVV or CVC number is different to the PIN code you use to make ATM withdrawals of EFTPOS transactions in-store. On the other hand, your CVC or CVV number is used for verifying online or over the phone payments when you can't use your PIN or signature.
The CVV or CVC number is in place to protect your credit card from fraudulent transactions or phishing scams when using your card for online or phone transactions, but there could still be chances that your credit card might become compromised. Only use your credit card on secure sites and keep track of your credit card statement to spot any suspicious transactions. If you do come across one, make sure to contact your bank immediately to report the issue and protect your finances.
Back to top
Compare three popular credit cards
Capital One Quicksilver Cash Rewards Credit Card

Chase Freedom Unlimited®

Chase Freedom Flex℠

★★★★★

★★★★★

★★★★★

Go to site

on Capital One's secure site

Read Review

Terms apply, see rates & fees

Go to site

on Creditcards.com's secure site

Terms apply, see rates & fees

Minimum credit score

670

Minimum credit score

670

Minimum credit score

670

Annual fee

$0

Annual fee

$0

Annual fee

$0

Purchase APR

0% intro

Purchase APR

0% intro

Purchase APR

0% intro

Balance transfer APR

0% intro for the first 15 months (then 19.24% - 29.24% variable) 3% fee on the amounts transferred within the first 15 months

Balance transfer APR

0% intro for the first 15 months (then 19.24% to 27.99% variable) $5 or 3% of the amount of each transfer, whichever is greater in the first 60 days

Balance transfer APR

0% intro for the first 15 months (then 19.24% to 27.99% variable) $5 or 3% of the amount of each transfer, whichever is greater in the first 60 days

Rewards

Up to 1.5% cash back

Rewards

Up to 6.5% cash back

Rewards

Up to 5% cash back

Welcome offer

$200 cash bonus after you spend $500 on purchases within 3 months from account opening

Welcome offer

Earn an additional 1.5% cash back on everything you buy (on up to $20,000 spent in the first year) - worth up to $300 cash back

Welcome offer

$200 after spending $500 in the first 3 months
Compare even more credit cards