Chime now offers a secured credit card to help build your credit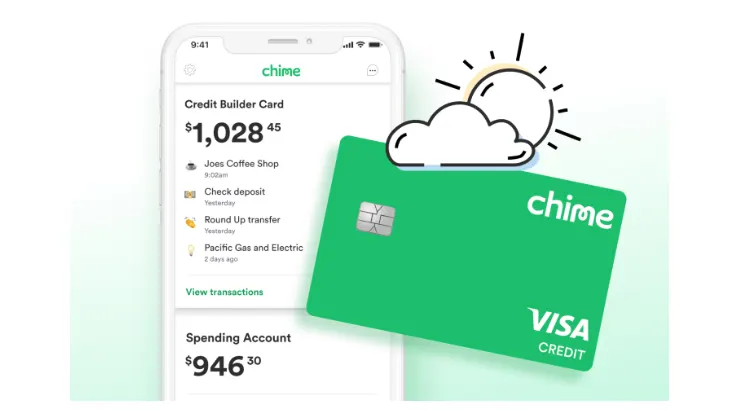 No fees, no interest and plenty of flexibility make the Chime card unique.
A waitlist is growing for a no-fee, no-interest secured credit card from digital bank Chime, and it's been designed to help users safely and easily build up their credit score.
No-annual-fee secured credit cards aren't new — the Capital One Secured Mastercard and Discover it Secured both fit that description too — but the 0% APR puts the new Chime Credit Builder Visa Secured Credit Card above its competition, which typically charges 9.99% to 29.99% in interest.
On top of that, the Chime Credit Builder card lets you choose how much of a security deposit you make — and it lets you use that deposit at the end of the month to pay your credit card bill. Most other secured credit cards have a set deposit amount and don't let you touch it.
How it helps build your credit
Like other secured credit cards, the security deposit is used as collateral for you to make purchases against, and when you pay your bill at the end of the month, that payment is reported to credit bureaus Equifax, Experian and TransUnion. On-time payments positively influence your credit score, and Chime claims you can increase your score by an average of 30 points by using Credit Builder.
Unlike other credit cards, there's no credit check to open an account and there's no credit limit, meaning there's no credit penalty for having a high credit utilization rate. However, you still can only spend up to the amount of your security deposit.
How to apply for the Chime Credit Builder card
In order to join the waitlist, you'll need a Chime Spending Account. You can then add your name to the waitlist by opening up the app's settings and selecting to join the waitlist for the Chime Credit Builder Visa Secured Credit Card. While you wait, you can set up payroll direct deposit to your Chime Spending Account, as you'll need at least one deposit completed within 45 days prior to applying for the Credit Builder card. Then once you're invited to apply, complete an app-based application.
To use your new Credit Builder card, first transfer an amount of your choosing from your Chime Spending Account to your Credit Builder account, then charge up to that amount by using your card wherever Visa is accepted.
Your Credit Builder account can be managed within your Chime app. The physical card is issued by Stride Bank.
How does it measure up to the competition?
If not for the waitlist, which makes it more difficult to get started, it would be hard to beat the Chime Credit Builder card thanks to its absence of costs and low eligibility threshold.
Here's a side-by-side comparison with other highly regarded secured credit cards:
| Feature | Chime Credit Builder Visa Secured Credit Card | First Progress Platinum Select MasterCard Secured Credit Card | Capital One Secured Mastercard | Applied Bank Secured Visa Gold Preferred Credit Card |
| --- | --- | --- | --- | --- |
| Annual fee | $0 | $39 | $0 | $48 |
| APR | 0% | 13.99% variable | 26.99% variable | 9.99% fixed |
| Minimum credit score | No credit check | 300 | 580 | 300 |
| Minimum deposit | Your choice | $200 | $49 | $200 |
Photo: Chime