Finder is committed to editorial independence. While we receive compensation when you click links to partners, they do not influence our opinions or reviews. Learn how we make money.
Chase CD rates and review
A big-name bank offering a range of terms, but you can find higher rates elsewhere.
Tuck your money away with a Chase CD for terms that range from one month to 10 years. But with APYs only as high as 0.02% for CD relationship rates, you'll find better rates elsewhere.
Details
Minimum deposit to open
$1,000
Interest compounding
Daily
3-month APY
0.02%
6-month APY
0.05% on CDs of $1,000+
0.02% on CDs of $0 to $99,999.99
9-month APY
0.05% on CDs of $10,000+
0.02% on CDs of $0 to $9,999.99
1-year APY
0.05% on CDs of $10,000+
0.02% on CDs of $0 to $99,999.99
15-month APY
0.05%
18-month APY
0.05% on CDs of $1,000+
0.02% on CDs of $0 to $99,999.99
2-year APY
0.05%
3-year APY
0.05% on CDs of $10,000+
0.02% on CDs of $0 to $99,999.99
4-year APY
0.05%
7-year APY
0.05%
10-year APY
0.05%
Early withdrawal penalty
90 days interest for terms of 1 to 5 months
180 days interest for terms of 6 to 23 months
365 days interest for terms of 24 + months

Expert review
Review by
sarah.george@finder.com
---
Sarah George is a writer at Finder who unravels complicated topics about insurance, business and finance. She's been wordsmithing for nearly five years, after earning an English education degree. Her insurance know-how has been featured on CarInsurance.com. You can usually find Sarah sipping hot tea and talking through movie plots in her downtime.
Expert review
Chase CDs are ideal if you're after flexibility. They come with a variety of terms and the option to withdraw interest at any time.

But you'll end up sacrificing a lot when it comes to interest rates. You'll only earn 0.02% on your money with a standard CD no matter the term. And only 0.02% or 0.1% if you open up a relationship CD and keep $1,000 or more locked away.

You'll find higher CD rates with flexible terms from other institutions.
What benefits can I get from a Chase CD?
Chase offers online customer support, a variety of CD terms and the following benefits:
Interest compounded daily. You'll get a better return on your savings daily. But keep in mind that it's with a low interest rate.
Automatic renewal. Choose Chase's automatically renewable CD upfront to keep saving. Or contact customer service about rolling over your single maturity CD during the 10-day grace period after its term ends.
Chase relationship rates. Earn a slightly higher APY when you link a Chase personal checking account. But the APY is still lower than the national average.
Interest withdrawals. Withdraw interest earned at any time before the term is up — though you'll be on the hook for fees.
What should I watch out for?
No account is perfect. Watch out for these potential drawbacks with your Chase CD:
Low APY. These CDs feature some of the lowest rates in the US. The longest terms earn only from 0.02% to 0.1% APY.
Apply online only as a Chase customer. Only Chase checking or savings account holders can apply for CDs online.
Early withdrawal penalty. You'll pay 1% of the amount withdrawn on CDs of 24 months or less. Longer terms have a 2% withdrawal fee. However, the fee won't go above the total interest.
If you prefer a higher yield CD, you'll want to keep looking. As always, compare your options to get the best CD rates available.
Compare with other CDs
How do I open a Chase CD?
There are a few ways you can open this account:
Online. To apply online, you'll first need a Chase checking or savings account. Then:
1. From the Certificate of Deposits page, click Open an account.
2. Enter your ZIP code and choose to fill out a new application. Click Next.
3. Log into your Chase online banking, fill out your personal information, fund your opening deposit and confirm the details.
In person. Talk to a Chase representative at your nearest location. If you're depositing more than $100,000, you'll have to visit a branch to open the CD.
By phone. Chat with a representative at 800-935-9935.
By mail. Prefer physical mail? Send in your request to open an account to:
JPMorgan Chase Bank, N.A.
PO Box 659754
San Antonio, TX 78265-9754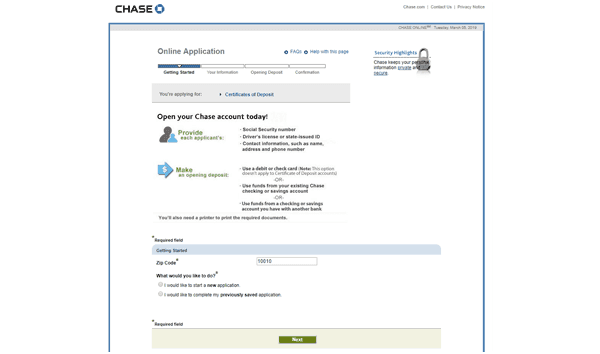 Eligibility
To open a Chase CD, you'll need to:
Be a US citizen.
Have a US driver's license or state-issued ID.
Have a minimum of $1,000 to open your account.
Required information
When applying, keep these items on-hand to make the process that much easier:
Social Security number.
Valid US driver's license or ID.
Personal contact information.
Account information to fund CD.
Funding options
Put money into your CD savings account by:
Cash or check. Hand your cash or check over in person at one of Chase's many physical locations.
Outside bank transfer. Transfer funds from another bank account.
Chase checking or savings accounts. Make a transfer from existing Chase bank accounts online.
How do I cash in a CD?
After your CD's term has ended, you can receive your money by requesting a check or by transferring the money online, either into a Chase account or another bank through ACH.
If you chose an automatically renewable CD, the entire amount gets rolled into another CD for a new term. You can change the new term or make a deposit during the 10-day grace period after the previous term ends. Single maturity CDs simply stop earning interest.
How can I get in touch with customer service?
Chase has a variety of customer service options:
Phone. Call customer service 24/7 at 800-935-9935.
Branch locations. Talk to customer support at one of over 5,000 Chase locations in the US.
Online. Chase has a comprehensive list of articles on its Contact web page, including FAQs.
Email. Sign in to Chase online banking and send customer service a secure message.
Social media. Connect with the bank on all major media, including Twitter, Instagram, Facebook and LinkedIn.
What other savings products does Chase offer?
Chase also offers a few other checking accounts:
Chase Savings. This very basic savings account earns just 0.01% interest.
Chase Premier Savings. The interest rate goes up a little for this account, but it still pales in comparison with other savings rates and charges $25 a month unless your balance is above $25,000.
Frequently asked questions