Finder is committed to editorial independence. While we receive compensation when you click links to partners, they do not influence our opinions or reviews. Learn how we make money.
Top 3 cannabis business loans
Find lenders willing to work with business owners in this high-risk industry.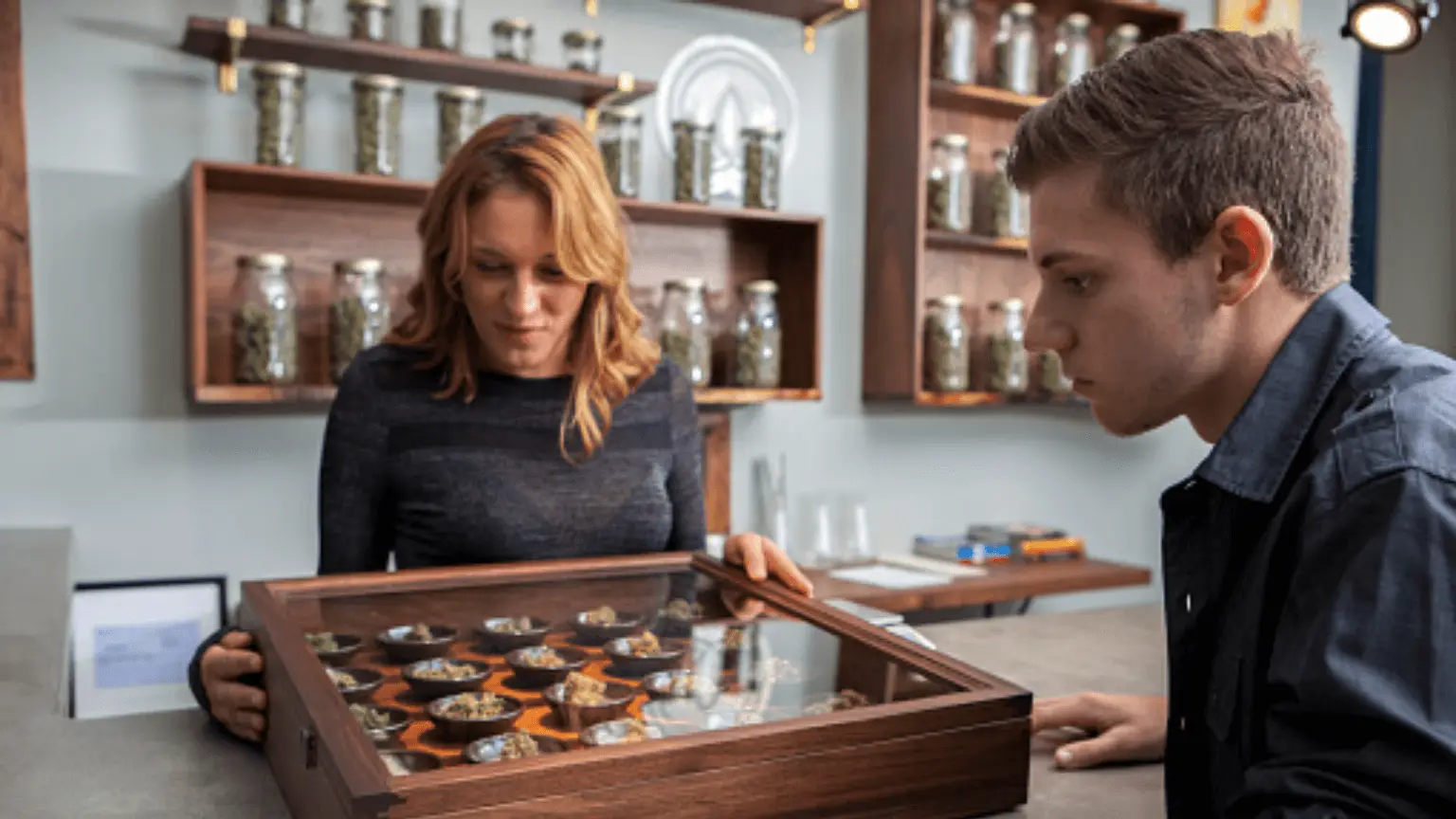 Federal regulations make it difficult to find a loan from most lenders if you're in the cannabis industry. But it's still possible to find funding — though you'll generally need good credit.
3 best cannabis business financing options
Best term loan: Diamond business loans
This California-based lender specializes in working with businesses that have struggled to find funding elsewhere — and it has a special program specifically for cannabis companies. Its rates are highly competitive compared to other cannabis business loans, but it comes with a high 10% origination fee.
The application is mainly based on your financial history, so look elsewhere if you have fair or bad credit.
Pros
Low starting APR of 5.9% to 19.99%
Based on your personal finances rather than your business's
Representative guides you through the application process
Cons
10% origination fee
Can take a few weeks to fund
No online application
| | |
| --- | --- |
| Min. Loan Amount | $25,000 |
| Max. Loan Amount | $150,000 |
| APR | 5.9% to 19.99% |
| Interest Rate Type | Fixed |
| Min. Credit Score | 680 |
| Minimum Loan Term | 12 months |
| Maximum Loan Term | 60 months |
Best bad credit: United Capital Source business term loans
United Capital Source is an alternative lender that offers a wide range of financing to businesses in high-risk industries, including the cannabis industry.
It requires little documentation, and you might be able to qualify for a loan even if you have bad credit. However, you'll likely need to provide bank statements, so you might not get approved if you're unbanked.
Pros
Rates start at 5%
Wide range of financing available
Online application
Relatively transparent about costs and process
Cons
Can be expensive if you have bad credit
Usually requires bank statements
Daily or weekly repayments on some products
| | |
| --- | --- |
| Min. Loan Amount | $10,000 |
| Max. Loan Amount | $5,000,000 |
| Interest Rate Type | Fixed |
| Min. Credit Score | 550 |
| Minimum Loan Term | 36 months |
| Maximum Loan Term | 120 months |
Best connection service: Green Leaf Money cannabis business loans
This service can help your business connect with a bank or lender that's willing to work with cannabis companies. Its partners offer relatively low rates on working capital loans, though you need good credit to qualify.
You can also find equipment leasing, real estate loans and merchant cash advances through Green Leaf Money. But you'll have to reach out for more info — there's very little available on Green Leaf's website.

Pros
Low rates on working capital loans
Connect with multiple types of financing
Responsive customer service
Cons
Website lacks transparency
Not a direct lender — unclear who its partners are
| | |
| --- | --- |
| Min. Loan Amount | $1,000 |
| Max. Loan Amount | $100,000 |
| APR | 6.98% to 30% |
| Interest Rate Type | Fixed |
| Min. Credit Score | 700 |
| Minimum Loan Term | 12 months |
| Maximum Loan Term | 84 months |
How we picked these lenders
We picked these lenders based on cost, availability and the ability to fund most types of cannabis businesses. Since no one loan is best for every business, we made sure to include lenders that offered different types of funding to fit a variety of business needs.
Compare more cannabis business loan providers
Is my cannabis-based business eligible for a loan?
Your eligibility often heavily depends on your personal financial history, since many cannabis businesses don't have financial business records. Here's what you generally need to qualify:
Good personal credit. Generally, you'll need a credit score of 670 or higher to qualify for a good deal on a cannabis business loan.
Long credit history. The length of your credit history can also affect your application. Typically, you'll need at least three years.
No bankruptcies. You usually can't have bankruptcies or other negative marks like tax liens or foreclosures on your credit report.
Business bank account. While not always required, you often need to have a bank account for your cannabis business.
Minimum time in business. Lenders typically require you to be up and running for at least six months to a year.
Legal status. Generally, all business owners need to be US citizens or permanent residents to qualify.
Requirements vary depending on the lender. But if you don't meet most of these requirements, you might want to consider alternative types of financing.
Can lenders tell if I lie on my application?
Probably — most lenders have ways to verify the information on your application is correct and that you're in an eligible industry.
Some use anti-money laundering or fraud-detection software to weed out cannabis companies. And others look out for suspicious signs in your bank account, like regular deposits just under $10,000. You're better off applying with a cannabis-friendly lender if you're trying to get a business loan.
Why can't I get business financing from my local bank?
Most banks don't offer cannabis financing because it's highly risky. Cannabis is still federally illegal, so banks that offer loans to the cannabis industry could be subject to prosecution. They could also be liable if they lend to a business that breaks state law by selling to a minor or transports cannabis across state lines.
These risks make it impossible for you to get a business loan from an FDIC-insured bank and hard to find funding even from non-insured banks or lenders.
What can I use a cannabis business loan for?
Like other business loans, cannabis business loans are restricted to business use. So you can't use a cannabis business loan to buy a car that is primarily for personal use, for example.
You also generally need to use your loan for the use you mentioned in the application. If you want to buy property or a storefront, you can't use a working capital loan — you'll have to apply for a real estate loan.
Cannabis business loan costs
How much your loan costs depends on the type of loan you apply for. Your cannabis business loan might come with the following types of costs:
Interest. Term loans generally come with an interest rate, usually starting around 6% for cannabis businesses.
Origination fee. Most business loans come with a fee that you pay at closing, which can run as high as 10% for the cannabis industry.
Factor rate. If you're taking out a merchant cash advance, you'll likely pay a factor rate instead of interest, which usually starts at around 1.09.
Down payment. If you're buying equipment or real estate, you might have to pay around 30% up front as a cannabis business.
How safe are loans for cannabis businesses?
Cannabis business loans can be riskier than options available to other industries. Like other businesses in the cannabis industry, cannabis lenders don't face as many regulations, so it's possible to run into scams.
Do a little detective work before applying with a lender:
Check if it's registered. Look up its registration with the agency that regulates lenders, like a Department of Business Oversight — if it's a requirement in your state.
Read reviews. Find out what other other borrowers have to say about their experience and look for red flags.
Check where it's been active. Check if the lender has participated in any industry events, like conventions.
Reach out to other cannabis businesses. If you're not sure where to start, ask other businesses in your area about where they found financing.
Is marijuana legal in my state?
Getting a cannabis business loan in California
While the California Bureau of Cannabis Control (BCC) and the Department of Business Oversight (DBO) are responsible for regulating the industry, it doesn't have any specific rules for cannabis business loans.
But a lot of cannabis-friendly lenders are based in the Golden State, and it might be easier to find a loan here than in other states. California is one of the few states that requires lenders to be licensed. If you can't find a lender's licence on its website, check its status by filling out a quick form on the California DBO website.
How to start a marijuana dispensary
Opening a dispensary is not as easy as growing some plants and setting up shop. However, if you're willing to put in the extra work and deal with some red tape, there is money to be made.
Understand your state's laws. Research both current laws and regulations expected to be enacted in the future.
Make sure you're eligible. In addition to your lender's eligibility criteria, you and your investors may need to pass a background check before proceeding with funding.
Prepare for taxes. Consult a tax attorney to learn the best way to accept and make payments in accordance with federal and state laws.
Find a legal rental space. Look into zoning laws that could affect where you can open a dispensary. Often, you can't open a cannabis-based business near a school, park or church.
Create a business plan. A good business plan sets you apart from other businesses seeking similar funding and determines your budget and future pricing.
Get a license. Licensing for your dispensary will vary depending on your state's laws and can be expensive to pursue.
Find good products. Before cultivating your own product, you may need to buy from other growers. Carefully review how to stay 100% compliant with your state's laws when purchasing supplies.
Market your business. Consider offering deals for first-time customers, buying advertising in industry publications and on relevant sites, and seeking publicity in periodicals and blogs.
How to legally start a cannabis business in 2020
How to cover a dispensary's startup costs
Since cannabis business loans are generally dependent on the owner's personal finances, it might be easier to find a startup loan than businesses in other industries. But you still might not get the best rates without a track record — or if your credit is less than perfect.
You might also want to consider other options, like equity investments or a personal loan. If you take out a personal loan, make sure the lender doesn't have restrictions on using the funds for federally illegal activity.
Cannabis business loan alternatives
If your cannabis business doesn't qualify with an online lender, there are other creative ways to seek out funding:
Crowdfunding. The US Securities and Exchange Commission (SEC) allows anyone to invest up to $2,200 in small companies in exchange for a stake in the business. Companies can raise up to $1.07 million this way — and one way to do it all in one place is through crowdfunding.
Business lines of credit. Alternative financing companies also offer lines of credit to help cannabis businesses cover ongoing expenses, though it's often more expensive than a loan.
Real estate loans. You can use these loans to buy or refinance the buildings or raw land you need to run your business.
Private equity funding. Some private equity firms may be willing to offer short-term, high-interest loans or funding for a large stake in your company.
Venture capitalists. In nearly all industries, you'll find wealthy investors interested in helping small businesses grow, often in exchange for equity.
Angel investors. Similar to venture capitalists, angel investors help businesses get started and typically deal with smaller amounts of money.
Personal loans. Got a solid credit history? You might have better luck getting approved for a personal loan. But make sure your lender allows you to put the funds toward a cannabis business.
Home equity loans. Homeowners can also borrow against the value of their houses with a home equity loan or line of credit. You'll also need to make sure your use is legitimate though.
Friend and family loans. Your friends and family can also invest in your business by personally lending you the funds and collecting on interest. Bring on a lawyer to help you write a legally binding contract to hold everyone accountable.
Bottom line
If you have good credit, cannabis business loans can be an affordable financing option if you'd rather retain full ownership of your business. But since it's such a high risk for lenders, you'll likely pay higher rates and fees than other industries.
For funding that's more affordable with fewer requirements, check out our guide to investor crowdfunding for cannabis businesses.
More guides on Finder