Finder is committed to editorial independence. While we receive compensation when you click links to partners, they do not influence our content.
The best standing desks for your work grind
Sitting down all day long can be hard on your body. So why not switch things up?
Many professionals like you have already made the switch to a standing desk. For students, office dwellers and others who spend long hours at the computer, changing postures over the course of a workday is essential.
Standing desks are a solid option to relieve soreness, offering body and mind a healthy alternative to the traditional sit-down desk.
Even if you're already sold on a standing desk, you shouldn't jump into a purchase as big as this one. These desks can be expensive. We've researched the top places to start your standing desks search, outlining the benefits of owning one so that you can decide if it's right for you.
Top brands for standing desks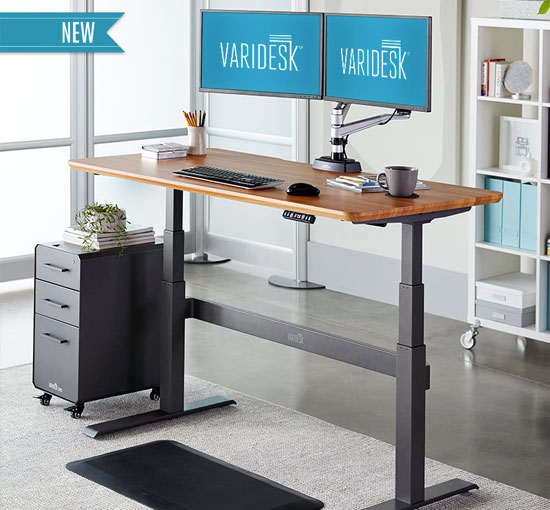 An affordable option, the American manufacturer offers high-quality standing setups at lower prices than its competitors. Even electric desks!
Varidesk's height-adjustable desks are designed to fit into your professional office space. The popular Pro Desk is a free standing desk that requires no tools to set up and can be assembled in less than five minutes.
Selling points:
Standing desk setups starting at $175.
Easy, quick setup.
Modern aesthetic with options like reclaimed wood.
Accessories like standing mats available for extra comfort.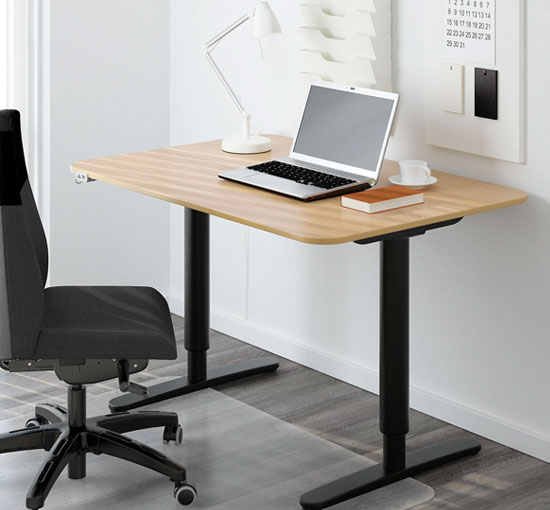 IKEA
Everyone's favorite Swedish superstore offer multiple sit-stand desk options for your office.
IKEA offers manually adjustable desks that can easily transition from sitting to standing, and modifications to convert your existing desk into one you can stand at. It even has electric desks to make the transition even easier and more painless.
Selling points:
Matching shelving units and other accessories available.
Sleek and modern designs.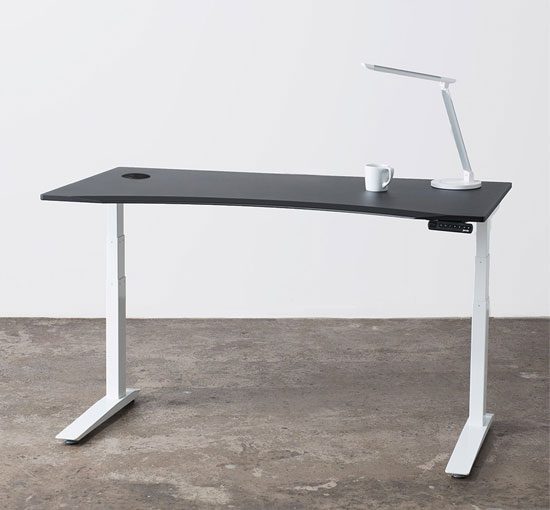 Fully
For a high-functioning, modern and stylish standing desk, Fully's Jarvis is a great choice.
These desks are beautiful and designed to work with you, so you won't have to sacrifice form for function. Choose from bamboo, powder coated, laminate, hardwood, whiteboard or even Oregon white oak — or just buy a frame for your existing desk top.
Selling points:
Kids' desks available.
The Wirecutter's #1 standing desk four years in a row.
Standing desks for small spaces are offered.
Prices start at under $200 for converter options.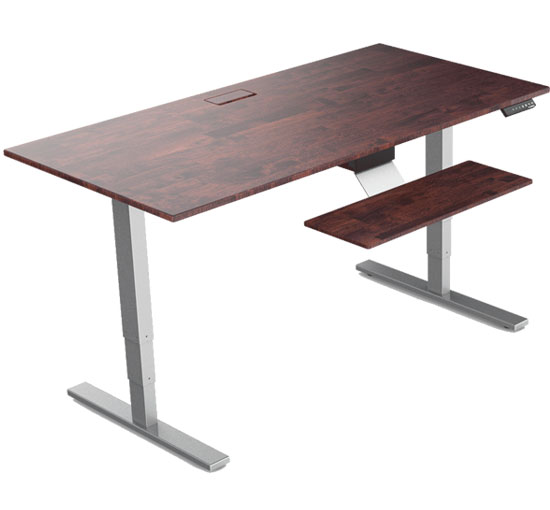 Evodesk
This customer-focused company understands that your desk is your ultimate workspace — and it's determined to make it work for you.
With a minimalist range of products — only four options available — Evodesk does its best to perfect the standing desk with smart options and integrated storage.
Selling points:
Sustainably designed and built from eco-friendly materials.
Expandable frame system allows you to grow your workspace.
Cord organization keeps tech clutter to a minimum.
Financing available.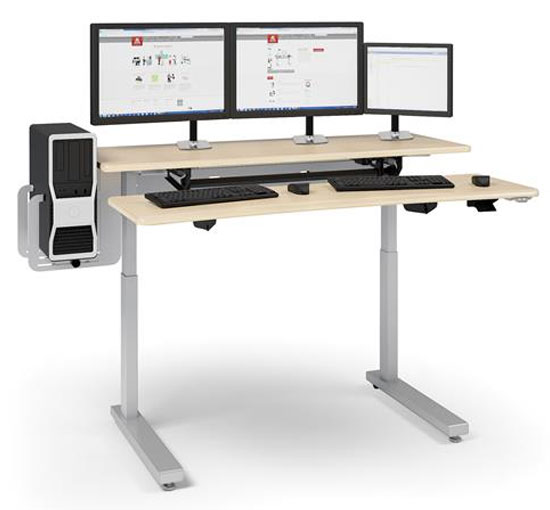 Ergotron
Specially designed for environments like doctors' offices, Ergotron is the perfect solution for your professional space.
Not everyone works somewhere that looks like it came out of an IKEA ad, and Ergotron understands that practicality. Its desks are designed for professionals and their busy workdays.
Selling points:
Mobile standing desks for the professional on the move.
Options specially designed for students.
Monitor mounts to stabilize your computer and improve your standing desk setup.
Back to top
Top online sites to buy standing desks
An affordable option, the American manufacturer offers high-quality standing setups at lower prices than its competitors. Even electric desks!
Varidesk's height-adjustable desks are designed to fit into your professional office space. Add accessories like cushioned mats that can take pressure off your feet while you work.
Standing desk setups start at $175.
Satisfaction guaranteed.
Free shipping and returns.
This online furniture store offers lots of affordable options for standing and adjustable-height desks.
Whether you're looking for your desk to roll to the best spot or tilt to the perfect angle, Wayfair's collection of standing desks marries variety with top-notch options.
Two-day and overnight shipping available.
Variety of designs can complement any space.
Free shipping on most orders.
If you want it, this digital retail giant probably sells it — standing desks no exception.
Amazon's options are more affordable than most, offering accessories for your standing desk that include cushioned mats and monitor stands.
Free two-day shipping for Amazon Prime members.
Shop with confidence thanks to accessible customer service.
Free returns on most items.
eBay
For the budget-conscious shopper, the "world's online marketplace" can be an affordable option for your next desk.
The popular eBay is one of the only places to score a reasonable standing desk for less than $100.
Variety of styles available.
Many sellers offer free shipping.
Orders covered by eBay's buyer protection.
Although your local store may not carry the latest models, look to this multinational retailer online for a variety of standing desk options.
Walmart's desks vary widely in price and range from full standing models to modifiers for the desk you already have.
Includes options at under $50.
Free two-day shipping.
Return items to your local Walmart.
If you want a high-quality desk that looks professional wherever you work, this office supply retailer is a top choice.
Office Depot offers standing desks in a variety of colors and styles so that you can match it to your existing furniture, not to mention to your budget.
Standing workstations with storage available.
Free delivery to most ZIP codes on orders of $35 or more.
Earn 2% cash back with Office Depot Rewards.
Back to top
Standing desk converters
A less expensive option, standing desk converters allow you to turn your existing office setup into a standing workspace by giving your desk extra height. You'll find many materials available — bamboo to metal to plastic — or DIY your own standing desk converter using cardboard or wood.Some standing desk converters feature storage drawers or shelves to stash your stuff in. Others give your computer a boost so that you can stand up awhile. Converters range from about $15 to hundreds of dollars, leaving the amount you'd like to spend up to you.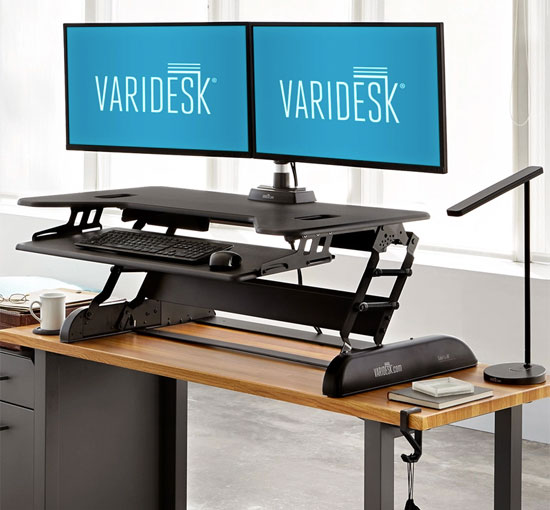 Our top retailers for standing desk converters
Pick the look that matches your office best from lots of professional standing desk converters at Varidesk.
Satisfaction guaranteed.
Free shipping.
Free returns.
At Walmart, you can choose from among standing desk converters in a variety of colors and finishes.
Options under $50.
Free two-day shipping.
Return items to your local Walmart.
You'll find affordable deals on standing desk converters of all sizes and designs on Amazon.
Free two-day shipping for Amazon Prime members.
Shop with confidence thanks to solid customer service.
Free returns on most items.
Back to top
What are the benefits of a standing desk?
The health benefits of standing desks are highly speculative: There isn't a lot of conclusive scientific research to say whether one can improve your health. But at least a few studies demonstrate that either sitting or standing without changing position for prolonged periods is linked to health risks. A height adjustable desk can help you switch up your routine.
A 2013 study appeared to show that standing desk users burned an additional 20.4 calories per hour compared with those who didn't use one. But a 2017 University of Sydney study concluded that most health benefits associated with standing desks are distorted by an overblown media narrative. So, there's that.
Although a standing desk could potentially benefit your health, there's no real evidence to support that other than anecdotes from standing desk users.
But a standing desk could be a way to listen to your body, adjusting to work more comfortably — whether that's sitting or standing.
Back to top
Standing desk hacks
Go online, and you'll see people who've created their own standing desks without a converter by combining shelving units and desktops. This method takes more hands-on work and DIY creativity. But there's no reason it can't work if you plan your standing desk well.
Ikea is one of the best places to find supplies for a project like this, because they sell desktops, legs and storage units separately. Make sure to measure your DIY standing desk to the perfect height to ensure a comfortable workspace.
The Ikea standing desk hack
You'll find lots of ways to hack Ikea's DIY-assembly furniture into a super standing desk. But one man's Ikea design really stands out from the crowd.
Colin Nederkoorn, founder and CEO of Customer.io, designed a standing desk comprising Ikea furniture for just $22 — a perfect way for those on the fence to see if they like working at a standing desk before investing in one.
His design throws together Ikea's Lack side table ($7.99), Viktor shelf ($5.99), and two Ekby Valter brackets ($4 each). Throw in some screws from home, and you can make a standing desk for a whopping $21.98.
Back to top
Bottom line
A standing desk's main benefit is comfort, mixing standing into your work routine instead of sitting for the duration of the day.
If you're not yet sure a standing desk is for you, consider a DIY desk or standing desk converter to give it a try without spending a lot. If you know you'd love a standing desk, investing in a manual or electric adjustable-height desk can be an excellent addition to your workspace.
Whatever your inclination, rest assured that plenty of styles and colors are available to fit your unique, personal space.
How did we choose these products?
We looked at the size, price, adjustability, finish and overall features of a wide range of popular standing desks to create our product list. We also factored in third-party product reviews.
Back to top
Our top deals for desk and office supplies July 2021
Back to top
Image: VariDesk