Finder is committed to editorial independence. While we receive compensation when you click links to partners, they do not influence our opinions or reviews. Learn how we make money.
BankMobile Vibe review
A seamless way to receive refunds and financial aid from your school.
finder.com's rating: 4.0 / 5.0
★★★★★
Bank Mobile works as a middleman between you and your school. It processes and disburses funds to students on behalf of their colleges — and offers a checking account to speed up the process. Vibe is an optional account that rewards students with fee-free ATM access, cashback rewards and incentives to save — but it doesn't earn interest.
Details
| | |
| --- | --- |
| Fee | $2.99 per month |
| To waive the fee | Have qualifying deposits totaling $300 or more per statement cycle |
| ATMs | Over 55,000 fee-free Allpoint ATMs |
| ATM transaction fee | $0 |
| Out-of-network ATM fee | $3 |
| Overdraft fee | $0 |
Expert review
Review by
katia.iervasi@finder.com
---
Katia Iervasi is a staff writer who hails from Australia and now calls New York home. Her writing and analysis has been featured on sites like Forbes, Best Company and Financial Advisor around the world. Armed with a BA in Communication and a journalistic eye for detail, she navigates insurance and finance topics for Finder, so you can splash your cash smartly (and be a pro when the subject pops up at dinner parties).
Expert review
Bank Mobile's checking account is designed specifically for students. The account offers cashback rewards, access to free ATMs around the world and a seamless way to receive school refunds.
But you'll pay $2.99 a month if you don't make qualifying deposits of $300 each billing cycle.
If you're looking for a student account with minimal to zero fees, you'll want to keep looking. As always, compare your options when choosing a checking account.
What are the benefits of a checking account with Bank Mobile?
Like most checking accounts, BankMobile Vibe comes with a debit card and is connected to an app that makes it easier to manage your money. It also has these unique benefits:
Uninterrupted refund delivery. If you receive financial aid or other money from your school, the bank promises you'll get it on time — every time.
Fee-free ATMs around the world. Bank Mobile is part of the AllPoint network, which has ATMs across the US and overseas.
Incentive to save. Through the Passport Recognition Program, students can receive deals and discounts and win cash prizes for smart money management.
Supports wire transfers. This is unusual for an online bank. Transfers received before 6 p.m. ET are processed the same business day.
Cash back promotions. The bank regularly offers 1% cashback rewards for shopping at participating grocery stores and gas stations. For details, go to the website.
Check-writing privileges. You can order a pack of three starter checks from Bank Mobile. If you want to order a full checkbook, they'll direct you to a third-party provider.
Budgeting tools. The Bank Mobile app features Money Meter and Snapshot to help you to monitor your spending habits.
What should I look out for?
These drawbacks may sway your decision:
The account doesn't earn interest. If you want to earn interest on your growing balance, look into the BankMobile Vibe Up account.
Monthly service fees. It costs $2.99 a month to maintain your account — but Bank Mobile will waive the fee each billing cycle where you have qualifying deposits of $300 or more.
No live chat function. Bank Mobile offers no online customer service in real time, which is unusual for an online bank. Bank Mobile does have a Facebook page, and Messenger states that replies typically come in within minutes.
Cash deposit fee. You may be charged up to $4.95 when you load cash onto your card at participating retailers.
Expensive outgoing wires. Incoming domestic and international wires are free, but you'll pay $25 when you send a wire.
Lack of overdraft protection. Bank Mobile won't block transactions that will put your account in the red.
Bank Mobile's ATM network and fees
You can dip your debit card into 55,000 AllPoint ATMs around the world for free. In the US, the ATMs are located in major retailers, such as Target, Costco, CVS, Kroger, Walgreens and Safeway. To find one near you, search by zip code on the AllPoint website.
If you withdraw cash from an out-of-network ATM, you'll have to pay a fee of $3. The ATM provider may charge additional fees. If you're just checking your balance, you won't be charged a fee by Bank Mobile.
The maximum daily ATM withdrawal limit is $500.
Compare with other student checking accounts
How do I open a Bank Mobile account?
To qualify for this account, you must be a student receiving financial aid at one of Bank Mobile's partner universities or colleges.
You'll get a refund selection kit from your school, and from there you can opt to receive your refunds through the BankMobile Vibe account. The kit will walk you through the steps for opening the account and creating a username and password.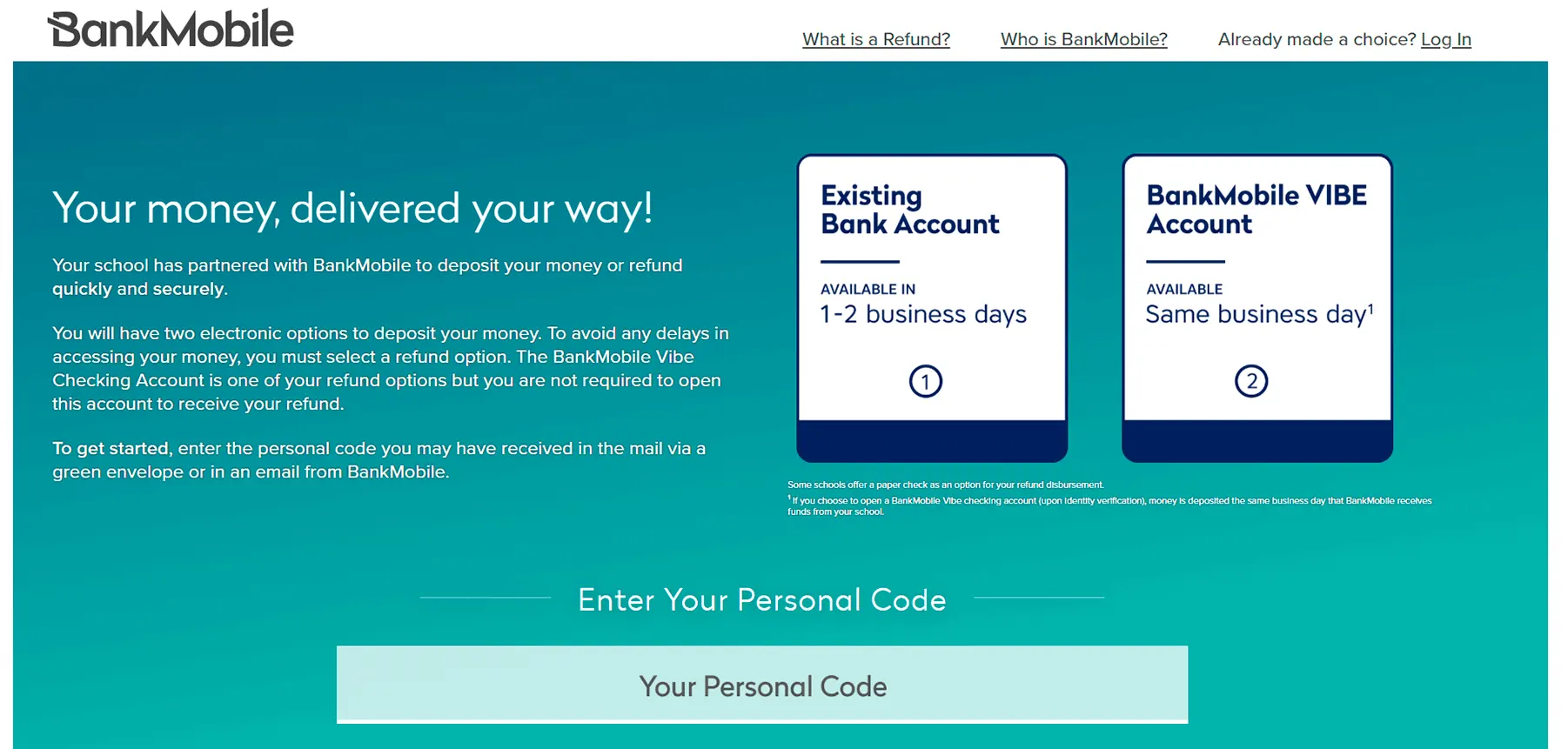 Required information
The application will ask for the following information:
Personal and contact details
School and student ID
Social Security number
You'll also need to provide identifying documents, such as:
Your student ID
A valid government issued-ID
Proof of your physical address
How do I deposit and withdraw my money?
Direct deposit. Enroll in direct deposit to send a portion of your paycheck or government benefits straight to your checking account.
Wire transfers. Transfer and receive funds from a checking or savings account at another bank.
Internal transfers. Move money between Bank Mobile accounts online or on the app.
Cash deposits. Reload your card at participating Green Dot retailers — like Walmart — or purchase a money order and mail it to:
Bank Mobile
P.O. Box 445
Phoenixville, PA 19460
Checks. Upload mobile checks directly on the app, or mail paper checks to the address above.
Cash back with merchant transactions. Some merchants offer cash back at the register for PIN-based debit card purchases. Bank Mobile supports this, and doesn't charge a fee.
ATM withdrawals. Access any ATM in the AllPoint network for free. There's a $3 fee for using out-of-network ATMs.
Teller withdrawals. Go to a Customers Bank branch to withdraw cash. You may be subject to a fee.
Western Union Direct to Bank transfer. Use Western Union's service to receive funds in your Bank Mobile account.
Frequently asked questions
Checking account ratings
★★★★★ — Excellent
★★★★★ — Good
★★★★★ — Average
★★★★★ — Subpar
★★★★★ — Poor
We analyze top checking accounts and rate them one to five stars based on factors that are most important to you. These factors include: monthly fees, the ease at which monthly fees can be waived, the breadth of ATM access, ATM and overdraft fees, and customer service.