Finder is committed to editorial independence. While we receive compensation when you click links to partners, they do not influence our content.
Apple HomePod review
Apple's HomePod offers superlative sound for its price, but it struggles to really be a "smart" speaker.
Pros and cons
Amazing sound quality
Very simple to set up
Attractive design
Great microphone pickup
Siri isn't as smart as it should be
No stereo or multi-room audio at launch
No personal profiles or easy privacy for your iMessages
No native support for anything but Apple Music
Apple is often a latecomer to markets that it ends up dominating, as any phone manufacturer could readily tell you. Its latest effort, the Apple HomePod, meshes Apple's existing commitment to music with the world of smart speakers — but the results are mixed.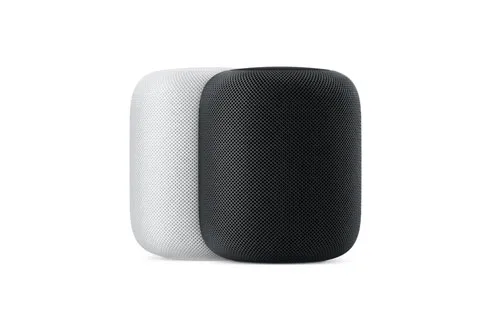 Design
To start, Apple's HomePod is much larger and heavier than existing smart speakers — it weighs over five pounds. That's almost the same weight as two and a half Amazon Echo Plus speakers or five Google Home speakers.
The HomePod's only controls are a touch panel at the top for volume control and to quickly summon Siri. This is also where it'll light up when it hears its command tone or when pressed. If you do end up using the glossy touch control panel frequently, it can quickly become a home for fingerprint smudges.
The actual construction of the HomePod is typical Apple. In other words, it's more attractive than most of your other smart speaker choices, while still being plain enough that you can tuck it into a corner without disrupting your home decor.
One minor long-term design catch with the HomePod is that the fabric-wrapped power cable is sealed into the speaker itself, which could be problematic if it frays or breaks.
Installation
You can't set up a HomePod without an iPad or iPhone nearby running Apple's Home App. But as long as you can jump that barrier, the setup is smartly guided. I set up the HomePod using an iPhone 8 Plus signed into my Apple ID. As soon as I powered up the HomePod, the iPhone reacted to it, noting that it needed an iOS update to properly talk to it.
HomePod then used audio tones to pair to my iPhone and verify my Apple ID (including wireless network info and Siri preferences) before setup. The entire process only took a couple of minutes before the swirling Siri indicator was up and waiting for a voice command.
One very smart trick that the HomePod has: It uses an array of tweeters around the entire speaker body to acoustically measure and modify its equalization based on where it's located. An onboard accelerometer notes when it's been moved, so this happens every time you shift it around your home for idea audio wherever you place it.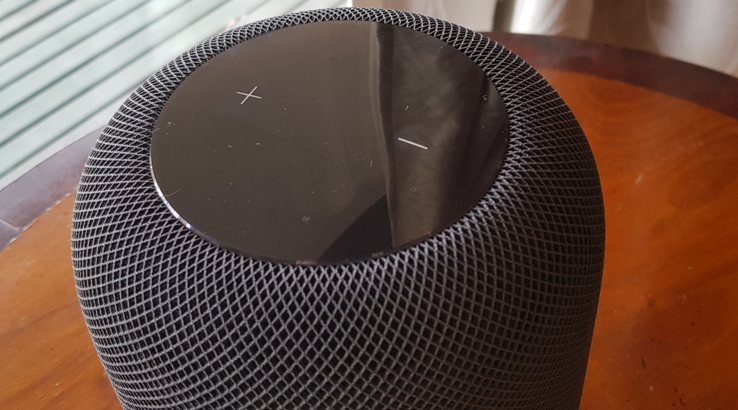 Performance
It's clear that significant time and engineering money went into building out the HomePod's internal speakers. This puts the HomePod into slightly different territory than most of Google's or Amazon's smart speakers. The HomePod is intended to appeal to music lovers rather than just folks who want a weather update or control of their home lights from their speaker.
However, I won't say that HomePod's audio absolutely lives up to that hype. It does come pretty close, though. The only way I could get subpar sound out of it was by deliberately placing it on a soft surface, at which point its audio representations dropped.
General audio representation is very good, even at the highest possible volumes. Thankfully, my neighbors are relatively deaf, because the HomePod can get quite loud. Even when pushed, distortion isn't an issue.
The crisp guitar work at the start of Prince's Let's Go Crazy came through nicely in my own tests, as did the more muddied strumming on Dirty Deeds Done Dirt Cheap. You can taste the regret in the vocals on Joe Cocker's version of Five Women… and, well, I could go on, but your musical tastes probably vary widely from my own. No matter, because Apple gets music and has invested heavily in audio quality for the HomePod — and it shows.
For anyone coming from a high-quality stereo or surround sound system, you'll probably appreciate how good the HomePod sounds, but it won't seem revolutionary. If all you've ever used are Bluetooth speakers, it'll sound amazing.
In smaller rooms, its ability to surround you with sound is far more impressive and immersive than in larger rooms, especially since you can't actually pair HomePods yet for proper stereo sound. At the time of this review, there was no support for multi-room audio, although it became available with Apple's AirPlay 2 update.
The actual pickup microphones for Siri on the HomePod are also noteworthy. Even with loud music playing, a quick "Hey, Siri" is all you need to make changes or request new tracks in your playlist. Compared to the Echo or Home, the HomePod's pickup is exceptional.
If all you want is a good Apple-branded music speaker for playing Apple Music content, you could stop reading this review right now and go buy one.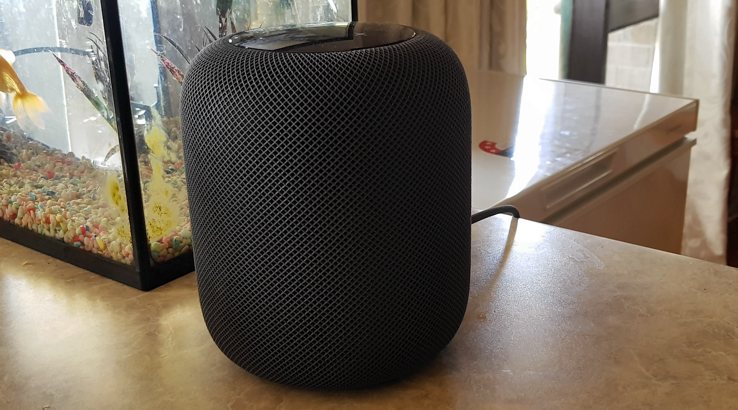 Here's the problem, though: The HomePod isn't just meant to be a standalone speaker, but also a smart speaker. It's competing with the much cheaper Google Home and Amazon Echo families — and generally quite poorly. Siri's not exactly a new voice assistant, but it might seem that way based on its subpar HomePod integration.
For starters, Siri only "talks" to Apple Music — not competitors like Spotify, Google Play Music, TuneIn Radio or Tidal. You can share content to HomePod from those services over Bluetooth, but if you want to specifically search by voice for an artist or song, you've got to have an Apple Music subscription. It's Apple's way or the highway, and while that's a very Apple kind of play, it's not exactly admirable.
Siri also isn't fussy about who she talks to. In other words, there's no support for individual voice recognition or profiles of any type at launch. Yes, your iPhone X can lock Siri to just your voice, but the HomePod explicitly won't do this —whether for selecting music or for sending or reading incoming iMessages.
This also means that as long as your iPhone is on the same local Wi-Fi network, anyone can ask HomePod to read out your iMessages, and it'll happily do so.
Likewise, while it builds a profile of your listening preferences to deliver more accurate results, it only does so for one Apple ID. You can opt to turn off listening history in the Home app, but if you forget (which you inevitably will) and someone else makes a bunch of selections that you'd never listen to, your listening preferences and recommendations will be way out of whack.
HomePod also acts as a HomeKit hub if you've already installed other Apple-compliant smart home automation gadgets. It's only when you want to stretch the smart speaker definition further that the cracks really show in the HomePod's "smart" status.
Put simply, Siri in the HomePod is remarkably dumb, with many queries returning no answer at all or very limited information. Only selected general queries will get a response, and even then within limited parameters.
Right now, Apple's HomePod sits firmly at the bottom of the smart speaker class.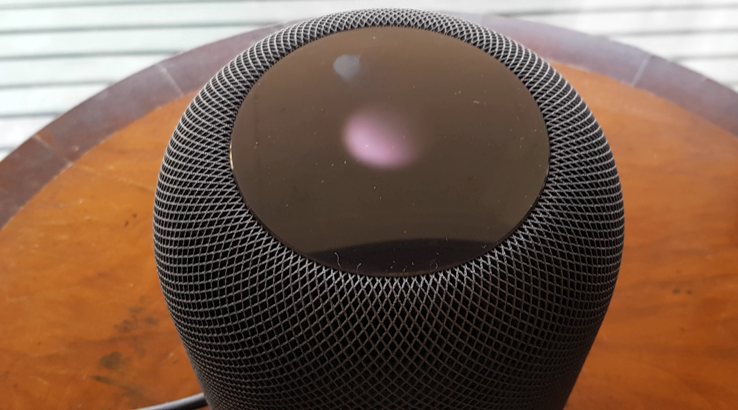 Verdict
If you're happily ensconced within the Apple ecosystem with an Apple Music subscription and you're looking for a high-quality single-speaker solution, it's an easy recommendation. Apple rarely makes its products hard to use, and the HomePod is no exception.
That being said, once you get past the music playback, you might notice that it lags behind in smart integration compared to Google Home or Amazon Echo at a much higher price.
The Apple HomePod has a lot of potential, and clearly Apple has plans to expand it via software alone, with the AirPlay 2 update set to get it talking properly to Apple TV and provide stereo and multi-room options — as long as you're happy to buy multiple HomePods.
Testing out the HomePod reminded me that while Apple does a lot of iteration and testing on products, its version-one products are rarely all that great. The iPhone might be the bestselling individual model in the world now, but that first generation iPhone was 2G only and had no app support whatsoever. The first iPad was derided as a "big iPod Touch" and, compared to an iPad Pro or even a 2017 iPad, it's horribly clunky and heavy.
That's where the Apple HomePod is right now. While it has its moments of brilliance and a lot of promise, it's still too early to generally recommend. Even if you're keen, there's little reason not to hold off and wait for updates that actually make the Apple HomePod smart.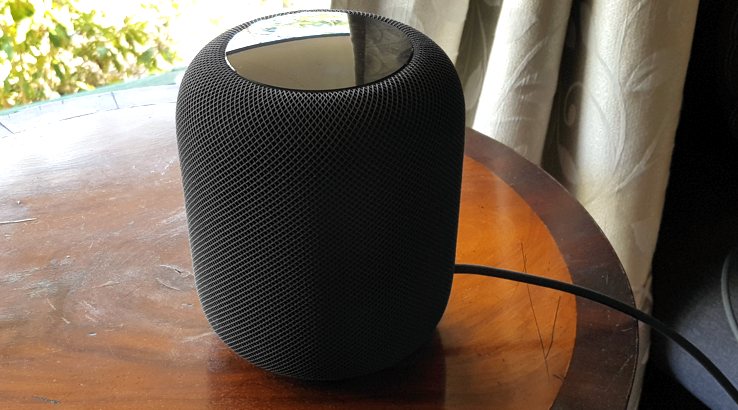 Alternatives
One of Sonos's systems would be the obvious alternative to a HomePod, although Sonos still needs to get its Google Assistant/Alexa integration into place.
In the actual smart speaker space, you could consider the Google Home speaker, which has a much wider array of voice capabilities, albeit with much weaker music audio. Google does have a high-end offering in the Google Home Max, which costs about the same as the Apple HomePod.
In the Echo clan, the Amazon Echo Plus sits at the top of the family tree, although as we found in our Echo Plus review, it's not quite smart enough to justify its price tag. But you can pair the Amazon Echo or Dot to a set of good-quality speakers via their output jacks to compete with the HomePod.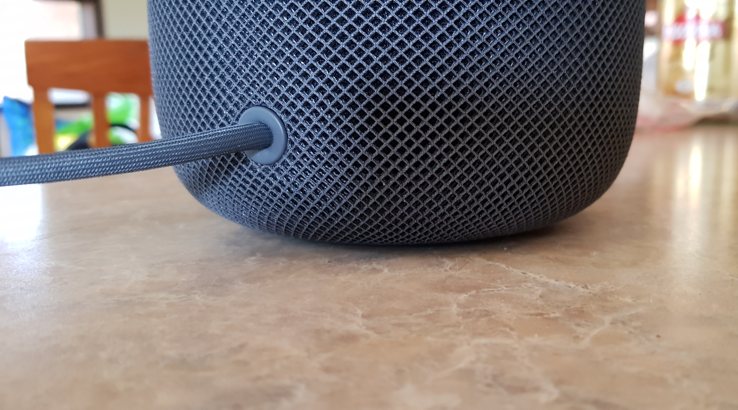 Apple HomePod: What the other reviewers say
| Site | Comment | Score |
| --- | --- | --- |
| AFR | "We've only had Apple's new HomePod in the Labs for three days, but already we want to take to it with a screwdriver, pull Siri out and tell her to SHUT UP AND JUST PLAY THE DAMNED MUSIC." | N/A |
| Forbes | "Big league sound, minor league smarts" | N/A |
| TechRadar | "Superb sound, so-so smart speaker" | 3.5/5 |
| What HiFi | "The best-sounding, most music-oriented smart speaker currently available." | 5/5 |
| 9to5 Mac | "For all that the HomePod does right in the area of sound quality, it's noticeably lacking in areas that competing smart speakers have mastered by now." | N/A |
| Gizmodo | "A great piece of hardware, hampered by some seriously restrictive software." | N/A |
| CNET | "Great sound, but it's trapped in Apple's world." | 4/5 |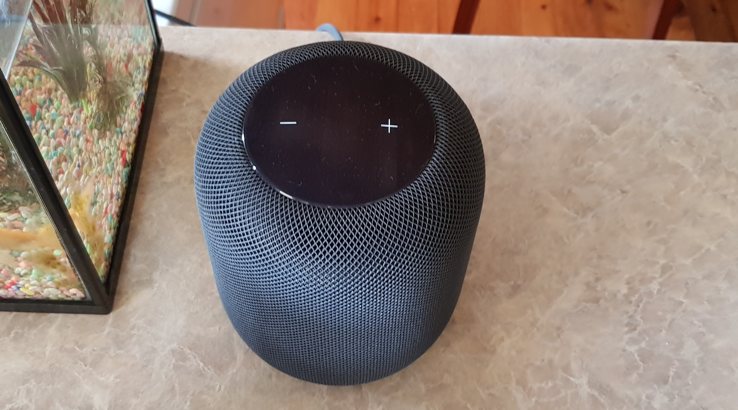 Pricing and availability
The Apple HomePod currently sells for $299.
About the Apple HomePod
What is the Apple HomePod? Apple's first Smart speaker brings the power of Siri to a powerful, high-end speaker for your home.
When did the Apple HomePod come out? The HomePod launched in the US in February 2018.
How much does the Apple HomePod cost? HomePod currently retails for $299 in the US.
Back to top
More guides on Finder