Finder may earn compensation from partners, but editorial opinions are our own. Advertiser Disclosure
How a butler's pantry can make entertaining friends and family simple
Need extra space for preparation and storage outside of the kitchen when hosting guests? A butler's pantry can do that and more.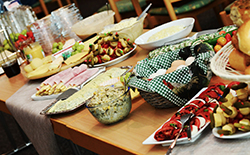 Described as the "jack of all trades" or a "kitchen within a kitchen", a butler's pantry is the ultimate luxury item for kitchens. A butler's pantry can provide extra storage space and a better entertaining and dining experience for both you and your guests.
Here are some things to consider when planning and designing a butler's pantry, plus some key reasons why you should include one in your next kitchen renovation.
What's a butler's pantry?
A butler's pantry functions as a utility room and allows the host to both prepare and clean up food in an area that's out of sight to guests. Initially used as a pantry between the kitchen and dining area, the contemporary butler's pantry provides additional cabinetry and storage space. A butler's pantry is most commonly used to prepare drinks and appetizers, and store linen, glasses, china and silverware.
Pros and cons of a butler's pantry
The primary benefit of a butler's pantry is more space for cooking, storage and cleaning. A butler's pantry provides a place to hide the dirty dishes, food scraps and spills from your dinner party. Simply close the doors of the butler's pantry and enjoy your meal without having the mess of your cooking on display for everyone to see.
Pros
Additional storage space
Hides mess from guests when entertaining
Luxury factor
Better organization of utensils and glassware
Cons
Additional cost
Extra planning required
Requires a dedicated room
Considerations for your butler's pantry
Consider the purpose of your butler's pantry when planning and designing the layout, features and storage needs.
Space
Consider the amount of space you can dedicate to your butler's pantry and think about how you'll be using it. You'll want extra room for appliances like a dishwasher, small refrigerator and possibly even a sink. Don't forget to account for countertops and shelves for storing extra kitchen and dining paraphernalia.
Cut costs
A butler's pantry is typically tucked away out of sight, you can save money by choosing inexpensive construction materials such as laminate countertops.
Organize your belongings by how frequently you use them
Position items that are in heavy rotation, such as glassware and linen, in a spot that can be easily reached. If you know you'll only be using a special serving tray once a year, tuck it away in a cabinet.
Lighting
Install adequate lighting in your butler's pantry, you'll need to see what your preparing. It's key to have a light focused on the countertop, as this is where you'll be doing most of your prep.
How to get your home remodel right the first time
Apply for Financing
Your financing needs may differ depending on the size of your renovation. Do you want your butler's pantry to be a small nook tucked away from the kitchen? Or do you want the space to be an entire room itself?
Either way, a personal loan can give you enough financial cushion to build a butler's pantry that will surely impress your guests.
Different uses for a butler's pantry
Food preparation
To maximize storage space, consider the following features for your preparation area:
Interior cabinet lights to highlight china
Deep drawers for organizing large plates
Plate racks that are easily accessed
Entertaining
Consider creating a work space in your butler's pantry that functions as a self-serve drink area. You may want to include features such as:
Wine coolers or racks to hold bottles in place
Convenient bar sinks that take up minimal bench space
Built-in coffee makers or juicers that allow you to prepare drinks for your guests
Sliding doors for easy access and seclusion
Clean-up area
A butler's pantry requires durable appliances and materials to make the cleanup process easier, such as:
Dishwasher drawers, which are ideal for small and frequent loads
Sinks that allow for easy cleaning
Durable surfaces made of wood, laminate, stone, quartz or even concrete.