Finder is committed to editorial independence. While we receive compensation when you click links to partners, they do not influence our opinions or reviews. Learn how we make money.
What is a balance transfer?
Transfer your balance to an interest-free account and save money.
Balance transfers allow you to move your debt from one or more credit cards to another credit card. Typically, this debt is moved to a card with a low or 0% intro APR promotion to help you save on interest and pay down the debt faster.
You'll find a variety of credit cards offering balance transfers, all ranging in intro periods, revert APRs and reward features. No matter what card you choose, here's what you should know before transferring.
What is a balance transfer credit card?
A balance transfer credit card is a credit card with a special introductory APR period on balance transfers. Balance transfer credit cards may also offer an intro period in which the lender won't charge a balance transfer fee.
Video: What is a balance transfer?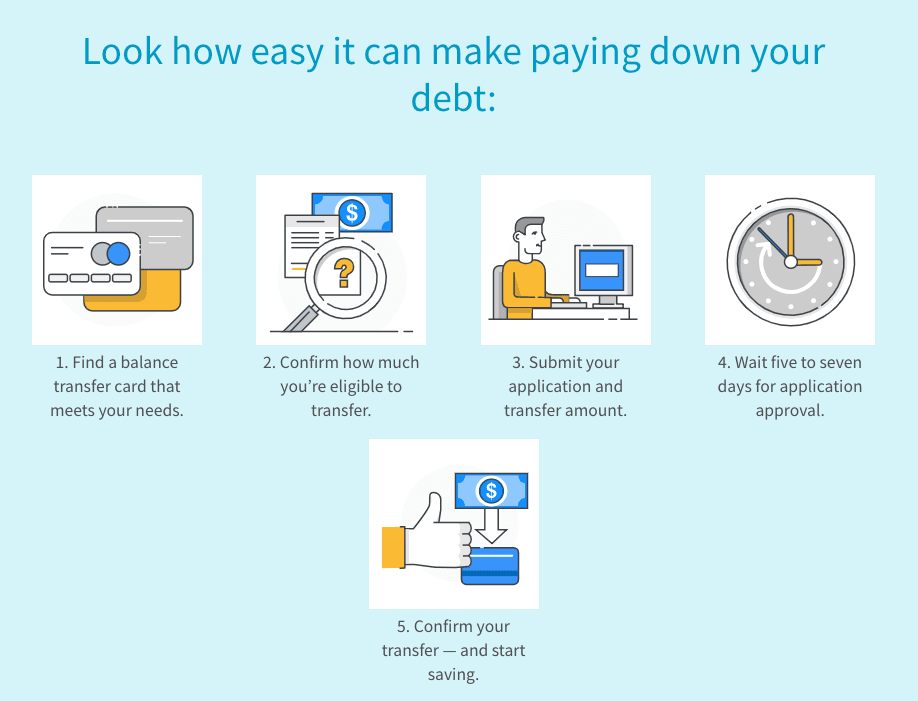 Key features and benefits of a balance transfer credit card
Here are a few of the most distinguishing features of a balance transfer card:
An introductory period. Most balance transfer cards come with a 0% introductory period on debt moved through a balance transfer. The debt-free period lasts anywhere from six to 21 months, depending on the card. Typically, you'll need to transfer your debts within a certain amount of time after opening your account to take advantage of the offer.
Revert rate. After the 0% intro period ends, a balance transfer card's balance transfer APR reverts to its listed standard rate. You'll want to pay off your debt before this revert rate kicks in.
Balance transfer fees. Many balance transfer cards charge a fee for performing a balance transfer. This usually runs between 3% and 5% of the amount transferred. Some cards may also charge a minimum fee if you're not transferring a large amount.

Our pick for a balance transfer credit card
Compare balance transfer credit cards
How balance transfers work
To start a balance transfer, you need to apply for a balance transfer credit card and provide the account information of your old card, as well as the amount you want to be transferred. To perform the balance transfer, you can either request it during your application, call your bank or request it online. Here's the breakdown:
Apply for your balance transfer card. You can also choose a credit card you already have if you meet the introductory balance transfer APR requirements.
Apply for the balance transfer. If you're applying for a new card, you'll perform this process during your application. This is when you provide details on what debts you wish to move and any requisite account information. If you're transferring to a card you already have in hand, you can perform this same process online or over the phone.
Wait for approval. Approval can take several weeks. Keep up on your regular debt payments in the meantime.
Start paying your transferred balance. Once approved, you can start paying down your balance transfer.
Keep in mind, your balance transfer isn't guaranteed approval, even if you're approved for the card. But with a good credit score or higher, your chances of success increase.
How can a balance transfer help me save money?
A balance transfer credit card is designed to give you breathing room to pay off your debt interest-free for a promotional period, which can last up to 21 months. Depending on the size of your debt and the interest rate you're currently paying, this could save you hundreds or thousands of dollars.
See how much you can save with our balance transfer calculator.
TIP: Credit cards issued by a credit union often waive balance transfer fees. Suppose you're trying to move a balance of $6,000, you can potentially save $300 in transfer fees.
Example: A balance transfer in action
Let's say Mary has a credit card with a $5,000 balance and a 20% interest rate.
A 20% interest rate is pretty high, and interest is compounded daily. This means that while Mary is trying to pay off her debt, interest on her balance keeps accumulating.
That's where a balance transfer card can come in handy. For example:
Mary finds a card that offers 0% intro APR for 15 months on balance transfers.
She transfers her current balance of $5,000 to the new card. She also pays a fee of 3% of the transfer, which comes out to $150.
The balance on the new card won't accumulate interest for 15 months. Mary can pay off her debt knowing that it won't increase for quite a while, as long as she doesn't add to it with more spending.
When are balance transfers a good idea?
Balance transfers can be an excellent tool if you are:
Paying high interest. If you're stuck paying high interest and you have a good credit score, a balance transfer card could help you overcome your debt more easily.
Paying off multiple balances. If you have multiple balances that you're paying off with interest, a balance transfer could help you move all of them into one account. This will not only help you save money, but will simplify your monthly payments to one account only.
Balance transfers: What to know before applying
A balance transfer is an efficient option to help pay off debts faster. You can even transfer multiple debts onto your card. Be aware of the following to avoid surprises before applying for a balance transfer credit card:
You'll likely pay a fee for the balance transfer.
When you move your balance to a new card, you'll probably need to pay a balance transfer fee. As an example, let's say a card's balance transfer fee is 3%. If you're transferring $10,000, you'll pay a fee of $10,000 x 0.03 = $300.
You can get a great APR on your transferred balance.
A good balance transfer card will offer a 0% intro APR for a while on the debt you transfer. An exceptional balance transfer card will have a long intro APR. For example, instead of getting a 0% intro APR for six months, you could get a card featuring 0% for 21 months.
After the introductory APR ends, you'll start paying interest.
Some people forget to keep track of when their introductory APR expires, and get surprised when they're charged interest. Consider how long your low intro APR lasts and if you can pay off your balance within that time.
It's important to make monthly payments on time.
Here's one of those conditions that might throw you for a loop: You only get the nice 0% intro APR if you make your monthly payments on time. A single late payment may get your promo APR revoked.
The process can take a while
Balance transfers typically complete within seven to 14 days of the card being activated. In the meantime, keep up with your current monthly payments to avoid taking any hits to your credit.
Having good credit helps
Credit card providers usually require good credit to initiate a balance transfer. However, if you look around, you'll occasionally find some decent balance transfer cards for poor credit.
You can transfer more than credit card debt
Credit card debt is the most common debt moved with balance transfers, but you may also be able to transfer auto loans, mortgages and student loans.
How to choose the right balance transfer card
Consider these factors when comparing balance transfer cards:
Intro APR period. On average, you'll find 12 to 15 months of interest-free period credit cards, but some cards offer an intro APR period as long as 21 months. Getting a longer intro APR period gives you more time to consolidate your finances.
Balance transfer fee. Depending on the credit card you choose, you can pay between 3% and 5% fee of the amount you transfer. If you're moving a large sum, 2% can make a huge difference. Some credit-union issued cards have no balance transfer fees.
Annual fee. You're trying to save money, not pay more in fees. Luckily, most credit cards with a 0% intro APR period on balance transfers come with no annual fee.
Balance transfer limits. All card providers have balance transfer limits. This can be either 75% or 100% of your available credit limit, or it can be up to a certain amount, such as $15,000. Read the card's terms before you apply or talk to a customer support representative and ask about the amount you can move.
What to watch out for
Although balance transfers are a solid option for paying off your debt without interest, there are some downsides to consider:
Balance transfer fees.
Make sure you choose a credit card with minimal or no balance transfer fees to save even more money. This applies to balance transfer checks as well, which can sometimes carry fees depending on the issuer.
After the low-APR promotion ends, you'll start paying interest on your balance.
Once that low-APR promotion ends your remaining balance reverts to a higher interest rate. To avoid this, pay off your entire balance before your low-interest introductory rate ends.
You must make your balance transfers within a specific time frame.
Most credit card providers require that you make your balance transfers after a specified time frame when you open your credit card account. This is usually between 40 days and four months. Any balance transfer made after this date will start accruing the standard APR on balance transfers.
Late payments may forfeit your intro APR period.
Most credit card providers may cancel your intro APR period and impose a penalty APR of up to 32% if you're late on your payments.
You can't make balance transfers within the same bank.
Also, credit card providers won't allow you to move a balance from an affiliated financial institution.
Don't earn rewards.
Balance transfers don't count toward your signup bonus spend requirements and you won't earn rewards per dollar.
Bottom line
Opening a balance transfer card can improve your chances of paying off your debt. By utilizing the low APR intro period you could save hundreds of dollars — but be careful about adding to the debt.
Before you decide if opening a balance transfer credit card is for you, compare your balance transfer options.
Frequently asked questions