Finder is committed to editorial independence. While we receive compensation when you click links to partners, they do not influence our opinions or reviews. Learn how we make money.
Vanguard CD rates and review
If you can swing the $10,000 minimum deposit, this brokerage firm has some of the most competitive APYs in the game.
With a Vanguard brokerage account, you have a range of CDs to invest in. There's a hefty minimum deposit of $10,000 — but you'll be rewarded with some of the highest interest rates for brokered CDs.
Details
| | |
| --- | --- |
| Minimum deposit to open | $10,000 |
| Interest compounding | Varies |
| 3-month APY | 0.45% |
| 1-year APY | 1.05% |
| 13-month APY | 1.05% |
| 18-month APY | 1.05% |
| 2-year APY | 1.1% |
| 3-year APY | 1% |
| 4-year APY | 1.15% |
| Early withdrawal penalty | Early withdrawal penalty not advertised |
Expert review
Review by
katia.iervasi@finder.com
---
Katia Iervasi is a staff writer who hails from Australia and now calls New York home. Her writing and analysis has been featured on sites like Forbes, Best Company and Financial Advisor around the world. Armed with a BA in Communication and a journalistic eye for detail, she navigates insurance and finance topics for Finder, so you can splash your cash smartly (and be a pro when the subject pops up at dinner parties).
Expert review
Vanguard's rates are incredibly competitive, even for brokered CDs. But you'll need at least $10,000 to open a CD, and the interest only compounds once it hits your money market account upon maturity. Mid- to long-term CDs are likely your best bet for maximizing your savings with a Vanguard CD.
Benefits of a Vanguard CD
Buying Vanguard CDs offers a string of benefits, including:
Competitive interest rates.TVanguard outperforms many brokerage firms when it comes to interest rates. All CDs with terms of five years or more earn APY or more.
Range of term lengths.There are 11 new-issue CDs on offer, starting at one month and stretching to 10 years.
Fee-free sales. The firm charges zero commission for selling CDs on the secondary market.
Sophisticated app. Monitor your investments on the mobile app, compatible with Apple, Android and Amazon devices.
Extensive education resources. Hop on the site to access guides, videos and expert advice articles.
Ownership structure. Set up as many individual or joint savings goals as you'd like.
Connect outside accounts. Vanguard is a mutual company, owned by its customers. This sets it apart from many investment management firms, which are owned by stockholders.
What to watch out for
No banking product is perfect. These are the drawbacks of Vanguard CDs:
Large minimum deposit.While most brokerage CDs require a minimum deposit, Vanguard's is incredibly high at $10,000. Thereafter, you can buy CDs in $1,000 increments.
Simple interest. Interest doesn't compound in CDs. Because of that, you'll receive the same return on principal each year.
Short support window.You can reach the team by phone from Monday to Friday, 8 a.m. to 10 p.m. EST. Outside of those hours, you're limited to emailing and browsing the FAQs.
No live chat function. Unlike many other banks and brokerage firms, Vanguard offers no real-time help online.
Fee for secondary market transactions. If you sell a CD on the secondary market, Vanguard won't charge a commission. But it will for other transactions on the secondary market.
Account service fees. There's a standard $20 annual fee on brokerage accounts with balances under $10,000. However, you can waive this by signing up for e-statements.
Vanguard not fitting your needs? Review more of your options with our guide to CDs.
Compare a Vanguard CD to other CDs
How do I open a CD?
You'll need to open a brokerage account with Vanguard to buy CDs. The firm claims it takes 10 minutes to fill out the online form. These are the steps:
Head to the Vanguard website.
On the homepage, click Open an Account.
This will launch the form. Again, press Open an Account.
Decide how you'll fund your account.
Select your avatar, then click Next.
Link your bank account.
You'll be asked if you're registered on Vanguard.com. If you're a customer, log in with your username and password. Otherwise, click Noand Continue.
Choose an account type: Retirement, General Savings, Education or Small Business. Press Continue.
Select your Investment Objectives — income, growth, capital preservation or speculation, and the Source of Your Funds — salary, retirement savings, investment gains, inheritance or corporate income. Click Continue.
Enter your personal, contact and citizenship information.
Follow the prompts to fund your account.
You'll receive an email confirmation within one to two days. Once your account is funded, you can search for CDs.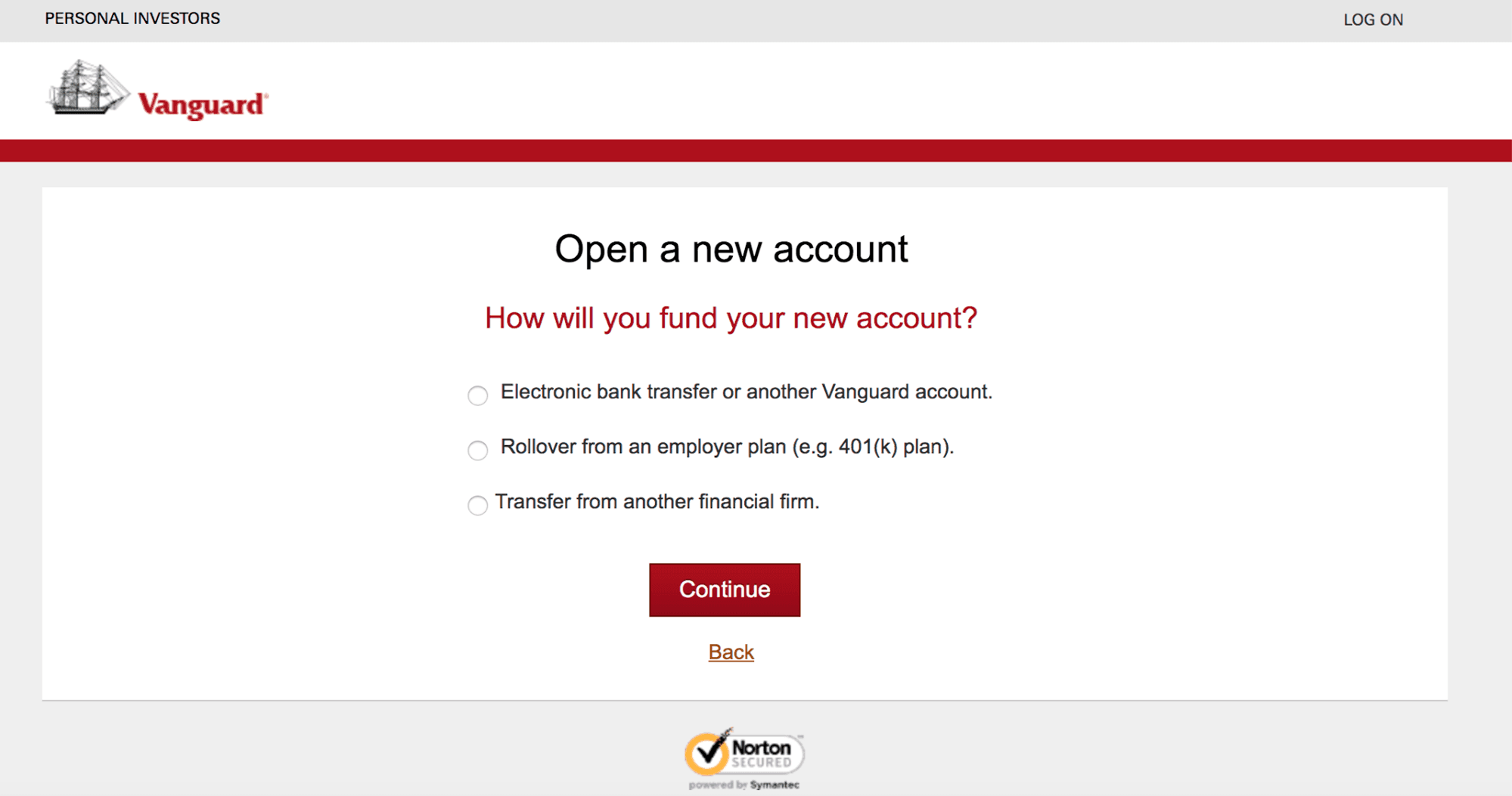 Already have an account? You can go straight to browsing.
Log in on the Vanguard website.
Navigate to Investing > CDs & Bonds.
Scroll down and click Find CDs & Bonds
Eligibility
To open a CD, you must meet these general requirements:
18 years old.
US Citizen or Resident Alien with a physical address, Social Security number or individual taxpayer ID and a driver's license or state-issued ID.
$10,000 minimum deposit.
Required information
To whiz through the form, have this info handy:
Mailing address, email address and phone number
Your bank's routing and account number
Social Security number or individual taxpayer ID
Employer's name and address
Funding options
You can deposit funds into your new account in the following ways:
Electronic bank transfer from an outside bank
Move money from another Vanguard account
Rollover from an employee plan, like a 401(k)
Transfer from another financial firm
How do I cash in a CD?
Vanguard CDs have no automatic renewal or rollover into another CD at maturity. When your CD matures, the principal amount is transferred to your linked money market account. If you'd like to reinvest, you can purchase a new CD online or over the phone.
How can I get in touch with customer service?
You can reach a Vanguard representative by:
Phone. If you're a new customer, call 800-252-9578 Monday to Friday, 8 a.m. to 8 p.m. EST. Existing clients can dial 800-888-3751 Monday to Friday, 8 a.m. to 10 p.m. EST.

Calling from outside the US? Ring +1-610-669-1000.

Email. Head to the Contact Us page to send a secure message.
In person. No walk-ins are accepted. Make an appointment to visit the offices in:

Charlotte, North Carolina
Scottsdale, Arizona
Valley Forge, Pennsylvania

Mail. Address snail mail to:

Vanguard
455 Devon Park Drive
Wayne, PA 19087
What other savings products does Vanguard offer?
Vanguard specializes in investment products, so it doesn't offer any straight savings accounts.
Frequently asked questions