Wealthify review
Find out how Wealthify works, about its ethical investments and whether we think it's any good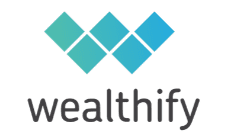 We say
★★★★★
Finder expert rating
You say
★★★★★
Customer satisfaction

Good and clear communication

No cash or lifetime ISA products
Open an account with Wealthify and start investing today
Start investing with as little as you want
Withdraw your money anytime
Download the app for free
Refer a friend and get £25
If you're looking for an investment platform that handles everything for you, Wealthify might be the kind of thing you're looking for. We've pulled together some of its key features, what you can invest in with Wealthify, how it works and some pros and cons.
What is Wealthify?
Wealthify is a digital investment management company, which aims to offer simple and effortless ways to invest your money. It technically falls under the category of "robo-investor" despite not being fully automated.
Based in Cardiff, Wealthify launched in 2016 and is backed by Aviva, which acquired a majority stake in 2017.
It operates online through its website and mobile app, but also has humans available on the phone.
How does Wealthify work?
Wealthify invests your money in diversified portfolios to spread your risk across different industries and countries. Your portfolio will contain mainly low-cost, passive investments, such as exchange-traded funds (ETFs) and mutual funds.
Its team of qualified investment managers is monitoring and adjusting your plan regularly as the stock market fluctuates to ensure the best returns for your money.
Related offers
What should I choose – an investment ISA or a general investing account?
Wealthify offers customers the chance to invest in stocks and shares through an investment ISA (individual savings account) or a general investing platform.
If you don't have any other ISAs elsewhere, then an investment ISA could be a better place to start. Interest earned from your first £20,000 is exempt from tax under the 2020/2021 tax year allowance.
Alternatively, if you already have cash or stocks and shares ISA/s elsewhere, you can choose to transfer these to Wealthify. Simply use the ISA transfer form on their website.
General investing suits bigger investments over £20,000, but you are liable to pay tax on any interest or dividends earned.
In terms of savings, ISAs and general investing are a better long-term investment, as you're more likely to see better returns over a longer period. If you need to regularly access your savings, it's worth considering a traditional savings account with a bank or building society instead.
Stocks and shares ISAs explained
Wealthify performance
All of the figures below are Wealthify's simulated 2019 performance figures. They are "simulated" because they're based on the performance of a model that mirrors the decisions Wealthify made for customers' plans. All simulated figures assume that the account size is over £500 and that a fee of 0.60% has been taken as well as fund costs.
If you want to see the performance for other years, you can see these on Wealthify's website.
Remember that past performance is not a reliable indicator of future results.
Wealthify ethical plan performance
| Investment style | 01/01/2019 – 01/01/2020 | 01/01/2020 – 01/01/2021 |
| --- | --- | --- |
| Cautious | 7.83% | 4.14% |
| Tentative | 9.66% | 6.45% |
| Confident | 11.73% | 9.04% |
| Ambitious | 14.04% | 11.16% |
| Adventurous | 16.63% | 13.43% |
Wealthify original plan performance
| Investment style | 01/01/2017 – 01/01/2018 | 01/01/2018 – 01/01/2019 | 01/01/2019 – 01/01/2020 | 01/01/2020 – 01/01/2021 |
| --- | --- | --- | --- | --- |
| Cautious | 2.37% | -1.47% | 6.36% | 2.70 |
| Tentative | 3.61% | -2.62% | 9.29% | 3.88% |
| Confident | 4.77% | -4.14% | 11.89% | 4.87% |
| Ambitious | 6.68% | -5.75% | 14.33% | 5.12% |
| Adventurous | 8.35% | -7.20% | 17.09% | 5.06% |
Wealthify dividends
As Wealthify invests in companies on your behalf, you are eligible to receive dividend payments if the companies decide to pay dividends.
How do I apply for a Wealthify account?
To open a Wealthify Investment ISA or general investing account, you must be 18 or over and a resident of the UK.
Unlike other robo advisers, Wealthify requires a low minimum investment of just £1, which is great for those who are new to investing and just want to dip their toe in.
You should be able to set up a ISA or general investing account in 10 minutes or so via their website.
After filling in some personal details, you tell Wealthify how much you have to invest, your financial goals and attitude to risk. This information will help Wealthify match you to an investment style – cautious, tentative, confident, ambitious or adventurous.
With both ISAs and general investing, you can choose between an original or ethical theme of investing. Ethical investing aims to avoid harmful activities (e.g. tobacco, gambling, weapons and adult entertainment) and opts for companies who take their environmental and social responsibilities seriously.
Original: Up to 20 mutual funds and ETFs, featuring stocks, bonds, cash and cash equivalents, property, private equity and commodities.
Ethical: Up to 25 mutual funds and ETFs, featuring shares, bonds and other thematic investments (e.g. gender equality or green energy fu nds) from around the world.
Wealthify fees
Wealthify charges a flat rate of 0.6% on your investment amount, plus fund fees of around 0.22% (0.66% for ethical investing).
The fees include:
Your investment plan
Ongoing adjustments to your plan
Use of the app and online 24/7
Live chat, phone and email support
News and insights on the blog and with a monthly market update
Buying and selling investments
Year-round market monitoring
Your money and assets held with a custodian
What is the Wealthify pension?
Wealthify aims to make saving for retirement easier by offering a self-invested personal pension (SIPP). As with its other products, it has low fees and a minimum investment of only £50.
Wealthify's pension is designed for people with no investment experience as it has a team of investment experts who build and manage your pension plan. This means that you don't need to worry about selecting your own investments, all you have to do is choose a risk profile between cautious and adventurous. Wealthify gives you the opportunity to choose investments in line with your values with the option of ethical investing.
If you already have pensions elsewhere, you can transfer them in or you can create a new personal pension alongside those that you already have. You don't have to commit to regular payments, either. It's up to you whether you want the commitment of a direct debit or if you'd prefer to make ad-hoc top-ups.
With Wealthify's mobile app or on its online dashboard, you can see where your money is invested, how it is performing and make additional contributions. Wealthify instantly applies 25% tax relief to every contribution, so no need to wait for HMRC to pay it in.
Is Wealthify safe?
Wealthify is authorised and regulated by the Financial Conduct Authority (FCA), which means you could be entitled to compensation if it is found to be acting improperly.
Wealthify is also covered by the Financial Services Compensation Scheme, which means that you can receive compensation on investments up to £85,000 if Wealthify were to go bust.
It is part of the Close Brothers Group, who have been trading for over 130 years, and are backed by leading financial provider and insurer Aviva.
Is Wealthify good?
On the whole, it's pretty good. It's good for those who aren't interested in managing their own portfolios and has a decent number based on how much risk you're open to. Ethical investing is proving to be pretty popular at the moment, which Wealthify has the option for.
If you're investing a larger sum of money (£100,000 or more) then you might find that other platforms are more cost-effective than Wealthify, such as interactive investor or IG.
Wealthify customer reviews
Wealthify has picked up several awards since its launch, and it seems it's not just the industry that is impressed with the service. On customer review site Trustpilot, Wealthify is rated "Excellent", with 4.6 out of 5 stars.
The company's customer service is the focus of much of the praise, with reviewers calling it efficient and transparent. The negative reviews stated losing money and being rejected seemingly unfairly as the reason for the low score.
We carried out a customer satisfaction survey in July 2020.
Wealthify's customers like the dashboard and find it easy to use and understand. Some of them praised its dealing with their investments during the coronavirus pandemic.
Some customers felt that the platform is quite expensive compared with similar platforms.
Pros and cons of Wealthify
Pros
No minimum investment: You can start your portfolio with just £1.
Easy access to your portfolio online or via the app.
Flexible payments: You can add to your portfolio with one-off or regular payments.
No withdrawal charges: It's free to access your money at any time.
Customer service: Live chat, phone or online message.
Cons
Less control over investments: If you want to choose how and where you invest, you're better off managing your own portfolio.
No cash or lifetime ISA products.
What other options are available?
Wealthify is just one robo adviser in a growing industry of digital wealth management. Similar companies exist such as Moneyfarm and Nutmeg, which offer both ISAs and general investing products.
Similar platforms to Wealthify
Table: sorted by promoted deals first
All investing should be regarded as longer term. The value of your investments can go up and down, and you may get back less than you invest. Past performance is no guarantee of future results. If you're not sure which investments are right for you, please seek out a financial adviser. Capital at risk.
Frequently asked questions
More guides on Finder