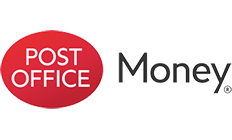 Post Office loans calculator and 2021 review
Stamps? Check. Financial services? Check. Post Office Money now offers first class personal loans, and you can check if you're eligible in minutes, without affecting your credit score, using the "Fast Checker".
Post Office loan calculator
Get personalised loan quotes
Save time by checking if you'll be approved by multiple lenders, and see personalised rates.
Please note: You should always refer to your loan agreement for exact repayment amounts as they may vary from our results.
Late repayments can cause you serious money problems. See our debt help guides.
Post Office loan overview
Post Office Money
provides a range of financial services including current accounts, mortgages and personal loans through branches, online and over the phone. If you apply online you'll usually receive an
instant decision
.
Post Office Money loan rates at a glance
The Post Office Money® Personal Loan charges 8.3% APR representative on loans between £3,000 and £4,999. Post Office Money offers the loan with repayment terms between 1 and 7 years and applicants can apply to borrow from £1,000 to £25,000.
Key features of Post Office Money personal loans
Post Office Money personal loans are unsecured loans – meaning they're be based on creditworthiness, rather than using property, a vehicle or other asset as collateral.
While Post Office Money rates are normally competitive, the advertised representative APR may not be the rate you'll receive: Post Office Money will offer you a rate based on factors including your credit score, your income and your expenditure. We base our calculations on the advertised APR.
| | |
| --- | --- |
| Loan type | Unsecured Personal Loan |
| Loan amounts | £1,000.00 to £25,000.00 |
| Loan terms | 1 Year to 7 Years |
| Loan rate type | Fixed |
| Product fee | 0% |
| Same day funding available | |
| Instant decisions in most cases | |
| Soft-search facility available | |
| Joint applications | |
| Overpay without penalty | |
| Concurrent loans allowed | |
| Topping-up pays off existing loan and initiates a new loan | |
| Repayment methods | Direct Debit |
Post Office Personal Loans are provided by Bank of Ireland UK. Post Office Limited is a credit broker and not a lender.
What is the representative APR?
The Annual Percentage Rate (APR) is designed to provide an annual summary of the cost of a loan. All lenders must calculate it using the same formula. They must take into account both interest and any mandatory charges to be paid (for example an arrangement fee) over the duration of the loan. Post Office Money doesn't charge application/arrangement fees, so its interest rate and APR will be one and the same.
Post Office Money's APRs vary depending according to the amount and term you're after – as our calculator shows – but they'll also vary according to your personal situation. The representative APR is the APR that Post Office Money offers to at least 51% of its borrowers. The other 49% may be offered a higher rate.
In other words, if Post Office Money thinks that you're a really safe bet to lend money to (based on things like your credit score, your income/outgoings etc.), then it will likely offer you its representative APR. Since Post Office Money advertises some of the most competitive representative APRs you'll find on the market, it's likely that you'll need excellent credit to bag those advertised rates.
Am I eligible for a Post Office Money personal loan?
You should only apply for a Post Office Money personal loan if you're certain you can meet the repayment terms, and you meet the following criteria:
You must be aged over 21, and no older than 70 when the loan ends.
Have an annual income of at least £12,000. If you're self employed, you must have been employed for a minimum of 2 years.
Have lived in the UK for at least three years.
Have a UK based bank or building society account that can pay direct debits.
Have a good credit rating without a history of County Court Judgement or bankruptcy.
How do I apply?
If you've decided that a Post Office Money personal loan is for you, then make sure you have the following information handy for your application:
Your address details for the past three years.
Your current income and details of your monthly outgoings.
The sort code and account number of your bank or building society account.
Before you apply, it's a smart idea to check your eligibility using Post Office Money's "Fast Checker". This will give you a clear indication of the likelihood that your application would be approved, plus an estimate of the rate you'd be offered.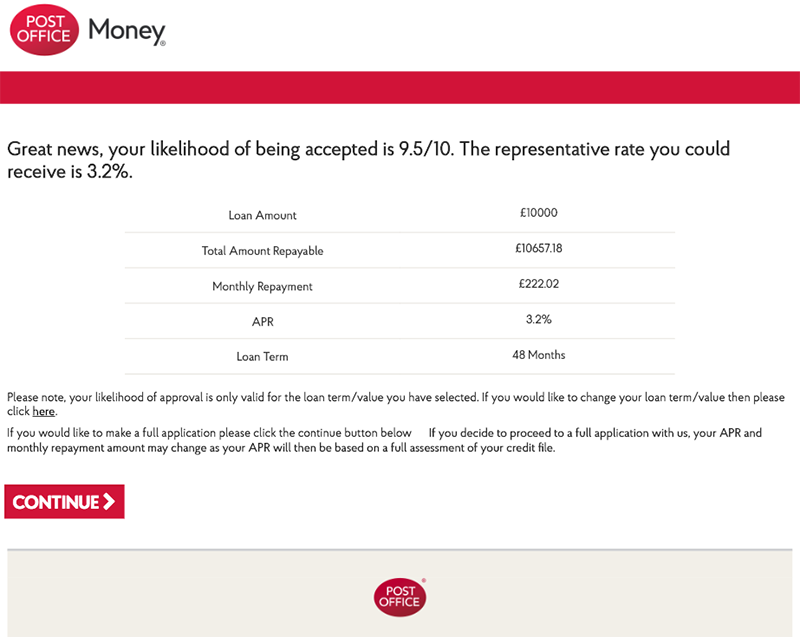 Pros and cons
Pros
Competitive interest rates. Post Office Money is frequently to found battling it out at the top of comparison tables for the cheapest loan rates.
Eligibility checker. Like most lenders, Post Office Money can now give you a clear indication as to your likelihood of being approved for a loan, before you apply.
Instant decisions. Most of the time, you'll get an decision on your application within seconds.
Next day funding facility. Your loan may be funded the next day, although Post Office Money doesn't clarify exactly when this facility is available (loan companies sometimes don't transfer funds outside of office hours).
Flexibility over early repayment. There's no penalty fee for paying some or all of your loan ahead of time, and if you do overpay, you can ask to shorten your loan or reduce your remaining monthly repayments (choosing the former will usually work out cheaper).
Cons
You'll need good credit. Rates this low usually mean you'll need a decent credit record to get approved.
No repayment holiday option. While some lenders give you a month or two at the beginning of your loan before you need to start making repayments, Post Office Money has opted not to. On the other hand, repayment holidays push up the overall cost of borrowing significantly.
Tracking your loan could be easier. If you want to check your balance or change any details, you'll need to phone Post Office Money.
Post Office Money customer reviews
Customers who took part in Finder's 2021 customer satisfaction survey were mixed about Post Office Money, with some praising its "good service", while others highlighted higher rates.
Post Office Money also scored 3 stars out of 5 in our 2021 customer satisfaction awards, and 53% of customers would be willing to recommend the brand to a friend.
Frequently asked questions
We show offers we can track - that's not every product on the market...yet. Unless we've said otherwise, products are in no particular order. The terms "best", "top", "cheap" (and variations of these) aren't ratings, though we always explain what's great about a product when we highlight it. This is subject to our
terms of use
. When you make major financial decisions, consider getting independent financial advice. Always consider your own circumstances when you compare products so you get what's right for you.