Nutmeg review
Nutmeg is great for easy investing, but if you know how it's done, you can do what Nutmeg does for less.
Finder rating
★★★★★
Expert analysis
Customer rating
★★★★★
Satisfaction survey
Useful and user-friendly app
High fees
Named after the pungent and warming spice often used to flavour custard tarts and eggnog, Nutmeg is a popular investment app. It offers a huge range of ready-made portfolios with the chance to align your investments with your values. Nutmeg has received a Finder Recommended badge for September 2022. We named it the best investment platform for managed portfolios — not everyone wants to choose individual investments, so Nutmeg makes it easy with 30 ready-made and managed portfolios to choose between. Nutmeg took home the highly commended award in the Finder Share Dealing Customer Satisfaction Awards 2020. Find out about the different accounts you can open with Nutmeg, how much it costs, its portfolio performance and what we thought.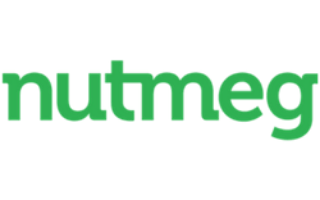 Save and invest with Nutmeg
Choose a portfolio that goes with your investment style
Get help with your account management
Open and transfer your ISA account in minutes
What is Nutmeg?
Nutmeg is an online and app-based investment platform, and it's the biggest "digital wealth manager" brand in the UK. Nutmeg is a robo-advisor, which means it learns a bit about you and your investing knowledge to help you pick which portfolio suits you the most – kind of like a robot personal shopper. Despite "advice" being in the name, it can't really give you advice – it can only guide you in the right direction based on a few general questions.
You can choose to invest in its general investment account, or use your annual individual savings account (ISA) allowance in either a regular stocks and shares ISA or a lifetime ISA (LISA). You can also invest in a Nutmeg personal pension.
For parents who are really on it and want to save for their child's future, there's also a junior ISA (JISA). We talk in more detail about all of these products further down.
Nutmeg was founded in 2011 and is the largest digital wealth manager in the UK. It manages over £2 billion (sometimes called "assets under management" or AUM") for more than 100,000 customers.
Why is it called Nutmeg?
"Hundreds of years ago, nutmeg was incredibly rare and it was the preserve of only the wealthy. Nowadays you can pick up nutmeg in the supermarket – everybody's got access to it. And it's the same with what we're trying to do as a business. We're trying to bring high quality investment and wealth management to everybody," Nutmeg CEO Neil Alexander told Finder.
How does Nutmeg work?
Nutmeg is risk-based. This means that before you open an account with Nutmeg, you're asked a set of questions designed to gauge where you stand on risk, how long you're looking to invest and your view on socially responsible or ethical investing. It uses this information to align your portfolio to your investment goals and how much risk you can take on, and gives you a portfolio that it reckons works for you. Of course, you can take this with a pinch of salt (or a sprinkling of nutmeg), as the final choice is ultimately up to you.
Nutmeg invests for you, using your money. You can make automatic monthly deposits or fund your account with lump sums.
There are 30 portfolios that Nutmeg chooses between – two of the choices, Fully Managed and Socially Responsible, are measured on a scale from 1 to 10, with 1 having the lowest risk and 10 having the highest risk. Smart Alpha and Fixed Allocation have 5 options, with 5 being the highest risk. The lowest is made up of basically all government bonds, while the highest is pretty much all stocks.
Nutmeg's fund managers balance these portfolios quarterly (unless you opt for the fixed allocation, which is cheaper at 0.45% instead of 0.75%, but has no manager). They're also backed by some clever algorithmic help.
What is rebalancing a portfolio?
Rebalancing is basically making changes to your portfolio to ensure it still meets your goals. It often involves buying and selling assets in the portfolio to ensure it stays at the target allocation. DIY investors will rebalance a portfolio by themselves, while robo-advisors tend to rebalance on your behalf.
Once you're all set up, you can track how the portfolio is performing on the mobile app or on the desktop web app. The desktop version is better for detail, but with the mobile app you can see how it's performing wherever in the world you are.
What products does Nutmeg offer?
Nutmeg offers 5 products:
Nutmeg general investment account
The main features of Nutmeg's general investment account are:
Minimum investment of £500
No maximum investment
No set-up or exit fees
Aimed at people looking to invest for 3 or more years
Can withdraw at any time
Choose from a range of investment styles and risk levels
If you're not quite ready to take the investment plunge, Nutmeg will allow you to open this account holding only cash first (basically like a normal savings account) and invest it at a later date.
This account would probably only be worth using if you'd already used up your stocks and shares ISA allowance.
Stocks and shares ISA
A stocks and shares ISA is just a wrapper for your investment account that stops you from having to pay tax on your profits, up to a certain amount. You can invest up to £20,000 in the 2022/2023 tax year without paying anything on your profits.
The main features of Nutmeg's stocks and shares ISA are:
Pay in up to £20,000 in the 2022/2023 tax year
Tax-free returns now and in the future
No set-up or exit fees
Aimed at people looking to invest for 3+ years
Can withdraw at any time
Can transfer existing stocks and shares ISAs to Nutmeg
Minimum investment is £500
As with the general investment account, you can open this account and just hold it as cash to begin with if you don't want to dive into investing right away.
Once you're feeling ready you can invest it all at once or just drip-feed it in month by month.
Nutmeg stocks and shares ISA review
Nutmeg's stocks and shares ISA is good if you're pretty new to the game and not keen on building a DIY portfolio. It's definitely a daunting process when you're just getting started, so the mobile app and ease of use make it really popular with its customers.
If you're more experienced, you might be suited to another provider that allows you to choose what goes into your portfolio, like Vanguard, Fidelity or IG.
Nutmeg Lifetime ISA
Lifetime ISAs are a government-backed account where the government tops up your account by 25% (up to £1,000 per year) towards saving for your first home or retirement. That means for every £4 you invest, you get a £1 bonus. You can save up to £4,000 per year in a LISA, and get up to £1,000 a year from the government.
The money can be used for your first home (up to a value of £450,000) or you can withdraw the money tax-free after you turn 60.
The other big benefit of Lifetime ISAs is the tax savings. You can contribute up to £4,000 a year without paying any tax on future returns. You can use the remaining ISA allowance with a stocks and shares ISA too, if you have more to invest.
Read our guide to Lifetime ISAs to find out more, as they're not necessarily right for everybody.
The main features of Nutmeg's Lifetime ISA are:
Start with £100
Use your ISA allowance
Save for your first home or retirement
Aimed at people looking to invest for 3+ years
You have to be a UK tax resident between 18 and 39
Nutmeg personal pension
The main features of Nutmeg's pension are:
You can leave it untouched, with automatic personal and employer contributions
Instant 25% tax relief top-up on all of your personal contributions
Consolidate any other pension pots
See what's in your pension at any time
Invest in one of Nutmeg's ready-made portfolios
To open a Nutmeg personal pension you have to fit a few criteria:
You must be a UK resident for tax purposes
You must be over 18 and under 75 years old
Requires a minimum starting deposit of £500
You can't start to withdraw from your pension until you turn 55, so you should make sure you don't need the money in the short term if you want to invest in one.
How to pay into your Nutmeg personal pension
To pay into your Nutmeg pension you've got three options:
Set up personal pension contributions.
Get your employers to pay into your pension.
Transfer an existing policy from another provider.
Nutmeg Junior ISA (JISA)
A Junior ISA is an investment account that you manage on behalf of your child. Once they turn 18, the money's theirs. The main features of Nutmeg's Junior ISA are:
Pay in up to £9,000 in the 2022/2023 tax year
Tax-free returns now and in the future
A parent or guardian can set up a JISA with Nutmeg
Your child will be the owner of the assets
Your child can access the money after they turn 18
No set-up or exit fees
Only available for under-16s
Minimum investment is £100
You'll need to answer a few questions about yourself, risk assessment, personal details, etc. before you can open the Junior ISA.
Nutmeg fees
Annual ETFs with Nutmeg cost 0.17% for fixed allocation investing, 0.19% for fully managed investing and 0.33% for the socially conscious investing, which is pretty high. Nutmeg then also estimates the average market spread to be 0.07%.
| Investment value | Fixed allocation | Fully managed | Socially responsible managed |
| --- | --- | --- | --- |
| Nutmeg fee on up to £100,000 | 0.45% | 0.75% | 0.75% |
| Nutmeg fee beyond £100,000 | 0.25% | 0.35% | 0.35% |
| Investment fund costs | Avg 0.17% | Avg 0.19% | Avg 0.32% |
| Effect of market spread | Avg 0.06% | Avg 0.06% | Avg 0.06% |
How to set up a Nutmeg account
First things first, Nutmeg will ask you to choose an account type to start with – check out the accounts in more detail above.
Then, you'll be asked questions to find out about what sort of risks you're willing to take and how you feel about social and environmental issues related to investing.
You enter your starting amount and how much you want to contribute each month.
Before you're ready to create an account and set up your payment details, Nutmeg will show you a rough projection of how much it expects your portfolio to be worth after your given time period.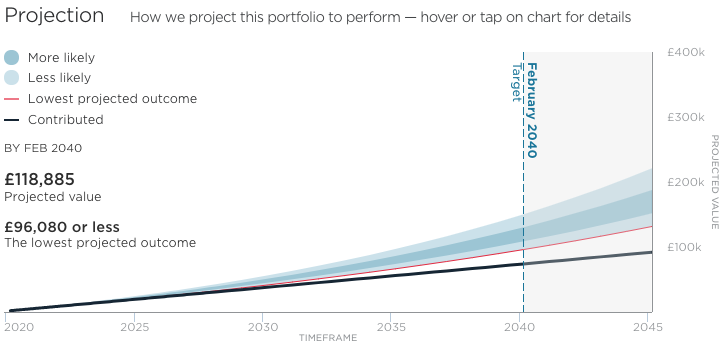 In this example, we chose a timeframe of 20 years, a starting amount of £2,000 and £300 invested each month for that time.
Nutmeg predicts that this portfolio would be worth around £118,000 by 2040. Remember that a projection isn't a guarantee – anything could happen!
What does Nutmeg invest in?
This depends on how much risk you're willing to take.
Nutmeg's riskiest portfolios will be invested in almost 100% equities (stocks and shares), and with an emphasis on US, UK, Asian (China and Japan) and European markets.
Nutmeg's more cautious portfolios invest more in bonds such as UK Government Gilts.
See a breakdown of Nutmeg investments for a medium risk profile
Click "Show more" to see the allocations of investments Nutmeg makes for a medium risk profile. (This is at the time of writing, so their allocations will likely have been adjusted by the time you read this. It's just an indication.)
| | |
| --- | --- |
| United Kingdom | 22.9% |
| iShares FTSE 100 | 18.9% |
| Vanguard FTSE 250 | 4.0% |
| North America | 20.0% |
| iShares S&P 500 GBP-hedged | 9.5% |
| db x-trackers MSCI USA | 6.2% |
| iShares MSCI USA Small Cap | 3.1% |
| UBS MSCI Canada GBP-hedged | 1.2% |
| Japan | 3.3% |
| db x-trackers MSCI Japan GBP-hedged | 1.6% |
| Vanguard FTSE Japan | 1.2% |
| iShares MSCI Japan Small Cap | 0.5% |
| Pacific Ex-Japan | 1.4% |
| iShares Core MSCI Pacific Ex Japan | 1.4% |
| Europe Ex-UK | 6.2% |
| db x-trackers MSCI EMU GBP-hedged | 2.5% |
| UBS MSCI Switzerland 20/35 GBP-hedged | 0.6% |
| Vanguard FTSE Developed Europe ex UK | 2.5% |
| iShares MSCI EMU Small Cap | 0.6% |
| Emerging Markets | 3.6% |
| iShares Core MSCI Emerging Markets IMI | 3.6% |
| | |
| United Kingdom | 34.1% |
| Lyxor FTSE Actuaries UK Gilts | 24.7% |
| iShares Core GBP Corporate Bond | 9.4% |
| Emerging Markets | 3.3% |
| UBS Emerging Markets GBP-hedged | 3.3% |
| North America | 4.9% |
| PIMCO Short-Term High Yield GBP-hedged | 4.9% |
| | |
Nutmeg portfolios
Nutmeg has 4 investment styles to choose from:
Fixed allocation. These portfolios try to perform without intervention. They are reviewed once a year to make sure they still match your risk level. Other than that, they'll be untouched.
Fully managed. These portfolios are actively managed by Nutmeg's team. They will make strategic adjustments on your behalf, aiming to protect you against losses and boost returns.
Socially responsible. These portfolios are also managed, but they're made with social responsibility in mind. The Nutmeg team will make strategic tweaks, but with a balanced view between performance and ethics.
Smart Alpha. These portfolios are also managed. In this case it's globally diversified to hopefully make additional returns with smart security selection.
Fixed allocation
Regularly rebalanced
5 risk levels to choose
Proactively managed
Socially responsible focus
Globally diversified
Fully managed
Regularly rebalanced
10 risk levels to choose
Proactively managed
Socially responsible focus
Globally diversified
Socially responsible
Regularly rebalanced
10 risk levels to choose
Proactively managed
Socially responsible focus
Smart Alpha
Regularly rebalanced
5 risk levels to choose
Proactively managed
Globally diversified
Socially responsible focus
All of Nutmeg's portfolios are diversified. This simply means your money is invested in lots of things – different assets, countries, industries and sectors.
The benefit of this is that the risk is spread. If one of your investments is doing badly, your overall portfolio will be less affected. Not only does diversification spread risk, it spreads the opportunity for things to perform well and bring you higher returns.
Nutmeg and ETFs
If you're looking through Nutmeg's website you're going to read a lot about ETFs.
Nutmeg prefers to use exchange-traded funds (ETFs) when building portfolios. In short, this is because ETFs are easy to trade, low cost, and track the movement of markets with a good level of accuracy.
ETFs hold assets (like stocks and bonds) and usually track an index like the FTSE 100 or the Dow Jones.
You can find out more in our in-depth ETF guide.
Nutmeg portfolio performance over 5 years
If you're wondering whether Nutmeg is a good investment, below you can see the returns for each of Nutmeg's 10 risk portfolios, either over the 5 years from 2015 to 2019, or the 8 years up to 2019 since Nutmeg started investing in 2012.
The "competitors" data is based on data published by the Asset Risk Consultants (ARC). The data includes results from providers such as Barclays, Coutts, JP Morgan and others.
| Portfolio | Nutmeg over 5 years | Competitor over 5 years | Nutmeg over 8 years | Competitor over 8 years |
| --- | --- | --- | --- | --- |
| 1 (least risk) | 0.9% | 2.6% | 7.1% | 3.8% |
| 2 | 6.1% | 2.6% | 20.3% | 3.8% |
| 3 | 9.2% | 14.6% | 28.1% | 28.4% |
| 4 | 14.0% | 14.6% | 36.5% | 28.4% |
| 5 | 17.7% | 22.7% | 44.0% | 44.8% |
| 6 | 21.3% | 22.7% | 49.7% | 44.8% |
| 7 | 29.1% | 32.0% | 61.1% | 61.6% |
| 8 | 33.7% | 32.0% | 70.1% | 61.6% |
| 9 | 38.3% | 38.3% | 79.6% | 75.1% |
| 10 (most risk) | 42.7% | 38.8% | 84.8% | 75.1% |
Is Nutmeg safe?
Nutmeg is regulated by the Financial Conduct Authority (FCA) and is covered by the Financial Services Compensation Scheme (FSCS). So if Nutmeg goes bust, you're covered for up to £85,000 of your investment deposits. Remember that your money is still at risk when you invest – you can't claim back money if your investment pot goes down.
Nutmeg also keeps your investments in a separate account for added security, and will never lend your assets to third parties. The separate account is managed by Nutmeg's "custodian bank", which is State Street – one of the world's biggest custodians.
The Nutmeg app
The Nutmeg app is super clear and easy to use. We couldn't find anything to complain about here. You can manage everything from your pocket, and the web browser is well-made too.
Nutmeg contact information
There are several ways to get in touch with Nutmeg:
Nutmail. This is Nutmeg's secure inbox, where you can send any questions you may have about your account.
Email. support@nutmeg.com
Chat. You can use Nutmeg's live chat from Monday to Thursday 09:00-17:30 and Friday 09:00-16:30. Outside of these times, you can leave a message and Nutmeg's team will get back to you
Call. 020 3598 1515
Write a letter.

Nutmeg
Unit 201 – 2nd Floor Vox Studios
1-45 Durham Street
London
SE11 5JH

Visit the office. Call Nutmeg on 020 3598 1515, and you can arrange a face-to-face meeting
Pros and cons of Nutmeg
Pros
Quick to set up and easy to use (both app and desktop)
Gives you a global and diverse portfolio
Choice of different risk profiles
Option to invest in socially responsible portfolios
Cons
Not the cheapest fees
Not able to invest in individual stocks
Nutmeg customer reviews
Nutmeg has mostly positive reviews from customers across the board, with 4-5 stars out of 5 on customer review sites. It's rated as "Great" on Trustpilot, based on more than 700 reviews.
Customers seem to love how easy Nutmeg is to use and how it cuts through industry jargon. The negative reviews are focused more on customer service, saying the company can be slow to respond to emails.
We carried out a customer satisfaction survey in December 2020.
Nutmeg customers find Nutmeg to be easy to use, to offer a great range of products and to be trustworthy.
Some users commented that the charges are quite high compared with other investing platforms.
Related offers
Our verdict
The main appeal of Nutmeg is its simplicity. Nutmeg does what many investment platforms do. It takes away the hassle of investing and makes it clear. You can manage it all from your phone or laptop, and the flexibility is there for you to tweak your strategy or withdraw funds pretty much whenever you want.
For those out there who love the detail when it comes to investing, you may realise that there are ways to do what Nutmeg does yourself, for cheaper. Likewise, if you're looking to stock pick, you can't do that here as Nutmeg doesn't offer it.
Nutmeg does what it says on the tin. It offers a credible way to invest in your future, with diverse and global access. The charges are relatively low, although not the lowest, and the app and desktop experience are clear and make you feel informed. The biggest hurdle for many investors is getting started, and Nutmeg is as good a choice as any for getting going.
Stocks and shares ISA comparison
Table: sorted by promoted deals first
All investing should be regarded as longer term. The value of your investments can go up and down, and you may get back less than you invest. Past performance is no guarantee of future results. If you're not sure which investments are right for you, please seek out a financial adviser. Capital at risk.
Frequently asked questions
Share dealing platform ratings
Our customer satisfaction scores ("Customers say") are based on a survey of 753 customers carried out in December 2021.