Compare SunLife life insurance
SunLife specialises in products aimed at people aged 50 and over. Find out if it has life insurance that's right for you.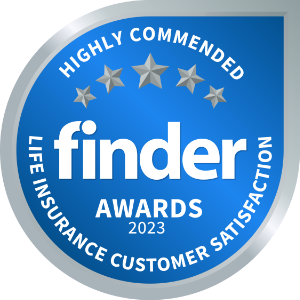 Customers cited easy application process and good service
No cash-in value for standard policy
Over-50s life insurance plans like SunLife's pay out a guaranteed lump sum when you die. They're a type of whole-of-life insurance policy, so it won't expire when you reach a certain age, though maximum payouts tend to be lower than traditional life insurance policies. The brand was highly commended in Finder's Customer Satisfaction Awards 2023, with customers giving it 4.5 out of 5 stars for service.
Who is SunLife?
SunLife opened its first office in London in 1810, and in 1900, became the first company to offer life assurance without the need for a medical. It launched its first over-50s life insurance plan in 1979. Today, it offers this core product alongside others aimed at an older age group, including funeral plans, home insurance and pet insurance. SunLife is a trading name of Phoenix Life Limited, which provides the over-50s policies.
What types of life insurance does SunLife offer?
SunLife only offers one core life insurance plan, which is aimed at over-50s who are UK residents, and pays out a guaranteed lump sum when you die. SunLife pitches its guaranteed over-50s plans as a way for you to help loved ones cope with funeral costs, or simply to leave them a little something to remember you by.
SunLife Guaranteed Over 50 Plan
Unlike traditional life insurance policies, SunLife's over-50s plan asks no questions about your medical history and lifestyle – you're guaranteed to be accepted.
Like other over-50s plans, though, the maximum lump sum you'll get is likely to be much lower than traditional life insurance policies. Payouts will depend on your age and monthly payments (the older you are when you take out the scheme, the lower the likely payout). When we ran some quotes, the highest payout we found for a 59-year-old paying £74 a month was £17,506.
Plus, depending on how long after taking out the policy you die, you may end up paying more in premiums than the cash payout is worth.
Under SunLife's standard over-50s life insurance plan, premiums are payable for life – if you stop, your insurance will end and you won't get anything back.
It also offers a "Premium Cap" plan for those who are worried they might not be able to afford premiums later in life. This lets you choose a fixed period to pay premiums, though monthly payments are higher.
Benefits of SunLife life insurance
As with all over-50s life plans, you don't need to answer any questions about your medical history or lifestyle to qualify.
You can choose for your payments to start from as little as £4 a month.
SunLife's "Premium Cap" over-50s plan gets a 5-star Defaqto rating.
Take out a policy and get £120 gift card to spend at 100s of shops.
Drawbacks of SunLife life insurance
With SunLife's standard policy, you must keep up payments for as long as you live. If you stop, you won't get any money back (there is no cash-in value) and your cover will end.
SunLife's standard policy only gets a three-star Defaqto rating.
SunLife life insurance exclusions
As with all insurance, if you don't answer questions truthfully when you apply, this might invalidate your cover.
If you die within the first year after taking out your policy, the full cash lump sum is not payable unless you die as the result of an accident. Instead, SunLife will refund the premiums paid to date.
SunLife's definition of accidents excludes death caused directly or indirectly through:
Your involvement in criminal acts
Flying as anything other than a fare-paying passenger
Involvement in hazardous pursuits
Self-inflicted injury
Involvement in war or hostilities
Alcohol/drug abuse
Natural causes (such as an illness or disease)
What's the claims process for SunLife's life insurance?
Claims can be made by phone (0800 008 6060) or in writing (SunLife, PO Box 1395, Peterborough, PE2 2TR).
The person making the claim will need the policy details, the original death certificate, and details of the bank account where the cash sum is to be paid.
Frequently asked questions
The offers compared on this page are chosen from a range of products we can track; we don't cover every product on the market...yet. Unless we've indicated otherwise, products are shown in no particular order or ranking. The terms "best", "top", "cheap" (and variations), aren't product ratings, although we always explain what's great about a product when we highlight it; this is
subject to our terms of use
. When making a big financial decision, it's wise to consider getting independent financial advice, and always consider your own financial circumstances when comparing products so you get what's right for you.