interactive investor review
Find out what we thought of interactive investor and how its service plans work.
Finder rating
★★★★★
Expert analysis
Customer rating
★★★★★
Satisfaction survey
Huge range of assets to trade
Not the cheapest fees on the market
If you're looking to open several trading accounts, such as an ISA for you and a JISA for each of your kids, then interactive investor might be a suitable platform for you as it has a flat-fee for everything. Find out what we think of interactive investor, including details about its costs, what you can invest in and its pros and cons.
Try interactive investor's award-winning investing and trading account
Capital at risk, investments may fall
Over 40,000 UK and global stocks to choose from
Reduce foreign exchange costs by managing money in 9 currencies
One free trade per month
Start investing today for a flat fee £9.99 a month
What is interactive investor?
interactive investor (yes, that's intentionally all lower case, sometimes referred to as just "ii") is an online investment service offering a range of different investment products, all with flat fees. It has plenty of products available and the opportunity to invest in shares, funds, investment trusts, exchange-traded funds (ETFs), venture capital trusts (VCTs), bonds and gilts.
How does interactive investor work?
For a flat fee starting at £9.99 per month, interactive investor takes care of your assets and gives you a set number of trades per month – this depends on which service plan you choose (we'll get on to the service plans in a moment).
You don't have to pay additional service fees if you want to have more than one account with interactive investor, so you can have a trading account, stocks and shares ISA and a junior ISA all for one flat fee. It's a great option if you plan to use your full annual ISA allowance and trade further as well as, say, opening a junior ISA for several kids.
As with many rules, there's an exception. On the self-invested personal pension (SIPP for short), you'll pay an additional £10 per month to add the SIPP. You could have the SIPP alone for £12.99 per month.
What products does interactive investor offer?
interactive investor has 8 different accounts available. These include:
Self-invested personal pensions (SIPPs)
Individual savings accounts (ISAs)
Trading accounts
Junior ISAs
Joint trading accounts
Company accounts
Pension trading
Cash trading
What are interactive investor's service plans?
There are 2 service plans and you can choose one that suits you.
| | Investor | Super investor |
| --- | --- | --- |
| Monthly cost | £9.99 | £19.99 |
| Free trades | 1 free trade each month | 2 free trades each month |
| Additional information | The cheapest plan available, offers 1 trade per month to get started. Additional trades cost more than with the other plans. | Designed for active investors, this plan has cheaper commission for additional trades each month. |
How much does interactive investor cost?
Unlike other investment platforms, interactive investor charges flat fees instead of taking a percentage from your investments. You can choose a service plan based on what you're looking for. These plans start at £9.99 per month and, as we mentioned above, cover multiple accounts.
You get some of this monthly service fee back in the form of a number of trades that you can make each month. We've detailed some of the fees for each service plan below.
All prices below relate to trades under the value of £100,000 (or £25,000 internationally), the charges above this are explained in more detail below.
| Type of investment | Investor | Super investor |
| --- | --- | --- |
| UK shares/ ETFs | £7.99 | £3.99 |
| Funds and investment trusts | £7.99 | £3.99 |
| US shares | £7.99 | £3.99 |
| Other international shares | £19.99 | £9.99 |
| Dividend reinvestment | £0.99 | £0.99 |
| Regular investment | Free | Free |
Other interactive investor fees
What can I invest in with interactive investor?
interactive investor has thousands of options when you're choosing the companies to invest in, with over 40,000 UK, US and international shares on 17 global exchanges.
There are over 3,000 funds to choose from, alongside ETFs, bonds, gilts and VCTs.
interactive investor general investment account
interactive investor's general investment options, such as the trading account, joint trading account and company account, allow you to invest without an upper limit.

Key features include:
You can withdraw your money whenever you like.
40,000 UK and global stocks to choose from.
You can manage your money in up to 9 currencies.
It's worth noting that you may need to pay capital gains tax on your profits. Generally, people would turn to the ISA before general investment if they haven't used their ISA allowance for the year.
If you invest in a general investment account, you could be subject to capital gains tax. This is a tax that you have to pay on any gains over £12,300 in each tax year.
interactive investor ISAs
interactive investor's ISA options, including the stocks and shares ISA and the junior ISA (JISA), allow you to invest up to your tax allowance (£20,000 for the 2022/2023 tax year) tax-free. The annual JISA allowance for 2022/2023 tax year is .

Key features of the interactive investor ISA include:
You can use your ISA allowance.
No withdrawal penalties.
Generates impartial intelligence daily to help you make decisions.
You choose your own investments – if you want some help then the interactive investor's investment experts provide ready-made portfolios and fund recommendations.
interactive investor SIPP
interactive investor's self-invested personal pension allows you to invest long term with the benefit of tax relief on your contributions. It is suitable for experienced investors who are happy to make their own investment options. Your pension is locked until you turn , after which you have several drawdown options.

Key features include:
Freedom to choose and manage your own investments.
More than 40,000 UK and global stocks.
Expert tips and information, including impartial information, selected funds, ready-made portfolios and newsletters.
Invest in multiple currencies.
Fixed fees. You can add the SIPP for £10 per month if you already have another account with interactive investor, or you can have the SIPP alone for £12.99 per month.
How do I decide what to invest in with interactive investor?
interactive investor offers several options for building your portfolio, depending on how much help you want in choosing what to invest in and your risk appetite.
Quick-start funds. interactive investor has created 3 ready-made funds to get you started. The funds are categorised by risk appetite, allowing you to choose one that suits you.
ii Super 60. This is a wide range of active and passive funds, investment trusts and ETFs. These have a good track record and cover a range of regions. You can choose between risk appetites and if you're not sure what to go with, there is a huge amount of information on the different options available on the website.
Trading tips and ideas. interactive investor regularly puts together inspiration, tips and ideas in the form of videos and articles to help you make investment decisions.
Is interactive investor safe?
interactive investor is a secure company that has been managing investments since 1995. The company is regulated by the Financial Conduct Authority (FCA). Your money is covered by the Financial Services Compensation Scheme up to the value of £85,000 if interactive investor were to go bust. This does not cover your money in the event that your investments go down in value.
What can I do with the interactive investor app?
The mobile app allows you to trade, get quotes and manage your investments on the go. It uses Face and Touch ID for security.
Features of the iOS and Android apps include: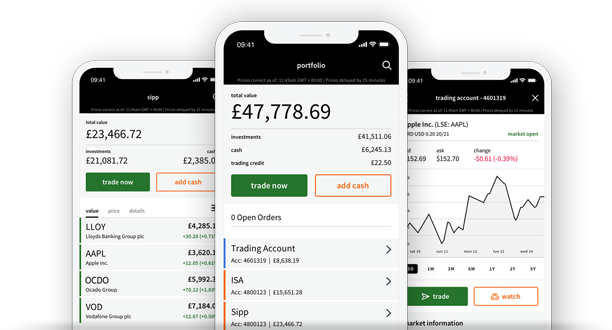 Trading. You can access all the investment options that are accessible on the web app.
Orders. You can see the status of all of your orders and can close or cancel orders.
Funding. Allows you to see summaries of your accounts and add more funds.
Quick quotes. Obtain stock quotes, view price charts and save stocks for later.
Newsfeed, watchlist and market overview. Helps you stay up to date with the news, have a list of stocks to keep an eye on and shows you the latest market developments.
Security. It uses Face and Touch ID for a quick log-in.
How good is interactive investor?
In terms of the options available and the opportunity to have full control over your investments, interactive investor is a good platform. If you're new to investing then it could be a little overwhelming, but once you've spent some time reading the articles, you're likely to find it easier to understand. The flat fees make it easier to work out how much your investments will cost, and also make it cheaper if you have a lot of money to invest.
Pros and cons of interactive investor
Pros
Takes flat fees instead of a percentage of your investments (but the fees can outweigh your profits if you only have a small amount to invest).
Gives a lot of detail and options when investing which is good for experienced investors.
Great deal of information and inspiration on trading to help you make decisions.
Cons
Quite a lot of fees for services, such as share certificates and postage.
Overwhelming number of options if you're new to investing.
Fees might outweigh profits if you only have a small amount to invest.
interactive investor customer reviews
Finder surveyed some of interactive investor's customers in December 2020. They found that it was competitively priced, reliable and easy to use.
Some customers mentioned that its fees are quite high, especially compared to other share dealing providers. They noted that it wouldn't be as expensive with higher investments.
Our verdict
interactive investor is a really comprehensive platform for investing. The term "interactive" is key here, as you'll need to keep an eye on your investments and know when to make adjustments. It offers plenty of useful information to give you more insight into what you are doing. On its website, interactive investor claims to be suitable even if you're a beginner, but we reckon it's more suited to the experienced investor.
If you have a small amount to invest, the fees might outweigh the profit you make, so it's worth taking a look at platforms alternative to ii.
Get started by visiting interactive investor and opening an account. Still not sure? Compare other share trading platforms with our comparison table.
Frequently asked questions
Share dealing platform ratings
Our customer satisfaction scores ("Customers say") are based on a survey of 753 customers carried out in December 2021.