Progressive Snapshot review
Roadside assistance

optional

New car protection

Accident forgiveness
Summary
Using your driving habits to set premiums can save you money — if you're a safe driver
Pros
Helps occasional drivers save
Simple, easy-to-use app
Test program available without changing current coverage
Cons
Rates can increase based on your driving habits
GPS tracking introduces privacy concerns
Pros
Top-rated insurer with 80 years of experience

Easy online sign-up and reporting

Transparent quoting
Cons
High number of customer complaints

Average customer satisfaction rating
Get the cheapest quotes on your auto insurance
Enter your ZIP code to see insurers near you.
Your information is secure.
---
Get the cheapest quotes on your auto insurance
Enter your ZIP code to see insurers near you.
Your information is secure.
---
Our take on Progressive Snapshot
Using data to set car insurance premiums isn't new. For decades, car insurance companies set premiums on your age, the value of your car and the distance between your home and work.
But Progressive Snapshot takes this practice a step further, collecting data from your actual driving habits and factoring it into your premiums.
So if you're an occasional driver who obeys the speed limits and refuses to use your phone from the driver's seat, you could save up to 30% on your car insurance bill.
Compared to other insurers' telematics programs, Progressive Snapshot is in the middle of the pack for customer savings: better than Nationwide's SmartRide but a little less than Allstate's Drivewise.
But Allstate's baseline premiums average more than Progressive to begin with, so you may still pay more with Allstate. Because auto insurance is so personal and state-specific, you'd need to compare telematics insurers to find the biggest savings.
However, if you drive a lot and tend to exceed the speed limit — or if you can't help but brake hard on busy roads — you may be better off sticking with traditional insurance.
How Progressive Snapshot works
Progressive is one of many insurers offering a telematics program to base how much you pay in premiums on your driving skills instead of your demographics and driving history alone.
Progressive Snapshot program monitors your real-time driving habits and then factors them into your car insurance premiums.
If your driving data shows you obey the speed limit, stay off the roads late at night and drive only short distances, you could save money with a telematics program like Snapshot. But if you drive long distances, brake suddenly, use your smartphone while driving or exceed the speed limit, your premiums could increase.
Snapshot monitors your driving through a smartphone app, available for iOS and Android devices, or through a device you plug into your car. The device plugs into your car's diagnostic port, which is usually located beneath the steering wheel.
Your state's insurance laws determine whether you can use the plug-in device or the smartphone app. Some states allow you to choose for yourself. Both devices use GPS to track your miles and speed, but only the app can tell whether you're taking phone calls and sending texts while driving.
Snapshot rates are based on 4 driving behaviors
The Snapshot app or plug-in device allows Progressive to monitor:
How far you drive. Driving fewer miles can lower your premiums. Savings for drivers with long commutes may be limited.
Driving habits. Driving slower than the speed limit and avoiding hard braking can help you save money. Slowing down by more than 7 mph per second qualifies as "hard braking."
Phone use. With the mobile app, staying off your phone while driving can help you save. The plug-in device can't tell whether you're using your phone.
When you drive. Avoiding trips during Progressive's high-risk driving hours, between midnight and 4 a.m., can lower your premiums — which may not be possible for those who work the graveyard shift.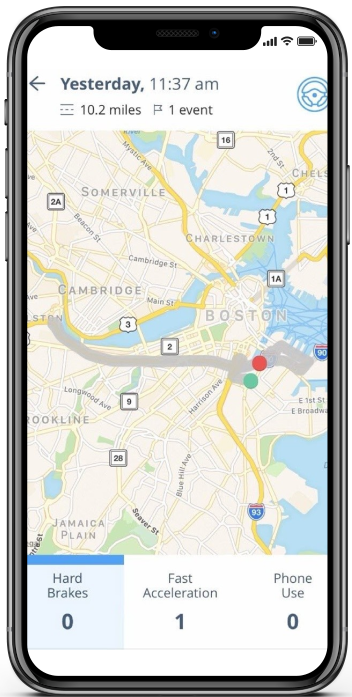 How to join Progressive Snapshot Program
Progressive offers a snapshot road test so drivers can see whether they'd save money before switching insurers.
Progressive monitors your driving performance over 30 days, and then lets you know how much you could save if you become a Snapshot user.
You don't need to be a Progressive customer to test Snapshot, and trying it out for 30 days won't affect your current insurance policy.
After your test period, Progressive quotes you a premium based on your driving habits. If you like the quote and want to join Snapshot, you'll need to become a Progressive customer.
How much can I save with Progressive Snapshot Program?
Progressive offers an immediate discount when you opt in to Snapshot and start sending your driving data through the app or device. You could save 10% annually in most states just for signing up. This adds up to about $145 a year for the average customer.
You'll continue to receive the 10% discount for using Snapshot. If your driving data warrants it, you could save an additional 20% after tracking six months of data.
But, the data can work both ways. If the data suggests risky driving behavior, Progressive can use it to argue you're more likely to be in an accident or file a claim — and increase your premium as a result.
Savings from driving habits kick in after 6 months
During your first six months as a policyholder, your Snapshot device or smartphone app sends data to Progressive, but the data doesn't affect your premiums — yet. Instead, you pay premiums based on your driving history, demographics and coverage options.
After Progressive collects a full six months' worth of data on your driving habits, the company begins factoring your habits into your premiums — starting with your next six-month policy renewal.
Progressive Snapshot reviews and complaints
As of August 2021, Progressive earns an A+ from the Better Business Bureau which signals it has a positive interaction with customers. Plus, Progressive gets slightly fewer complaints than the median for a company its size, according to J.D. Power.
On TrustPilot, Progressive has a rating of 1.4 out of 5 stars as of August 2021. Based on recurring themes in reviews, customers like Progressive's lower-than-average premiums, but they complain about the company's performance paying claims and responding to customer service requests.
The Snapshot app itself performs well: Apple iOS users rate it 4.6 out of 5.0, while Android users rate it a lower 3.9 out of 5.0. Though, customers around the web mention disliking how sensitive the driver scoring is to hard braking, claiming Snapshot's braking sensor penalized them for driving in normal stop-and-go city traffic.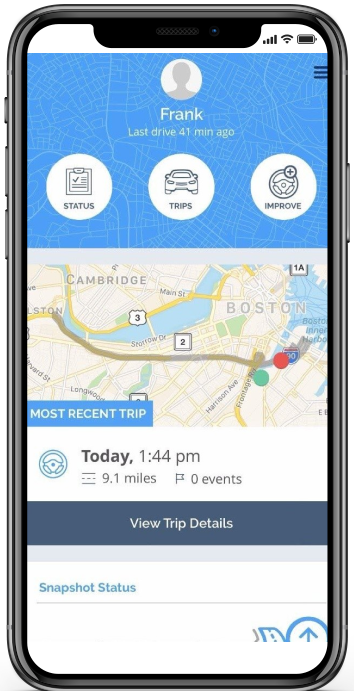 Progressive uses your data for more than setting premiums
Progressive lists how your data can be used in a privacy statement and includes the following:
Underwriting purposes
Rating purposes
Claims assistance, such as validating the circumstances of an accident
Research and development
Driving behavior reports
If you worry about keeping your data private, syncing your vehicle with the insurance company's servers may be worth further consideration, no matter how much money you could save.
How do I use the Progressive Telematics app?
Download the Snapshot app to your phone, sign in and agree to the app's terms of use.
You must give the app permission to run in the background, but you can set it to sync only when your phone's on WiFi if you don't have an unlimited data plan.
Snapshot is more interactive than some other insurers' telematics apps. For example, if you tend to brake too hard, the app reminds you to start braking sooner before you reach intersections.
If your state requires the plug-in device, or you choose it over the app, you won't get the same level of interaction. It's easier to forget it's plugged in and sending data.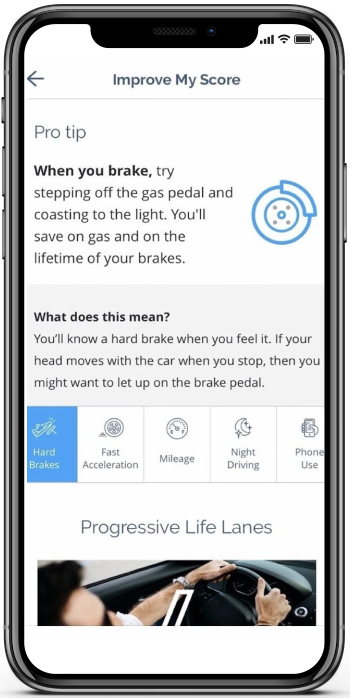 Plug-in telematics devices run on your car's battery
Progressive outlines risks associated with using the telematics plug-in device since it uses current from your car battery to run, even when your vehicle is off. If you have an older or weaker car battery, or your car has a check engine light, your battery may be affected by the extra power needed to run the plug-in.
Other car insurance companies that offer telematics
You are about to post a question on finder.com:
Do not enter personal information (eg. surname, phone number, bank details) as your question will be made public

finder.com

is a financial comparison and information service, not a bank or product provider
We cannot provide you with personal advice or recommendations
Your answer might already be waiting – check previous questions below to see if yours has already been asked
Accept and continue