Finder is committed to editorial independence. While we receive compensation when you click links to partners, they do not influence our content.
Compare payday loan connection services
Want to compare multiple short-term loan offers in one place? Let a connection service handle it for you.
Editor's choice: OppLoans Installment Loans
Easy online application
Quick approval
Long repayment terms
See my rate
Financial obligations don't always come at the most convenient times, and when they pile up, it can be difficult to find the time to do necessary things — like compare your loan options. A broker or a loan-connection service may be able to simplify the process for you, even if your credit is less-than-perfect.
These providers allow you to compare several offers at once with one convenient application. Here we explore how brokers work, compare them to direct lenders and show you how to find a legit one.
How do payday loan connection services work?
A loan connection service works to pair borrowers like you with a suitable lender. They don't provide loans. Instead, they compare your application against a network of lenders to see which can best fit your needs and situation.
Most loan matching services don't charge a fee for their services. Their money comes from generating leads or referring you to direct lenders, similar to a commission. Some also function as a lender subscription service. Lenders pay the referral service to be a part of its network, and the referral service then chooses one or more to show you based on what criteria you meet.
All of this boils down to you being able to submit one application and potentially get more than one offer. A loan connection service could cut down on comparison time and save you the frustration of sorting through different lenders that you may not qualify for.
Compare top online payday loan connection services
Payday loan connection services vs. direct lenders
Loan connection services
Ease of application. You'll have one application for several lenders. The total time to apply is about 10 minutes.
Fees. There is usually no fee for working with a loan broker.
Safety. Legit brokers have secure websites but may share your contact information for marketing purposes (read the broker's privacy policy to learn more).
Eligibility requirements. Brokers have minimal blanket eligibility criteria to screen applicants, but they do accept people with a wide range of circumstances to see if they might be fit for any lenders in the network
Direct lenders
Ease of application. You'll have to fill out one application per lender. The total time to apply is about 10 minutes.
Fees. Every lender will charge a financing fee and interest based on the laws of your state of residence.
Safety. Legit lenders have secure websites and typically don't share your information with third parties.
Eligibility requirements. It varies by lender, but you must live in a state where the lender operates and show proof of regular income.
Quick snapshot of how these two options differ
| | Matching service | Direct lenders |
| --- | --- | --- |
| Ease of application | One application for several lenders, total time to apply: approx. 10 minutes | One application for each lender, total time to apply: approx. 10 minutes per website |
| Fees | Varies by lender, usually no additional fee charged by the broker | Varies by lender, usually a financing fee of $10-25 per $100 borrowed |
| Safety | Legit brokers have secure websites, but may share your contact information for marketing purposes (read the broker's privacy policy to learn more) | Legit lenders have secure websites and typically don't share your information with third-parties |
| Eligibility requirements | Brokers have minimal blanket eligibility criteria to screen applicants, but accept people with a wide range of circumstances and see if they could be a fit for any lenders in the partner network | Varies by lender, but you must live in a state where the lender operates and show proof of regular income |
Why should I consider before submitting my info?
A payday loan matching service is a solid solution if you're short on time and need a little help with comparing your offers. By submitting just one application, you're able to compare offers without the labor of finding a series of reputable lenders.
Lodging deposit due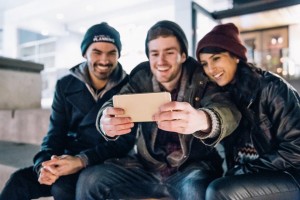 Imagine this scenario: Peter is a senior at the local university. He and his friends are planning to visit Norway this winter, but Peter doesn't have time to take extra hours at his job to save up enough money for the lodging deposit due at the end of the week.
He goes online and finds a reputable matching service who can help him get a loan for young people with little to no credit history. It takes a few days, but he doesn't need to submit multiple applications or visit a store. The matching service shows him his options from various lenders, and Peter selects one that will pay for his lodging deposit, about $350. It had a relatively low APR, and since the loan terms give him 30 days to pay it back, Peter knows he can make up the extra time without harming his credit.
How do I find a legitimate matching service?
Here are a few easy ways to a provider with a good reputation and avoid scams.
Look for contact information. If you can't find contact information anywhere on the website, that may be a red flag. You should be able to easily consult with a broker agent at any point in the process.
Find the privacy policy. Look for the security and privacy policies. If they're not easily accessible, the broker may be out to collect your information and sell it.
Check the Better Business Bureau. A BBB rating is a decent indicator of a broker's trustworthiness. Look for a B+ or higher.
Avoid approval guarantees. There's no such thing as a guaranteed loan so you'll want to avoid brokers that guarantee they'll match you with a lender. You need to meet certain eligibility criteria to qualify for a loan, even if it's as simple as being 18 years old and having an open bank account.
What to watch out for
Since payday loans can be an easy market to prey on people in need of money, you may find disreputable companies. Avoiding matching services that don't publish contact information and security or privacy policies can help you dodge a scam.
Without transparency on privacy policies, brokers can hide their practices. For instance, some brokers allow lenders in their network to distribute your contact information to marketers. Before you fill out an application, confirm your broker is legit. In addition, don't sign a contract with a lender you don't think you can trust. It's better to be safe than in a spiral of bad debt.
Make sure your lender is legit by reading these steps
Bottom line
A loan-connection service could save you time and frustration in finding a payday loan that suits your needs, but they come with risks that are important to evaluate.
As with any loan, be sure confirm and understand all of the terms and conditions before you sign a contract. You're not obligated to accept it, whether it's through a broker or from a direct lender. You can contact a customer service representative or explore other payday loan options until you feel comfortable with an offer.
Are payday loans available in my state?
Compare short term loans in your state
Frequently asked questions
Picture: Shutterstock
More guides on Finder