Finder is committed to editorial independence. While we receive compensation when you click links to partners, they do not influence our content.
How much does it cost to renovate a living room?
The living room is a high-traffic area that deserves to be updated every now and then.
Whether it's an allocated space for catching up with family, watching television or dining, the living room is a realm that can serve several purposes. There are many things you can do to brighten up the appearance and functionality of your living room, such as: replacing the floorboards, adding in new furniture such as a couch or dining table, building a custom fireplace or freshening up the wall paint.
In this article, we use the Home Design Directory calculator and HomeAdvisor (as well as some market research) to estimate how much a living room renovation may cost you on a budget, mid-range and premium budget.
What's the cost of a living room renovation?
It's difficult to forecast the cost of a renovation budget as this depends on multiple factors including the scope and complexity of the work, the quality of materials and finishes, and the cost of labor charged by independent companies.
However, for a medium-to-large living room of 250 square feet, here are the approximate price points.
Materials, fittings and fixtures
If you want to work out the cost of materials, fittings and fixtures for a living room renovation, refer to our table below.
Budget
Item
Cost
Flooring
$1,250.00 (floorboards @ $5 x 250 square feet)
$1,000.00 (installation @ $4 x 250 square feet)
$2,250.00
Lounge
$1,699.00
Coffee table
$65.00
Side table
$50.00
Television
$295.00
Lamp
$25.08
Storage unit
$60.00
Total cost:
$4,444.08
Mid-range
Item
Cost
Flooring
$2,500.00 (floorboards @ $10 x 250 square feet)
$2,000.00 (installation @ $8 x 250 square feet)
$4,500.00
Lounge
$2,499.00
Coffee table
$199.00
Side table
$169.00
Television
$597.00
Lamp
$50.00
Storage unit
$95.00
Total cost:
$8,109.00
Premium
Item
Cost
Flooring
$3,500.00 (floorboards @ $14 x 250 square feet)
$2,000.00 (installation @ $8 x 250 square feet)
$5,500.00
Lounge
$3,499.00
Coffee table
$430.00
Side table
$250.00
Television
$1,595.00
Lamp
$140.00
Storage unit
$189.00
Total cost:
$11,603.00
Back to top
Flooring
If you're replacing existing flooring in your living area, you'll need to remove the existing carpet or floorboards. Make sure you source several quotes if you're getting an expert in. Otherwise, you may be able to pull up the flooring yourself.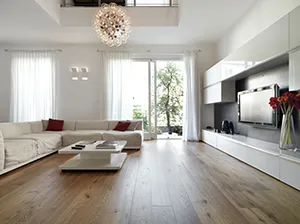 Here's a step-by-step process of how to remove floorboards:
1. Cut the board. Firstly, clean the floor area to get rid of any dust particles. Then, set the depth of your circulator to 3/4″ (as the standard depth of a floorboard is 3/4″). Cut two parallel lines along each side of the board.
2. Remove the board. Next, hammer a chisel into one of the cuts in the board. Then use a chisel to pull out the center piece. Once the piece is removed, chisel at the sides of the cut board until they come unstuck.
3. Lift the board. Use a wrecking bar to pull up the loose floorboard. Place the blade of the wrecking bar under the board slightly away from the joist. Then gently lever the board up. Once the board has come up, place the blade in between the two nails on the joist and, using the joist for leverage, pry the board until the board comes off.
If you know the dimensions of your floor space, and you've been quoted a flooring cost per foot, you can use online calculators to help you plan for the cost of your flooring materials and installment.
When you get a quote for timber flooring, the supplier will likely give you a quote either based on the square meter surface area or for the whole job. The cost will vary based on the type of timber or flooring that you select. Remember that the price of a flooring product is largely determined by its availability. If it's an imported product, chances are it will cost more.
Choosing standard or select grades of woods can make a big difference in price. For example, soft wood flooring like pine can cost $3 to $6 per square foot, with another $3 to $5 per square foot for installation. Meanwhile, a more premium hardwood like mahogany or cypress would cost anywhere from $8 to $14 per square foot, with installation costs running around $4 to $8 per square foot.
Home renovations: DIY vs. hiring professionals
Back to top
Lounge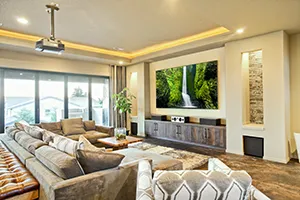 From recliners to contemporary sectional lounges to versatile sofa beds, there's a variety of different couches available on the market.
A Boston Chaise Lounge is $1,699 while an Aero lounge with 5 adjustable headsets would set you back $2,499. On the upper end of the spectrum, a Metropolis corner suite with an in-built storage unit and Ottoman retails from $3,499.
Coffee table
A coffee table often acts as the centerpiece of any living space, which can be used to store ornaments such as candles, magazines or drinks.
If you're on a budget, you can get a small coffee table for around $65, whereas something a little more robust, such as the Wave Coffee Table from a local furniture specialist, costs $199. For something fancy such as the Aquarius Coffee Table model, or for a custom-built coffee table, this would cost around $430 to $450.
6 tips for mastering time management during your home renovation
Side table
For extra storage space and to create a sense of symmetry, two side tables (one situated on either side of the lounge) are an important addition to a living area.
Local furniture suppliers provide side tables from around $50 up to $169 for a Signature Essentials model. A premium side table, such as the Aquarius Side Table, could cost you approximately $250.
Back to top
Television
If you want to deck out your living room with a brand new TV, then you can get yourself a 32" HD LED LCD for just $295. However, if you want something with the bells and whistles, you can score a TCL 48" Full HD LED LCD for $597. For the ultimate entertainment system and to suit a higher budget, you could purchase a Panasonic Viera 60" Full HD LED LCD Smart TV for $1,595 complete with in-built Wi-Fi and Netflix.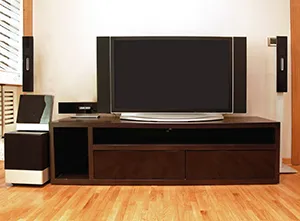 However, you could cut costs if you opt for an Internet TV package. You can use our guide on price, features and content options for Netflix.
Lamp
An elegant floor lamp may be a great addition to brighten up your living room. The Brilliant Kirby Touch Lamp retails for $25.08, and a mid-range floor lamp retails for around $50 while a Verve Design 160cm Black Ciara Floor Lamp is $140.
Storage unit
If you need more space to store your things, a storage unit is key.
You can find a narrow storage unit for $60 while a medium narrow storage unit could set you back $95, and something larger (and edgier), such as the Cube Storage Unit model (4 x 4) retails for $189.
Back to top
Apply for Financing
Back to top
Images: Shutterstock
More guides on Finder