Finder is committed to editorial independence. While we receive compensation when you click links to partners, they do not influence our opinions or reviews. Learn how we make money.
Rebuild your credit: Secured Visa® Card
Reporting to the credit bureaus, this card can help you graduate to an unsecured card with on-time payments.
20.24%
Purchase APR (variable)
300
Recommended credit score
Details
| | |
| --- | --- |
| Product Name | Secured Visa® Card |
| Card type | Visa |
| Annual fee | $0 |
| Purchase APR | 20.24% variable |
| Balance transfer APR | 20.24% variable |
| Balance transfer fee | $10 or 5% of the transaction, whichever is greater |
| Cash advance rate | 25.24% variable |
| Cash advance fee | $15 or 5% of the cash advance amount, whichever is greater |
| Foreign transaction fee | 3% of the transaction value |
| Interest free period | Up to 21 days |
| Late payment fee | Up to $40 |
| Returned payment fee | Up to $35 |
| Additional cardholder fee | $0 |
Expert review
Review by
peter.carleton@findercrew.com
---
Peter Carleton is a writer that covers banking and investing, breaking down what you need to know about where you put your money. When Peter's not thinking about cutting-edge banking apps and robo-advisors, he runs a creative agency and spends his spare time cooking or reading.
Expert review
If your credit score sits on the low end of the spectrum, the Secured Visa® Card is a solid way to start building credit. All you need to apply is a US address and Social Security number, and the card comes with free monthly FICO credit checks to help you maintain or improve your financial well-being.
With First National's Secured Visa® Card, you request your own credit limit with a deposit as low as $300 and up to $5,000. With on-time payments, you could qualify for a credit limit increase without an additional deposit in as few as seven months. And with an excellent payment history, you might even get your deposit back in less than a year.
But you'll need to be a resident of the seven states First National services: Nebraska, Colorado, Illinois, Iowa, Kansas, South Dakota and Texas.
How to make this card worth it
With no monthly and annual fees, it's easy to get the most out of this card. Start by setting up a credit limit that works for your budget — anywhere from the $300 minimum to a high $5,000 in $50 increments. Reasonable APRs and low fees make it easy to stay on top of your payments.
It also rewards on-time payments with a series of steps that can ultimately lead to an unsecured card. With a solid payment history, you may be eligible for a credit increase or even a return on your initial deposit. After 15 months of responsible payments, call to see if you eligible for an upgrade to one of the bank's unsecured cards.
What to watch out for
It's rare to find a secured card that doesn't charge monthly or annual fees — a factor we're used to including here. Despite the low costs and generous benefits, however, the card does have a couple minor drawbacks.
You won't earn interest on your deposit.
With some secured cards, you accrue interest on your deposit while it's held for security. You wouldn't retire off that interest, but a little extra income never hurts.
Foreign transaction fees.
If you plan on traveling outside of the country, you may want to consider a different card for your purchases. Otherwise, you'll pay 3% of your transaction in fees.
No rewards program.
Secured cards are designed to help build credit, but a few offer rewards as an incentive. This one doesn't.
Limited availability.
This card is only available in the seven states First National services only, so be sure to check that your state is included.
How to apply for the Secured Visa® Card
Applying for the Secured Visa® Card is a straightforward process that starts online.
1. Visit First National Bank's site and find the Secured Visa® Card in the Credit Cards tab. Click Apply Now.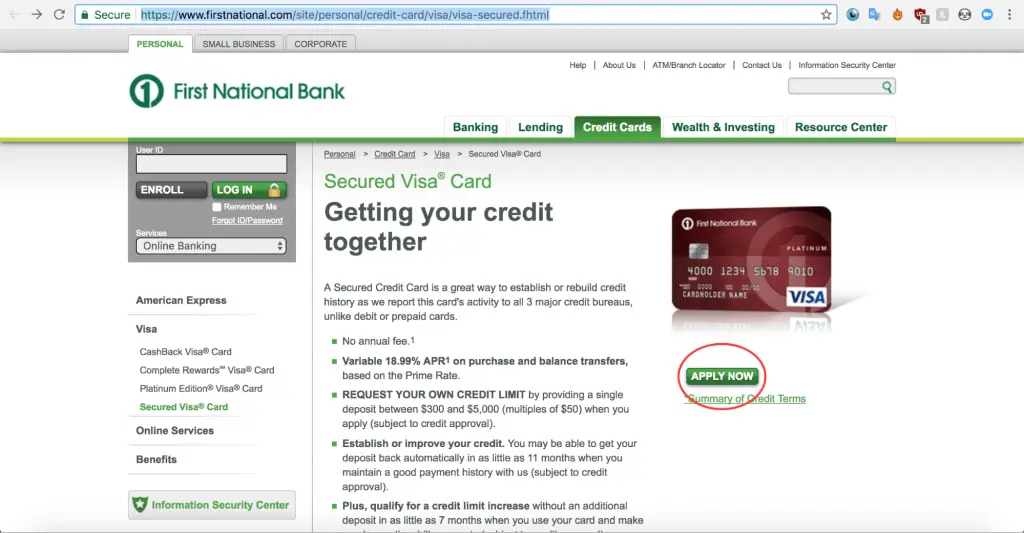 2. Complete the application with your personal contact, ID, housing and financial information. Add any authorized users, and then supply your deposit information, including your bank account details. Click Continue.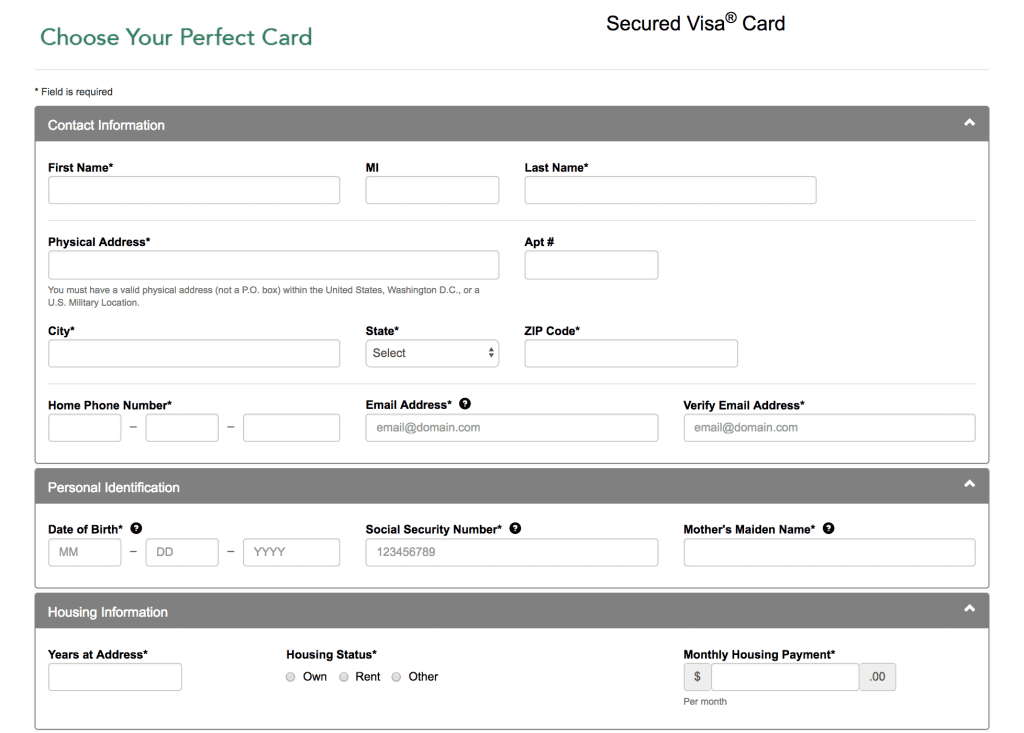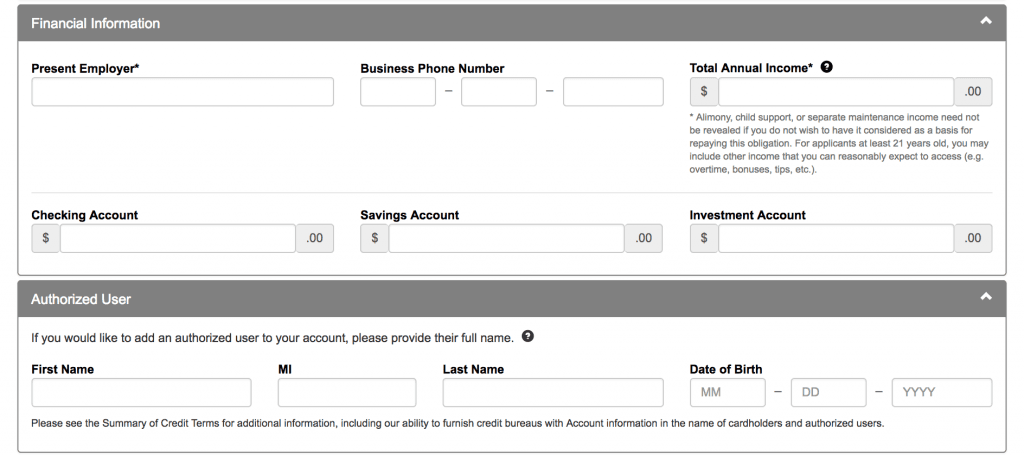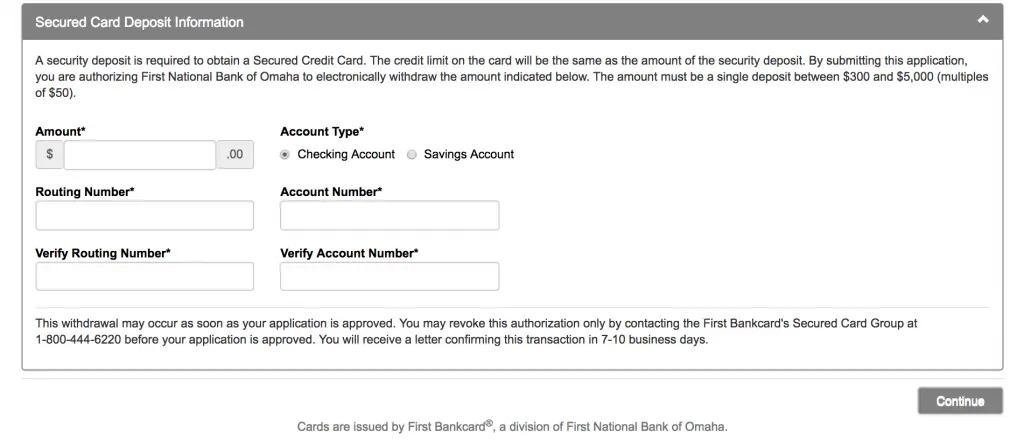 3. Proceed through the application, confirming the information you've entered. Carefully read the terms and conditions of the card, and then submit your application.
You'll receive confirmation of your approval status after submitting your application.
How likely is my approval?
This card doesn't require a minimum credit score, but First National Bank is notoriously thorough with its credit card applications. The bank processes each application manually, so approvals are not instantaneous, like with other cards.
How long will it take to be approved?
Because applications are processed manually, expect to wait anywhere from a few hours to a few weeks before hearing back about your application.
I got the card. Now what?
Now that you're approved, it's time to start using your card. Here's how to take advantage of your new Secured Visa® Card with First National Bank:
Activating your card. Once it arrives, activate your card and fund your deposit through an existing online banking account or by setting one up.
Make timely payments. You can mail in your payment or pay through your online account. And you'll avoid interest on your purchases by paying your balance in full.
Set up autopay. Avoid unnecessary fees and interest by setting up automatic withdrawals for your monthly payments.
Check your FICO Credit Score. Simply log in to your online account and click View your FICO score.
Customer service. Support is available by phone or secure email through your online account.
Graduate to an unsecured card. After 15 months of responsible payments, you could be eligible for an upgrade.
What do customers say?
Curiously, First National Bank isn't rated on Trustpilot.
The bank is accredited by the Better Business Bureau (BBB) since 1985, garnering an excellent A+ rating. But it also has many customer complaints that range from lack of communication and late-received cards to issues with credit line increases and a subpar online banking system.
However, users often mention that the card did in fact help them build a strong credit history. So if you're prepared to spend a little more time on the phone with customer support or wrestling with the online system, this card could be a great option to raise your credit score without tons of fees.
What else should I know?
In 2016, the Consumer Financial Protection Bureau ordered First National Bank of Omaha to reimburse customers $27 million for "unfair, deceptive practices" that resulted in customers being unknowingly charged for products they didn't use or, worse, approve. First National began reimbursing customers in 2017 and agreed to change its practices.
Compare secured credit cards
Bottom line
This card is a decent option for those looking to build a positive credit history. The flexible credit limit, free FICO score checks and no fees make it stand out among other secured options. And you just might graduate to an unsecured card with 15 months of on-time payments.
If this card doesn't suit your needs, compare secured credit cards for more options.
Frequently asked questions