Finder is committed to editorial independence. While we receive compensation when you click links to partners, they do not influence our opinions or reviews. Learn how we make money.
Comparing the cheapest online money transfer options
Transfer money safely and cheaply to family and businesses worldwide.
When searching for the cheapest online money transfer providers, your options are no longer limited to the time-tested companies that have become household names. Today, newer online providers are undercutting the competition on exchange rates, fees and speeds to earn your business — and get you a better deal.
How do I find the cheapest options for sending money online?
While your ideal option will depend on how much you're sending, how you're paying for the transfer and where you're sending your funds to, the best ways to find the cheapest online money transfer options are:
Use a comparison table. Being able to see the prices of many different services at once will help you understand what fees exist and how to best avoid them.
Plan ahead. It is best to plan your money transfer as far in advance as possible, but if you need to make an emergency transfer, read on to find the best deal.
Don't bet on your bank. Banks are great for domestic money management, but once you get into international transfers banks tend to offer worse exchange rates and higher fees.
Skip the bank altogether. When you want to send or receive money using cash, fees can add up, but we've put together some tips to help avoid high costs when possible.
Online money transfer specialists make a profit on your transfers in two ways: transaction fees and exchange rates. When comparing providers, look for low fees and exchange rates that are closest to the mid-market rate at the time of your transfer.
Send money internationally with WorldRemit
Use promo code 3FREE to send your first 3 transfers with no fee. Send to 110+ countries for bank-to-bank deposit, cash pickup or mobile top-up.
Use promo code 3FREE to send your first three transfers with no fee.
No minimum transfers.
Wide range of destinations.
Competitive exchange rate.
Compare cheap ways to send money online
Disclaimer: Exchange rates change often. Confirm the total cost with the provider before transferring money.
Are emergency money transfers always expensive?
Being able to transfer money quickly, easily and safely during an emergency can be tricky. But with an online specialist, you can often transfer money quickly at a cost that's cheaper than your local bank.

Before you make your transfer, compare:
Exchange rates. Look for a rate that's as close to the mid-market rate as possible.
Transfer fees. Fees can range from flat fees of a few dollars to up to $80 or more, depending on how quickly you need it there.
Transfer options. Can your recipient accept a bank account transfer or do they need to pick up cash right away?
Security. Make sure you can track your transfer through to receipt.
To get the best value for money for your international money transfer, compare the benefits and features of competing services before selecting a provider.

Your typical US bank versus a money transfer provider
Let's crunch the numbers: Sending $1,000 to Mexico
To put this into perspective, let's see what a transfer with each of these options looks like. This table uses real fees and exchange rates and is current as of 26 November 2019.
Bank transfer
Cash transfer
Money transfer service
Fee
$40 + additional correspondent bank fees
$3.99
$0
Exchange rate
1 USD= 18.267 MXN
1 USD= 19.411 MXN
1 USD=
19.431 MXN
Transfer speed
2-4 days
Minutes
1-2 days
Amount received
MXN$17,536
MXN$19,334
MXN$19,431
Overall

Slowest and most expensive
The bank option ends up being both slow and getting the least amount of money to your recipient. If you go with the specialist money transfer service, your recipient ends up with MXN$97 more. However, if speed is what's most important, the cash transfer can't be beaten for instant transfers.
Mid-market rate explained
While there's no question that banks are a convenient option for sending funds from a bank account, overseas money transfers aren't their specialty. With a bank, you'll typically pay transfer fees of up to $40 and receive exchange rates that are anywhere from 2% to 5% or more above the mid-market rate, depending on the country you're sending it to.
What's the mid-market rate?
The mid-market rate is what your money's actually worth on the global market compared to another currency. It's the midpoint between worldwide supply and demand for that currency — and it's the rate banks and transfer services use when they trade among themselves.
Use the mid-market rate as a baseline to compare against the rates provided by your bank or transfer service. With it, you'll discover which companies offer the best rates.
Unlike your typical US bank, an independent money transfer provider specializes in one thing: safely moving your money from the US to countries around the world. This one focus means that they can offer more options — and stronger exchange rates — than a bank can.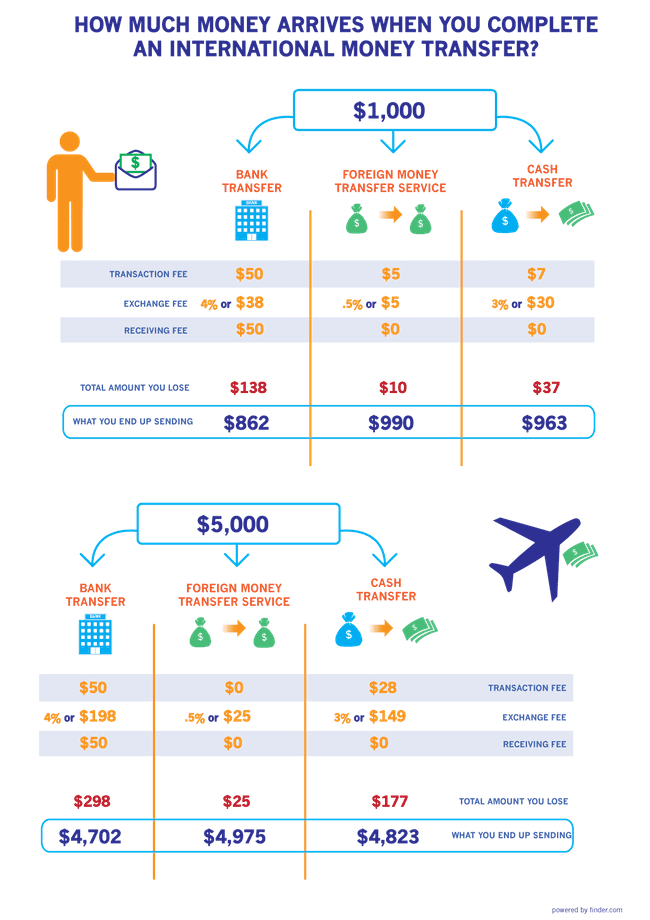 How to send and receive money without a bank account
Send money without a bank account
Money transfer paid in cash
Credit card payment to an online transfer agency
Send funds through a mobile wallet
Purchase a money order and mail it
Receive money without a bank account
Transfer funds to a money transfer physical branch for cash pick-up
Spend a prepaid debit card received by mail
Directly to a mobile wallet
Cash a money order received by mail
Read our
guide on sending and receiving money
without a bank account for more information.
Bottom line
Sending money abroad doesn't have to be expensive, and fees will differ depending on what country you're sending to. Countries where online money transfers are more common tend to have lower fees, while countries that aren't as frequent for companies to send to have higher fees. If possible, plan in advance to secure the best rates for your transfer.
Frequently asked questions