Finder is committed to editorial independence. While we receive compensation when you click links to partners, they do not influence our opinions or reviews. Learn how we make money.
Infiniti insurance rates
Compare car insurance for Infinitis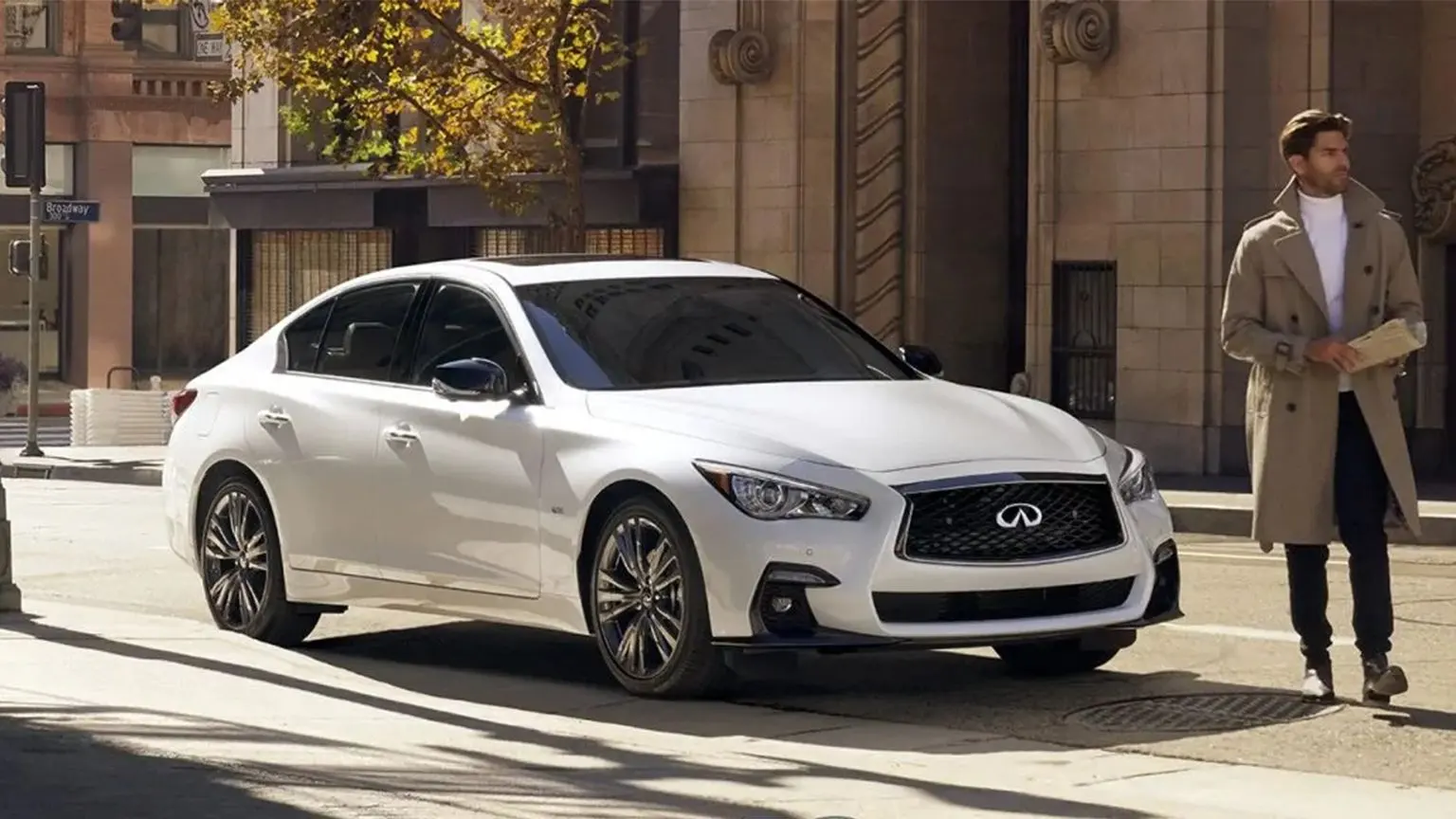 Compare car insurance quotes
Enter your ZIP code below and click Compare to see the cheapest rates in your area.
Average insurance cost for an Infiniti
The average insurance cost of an Infiniti is $189 a month, or $2,265 a year. Infinitis are pricier than the average vehicle, which raises insurance premiums. However, they're usually safe drives and aren't stolen frequently, which tempers insurance prices.
Find your Infiniti model
Get car insurance quotes for your Infiniti
How a vehicle from Infiniti affects insurance costs
Insurance companies consider many factors when determining the cost of insurance. A car's safety rating, how likely it is to be stolen, the mileage and the cost to replace or repair the car are some of the variables that are important.
An Infiniti is costlier to repair or replace, but the fact that it isn't commonly targeted by thieves and the good safety ratings help to balance out the cost of insuring an Infiniti.
You may find fewer insurers willing to cover your QX60 or QX70. Beyond those limitations, however, you should be able to find coverage relatively easily.
Infiniti car insurance rates by model
| Model | Monthly insurance rate | Base car price |
| --- | --- | --- |
| Q50 | $220.00 | $33,950 |
| Q60 | $220.00 | $38,950 |
| Q70 | $160.00 | $50,100 |
| Q70L | $160.00 | $51,600 |
| QX30 | $220.00 | $29,950 |
| QX50 | $167.00 | $34,650 |
| QX60 | $220.00 | $43,100 |
| QX70 | $166.00 | $45,850 |
| QX80 | $166.00 | $63,850 |
Pros and cons of insuring an Infiniti
Pros
Good safety ratings
Not commonly stolen
Cons
Costly to repair or replace
About the Infiniti brand
Unlike luxury brands that have been around for over a century — see Mercedes-Benz and BMW — Infiniti is a relatively new player. Founded by Nissan 28 years ago, it was the answer to luxury brands created by rivals Honda and Toyota: Acura and Lexus, respectively.
Today, Infiniti is the seventh-bestselling luxury car brand in the United States. Its Q50 model is especially popular, coming in as the fifth-bestselling luxury car in the US.
Are there any standout Infiniti models?
The Infiniti QX80 is Infiniti's only full-size SUV for 2018. At 210 inches long, the QX80 has an 8,500 pound towing capacity, but delivers better cornering and a smooth ride thanks to its hydraulic body motion control system. And the smart rear-view mirror and predictive forward collision warning work to keep drivers safe.
The starting price for the QX80 is $64,750. Financing options are available from Infiniti.
What's Infiniti InTouch?
InTouch is Infiniti's suite of technologies, including navigation, entertainment, safety and convenience. Depending on the package you choose, you can ask Alexa to unlock your doors, access your music with a voice command and start the car from your smartphone.
Infiniti car facts
Though Infiniti may not enjoy the cachet of brands like Mercedes-Benz, BMW or Lexus, its vehicles are priced for the luxury segment. The least expensive model is the QX30 ($29,950 MSRP), while the most expensive is the QX80 ($63,850 MSRP).
Car thieves target Infiniti vehicles relatively infrequently. This helps to lower insurance premiums.
Newer Infiniti models generally score good safety ratings from the Insurance Institute for Highway Safety (IIHS). The 2017 QX60 receive the IIHS' Top Safety Pick designation.
You may want more than minimum liability coverage for your Infiniti, expanding your protection through comprehensive coverage.
Compare Infiniti competitors
Looking for other car brands? Find other car manufacturers that are similar to Infiniti, or compare makes that are completely different.
Bottom line
Infinitis aren't cheap, and neither is the insurance. That said, because of the great safety features and other factors, insurance isn't expensive either. But be sure to shop around to find the best car insurance for you.
Get the cheapest quotes
Compare car insurance companies near you.
Your information is secure.
Frequently asked questions about Infiniti
Read more on this topic