Finder is committed to editorial independence. While we receive compensation when you click links to partners, they do not influence our opinions or reviews. Learn how we make money.
Compare business credit cards for bad credit
A secured card may be your best bet, but you may have luck with Capital One's unsecured card too.
Unsecured business credit cards almost universally require good to excellent credit. However, you're not out of luck if your credit score is less than perfect. You may qualify for a credit line with providers who evaluate prospective customers with alternative metrics or you can apply for a secured credit card.
Compare business cards for bad credit
Consider these business credit cards for bad credit
Quick look at business cards for bad credit
Capital One® Spark® Classic for Business
This is a solid business credit card aimed at business owners with average credit. Unlike most business cards for building credit, this one is an unsecured card and it has no annual fee. We also like this card because you get:
Cash back. Earn 1% cash back on every purchase. Earning rewards with a no-annual-fee card for building credit is rare.
Employee cards. You can add employees to your card account and earn rewards from their purchases.
No foreign transaction fees. Use your card freely abroad or online with foreign merchants and you won't pay any foreign transaction fees.
On the downside, you don't get to earn a signup bonus and you don't get to use a 0% intro APR period on balance transfers or purchases. This isn't surprising, because this card is designed for building credit and these perks aren't common with this type of card.
The Kabbage Card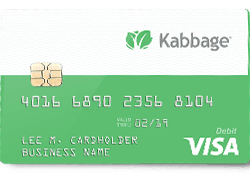 Get this card if: you want a high credit limit
To qualify for this card, your business must be at least a year old and have $50,000 or more in annual revenue or $4,200 or more in monthly revenue over the last three months. Once approved, you don't have to use the funds if you don't need them and there are no fees for the funds you don't use. We also like this line of credit because of:
High credit limit. Get up to $250,000 in working capital that a traditional credit card might not offer.
Flexibility. You can use any amount of the credit line you qualify for.
Low fees. Depending on your company financials and how long you take to pay off your balance, you'll accrue between 1.25% and 10% interest on your purchases.
Unlike traditional credit cards, with The Kabbage Card, you start accruing interest on your purchases from the moment you use your credit limit.
Wells Fargo Business Secured Credit Card
The Wells Fargo Business Secured Credit Card is a solid business credit card for building credit and earning rewards on your purchases at the same time. You get to choose the rewards program — earn either 1.5% cash back on all of your purchases or 1x points plus 1,000 additional points every month you spend more than $1,000. Other features we like are:
Potentially high credit limit. You can deposit anywhere from $500 to $25,000 to act as your credit line.
Low approval requirements. You don't need a credit score to apply for this card.
On the downside, you have to deposit funds to use as your credit limit and you have to pay a $25 annual fee for each card.
BBVA Secured Visa® Business Credit Card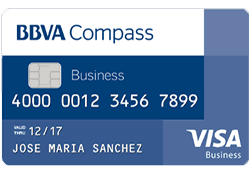 Get this card if: you spend a lot on office supplies, gas and dining.
The BBVA Secured Visa® Business Credit Card is a secured card with a generous rewards program. You get to earn 3x points at office supply stores, 2x points at gas stations and restaurants and 1x points on all other purchases. We also like this card because:
First year no annual fee. You won't pay an annual fee for the first year. Starting from the second, you'll pay $40 each year.
Visa SavingsEdge. Save up to 15% on purchases at participating merchants with Visa SavingsEdge.
Free employee cards. Set spending limits for each card and see itemized purchases on your card statement all without paying a fee for their cards.
This is all good, except the card is only available in Alabama, Florida, Texas, Arizona, Colorado, California and New Mexico. If you live in any other state, you won't be able to apply for the card.
What's next?
Once you get a card for building credit, make sure you always pay your balance on time, and if possible — keep your utilization rate below 30%. This will help you build your credit score and get a better credit card down the line.
How to compare business credit cards for bad credit
Consider whether you want an unsecured or secured credit card. An unsecured card doesn't require a security deposit, whereas a secured card does. Providers are typically more selective about who they give unsecured cards to.
Annual fee.
Secured business cards usually don't have high annual fees, but when they do, the costs eat into your rewards. For a no-annual-fee card, try a product like Capital One® Spark® Classic for Business or The Kabbage Card.
Employee cards.
Some providers charge for each authorized user to your account. This might not be a big deal if you run a small operation, but the costs can add up if you have a large team.
Rewards.
If your business spends heavily in specific categories, consider a card that offers bonus rewards for those categories. Otherwise, you might get more out of a card that offers the same rewards rate on every purchase.
APR.
Consider how long you might keep a balance on your card. If you pay off your debt quickly, a high APR might not impact your business too much. But if you want to keep a balance over a long period, consider avoiding cards with high APRs. Also, you consider looking for alternative business funding options with lower interest rates.
Bottom line
It can be tricky getting a business card if you have bad credit. Luckily, there are easy-to-get credit card options. This includes unsecured and secured cards.
But if you're not sure one of the products above is right for you, consider other business secured credit cards.
Frequently asked questions