Finder is committed to editorial independence. While we receive compensation when you click links to partners, they do not influence our opinions or reviews. Learn how we make money.
Where are credit cards accepted? An in-depth guide
Which credit cards to use at the places you frequent most.
Your credit card can be a powerful tool in places it's accepted. Here's the scoop on which card networks are best for domestic and international use, and which are best for the establishments you frequent.
Where are my credit cards accepted?
If you've ever wondered, "Where is my Visa card accepted?" or "Where is my Mastercard accepted?" — you're in luck. Both credit card networks are accepted virtually anywhere that takes cards.
Discover and American Express are widely accepted, but their merchant networks are slightly less robust.
Discover card acceptance: On pace domestically, lags abroad
By and large, you'll have no problem using your Discover card in America. However, it's not the best card to use when travelling abroad.
Though Discover has footprints in 190 countries and territories, many merchants won't take it. It's also not accepted in countries such as Ukraine, Saudi Arabia, Chile, Cuba and many African nations.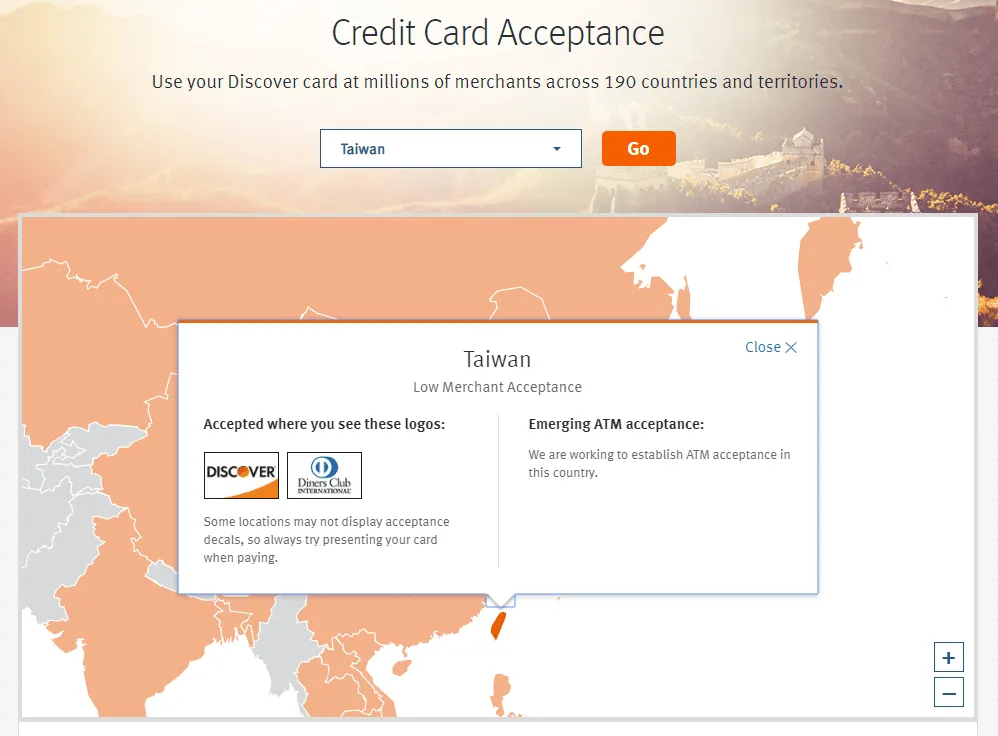 Discover's Credit Card Acceptance tool shows where the network's cards are accepted, as well as the volume of participating merchants.
Your results may vary with American Express
In the past, American Express wasn't widely accepted in the US. Now, many merchants are starting to take Amex, with mom-and-pop businesses often being the exception.
Internationally, many merchants won't accept Amex. Carry a Visa or Mastercard as a backup if you plan to travel abroad.
What credit cards can I use for shopping?
Credit cards can be great choices at warehouses and big-box stores, where your checkout totals can increase fast.
Typically, only specific cards earn bonus rewards at these locations, however. Some providers might bar warehouse purchases from bonus rewards.
If you want bonus rewards at mega-retailers, look for cashback products and cobranded store cards.
| Credit card network | Accepted at Costco | Accepted at Walmart | Accepted at Sam's Club | Accepted at Target |
| --- | --- | --- | --- | --- |
| Visa | | | | |
| Mastercard | | | | |
| Discover | | | | |
| American Express | | | | |
Using credit cards at your favorite mega stores
Check out our in-depth guides for using credit cards at warehouses and big-box stores:
What credit cards can I use for grocery stores?
Consider some of the top credit cards for grocery shopping and earn accelerated bonuses as it's such a common spending category. You can quickly rack up valuable cash back, points or miles by spending on items you need anyway at the stores you visit most. For example, you might want to know whether Aldi accepts credit cards if that's your store of choice.
| Credit card network | Accepted by Amazon Fresh | Accepted by Trader Joe's | Accepted by Kroger |
| --- | --- | --- | --- |
| Visa | | | |
| Mastercard | | | |
| Discover | | | |
| American Express | | | |
What's the big deal about credit card transaction fees?
Each time a merchant accepts a credit card transaction, they must pay interchange fees and network fees. These are set by the card networks.
Most of the time, merchants just sigh and live with these costs. But when the fees get too high, merchants sometimes voice their displeasure by banning certain card networks from their stores.
What credit cards are accepted by online or mobile app services?
Credit cards are the go-to form of payment online and on mobile app services.
With the latter, watch out for extra fees you might incur for using a credit card. For example, on Venmo you'll pay 3% of your transaction in fees if you pay with a credit card. You can avoid this fee by paying with a debit card or bank account.
| Credit card network | Accepted by Amazon | Accepted by eBay | Accepted by mobile pay apps |
| --- | --- | --- | --- |
| Visa | | | |
| Mastercard | | | |
| Discover | | | |
| American Express | | | |
What credit cards are accepted by rideshare apps?
Credit cards are the most convenient way to pay for your Uber or Lyft trip. Just link your card to your preferred rideshare app, and funds will be drawn from your card automatically.
| Credit card network | Accepted by Uber | Accepted by Lyft |
| --- | --- | --- |
| Visa | | |
| Mastercard | | |
| Discover | | |
| American Express | | |
What credit cards are accepted worldwide?
The world is vast, and credit card acceptance varies widely. If you're heading abroad, research which cards are accepted in the countries you'll visit. Get up to speed on the basics using our guide to using a credit card internationally.
Credit cards with no foreign transaction fees
When you use your credit card for a purchase abroad, typically you'll incur a 3% fee on all purchases. While it doesn't sound like much, it can add up.
You can avoid this by using no-foreign-transaction-fee credit cards. These are typically travel products, but you'll find non-travel cards with top-notch perks such as powerful cash back and strong intro APRs.
Compare No foreign transaction fee credit cards
Where are issuers accepted around the world?
Certain card networks are more widely accepted than others in some countries. Here's a general overview of credit card acceptance in certain countries, based on Finder data.
Bottom line
You can probably use any major credit card at large establishments or services. Of course there are exceptions, as some stores may limit card acceptance to save on transaction fees.
In the United States you can use a Visa, Mastercard or Discover at most locations. Internationally, Visa and Mastercard are your safest bets.
Certain cards are better suited to specific types of spending. Compare the best cards on the market and see which one rewards you most.
Frequently asked questions