Finder is committed to editorial independence. While we receive compensation when you click links to partners, they do not influence our opinions or reviews. Learn how we make money.
Wells Fargo Preferred Checking account review
An interest-bearing checking account designed for customers with high balances.
finder.com's rating: 2.5 / 5.0
★★★★★
With Wells Fargo Preferred Checking, you'll earn interest on your balances over $15 while you budget for everyday purchases and other expenses. Plus, you'll have the safety and security of banking with one of the Big Four. But, watch out for fees for using your card abroad.
$15 per month
Monthly fee
$25
Minimum deposit to open
Details
APY
0.01% on balances of $500+
Monthly fee
$15 per month
To waive the fee
• $10,000 or more in combined deposit balances, OR
• Direct deposits totaling $1,000 or more, OR
• A linked Wells Fargo home mortgage
Minimum deposit to open
$25
ATM transaction fee
$0
Out-of-network ATM fee
$2.50
Overdraft fee
$35
Expert review
Review by
peter.carleton@findercrew.com
---
Peter Carleton is a writer that covers banking and investing, breaking down what you need to know about where you put your money. When Peter's not thinking about cutting-edge banking apps and robo-advisors, he runs a creative agency and spends his spare time cooking or reading.
Expert review
The Preferred Checking account can earn you interest if you carry a balance over $500, but said rate hardly stands up to interest-bearing checking accounts from other providers. The monthly fee can also get in the way of growing your hard-earned cash if you don't qualify for it to be waived. It does come with online account management tools and overdraft protection, but that may not be enough value to balance the potential service fee, longer processing times and limited branch availability.
What are the benefits of the Wells Fargo Preferred Checking account?
Earn interest. You'll earn 0.01% interest on any balance above $500.
Wide-ranging support. Get customer service anytime you need it with 24/7 support.
Mobile app. Download the mobile app to send payments, deposit checks and more.
Easy access. This account comes with a debit card that offers fee-free access to over 13,000 ATMs and 5,800 branches.
Overdraft protection. Choose from two optional overdraft services that ensure your transactions are covered.
Tools. Get access to a suite of budgeting and spending tools that help you get the most out of your money.
Wells Fargo ATM network and fees
The Wells Fargo Visa debit card allows you to make purchases almost anywhere and comes with chip technology to protect your account when you shop. You'll get free access to over 13,000 Wells Fargo ATMs and 5,800 branches. But if you choose to use a non-Wells Fargo ATM, you'll be charged the following fees:
Domestic ATM fee: $2.50 per withdrawal, transfer or inquiry — plus fees from the ATM owner
Foreign ATM fee: $5 per withdrawal — plus fees from the ATM owner
What should I look out for?
Opening deposit requirement. This account requires a $25 minimum deposit to open.
Monthly service fee. There's a $15 monthly fee which Wells Fargo will waive if you:

Maintain a monthly $10,000 in combined deposit balances.
Schedule direct deposits totaling at least $1,000 a month.
Link a Wells Fargo mortgage account.

Overdraft fees. You'll be charged $35 for each transaction that overdraws your account.
Miscellaneous fees. Wells Fargo has higher fees than some of its competitors, so watch out for things like stop payments and lost cards.
Longer processing times. Wells Fargo doesn't process transactions on weekends, which can lead to longer processing time for transactions and payments.
Limited branch availability. Wells Fargo has no branches in HI, KY, LA, MA, ME, MO, NH, OK, RI, VT or WV.
Before you sign up, you may want to compare your checking options to find the best account for your financial needs.
Case study: Adrian's experience – April 2019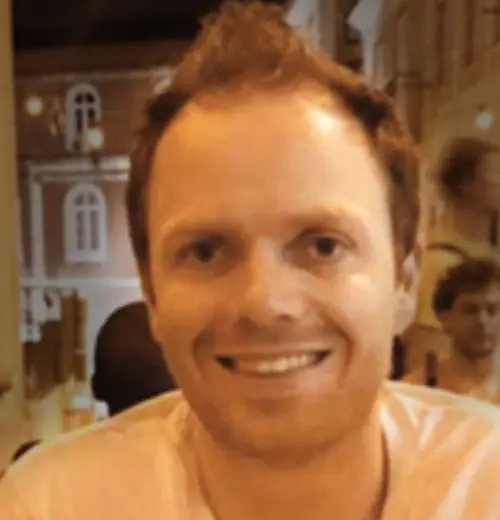 Adrian Tomkins
Senior Product Manager
I went with a Wells Fargo checking account because it was recommended by a close friend when I first arrived in the US. The process for getting started was straightforward and relatively fast.
I've had the account for almost a decade now and only have a couple of small grievances.
I was disappointed when I was charged a fee for a check.
I was also surprised by the high fees charged for international money transfers, but that appears to be a fairly common drawback across all banks — money transfer services are typically much better.
Overall, the account has proved satisfactory for my needs. The convenience found in the number of branches and ATMs works well for me, and I've always been impressed with the customer service, especially in branches.
Compare with other checking accounts
How much do I need to open an account?
There's a minimum deposit of $25 to open this account.
How do I apply?
You can open this account online, by phone or at a branch:
Online
Visit the Wells Fargo website, hover over Banking and Cards, then click Checking accounts.
Click Compare all accounts.
Scroll down to Preferred Checking and click Open Now.
Choose an individual or joint account, then sign in if you have a Wells Fargo online banking account.
Enter your personal information, verify all details and click Continue.
Choose your account options, fund your initial deposit and review the terms.
Submit your application.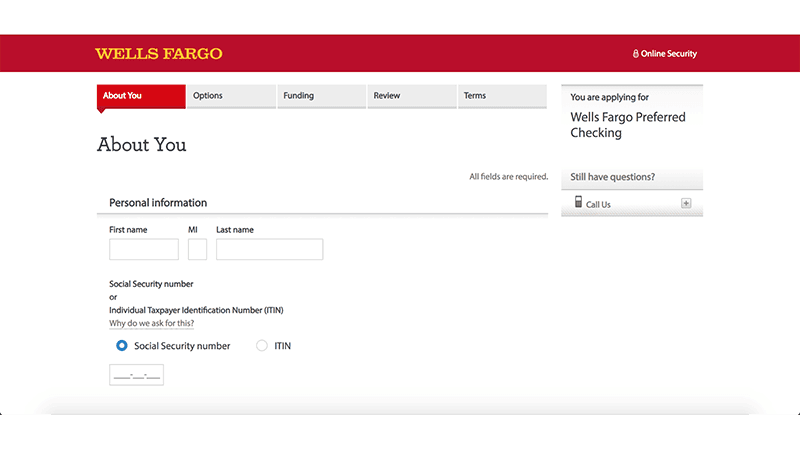 By phone
Call 877-250-2239 at any time to speak with a customer service representative.
At a branch
Make an appointment or visit your local branch to get started.
Eligibility
To open this account, you'll need to meet a few eligibility requirements:
Make a minimum deposit of at least $25.
Have a valid Social Security number or tax ID
Have a valid state-issued ID
Have a valid US address
Required information
Regardless of how you choose to open an account, you'll be asked for the following information:
Name and date of birth
Address
Social Security or tax ID number
Driver's license or other state-issued ID
Contact information
Employment information
What other checking options does Wells Fargo offer?
If you want to explore other options, Wells Fargo offers several other checking accounts:
Wells Fargo Teen Checking. A no-fee checking account that's designed to help teens develop responsible money habits.
Wells Fargo Everyday Checking. A low-fee checking account that provides easy access to your money when you need it.
Wells Fargo Opportunity Checking. If you can't qualify for another checking account because of past credit history, this limited account can help you get back on your feet.
Wells Fargo Portfolio Checking. A full-feature checking for a higher monthly fee.
Frequently asked questions
Checking account ratings
★★★★★ — Excellent
★★★★★ — Good
★★★★★ — Average
★★★★★ — Subpar
★★★★★ — Poor
We analyze top checking accounts and rate them one to five stars based on factors that are most important to you. These factors include: monthly fees, the ease at which monthly fees can be waived, the breadth of ATM access, ATM and overdraft fees, and customer service.