Direct Line pet insurance review
We've reviewed the pet insurance offered by Direct Line. Check out our analysis of its policies here.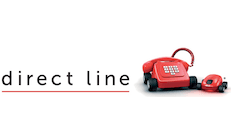 Customers say
★★★★★
Customer satisfaction

Customers praised easy, fast claim process

Sorry, rabbits. Only covers dogs and cats
Direct Line offers pet insurance for dogs and cats. The insurer says that as no two pets are the same, its Essential and Advanced cover options can both be customised to suit each animal. What's more, it also offers a 12.5% discount for insuring more than one pet under a pet policy. Here's what else we think you should know.
Compare Direct Line's available policies in our table
Updated February 25th, 2020
Who is Direct Line?
Direct Line began in 1985 and sold car insurance. Since then, it has branched out to pet, van, travel, landlord and home insurance.
This award-winning company's Advanced cover is 5-star Defaqto-rated when purchased with all the optional extras on offer.
What are Direct Line's cover options?
Essential cover. The standard pet insurance policy with time limits applied for each condition that is covered.
Advanced cover. An enhanced pet insurance policy with no time limits for each condition that is covered.
What is covered under my policy?
| Cover benefits | Essential cover | Advanced cover |
| --- | --- | --- |
| Veterinary fees for each condition | Up to £4,000 | Up to £8,000 |
| Time limit for each condition | 12 months from the date of the initial treatment | No time limits applied |
| Accidents, injuries and disease cover (including dental accidents) | ✓ | ✓ |
| Dental disease cover | X | Up to £1,000 |
| Complementary treatments | ✓ | ✓ |
| Euthanasia | X | Up to £1,000 |
| Online chat and video services with vets 24/7 | ✓ | ✓ |
| Legal advice and helpline for bereaved pet owners | ✓ | ✓ |
Optional extras
Third party liability cover (for dogs only). Cover up to £2.5 million if a dog damages property or is responsible for injuring or killing a person.
Overseas travel cover. Cover that includes emergency overseas cost up to £300, quarantine costs up to £1,500, lost pet passport cover up to £250 and repeat tapeworm treatment.
Five in one care package. Cover that includes: kennel or cattery fees, advertising cover for a missing pet, lost or stolen pet cover up to £1,500, holiday cancellation cover and up to £1,500 for the death of a pet.
Exclusions
Direct Line has several general exclusions that could result in you being unable to make a claim. Some of these include:
Pre-existing medical conditions
Behavioural issues
Routine veterinary check-ups, treatment or vaccinations preventing illnesses or condition
The insurers time and sum limit has been met
Any injury or condition that happens during the first 14 days of the start of the policy
What is my excess?
Your excess is the amount of money you're expected to pay if you have to make a claim on insurance.
For example, to cover veterinary fees, you may need to pay an amount towards the cost of treatment for each illness or injury.
Check your own policy document to see if any excess applies.
What is the claims process for Direct Line?
To make a claim, there are three ways to get in touch with Direct Line. To make a claim over the phone, call 0345 246 8496. Lines are open 8am-6pm every week day and 9am-5pm on Saturdays. To claim online, visit the Direct Line website and complete the online claims form. You can also download and print the claims form, complete it and post it back to:
Pet Claims
Leeds Processing Centre,
42 The Headrow
Leeds,
LS1 8HZ
Alternatively, you can scan the form and email it back to petclaimreturn@ukipartnerships.com
It's vital that you let your insurer know about a claim as soon as possible. Failure to do this could result in a delay or a rejected claim later on.
Direct Line Pros and Cons
Pros
Online discount offered to new customers
Up to 12.5% discount for insuring more than one pet under one policy for the first year
A range of optional extras available for increased pet protection
Cons
Only two cover levels offered
No policies cover pre-existing medical conditions
No lifetime insurance policies are offered
---
Pet insurance ratings
★★★★★ — Excellent
★★★★★ — Good
★★★★★ — Average
★★★★★ — Subpar
★★★★★ — Poor
Our customer satisfaction scores ("Customers say") are based on a survey of 750 customers carried out in December 2019.
The offers compared on this page are chosen from a range of products we can track; we don't cover every product on the market...yet. Unless we've indicated otherwise, products are shown in no particular order or ranking. The terms "best", "top", "cheap" (and variations), aren't product ratings, although we always explain what's great about a product when we highlight it; this is
subject to our terms of use
. When making a big financial decision, it's wise to consider getting independent financial advice, and always consider your own financial circumstances when comparing products so you get what's right for you.
Read more on this topic