Press Release
For immediate release
For richer or poorer? Staying in a quarantine hotel costs up to £2,255 more than a honeymoon
The average 2-week package holiday in a red list country costs £1,460
For 2 adults sharing a room in a quarantine hotel, it costs £3,715 for 10 nights
For 2 adults in separate rooms, it costs £4,570 for 10 nights
28, September, 2021, LONDON –
Newlyweds looking to honeymoon in a romantic destination on the red list such as Thailand could see themselves paying up to 154% (£2,255) more for their stay in a quarantine hotel than their actual honeymoon, according to new analysis by finder.com, a personal finance comparison site.
By analysing the flight and hotel costs of the top 10 honeymoon destinations on the red list, Finder has calculated how much more honeymooners could be paying for their time in a quarantine hotel when they return to the UK, in contrast to a 2-week package holiday (flight and 5-star hotel included).
Regardless of vaccination status, Brits returning from a red list country must enter a quarantine hotel for 10 days, which costs £2,285. For two adults in a room, the cost rises to £3,715, and for two adults in separate rooms, the cost is £4,570.
In contrast, for a 2-week package holiday to a red list country, couples would be paying on average £1,460.
In total, this means that honeymooners could be paying up to £6,887 for their honeymoon, if they choose one of the cheapest destinations on the red list, depending on whether they share a room or not.
Liz Edwards, UK editor-in-chief at the personal finance comparison site finder.com, comments on the analysis:
"With the travel restrictions currently highly volatile, our research shows that going on a honeymoon abroad could end up becoming a very expensive move if the destination turns red, under the current rules.
"Wherever you're going, it's sensible to monitor infection rates and keep checking the country's status. It's also smart to shop around to find a reasonably priced test from a provider on the government's list regardless of your vaccination status.
"Whether you're planning to enjoy a honeymoon abroad or a simple romantic getaway soon, a few minutes of searching could save you and your partner a significant amount of money and hassle."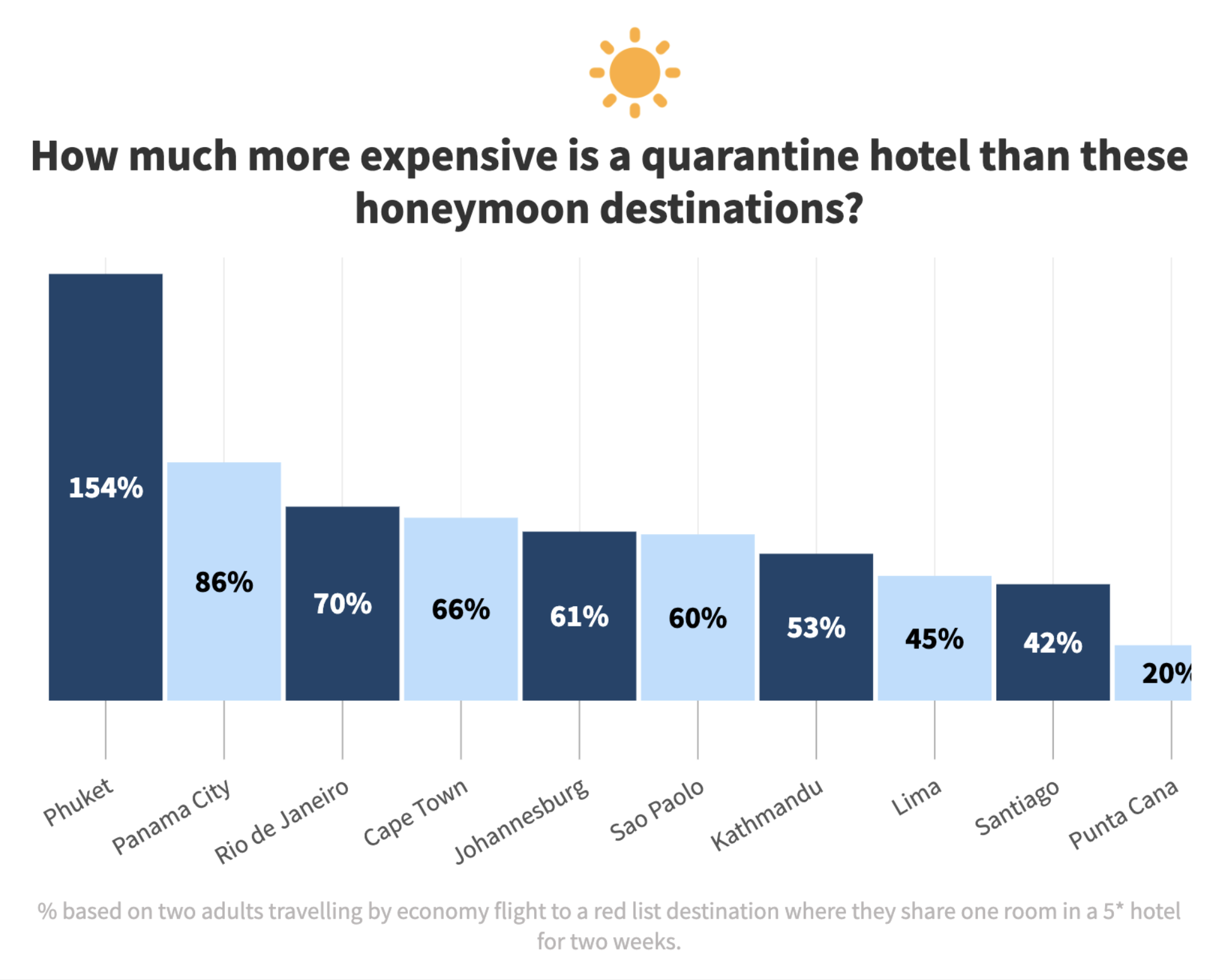 Methodology:
Finder analysts sourced package holiday costs from Expedia to determine an average cost per country in the red list. These figures were compared against adult prices for a 10-day stay in a quarantine hotel (booked through the official quarantine hotel bookings CTM portal) upon returning from a red list country.
###
For further press information
Matt Mckenna
UK PR Manager
Disclaimer
The information in this release is accurate as of the date published, but rates, fees and other product features may have changed. Please see updated product information on finder.com's review pages for the current correct values.
About finder.com
finder.com is a personal finance website, which helps consumers compare products online so they can make better informed decisions. Consumers can visit the website to compare utilities, mortgages, credit cards, insurance products, shopping voucher codes, and so much more before choosing the option that best suits their needs.
Best of all, finder.com is completely free to use. We're not a bank or insurer, nor are we owned by one, and we are not a product issuer or a credit provider. We're not affiliated with any one institution or outlet, so it's genuine advice from a team of experts who care about helping you find better.
finder.com launched in the UK in February 2017 and is privately owned and self-funded by two Australian entrepreneurs – Fred Schebesta and Frank Restuccia – who successfully grew finder.com.au to be Australia's most visited personal finance website (Source: Experian Hitwise).