Drone industry forecast
Will UAVs integrate into global industries over the next decade?
Most commonly known as unmanned aerial vehicles (UAVs), drones are the closest things we have to flying robots in the 21st century. They're navigated by a GPS tracking system from the ground, and can be remotely controlled to fly anywhere within a specific map radius. The recent emergence of drones for personal and recreational use has allowed for individuals to indulge in various activities with their assistance, including filming, deliveries and more.
Due to this versatility, drones are even becoming an integral part of several global business operations, leading to huge investment opportunities in the emerging drone market. Below, we explore all the data surrounding how the drone industry is forecast to grow over the next 5 years.
Quick overview
By 2025, total drone industry revenue is set to almost double what it was in 2020.
Asia will dominate the market, with $17 billion of industry revenue coming from the continent in 2025.
In 2020, an estimated 70% of drones were sold for military use.
A business survey conducted in 2020 found that saving time is the most important factor for adopting drones into operations (60%).
It's predicted that by 2030, over 628,000 jobs will be created by the drone industry in the UK.
By 2030, the UK public sector will see an £11.4 billion uplift from the adoption of drone technology.
The average drone pilot earns £30,368 a year, with over 100,000 employed in the UK in 2020.
Hereford and Worcester is the drone capital of the UK, with the most UAV sales per capita in 2020.
Men make up 96% of all drone owners in the UK.
Global drone industry
Future sales forecast
By 2025, the drone industry is expected to grow to $43 billion, which is almost 50% more than it was in 2020, when it stood at $22 billion. This indicates a compound annual growth of 13.8%. With this estimated rapid growth, there are great opportunities for organisations within the drone industry to grow globally. As the adoption of drones becomes more common within global businesses, there is no doubt that this shift will drive the industry to new heights.
| Year | Drone industry revenue |
| --- | --- |
| 2020 | $22 billion |
| 2021 | $28 billion |
| 2022 | $33 billion |
| 2023 | $37 billion |
| 2024 | $40 billion |
| 2025 | $43 billion |
Global revenue by region
Asia is expected to continue being the biggest consumer of drones. It's predicted that by 2025, $17 billion of the industry's revenue will come from the continent. China and Japan are currently the biggest markets for drones and will most likely drive the continent's contribution to the industry's growth.
North America is forecasted to be the second-most popular drone region in the world by 2025, with nearly $12 billion worth of revenue coming from the drone industry alone. This will come as no surprise, as major technological and defence companies have invested heavily in drone technology, to the point where federal regulations on drones were even relaxed in 2020.
Europe will be the third-biggest region for drones in 2025, with $9.86 billion worth of revenue coming from the industry. Mirroring North America's sentiments, the European Union has also acknowledged that drones will be a key part of development within businesses and society. As a result, the opportunity for the wider integration of drones into society has been aided through the establishment of particular EU commissions to see how to adopt drones safely within the continent.
Africa, South America and Oceania are forecasted to share just $3.28 billion of the global drone market by 2025, as the infrastructure in place in these locations is not as developed as in other parts of the world. However, with these continents having some of the fastest-growing economies worldwide, it's anticipated that these locations will adopt drone technology faster than places such as Europe.
| Region | 2020 | 2025 |
| --- | --- | --- |
| North America | $6.89 billion | $11.82 billion |
| South America | $0.59 billion | $1.11 billion |
| Europe | $5.19 billion | $9.86 billion |
| Oceania | $0.65 billion | $1.09 billion |
| Africa | $0.53 billion | $1.08 billion |
| Asia | $8.62 billion | $17.89 billion |
Drone usage by sector
With drone technology allowing navigators to capture content in remote locations, it's estimated that around 70% of UAV usage is by global military forces. As drones can operate unmanned and are typically smaller in size than alternative military aircrafts, these dynamic devices have been touted as the future of defence forces.
17% of the drone market is estimated to be consumers – a customer base consisting of hobbyists who use drones as personal gadgets. And with the introduction of more designated fly zones, this could contribute to an increase in individuals owning drones for recreational use.
Meanwhile, the commercial sector has a 13% share of the drone market, with various businesses adopting drone technology to improve services and operations.
| Sector | Global share |
| --- | --- |
| Military | 70% |
| Consumer | 17% |
| Commerical | 13% |
Reasons for adopting drones
Saving time was the main reason why companies have turned to drones (60%), which was revealed in a recent survey on why businesses are increasing the use of drones in their operations. This was followed by improving quality at 59%, proving that overall productivity is driving the demand for drones in the business sector, especially in industries such as the military and agriculture.
Interestingly, saving costs was not deemed a key factor in adopting drones, which could indicate that the innovative qualities of drones play a far greater role in the development of businesses.
In many cases, drones are not seen as having direct influence on improving work safety, which was shown in the survey to be the least important reason for adopting drones (20%).
| Reason | Very important | Important | Not important |
| --- | --- | --- | --- |
| Saving costs | 47% | 38% | 16% |
| Saving time | 60% | 30% | 9% |
| Improving quality | 59% | 34% | 7% |
| Improving work safety | 53% | 27% | 20% |
Drones in the United Kingdom
Industry projections
By 2030, it's estimated that there will be over 628,000 jobs in the drone industry, with over 76,000 drones operating in the British skies.
With such a large expansion coming within the next decade, the drone industry is forecasted to bring £42 billion to the British economy. One of the most important projections within the UK economy is how much industries will save with the implementation of drone technology. A staggering £16 billion is forecasted to be saved by UK industries, with technology, media and telecoms (TMT) set to save £4.8 billion by 2030.
The adoption of drone technology in the UK could even spark an uplift in GDP through increasing productivity. Other selected industries that could benefit from this uplift include:
Construction and manufacturing: Forecast to save £8.6 billion
Public sector: Forecast to save £11.4 billion
Wholesale, retail trade and food services: Forecast to save £7.7 billion
| Sector | Uplift |
| --- | --- |
| Construction and manufacturing | £8.6 billion |
| Public sector | £11.4 billion |
| Wholesale, retail trade and food services | £7.7 billion |
Age of drone owners in the UK
The over 55s are the largest age group of drone owners in the UK (27%), highlighting how drone owners are more inclined to be living in areas with more open space approved for flying. Those aged 45-54 and 35-44 both stand at 25%, while the smallest percentage of drone owners is the youngest group: those aged 18-24 (7%).
With drone ownership forecasted to grow over the next decade, it is likely there will be a rise in the percentage of drone ownership among younger generations, especially through more accessible facilities to fly legally.
| Age | Percentage |
| --- | --- |
| 18-24 | 7% |
| 25-34 | 16% |
| 35-44 | 25% |
| 45-54 | 25% |
| 55+ | 27% |
Employment in the drone industry
London interestingly has the most drone pilots in the UK, with over 41,000 people employed in the region. As drone pilot careers range from working on film sets to construction and control rooms, the industry has a lot of options for job seekers with a licence. The South East (14,000), the East of England (8,600) and the North West (6,600) follow London as the regions with the highest drone pilot employment. On the other end of the spectrum, the North East (1,600) and Northern Ireland (1,200) have the lowest numbers of drone pilots in the UK.
It's estimated that there will be 2% more Brits employed as drone pilots by 2025, providing an interesting opportunity for newer generations of drone hobbyists to mix pleasure with work, especially as the average drone pilot earns over £30,000 a year.
| Region | Number of drone pilots employed |
| --- | --- |
| Yorkshire and the Humber | 5,004 |
| London | 41,161 |
| South West | 6,191 |
| South East | 14,583 |
| Wales | 2,090 |
| Scotland | 4,264 |
| West Midlands | 5,558 |
| North West | 6,641 |
| North East | 1,631 |
| East of England | 8,668 |
| Northern Ireland | 1,273 |
| East Midlands | 5,216 |
Drone capitals of the UK
The regions in the UK with the largest areas of land contain more licensed areas to fly drones, and as a result, make up the top 10 drone capitals in the country.
Hereford and Worcester is the number one drone capital in the UK, with the most sales per capita. Meanwhile, Suffolk, West Yorkshire, Hertfordshire and West Sussex round out the top 5. Populated areas such as Tyne and Wear, Staffordshire and Nottinghamshire are the UK counties with the fewest drone sales per capita.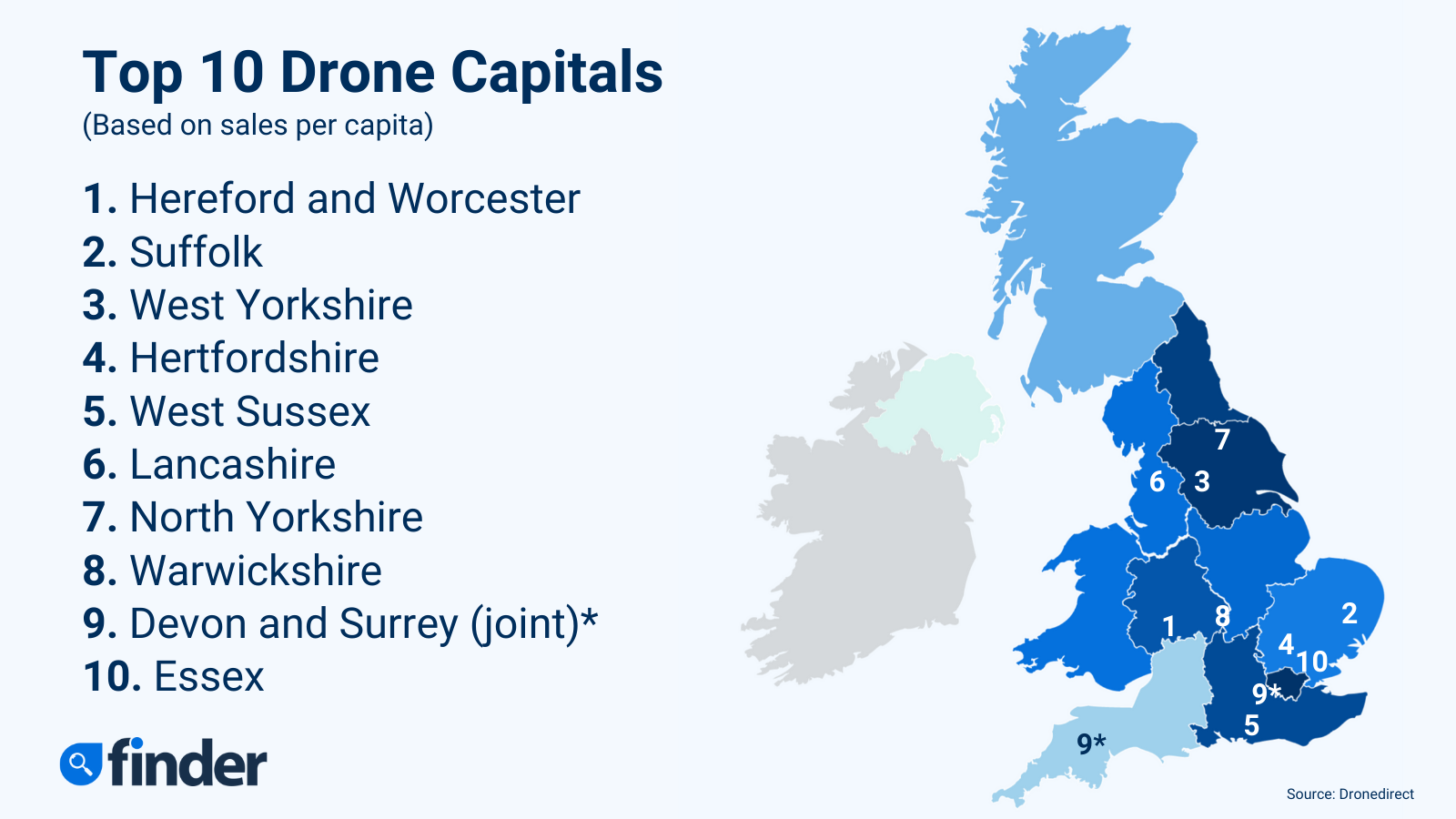 Sources used
Goldman Sachs
PWC
Drone ii
Dronesdirect
Statista
Consortiq
Careerpilot
For all media enquiries, please contact