Finder is committed to editorial independence. While we receive compensation when you click links to partners, they do not influence our opinions or reviews. Learn how we make money.
TIAA Bank Small Business Checking review
If you're new to this bank, give your business a leg up with a 1.21% APY for the first year.
finder.com's rating: 4.3 / 5.0
★★★★★
TIAA caters to the needs of sole proprietors and single-owner LLCs with its Small Business Checking Account. You'll need $1,500 to open the account, and the introductory offer is solid — though only good for a year.
$1,500
Minimum deposit to open
Details
APY
0.55% on balances of $100,000 to $10,000,000
0.45% on balances of $50,000 to $99,999.99
0.40% on balances of $25,000 to $49,999.99
Monthly fee
$0
Minimum deposit to open
$1,500
Intro or bonus offer
1.21% APY for the first year
ATMs
Over 80,000 fee-free ATMs
ATM transaction fee
$0
ATM fee rebates
15
Overdraft fee
$0
Nonsufficient funds fee
$30
Expert review
Review by
katia.iervasi@finder.com
---
Katia Iervasi is a writer from sunny Sydney, Australia. Her writing — and curiosity — has taken her around the world, and she now calls chaotic, creative New York home. With a journalistic eye for detail, she navigates insurance, mortgages and finance for Finder, so you can splash your cash smartly (and be a pro when the subject pops up at dinner parties).
Expert review
This checking account hooks in new customers with a 1.21% APY for the first year. It also stands out for its low opening deposit and lack of monthly maintenance and ATM fees.
However, unless you live in Florida, you'll need to do all your business banking online. Miscellaneous fees can also add up quickly depending on how you use your account, so be sure to check them out before you sign up.
What are the benefits of a checking account with TIAA Bank?
In addition to its low opening deposit, integrated app and FDIC-insured deposits, this checking account makes business banking easier with these features:
Minimal fees. There are no monthly, maintenance, or overdraft transfer fees, and in-network ATMs are free.
Nationwide ATM network. Dip your debit card into 80,000 AllPoint and MoneyPass ATMs across the country.
Promotional rate. TIAA offers a 1.21% APY for first-time customers. The introductory interest rate lasts for one year and applies to balances up to $250,000.
Decent yields. After the first 12 months, you'll earn an ongoing APY between 0.2% and 0.55%, depending on your account balance.
Easy deposits. If your business deposits less than 50 checks a month, sign up for Online Check Deposit (OCD). Remote Deposit Capture (RDC) is ideal for higher volume businesses, and costs $35 a month.
Dedicated business team. Chat with a specialized agent on weekdays from 8 a.m. to 5 p.m. ET. Otherwise, call 888-882-3837 or tweet @TIAABankHelp at any time.
Web Safety Guarantee. This provides 100% protection for funds lost due to unauthorized online use or errors by TIAA Bank personnel.
TIAA Bank's ATM network and fees
The Small Business account comes with a Visa debit card, which you can swipe at 80,000 AllPoint and MoneyPass ATMs nationwide. These ATMs are free and you'll find them at select Target, Walgreens, CVS and convenience stores. To search for one near you, head to TIAA's website.
When you withdraw cash from an out-of-network ATM, you may be charged a fee. If you have a balance of $5,000 or more, TIAA Bank will reimburse you monthly for all ATM fees. If you don't, you'll still get up to 15 back per month.
What should I look out for?
This checking account falls short in the following ways:
Best rates have an expiration date. If you're new to TIAA, you'll score the promotional rate for 12 months. Then, your interest rate will be based on your balance tier and won't be higher than 0.55%.
Expensive wires. Need to wire money? It costs $25 to send domestic wires, $35 to transfer US dollars to an international bank and $30 to $65 to wire foreign currency.
Random fees. There are no maintenance fees, but you may be subject to miscellaneous fees: $10 for excess transactions, $10 for cashier's checks, $25 for stop payments, and $4.95 to $14.95 to expedite BillPay payments.
No live chat function. TIAA doesn't offer a live chat option, which is unusual for a mostly online bank.
Few physical branches. Although it does business nationwide, TIAA has just four branches in Jacksonville, Florida. This may be an issue for customers who want to make cash deposits.
Compare more of your options with our guide to small business bank accounts and find the solution best suited to you and your business.
Compare with other business checking accounts
How do I apply?
If you prefer banking over the phone, you can call 866-755-9143 Monday to Friday from 8 a.m. to 5 p.m. ET.
Otherwise, the online application takes around 10 minutes to complete following these steps:
Go to the TIAA Bank website.
On the top right corner of the homepage, click Open an Account.
Navigate to Business. Then, select your Business Type: Sole Proprietor or LLC (Single-Owner). Under the Authorized Signer Information, enter your name and email. Click Continue.
You'll be asked what account you'd like to open. Check the box that says Small Business Checking. Press Continue.
Create a Security Code. Click Continue.
Fill out your personal and contact details and fund the account through a mobile deposit or online transfer, or by mailing a check.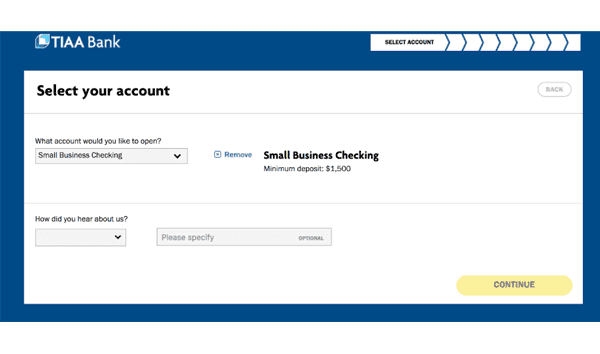 Eligibility
The TIAA Bank Small Business Checking account is open to sole proprietors and single-owner LLCs. To open one, you must be:
18 or older
The authorized signer for the business — in other words, the owner or director
A US citizen or resident alien with a physical address, a SSN or ITIN and a driver's license or state-issued ID
Able to pay $1,500 for the opening deposit
Required information
To whiz through the application, have this info handy:
A valid driver's license or state ID
Your Social Security number or individual tax ID
Proof of residential address
Proof of business address
Depending on your business structure, you'll also need to provide a copy of
one
of the following documents:
Certificate of Good Standing/Active Status
Operating agreement
Partnership agreement
Articles of incorporation
Once you've submitted your online application, fax the document to 877 471 6459 or mail to:
TIAA Bank
11 Oval Drive, Suite 107
Islandia, NY 11749
Are any businesses not eligible for this account?
Yes. The following businesses are ineligible for this checking account:
Companies that don't conduct any business in the US
Foreign embassies or consular offices
Foreign correspondent banking entities
Banks chartered outside of the US
Casinos or gambling establishments
Businesses engaged in unlawful activities at any State or Federal level, which may include those involved in the sale or distribution of marijuana.
What other business checking options does TIAA Bank offer?
TIAA also caters to bigger businesses and nonprofits with these accounts:
Business Checking. You'll need $1,500 to open this account, and you can waive the monthly maintenance fee with an account balance of $5,000 or more. The bank processes up to 200 transactions and 10 online bill payments for free each month.
Nonprofit Checking. Open to NFPs and faith-based organizations, this account has a minimum opening deposit of $1,500. If you can maintain that or more, TIAA will waive the monthly maintenance fee. The interest rates start at

0.2%

for balances under $10,000 and go up to 0.55% for balances of $100,000 or more.
Read up on TIAA Bank Business Money Market
Does this bank offer personal services?
Yes. The TIAA Bank Yield Pledge Checking account offers a 1.21% APY for new customers for the first year. It's a tiered account that's backed by the Yield Pledge promise — which means the rates remain in the top 5% of competitor accounts nationwide. It also comes with a debit card and check-writing privileges.
To accelerate your savings, consider the Yield Pledge Money Market account. It falls under the same banner, and TIAA offers a one-year introductory APY of 2.15% on all balances. After that, the ongoing APY drops according to your balance tier — much like the checking account. There are no monthly maintenance fees and the account is IRA-eligible.
Frequently asked questions
Checking account ratings
★★★★★ — Excellent
★★★★★ — Good
★★★★★ — Average
★★★★★ — Subpar
★★★★★ — Poor
We analyze top checking accounts and rate them one to five stars based on factors that are most important to you. These factors include: monthly fees, the ease at which monthly fees can be waived, the breadth of ATM access, ATM and overdraft fees, and customer service.