Finder is committed to editorial independence. While we receive compensation when you click links to partners, they do not influence our content.
Compare the best tablets
Whether for work or play, the right slate is out there.
Although the idea for a tablet was proposed back in the 1960s, it wasn't until Apple introduced the iPad in 2010 that these portable and easy-to-use computers launched to the top of sales charts worldwide. The iPad is a major player still, but plenty of other products are worth considering in this competitive market space.
Top tablets in 2020
Name
Avg. price
(USD)
Operating system
Screen size(in)
Resolution (px)
Storage
Estimated battery life
Purchase
Amazon Fire HD 8

Fire OS
8
1280 x 800
16GB, 32GB
Up to 10 hours
Buy now
Lenovo Tab 4 8

$129.99
Android 7.1
8
1280 x 800
16GB
Up to 6.5 hours
Buy now
Apple iPad (2018)

$289.00
iOS 12
9.7
2048 x 1536
32GB, 128GB
Up to 10 hours
Buy now
Apple iPad mini 4

$399.00
iOS 12
7.9
2048 x 1536
128GB
Up to 10 hours
Buy now
Microsoft Surface Go

$514.99
Windows 10
10
1800 x 1200
64GB, 128GB
Up to 9 hours
Buy now
Asus ZenPad 3S 10

$499.77
Android 6.0
9.7
2048 x 1536
32GB, 64GB
Up to 10 hours
Buy now
Onyx Boox Max2

$749.99
Android 6.0
13.3
2200 x 1650
32GB
Up to a month
Buy now
Apple iPad Pro 10.5

$597.00
iOS 12
10.5
2224 x 1668
64GB, 256GB, 512GB
Up to 10 hours
Buy now
Samsung Galaxy Tab S4

$829.75
Android 8.1
10.5
2560 x 1600
64GB, 256GB
Up to 8 hours
Buy now
Microsoft Surface Pro 6

$829.99
Windows 10
12.3
2736 x 1824
128GB, 256GB, 512GB, 1TB
Up to 13.5 hours
Buy now
Data obtained February 2019. Prices are subject to change and should be used only as a general guide.
What is a tablet?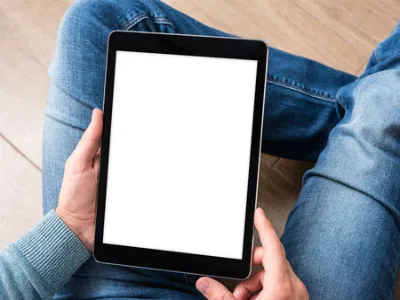 A tablet is a handheld computer that's larger than a smartphone but smaller than a laptop. These wireless devices feature a touchscreen and a variety of software applications, and they're designed to be portable, convenient and easy to use.
The first detailed proposal for a notepad-style computer was made by American computer scientist Alan Kay in 1968. His plans for the Dynabook imagined a portable device that weighed about two pounds and gave children easy access to digital media.
The Dynabook never got past the concept stage. But several leading tech companies, including Microsoft, unsuccessfully attempted to launch tablets until the arrival of Apple's iPad in 2010.
Think of a tablet as device that's somewhere between your phone and your desktop computer. Like your phone, tablets use mobile operating systems and are built for mobility. But like a desktop PC or laptop, you can also type longer documents, store files and stream videos.
Their touch-sensitive screens allow you to use your finger or a stylus to interact with the information you see. And you can wirelessly connect a keyboard or mouse to the tablet.
Why should I consider a tablet?
You might wonder why you need a tablet when you've got a drawer full of tech gadgets at home. But these lightweight devices offer benefits that best your smartphone, laptop and desktop:
They're portable. Tablets are thin and lightweight, taking the portability of laptops to the next level.
They're easy to use. If you struggle with new technology — or you're buying for a technophobe — tablets offer a simple and intuitive user interface designed for novices to use right out of the box.
They're practical. You don't always need the processing power and bells and whistles of a laptop or PC. Tablets are a convenient way to check emails, browse the web and stream your favorite shows. And they offer a larger screen, longer battery life and more storage than your smartphone.
They're functional. Popular tablets allow you to customize your device by downloading a variety of apps to play games, boost your brain power, check the weather or compile documents.
Who shouldn't consider a tablet?
Despite their advantages, tablets might not be for everyone. You could find that you're able to get with just your phone — after all, you already take it with you everywhere. And newer smartphones with large screens may be enough to overcome the drawbacks of a smaller screen.
Then, you might be one of those who feel that the computing power of a tablet isn't enough. If so, stick with the bigger screen and larger storage capacity provided by a conventional laptop or PC.
What tablet types are available?
Tablets vary widely in shapes and sizes, but they generally fall into four categories.
How to choose an operating system
You'll find three main players when it comes to a tablet's OS.
Your smartphone OS will likely play a role in determining the tablet you choose. For example, if you already use an iPhone, you're already part of Apple's ecosystem, which means you may prefer the iPad. You can integrate your iTunes account, Apple chargers and media found on your other devices. It's a similar story for Android phones and Android tablets.
How to compare tablets
The typical cost of a tablet ranges from $100 to $1,500, depending on brand, model and performance. Aside from the operating system and device type, you'll want to weigh size, storage and other important factors when choosing a tablet.
Compare tablets from leading brands
Which tablet is best for me?
The best tablet for you depends on what you'll use it for, the OS you want to use and your budget. Here's how five popular models compare.
The good
The bad
Apple iPad

Improved processing power
Impressive battery life
Affordably priced
Supports Apple Pencil

No smart keyboard
Camera falls short
No expandable storage

Microsoft Surface Pro 6

Good battery life
Easy-to-use keyboard
Very good overall design
Micro SD storage expansion

Only one USB-A port
Keyboard sold separately

Samsung Galaxy Tab S4

Large and crisp display
Comes with a stylus
Excellent battery life

Expensive
DeX interface is a work in progress
Cramped keyboard
Limited app availability

Lenovo Tab 4 8

Affordable price point
Good battery life
Reasonable build quality
Value for money

Poor camera quality
Dual-band Wi-Fi not available
Display resolution could be higher

Amazon Fire HD 8

Intuitive user interface
Affordable
Good battery life
Good speakers

Slow to charge
No USB-C
Lack of Google Play apps
After you have a better idea of the type of tablet you want to buy, weigh the benefits and drawbacks of your options to find a device that's right for your habits, lifestyle and needs.
Bottom line
Tablets come in a range of sizes and price points. Think about what you'll use your device for before deciding on a model.
How did we choose these products?
To choose our list of top tablets, we compared price, OSs, size, portability, battery life and overall features.
Frequently asked questions
Photo by Jeff Sheldon on Unsplash
More guides on Finder