Finder is committed to editorial independence. While we receive compensation when you click links to partners, they do not influence our opinions or reviews. Learn how we make money.
Student loan counseling explained
You can pay to get help with your repayment options, but is it worth it?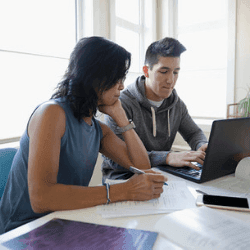 When you're really not sure the best way to pay off your student loans, a student loan counselor could help. Not to be confused with the financial aid professional that guides you through entrance and exit counseling for federal loans, student loan counselors help you come up with a strategy that goes beyond picking repayment plans. But their services aren't free — and some might even be scams.
How does student loan counseling work?
Student loan counseling works by giving you personalized advice on how to pay off your student loans. It's typically offered by nonprofit credit counseling agencies along with other services like debt management and bankruptcy support.
You can typically sign up over the phone or by filling out an online form. Counseling sessions usually take place over the phone, though some agencies also offer in-person counseling.
What happens in a student loan counseling session?
A student loan counseling session typically includes:
An evaluation of all of your personal finances, including other debts and your ability to repay loans
A review of your student debt and current repayment plan
An overview of all student loan repayment options available to you
After reviewing the benefits and drawbacks of each of your options. you'll work together to create a personalized plan to repay your student loans. This might include consolidating your federal loans, refinancing your private loans, taking steps to avoid default or applying for forgiveness.
How much does student loan counseling cost?
Student loan counseling can cost anywhere from $50 to $200, depending on the agency and the level of counseling you sign up for.
Here's what you can expect to pay from three student loan counseling agencies:
Company
Cost per session
Services included in the session
Clearpoint
$99

Full review of personal finances
Suggestions for managing your overall debt
Assessment of your ability to repay student loans
Overview of all repayment options you're eligible for
Tips for how to talk to private servicers about adjusting your repayment plan

GreenPath

Student loan counseling: $50
Student loan enhanced support:$200

Student loan counseling

Review of your current student loans
General overview of repayment options
Plan to get your repayments back on track

Student loan enhanced support

In-depth analysis of repayment options
Personalized plan to get you out of delinquency
Help signing up for student loan repayment programs
Contacts your student loan servicer on your behalf

Credit.org
Typically $125

Review of personal finances
Help budgeting personal expenses
Guidance on student loan repayment options
Help coming up with a plan for repayment
Watch out for student loan debt relief scams
The Consumer Financial Protection Bureau (CFPB) has been cracking down on companies that charge high fees for student loan help and often fail to deliver promised results, such as eliminating student loan debt or lower your monthly repayments. Sometimes these companies pose as student loan counseling agencies. Red flags include:
Upfront fees
Guaranteed forgiveness
Lack of information online
You can read up on what to watch out for with our article on student loan scams.
4 questions to ask before seeing a student loan counselor
Not sure which agency is right for you? Ask yourself these four questions to narrow down your options:
1. What services do I need?
Need help applying for complicated forgiveness programs like Public Service Loan Forgiveness (PSLF)? Want to avoid defaulting on your loans? Different agencies offer different types of services that might suit some needs better than others. Figuring out your needs first can help you weed out your options.
2. How much am I willing to pay?
Typically, you need to fork over at least $100 for credit counseling at a nonprofit agency. If you're seriously struggling with debt, expert advice might pay for itself. But if you can't afford the cost up front, you might want to look into other options.
3. Can I do it on my own?
Do some research by visiting the Federal Student Aid website or checking online guides to student loan repayment plans and forgiveness programs. You might be able to find the information you need for free.
4. Can my servicer help?
Your servicer can also be a great resource for information about your repayment, deferment and forbearance options. You can usually sign in to your account online to get access to all of the different options available. If you still need help, reach out to customer service, where you might be able to get more personalized advice.
Should I sign up for student loan counseling?
Paying for student counseling might not always be worth it. Use these criteria to help you decide if it's the right step for you.
Consider student loan counseling if …
You've already done the research. You've looked into options on your own but still aren't sure which would save you the most.
You don't have time. Looking into your options can take time that you just might not have, especially if you're working more than 40 hours a week to make those repayments. A counselor might be able to help you choose the best repayment plan for your budget faster.
You're considering forgiveness and need help. The federal PSLF application is notoriously difficult to navigate. If you're not getting straight answers from your servicer, hiring expert help might be worth it.
You're worried about defaulting — or already have. Getting personalized advice can help you get back on track when you feel like you're out of options.
Consider other options if…
You just want more information. There are plenty of online student loan resources that can help you explore your options for free.
You want to switch to a specific repayment plan. Contact your servicer to find out how to switch repayment plans, rather than a credit counseling agency.
You can't afford it. Don't hurt your credit by missing a bill or payment to pay for this service — it doesn't guarantee results.
Alternatives to student loan counseling
If you're on the fence about signing up for student loan counseling, you might want to consider one of these options instead:
Contact your servicer. Some servicers offer more resources than others. But many provide personalized advice to borrowers, especially if you're struggling with repayments.
Sign up for student loan exit counseling. The Department of Education (DoE) requires all federal student loan borrowers to take a counseling session online or with your financial aid office to go over your repayment options before they begin.
Use an online calculator. Your servicer, the DoE and many credit counseling companies have online calculators that you can use to compare your savings on different repayment plans. You can get started with our student loan monthly payment calculator.
Download a budgeting app. If your spending is the main factor keeping you back from staying on top of your loans, downloading a free budgeting app to manage your expenses might be all you need.
Do it yourself. If you have the time, set aside an evening or a weekend to do some research on websites you trust. Start with government resources if you have federal loans, like the Federal Student Aid website. If you have private student loans, try calling your servicer for help.
Compare student loan refinancing offers
Bottom line
Student loan counseling could be a good resource if you've done some research on your own and still need help handling your student loan repayments. But it might not be worth it if you haven't explored other free options first. You can get started with our guide to student loans.
Frequently asked questions
Related Posts