Finder is committed to editorial independence. While we receive compensation when you click links to partners, they do not influence our opinions or reviews. Learn how we make money.
SoFi personal loan review
Financing with competitive rates and no fees for borrowers with good credit.
finder.com's rating: 4.35 / 5.0
★★★★★
Best for young professionals interested in special perks like career coaching and networking events.
Pick something else if you don't have good credit or a coapplicant — you likely won't qualify.
$100,000
Max. Loan Amount
Details
| | |
| --- | --- |
| Product Name | SoFi personal loans |
| Min. Loan Amount | $5,000 |
| Max. Loan Amount | $100,000 |
| APR | 5.99% to 18.72% |
| Interest Rate Type | Fixed |
| Min. Credit Score | 680 |
| Loan Term | two and seven years |
| Turnaround Time | Varies |
Expert review
Review by
kellye.guinan@findercrew.com
---
Kellye Guinan is a writer and editor with Finder and has years of experience in academic writing and research. Between her passion for books and her love of language, she works on creating stories and volunteering her time on worthy causes. She lives in the woods and likes to find new bug friends in between reading just a little too much nonfiction.
Expert review
SoFi is a good option for borrowers with a decent credit history who are looking for lower APRs than other online competitors. Even while offering loan amounts as high as $100,000, you won't get hit with a single fee. You'll also get access to exclusive perks such as career coaching and social events for professional networking. And it offers unemployment protection, which pauses your monthly repayments if you lose your job.
However, the eligibility requirements to get approved by Sofi are rather high. You're going to need a credit score of at least 680 to qualify, so consider bringing on a coapplicant if you're not sure you'll get approved on your own. And it can take up to 30 days to get approved after applying — you might want to look elsewhere if you need money fast.
Can't decide if SoFi is right for you? Check out our list of other lenders that might be a better fit.
WATCH: What does Finder's CEO think?
How much will this loan cost me?
SoFi's personal loans come with competitive rates that range from 5.99% to 18.72% and terms between two and seven years. And there are zero fees — not even late fees.
To get an idea of how much you might pay, use the calculator below to enter your loan amount, term and potential APR.
See how much you'll pay
Calculate monthly and overall costs
Your loan
Loan amount
Loan terms (in years)
Interest rate
Based on your loan terms...
You can expect to pay back $ per month
This breaks down to...
$ in
principal
and
$ in
interest
charged
Compare personal loans now
How it works
SoFi takes a hard look at your credit history, income and current debts to determine if you qualify and your interest rate and term. Borrowers on MyFico and Reddit mentioned they also had some social media looked at, specifically LinkedIn. While it seems everything is taken into account, former borrowers report they were approved despite past missed payments and no college degree.
What do I need to qualify?
SoFi requires borrowers to meet stricter eligibility criteria than other online lenders out there:
Credit score of 680+
Currently employed or pending employment
Not a resident of Mississippi
US citizen or permanent resident
Age of majority in your state
What information do I need to apply?
You'll need to provide the following details when applying for preapproval:
Date of birth
Proof of citizenship, including driver's license, green card or visa
Annual income
Social Security number, in some cases
SoFi may also contact you for additional documentation, like proof of income, after you complete the full application.
Pros
Low starting APR at 5.99%
No fees — ever
Preapproval available without affecting credit score
Members get access to career coaches and networking events
Unemployment protection available
Mobile app to keep track of your finance on the go
Cons
Requires a higher credit score of 680
Can take up to 30 days to get funded after approval
Recent FTC action
Why should I consider SoFi?
SoFi is more than just a lender. It offers a slew of benefits to borrowing and taking advantage of its other products.
High maximum loan amounts
SoFi has one of the highest loan amounts out there — capping out at $100,000. And while only the most well-qualified applicants will be approved for that high of an amount, multiple borrowers on forums like Reddit and MyFico have reported that they were approved for large amounts over $10,000 with limited credit history and some missed repayments on their credit report.
No fees
SoFi doesn't charge a single fee. No origination fees, no loan closing fees, no late fees. This means you'll repay exactly what you borrowed plus interest — without having to worry about budgeting for unknown costs along the way.
Wide state availability
Unlike many of its competitors — including some banks — SoFi is available in 49 states and Washington, DC. Only residents of Mississippi are ineligible for a loan.
Career coaching
Borrowing from SoFi comes with added perks, including a career coach to help you create a plan and reach your goals. Guidance is also available to help with your resume, LinkedIn profile and networking skills.
Social events
Beyond a coach to help with your networking skills, you can also attend a variety of social events hosted by SoFi across the country. SoFi offers a slew of workshops for financial advice and career growth. You can check out events near you and RSVP through SoFi's mobile app.
Special rate discounts for members
If you're an existing SoFi member with a home loan, personal loan or student loan — or have a minimum balance of $10,000 in a SoFi Invest account — you may receive a rate discount of 0.125% on a new personal loan or student loan.
Bank accounts and investment tools
You can take control of your finances in one place using SoFi's bank account and investment tools. These both have a variety of special features that set them apart from similar services offered by banks, including relatively high APYs and no account fees. And to sweeten the pot, SoFi also offers SoFi Relay to help you manage your spending and set personalized financial goals.
Student and home loans
Personal loans aren't SoFi's only options. It also offers student loans, student loan refinancing and mortgages to qualified borrowers. And if you borrow before you take out a personal loan, you could be eligible for the rate discount mentioned above. Read more about SoFi's other loan products.
Unemployment protection
If you become unemployed over the course of your loan, SoFi has your back. When you enter into the Unemployment Protection Program, SoFi will pause your loan payments for three months.
And if you still haven't found a job, you can request forbearance again — up to 12 months total over the life of your loan. Just remember that interest will continue to accrue during forbearance, so you'll end up paying more overall.
Referral program
SoFi runs a referral program — and it's as simple as grabbing your unique link from the app and sending it to your friends. If your friend or family member signs up for the specific program you link them to, you'll get a $100 bonus. SoFi caps the maximum referral bonus for a single individual at $10,000 — that's 100 potential people you can refer.
See other personal loan options
Is SoFi legit?
Yes, SoFi is a legit lending platform with an encryption system to help safeguard your personal and financial information. Its privacy policy covers how your information is collected. Though it might share your information with third parties for marketing and general business purposes — you can opt out by calling its customer service line at 855-456-7634.
SoFi under investigation by the FTC in 2018
Despite being a legitimate business, SoFi was under investigation by the Federal Trade Commission (FTC) in October 2018 for making false statements about its student loan refinancing program. The FTC alleged that SoFi misrepresented how much borrowers could save by refinancing their student loans with the lender.
They came to a settlement in February 2019, in which SoFi agreed to not make any statements about how much borrowers can save by using its products without concrete evidence.
Does SoFi get good customer reviews?
| | |
| --- | --- |
| BBB accredited | Yes |
| BBB rating | A- |
| BBB customer reviews | 2 out of 5 stars, based on 153 customer reviews |
| Trustpilot score | 4 out of 5 stars, based on 2,419 customer reviews |
| Customer reviews verified as of | 24 April 2020 |
It's a mixed bag. Positive reviews comment on how fast and simple the application process was. Some reviewers were also happy with the quality of customer service. But many others had problems with SoFi's rates and applying, with frequent complaints about glitches that customer service was unable to resolve.
Reviewers on Google Play seem to agree that the app interface is decent and the service they receive is top-notch. Borrowers on the MyFico forums also talk about the ease of applying — though opinions vary on what type of finances SoFi requires to approve a loan request. And while there aren't many personal loan reviews on Reddit, there's a dedicated SoFi subreddit where you can ask questions about its products.
Case study: Jon's experience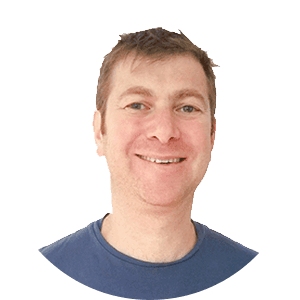 Jon Brodsky
Finder CEO, USA
I got a SoFi personal loan with an 84-month term back in 2015, so I'm a little past halfway through paying it back as of April 2019. I chose a personal loan because we were using the money for home renovations and didn't have enough equity left in our house to get a home equity line of credit (HELOC). It took about a week from start to finish to get the money, and most of that time was on my end verifying my income and finding my pay stubs and tax returns.
The downsides have been that SoFi regularly asks me to sign up for other SoFi products — which I don't have much interest in — and the variable interest rate. My payments are $41 higher than they were when I first got the loan. And because it's such a long term, only about 70% of my payments go toward the principal.
While it's been a useful source of cash, I'll likely pay it off with a HELOC in the near future.
How do I apply?
To apply for a personal loan from SoFi, follow these seven steps:
Click the Check my rate button on this page.
Enter your full name, email and create a password. Read SoFi's privacy policy and terms of use. Click Continue.
Enter your loan amount and select your loan purpose, then enter your preferred monthly payment. Click Next.
Enter your date of birth, then select your citizenship status. Enter your address. Click Next.
Select your current living arrangement and your annual income. Click Next.
Select if you would like to apply with a coapplicant. If yes, enter their information.
Click Check My Rate.
It may take a few minutes for SoFi to process your request.
What happens after I apply?
SoFi conducts a soft pull on your credit report, which won't impact your credit score. However, if you decide to go through with the application, it will conduct a hard pull to verify your identity. This may lower your credit score by a few points.
Once your application is processed, it may take several days to fund your loan. Some SoFi borrowers complain of having to wait up to 30 days from application to approval. However, most loans are funded within a week. While SoFi isn't the fastest lender out there, its numerous perks may be worth the wait.
How do repayments work with SoFi?
Your first due date is 30 days after your disbursement date. But if your due date falls between the 26th and the 4th, your first payment will be due on the 5th of the following month. You're also able to change your due date to any day between the 1st and the 25th of each month if your loan is in good standing.
You can make repayments on the SoFi mobile app, on its website and by mail. If you opt for online payments, consider autopay: It gives you a 0.25% discount off your APR, lowering the total cost of your loan.
Payments are reported to all three major credit bureaus.
SoFi amortization schedule
To help make your decision easier, we've included a real amortization schedule from a SoFi borrower: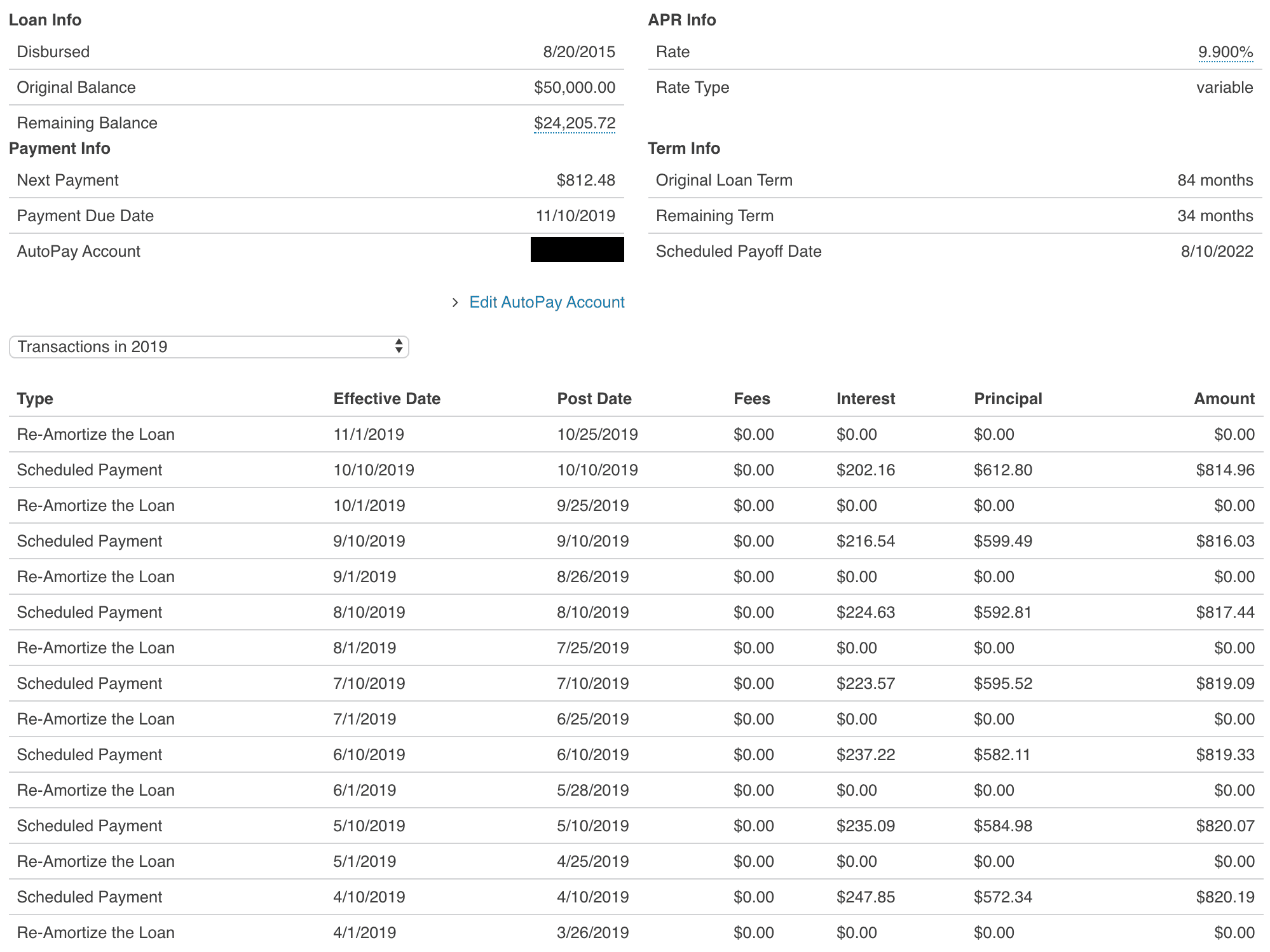 See how SoFi stacks up to other lenders
Not sold on SoFi? Find even more personal loan providers with our guide.
Frequently asked questions
Does SoFi recommend a credit score for approval?
Yes. SoFi's minimum credit score requirement is 680. However, approval rates tend to be higher for those with excellent credit scores above 700. If you have bad credit, you may want to improve your credit score before applying.
Is there a difference between a coapplicant and a cosigner?
SoFi considers a person who lives at the same address as the applicant and shares responsibility for paying back the loan a coapplicant. Cosigners, on the other hand, are people who are responsible for paying back a loan if the borrower can't. They don't need to live in the same home.
SoFi doesn't accept cosigners on its personal loan applications. It started accepting coapplicants in April 2018.
Can a coapplicant be removed from my loan?
No. SoFi doesn't allow a coapplicant to be removed from a personal loan unless they've died.
Can I have two SoFi personal loans out at one time?
Yes. Provided you've made at least three consecutive on-time payments on your current personal loan, you may be approved for a second loan. However, this isn't available for residents of Michigan.
Does SoFi have a student loan refinancing option?
Yes — SoFi offers student loan refinancing as part of its many loan options.
Personal loan ratings
★★★★★ — Excellent
★★★★★ — Good
★★★★★ — Average
★★★★★ — Subpar
★★★★★ — Poor
We analyze top personal loan providers and rate them one to five stars based on factors that are most important to you. These factors include: rates and fees, customer reviews, loan amounts, loan processing and borrower experience.
Read the full methodology of how we rate personal loan providers.