How to finance a Porsche
Plus, unlock MSRPs for its top luxury models and what warranties it has to offer.
Known for its sleek design and sophisticated German engineering, owning a Porsche is the end game for many drivers. But if you can't afford to drop the big bucks on one of these luxury vehicles, you have a few financing options to consider.
How can I finance a Porsche?
Unlike midrange cars that come with a more modest price tag, you'll need to find more specialized financing if you want to buy a Porsche. Because the base price of these vehicles is so high — even before adding on extra features — you'll need to find a lender that offers relatively large loan amounts.
If you're looking to secure the lowest rate possible, a car loan from a bank, credit union or online lender may be your best bet. While this isn't the fastest way to go, you can compare lenders and fill out preapproval forms to ensure you're getting a competitive deal.
Another option is taking out a personal loan. However, the car you get doesn't secure the financing, so you likely won't find rates as low as you would with a car loan.
Looking to speed up the process? Then you may want to consider financing or leasing directly through an authorized Porsche dealer. Here are your two options:
Financing through Porsche Financial Services. Porsche Financial Services offers loans for up to seven years, giving you plenty of time to pay off your car while avoiding sky-high monthly payments. But be aware that this will cost you more in interest in the long run. Depending on your credit rating and personal finances, you may even be able to secure a loan with no down payment required.
Leasing through Porsche Preferred Leasing. Porsche's leasing option is solid, especially if you don't want to invest in a luxury vehicle that could quickly depreciate in value. Porsche offers flexible terms, no security deposit for qualifying customers, and a single-pay option that allows you to pay the whole cost of your lease upfront. Past deals have included leasing the 2019 911 Carrera Coupe at $1,299 a month for three years with $9,749 due at signing.*
Depending on where you live and your local dealership, you may find special promotions like low-down payment options or cashback bonuses. The rates and terms you qualify for will depend on your credit report and personal financial situation.
*Rates as of November 27, 2018.
How to apply with Porsche Financial Services
Porsche doesn't have an online application, so you'll need to contact a representative to learn more about how to apply. You can find an authorized dealer near you by using the dealer locator tool on the Porsche Financial Services website.
Porsche Financial Services pros and cons
Pros:
Quick way to finance a high-end luxury vehicle
In-person service tailored to your needs
Loyalty program for Porsche enthusiasts
Cons:
No online application
Few discounts available
Limited information on its website
Compare car loans for financing a Porsche
Use our comparison table for a side-by-side view of available lenders to help you get behind the wheel of a new Porsche. Select up to four loan providers at once.
What special discounts or programs does Porsche offer?
Unlike other brands, Porsche doesn't have any special car-buyer programs for veterans, college students or business professionals. This means you'll either have to find a good deal on your loan or accept paying the full price of your luxury vehicle. If you're looking to pay less and still drive a Porsche, you may want to look into purchasing a certified preowned (CPO) Porsche instead.
What will a new Porsche cost me?
Before you start comparing car loans for a new Porsche, you might want to look at the manufacturer's suggested retail price (MSRP) of the model you're interested in. What you end up paying will vary by your location, negotiation skills and if you qualify for any special promotions, but you can expect to pay a low $50,000 for the 2019 Macan and over $100,000 for the 2019 Panamera hybrid.
Choose a model
Cars
718 Cayman
Starting MSRP: $

56,900

Build: Sports Coupe
City/highway MPG: 22/29
Panamera
Starting MSRP: $

86,300

Build:

Sedan

City/highway MPG: 21/28
911 Carrera
Starting MSRP: $

91,100

Build: S

ports coupe

City/highway MPG:

22/30
SUVs
Macan
Starting MSRP: $

49,900

Build: SUV
City/highway MPG: 20/25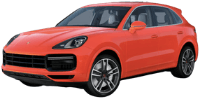 Cayenne
Starting MSRP: $

65,700

Build: SUV
City/highway MPG: 18/24
Hybrids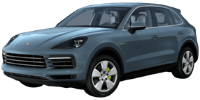 Cayenne
Starting MSRP: $

81,100

Build: Hybrid SUV
City/highway MPG:

Not available
Panamera
Starting MSRP: $

102,900

Build: Electric Sedan
City/highway MPG:

51 MPGe
Average car insurance rates for driving a Porsche
Does a new Porsche come with a warranty?
Yes, all new Porsches come with a few different warranties, including:
Limited warranty. This four-year, 50,000-mile warranty covers repairs — including parts and labor — for anything that stops working properly under normal use. You'll also have access to 24-hour roadside assistance for emergency towing, jump starts, flat tires and lockouts, as well as trip interruption reimbursement.
Warranty for genuine Porsche parts. Good for two years, this warranty covers any genuine Porsche parts, exchange parts or accessories.
Rust warranty. This 12-year limited warranty covers your vehicle against rust and corrosion.
Emissions warranty. Depending on your state, you may also have a warranty that covers emissions.
Hybrid battery warranty. If you bought a hybrid, your battery is covered by an eight-year, 100,000-mile limited warranty.
Buying a used Porsche? It also offers a two-year, 100,000-mile CPO warranty once the original warranty period has expired.
Bottom line
Owning a Porsche is a dream of many, and luckily there are a few financing options to turn that dream into a reality. However, since Porsche doesn't offer any special car-buyer programs or financing deals, you may not be able to score a discount like you would with other car brands.
Compare your car loan options or read more about luxury car loans so you know exactly what to expect before signing the dotted line.
Frequently asked questions
Will I be able to finance taxes and other titling costs?
It depends on your lender. Some may allow you to add the costs of taxes, titling and registration to the total amount you're borrowing. Many lenders have limits on how much you can borrow, though. If your Porsche is already nearing the cutoff, you may not be able to finance these extra charges. However, you could consider taking out a personal loan to help cover these costs instead.
What are my end-of-lease options with Porsche?
You have five options when your lease period ends:
Upgrade to the latest model year for the car you're already driving.
Enter into a new lease agreement for a different Porsche model.
Purchase your Porsche at the end of the lease period.
Renew your current lease to extend your driving period with the same car.
Return your leased vehicle with no obligation to lease or buy from Porsche.
What protection plans are available through Porsche?
Porsche has several protection plans that can be purchased individually or as part of a package to keep your vehicle in pristine driving condition:
Premier Tire and Wheel Protection. Ideal for drivers who live in an area with lots of construction or road hazards, Porsche covers the replacement of both the tire and wheel if structural damage occurs.
Dent Protection. Covers dent repairs, which can be done at an authorized Porsche dealer, your home or your place of work. And if you decide to sell your car, you can transfer this protection to the new owner for $50.
Windshield Protection. This protection plan covers unlimited repairs and one windshield replacement. It's not available in Arizona or Florida, however, and some states may not offer the windshield replacement option.
Key Protection. Lose your keys often? Porsche will pay to replace them up to $800 per incident. And if you lose your whole keyring, Porsche will reimburse you up to $100 for the cost of a locksmith to open your house and another $75 per house key replacement — up to three keys.
Another plan option is Vehicle Service Protection, which allows you to extend your warranty up to 10 years or 100,000 miles. And if you're interested in Guaranteed Auto Protection (GAP) in case your car is totaled, Porsche waives the difference between what your insurance company is willing to pay and the outstanding balance on your car loan or lease.
Image source: shutterstock and Porsche's official page