Finder is committed to editorial independence. While we receive compensation when you click links to partners, they do not influence our opinions or reviews. Learn how we make money.
PenFed balance transfer credit cards
Here's how to get a 0% promo APR on balance transfers for 12 months.
PenFed cards don't have spectacular balance transfer promo APRs. However, a few of them offer excellent rewards, and others offer potentially low ongoing APRs.
Compare PenFed balance transfer credit cards
How to apply for a balance transfer with PenFed
Pick a PenFed card, then check its terms.
On the PenFed card page, click on Interest & fee information. Check for a promo APR, whether you'll pay balance transfer fees and if an ongoing APR applies after your promo APR expires.
Apply for the card.
You have to be approved before you apply for a balance transfer. Then you must wait at least 24 hours before requesting a transfer.
Request a balance transfer.
You can request a transfer by logging in to your account or calling PenFed support.
Wait for your balance transfer to complete.
Keep paying your creditors as you wait for your transfer to complete. This will help you avoid late fees and dings to your credit score.
Eligibility requirements
You can apply for a PenFed credit card if:
You're willing to become a PenFed member. PenFed membership is open for everyone to apply with or without a military affiliation. But once you apply for the card, you must make a $5 deposit into a PenFed savings account.
You're at least 18 years old.
You have a valid Social Security number or tax ID number.
What do I need to apply?
Here's the information you'll need to apply for PenFed credit card:
Full name
Email and phone number
Birthdate and Social Security number or Tax ID number.
Residential address
Employment information and total annual income
What are the benefits and drawbacks of a balance transfer with PenFed?
Pros
Here's why you might want to make a PenFed balance transfer:
No annual fee for any card.
This can help you keep down the cost of your balance transfer.
Earn excellent rewards.
The PenFed Pathfinder Rewards, Power Cash Rewards and Platinum Rewards all offer excellent reward opportunities. You can also maximize your rewards with an Honors Advantage membership, which you can get by opening a PenFed Access America Checking Account.
Potentially qualify for a low ongoing APR. The PenFed Gold Visa and Promise Visa offer lower-than-average ongoing APRs. To qualify for the lowest of these interest rates, you'll likely need an excellent credit score.
One card offers no balance transfer fees.
With the Promise Visa, you'll pay no fees whatsoever.
Cons
Here's why you may want to consider another balance transfer provider:
Promo APRs are a maximum of 12 months.
It's relatively easy to find a promo APR of 15 to 18 months elsewhere.
No promo APRs for purchases.
A credit card often has a promo APR on purchases if it has one for balance transfers.
The no-transfer-fee card doesn't have a 0% promo APR.
With the PenFed Promise Visa, you'll receive a 4.99% variable intro APR on balance transfers for 12 months. After that, an to 17.99% variable applies.
Consider a balance transfer card from another brand
Warning: Be careful about making purchases after transferring a balance
If you want to take advantage of a PenFed promo APR, be very cautious about spending with your card. If you make a balance transfer, you lose your grace period on new purchases.
The only way to avoid interest is to pay off all of your balances — including transfers — in full by the due date. Other providers might separate your transfers and purchases, charging interest on purchases only if you don't pay them off.
PenFed cards can still be useful for balance transfers. However, consider never using your card for a purchase while you have a balance on it.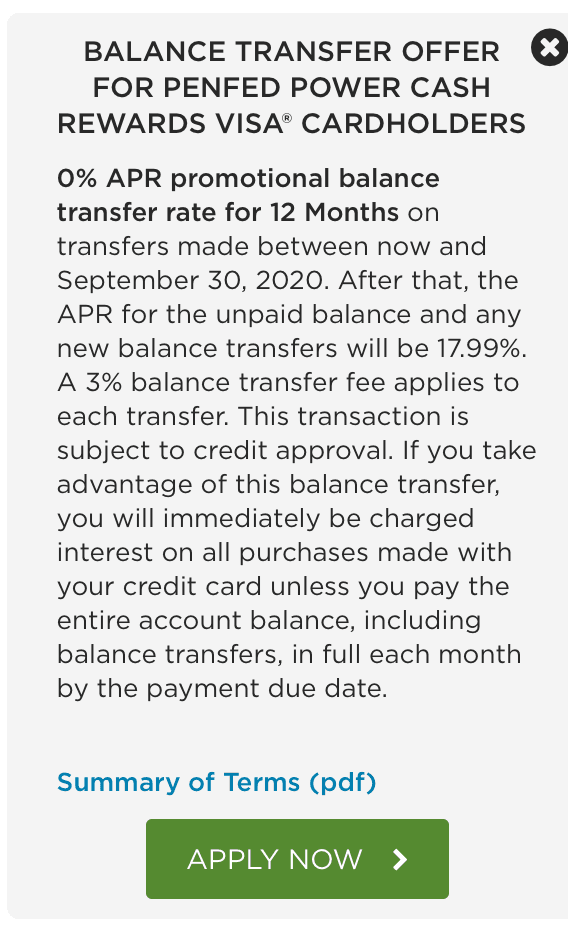 What debts are eligible for a balance transfer with PenFed?
You can transfer debt from…
Non-PenFed credit cards
Eligible loans, as long as you have account numbers for them
You can't transfer debt balances from…
Can I transfer balances to another PenFed card?
No. This policy is standard across most US banks.
How long will it take to complete a balance transfer with PenFed?
It usually takes up to eight business days to complete a PenFed balance transfer.
I got the card. Now what?
Check that your balance transfer has posted. Look for your transfer in your online transaction history. If you want to be 100% sure your transfer has posted, call PenFed support.
Keep up with payments. Now that you've transferred your balance to PenFed, you'll need to make payments according to the provider's rules. PenFed says it may cancel your promo APR if it doesn't receive your card payment within 60 days of the due date.
Consider setting up automatic payments. Also, consider making a month-by-month plan to pay off your debt before your promo APR expires.
Contact customer service. Call 800-247-5626 if you have questions about your credit card.
Bottom line
PenFed offers promo APRs only for balance transfers and not on purchases. However, many of the provider's cards offer excellent rewards. And you'll find cards that offer low ongoing APRs for those who qualify.
If you're not sure a PenFed card is best for your balance transfer, consider balance transfer cards from other providers.
Frequently asked questions