Dit artikel bevat links naar producten of diensten van een of meer van onze adverteerders of partners. Wij kunnen een commissie ontvangen wanneer jij via onze site op zo'n link klikt of een aankoop doet. Meer informatie over hoe wij geld verdienen.
Wat is Uniswap?
Wat is Uniswap, waarvoor kun je het gebruiken en hoe kun je de UNI token kopen?
Waarop is deze keuze gebaseerd?
We hebben meer dan 50 crypto exchanges beoordeeld. Voor iedere exchange hebben we gekeken naar de gebruiksvriendelijkheid voor beginners, mogelijkheden om aankopen te doen met fiat valuta, vergoedingen voor het traden, het aanbod in cryptocurrencies en geavanceerde functies om te traden. Aan de hand hiervan hebben we voor iedere categorie een uitblinker geselecteerd. Je kunt hierover meer lezen in onze volledige methodiek.
Hou er rekening mee dat dit dus geen complete lijst is van alle beschikbare crypto exchanges. Andere exchanges kunnen beter zijn in bepaalde situaties. Wat het beste voor jou is, hangt af van jouw persoonlijke omstandigheden.

UNI is de native token van Uniswap.
Uniswap V2 is een gedecentraliseerde exchange die is gebouwd op Ethereum en het mogelijk maakt dat gebruikers twee willekeurige Ethereum-tokens met elkaar kunnen ruilen door gebruik te maken van gefinancierde liquiditeitspools. In deze gids leggen we je uit wat je nog meer van de Uniswap exchange kunt verwachten en hoe je de UNI tokens kunt kopen die je nodig hebt om gebruik te maken van het platform.
Disclaimer: De informatie in deze gids mag niet worden geïnterpreteerd als aanbeveling in welke vorm dan ook. Wij prijzen geen cryptocurrency, aanbieders en diensten aan, maar brengen je alleen op de hoogte van de mogelijkheden. Wij doen dus geen aanbeveling om in te handelen.
Overzicht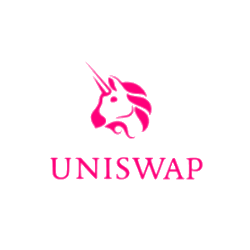 | | |
| --- | --- |
| Ticker symbool | UNI |
| Circulerende voorraad | 214 miljoen |
| Maximale voorraad | 1 miljard |
| Blockchain | Ethereum (ERC-20) |
| Doel | Besturing |
Hoe werkt de Uniswap exchange?
Met Uniswap kunnen gebruikers iedere Ethereum ERC-20-token rechtstreeks vanuit hun wallet omwisselen voor een ander ERC-20 token. De Uniswap exchange maakt dit mogelijk door gebruik te maken van de Ethereum-blockchain, waardoor het een gedecentraliseerde exchange (DEX) is. Al is het niet zomaar een DEX.
Uniswap is uniek ten opzichte van andere gedecentraliseerde exchanges omdat gebruikers hun orders niet via een orderboek hoeven te matchen. Zo zijn ze dus niet langer verbonden aan valuta paren die vooraf gedefinieerd zijn door ontwikkelaars. In plaats daarvan kunnen gebruikers iedere willekeurige twee tokens voor elkaar traden, dat ook wel een swap wordt genoemd.
Doorgaans biedt een exchange een beperkt aantal valutaparen aan, zoals ETH/LINK of DAI/USDT, wat betekent dat slechts een beperkt aantal coins en tokens voor elkaar kunnen worden geswapt.
Uniswap schudt dit model op twee manieren door elkaar. Ten eerste doordat ze gebruikers toestaan ​​ieder willekeurig token te vermelden. En ten tweede doordat ze gebruik maken van liquiditeitspools om deze swapmarkt te helpen financieren.
Hierdoor kunnen nieuwe tokens op de markt komen zonder dat ze eerst op een gecentraliseerde exchange genoteerd hoeven te worden. Deze notatie is doorgaans een langzaam en kostbaar proces.
Om op Uniswap terecht te komen is het alleen een vereiste dat er voldoende Uniswap gebruikers zijn die liquiditeit verstrekken aan een bepaalde token-pool, zodat deze kan worden geswapt met andere tokens.
Wat doet UNI?
UNI is de besturingstoken voor de Uniswap exchange.
Bezitters van UNI hebben inspraak in hoe het platform wordt beheerd. Ze kunnen voorstellen indienen, over wijzigingen stemmen en vergoedingen beheren.
Het token is inflatoir en werd oorspronkelijk gedistribueerd door een airdrop. Iedereen die de exchange voor 1 september 2020 had gebruikt werd met terugwerkende kracht beloond met UNI tokens.
Na de oorspronkelijke airdrop werden extra tokens gedistribueerd via een liquiditeit mining programma dat op 17 november 2020 afliep. Op dit moment worden alle resterende tokens beheerd door de Uniswap-treasury, waar token houders deel van uitmaken.
Iedereen die de eerste airdrop en de UNI distributie heeft gemist, kan het token kopen op een crypto exchange, net als ieder ander token.
Waar moet je op letten?
Het Uniswap platform is open-source, wat betekent dat iedereen de code kan kopiëren en zijn eigen versie van het platform kan maken.
Dit is een potentiële bedreiging voor de waarde van de Uniswap token, omdat de besturing met UNI kan worden omzeild door een fork (kopie) van het project te maken. Als genoeg mensen het origineel hebben verlaten ten gunste van een nieuwe exchange, dan is het logisch dat het originele project (Uniswap V2) en het onderliggende token (UNI) waarde kunnen verliezen.
Na het enorme succes van Uniswap V2 in 2020, lanceerden verschillende projecten nieuwe platformen op basis van de Uniswap code, waarmee een aanzienlijk aantal gebruikers werd bereikt. Enkelen hiervan waren SushiSwap, DeFi Swap en een hele reeks andere DeFi exchanges met een culinair thema.
Hoe kun je UNI kopen?
Je kunt onderstaande stappen gebruiken om UNI te kopen. Hou er rekening mee dat er verschillende mogelijkheden zijn om deze token in je bezit te krijgen. En vergeet niet verschillende exchanges te vergelijken om de beste deal te krijgen.
Zoek een exchange die UNI ondersteunt, zoals de exchanges die we in onderstaande tabel hebben vermeld
Maak een account aan en stort er geld op
Zoek naar een UNI markt en trade een geschikte valuta of cryptocurrency voor UNI. Als je bijvoorbeeld UNI op de UNI/BTC markt wil kopen, moet je Bitcoin hebben om deze voor UNI te kunnen ruilen.
Disclaimer: cryptocurrency zijn speculatief, complex en brengen een aanzienlijke risico s met zich mee – ze zijn zeer veranderlijk en gevoelig voor secundaire activiteiten. Prestaties zijn onvoorspelbaar en prestaties in het verleden zijn geen garantie voor toekomstige prestaties. Doe dus altijd zelf onderzoek, overweeg je eigen omstandigheden en vraag om advies aan een specialist voordat je transacties uitvoert. Je dient ook de aard van een product of dienst (met inbegrip van de juridische status en de relevante wettelijke vereisten) te controleren en de websites van de betrokken regelgevers te raadplegen voordat je een besluit neemt. Finder, of de auteur, kan holdings in de besproken cryptocurrency hebben.