My Crypto Heroes guide
Play with NFTs inspired by history in this blockchain-based game with opportunities to earn.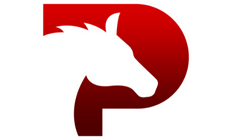 Passive blockchain game
Breed and race NFT horses
Buy and sell NFTs
Earn Vigorus (VIS)
Go to site
Disclaimer: This page is not financial advice or an endorsement of digital assets, providers or services. Digital assets are volatile and risky, and past performance is no guarantee of future results. Potential regulations or policies can affect their availability and services provided. Talk with a financial professional before making a decision. Finder or the author may own cryptocurrency discussed on this page.
My Crypto Heroes is a nonfungible token (NFT) game that offers players an opportunity to earn as they play. It's a massive-multiplayer role-playing game (MMORPG).
Japanese company doublejump.tokyo that creates blockchain-based applications developed this complex game. It's equipped with multiple features that may be intimidating if you're new to crypto gaming, but it could also be a good way to familiarize yourself in the space.
Highlights:
PvP and PvE
Free to try
Playable on PC and mobile
Requires three heroes to play
Three types of NFTs
Big learning curve
What is My Crypto Heroes?
My Crypto Heroes is an online role-playing game (RPG) battler built on the Ethereum blockchain. It launched in November of 2018.
In the game, you can collect and train historically-inspired heroes like Napoleon and Einstein and send them on quests to find rare items and earn experience points (EXP), or you can battle other players.
Image source: My Crypto Heroes
The game uses blockchain technology to store its digital assets which include Heroes, Extensions and Land, and you need a crypto wallet to store your in-game items.
My Crypto Heroes was developed in Japan, so many of its players are Japanese. There are over 20K members on the game's Discord server, and 23K followers on the My Crypto Heroes English Twitter.
Playing My Crypto Heroes
To start playing My Crypto Heroes, first download the game. The game has a PC and mobile version, and the mobile app is available on Android and iOS devices.
To download on PC go to its official website — MyCryptoHeroes.net — and select the Play Game button. From there, follow these steps:
Create an account. Sign in with Google, LINE, Twitter, Discord or one of four supported crypto wallets. If you sign in with a crypto wallet, you'll gain access to all the game's features. Signing in with Discord, Twitter, Google or LINE is the free-to-play way and limits what you can do in the game. Image source: My Crypto Heroes
Buy heroes. You need at least three NFT Heroes to play. The Heroes are the game's main characters, inspired by historical figures. You need a cryptocurrency wallet to buy heroes from My Crypto Heroes' Shop or from third-party marketplaces like OpenSea. Image source: OpenSea
Check out your heroes. Head on to Hero Settings to see if you can upgrade your Heroes for better gameplay. Hero Settings have three components: Extensions, art edit and setting skill sets. Extensions help with your gameplay by upgrading the stats of NFT Heroes. You can use two Extensions for each Hero, and you can edit the art of your own Heroes by accessing your Inventory.
Time to play. There are two game modes to play when starting out: Player vs. player (PvP), and player vs. environment (PvE) called quests.
Player vs. player
PvP battles include arena battles, colosseum battles, land battles, duel cup and raids where you can loot limited edition extensions. All PvP battles take place online.
Quests (PvE)
PvE, called quests, involve your Heroes fighting against enemies in Lands called "nodes." There are nine lands in total, each with four types of nodes with six difficulty levels. The four nodes are:
Antanasoff. Here, enemies attack by physical types. You can earn physical-type Extensions.
Antikythera. Here, enemies attack by intelligence types. You can earn intelligence-type Extensions.
Hollerith. Here, enemies attack by physical types. You can earn recovery-type Extensions dropped by the enemies.
Turing. Here, enemies attack and recover by special types. You can earn defense-type Extensions.
Your Heroes and Extensions level up by earning crypto energy (CE). The higher the difficulty level you choose in the node, the higher your chances of getting Original Extensions.
Guild vs. guild
Once you get accustomed to the game, you can join a guild and participate in the Cryptid Wars, or GvG.
This mode involves players fighting each other for fort control and earning rewards — the higher the rarity of the fort you overtake, the more points you can earn.
Only Knights and Knight Commanders — at most 96 users — can participate in the Cryptid Wars.
What is the My Crypto Heroes token?
GUM is My Crypto Heroes' in-game token, and is the in-game currency. GUM is what you use to buy My Crypto Heroes NFTs which include Heroes, Land and Extensions. The token can be traded for ETH making it valuable even outside the My Crypto Heroes World.
Like many other blockchain applications, My Crypto Heroes also has a governance token: My Crypto Heroes Coin (MCHC). It can be used to decide in-game rules and vote on in-game elections.
How to buy My Crypto Heroes tokens
Tokens can be earned playing the game, but MCHC tokens are also available for trade on several cryptocurrency exchanges including HotBit, BKEX and CoinW. However, you'll first need ether (ETH) to trade it for MCHC on these exchanges.
Get GUM by playing, trading NFTs or exchanging it for ETH. We've listed a popular exchange where you can buy ETH.
Compatible exchange: Gemini Cryptocurrency Exchange
Wide range of exchangeable currencies
User friendly
Newcomer incentives
Insurance on currency balances up to $250k
Balances can earn interest
High fees on mobile app
Missing some notable top 20 currencies
No linked debit cards available
Gemini is a cryptocurrency exchange with a simple UI that's user-friendly and accommodating to newcomers and experienced traders.
Gemini's strongest point is its Gemini Earn program, which allows users to earn up to 7.4% interest on specified cryptocurrency balances.
Gemini has a wide selection of cryptos available for exchange on the platform. However, some notable entries from the top 20 by market cap are missing, such as Cardano and Solana.
Deposit Methods

Bank transfer (ACH)
Debit card
Wire transfer


Deposit Fees

Cryptocurrency: None
Wire transfer: None
Bank transfer (ACH): None, bank fees may apply
Debit card transfer: 3.49%

Withdrawal Fees

Cryptocurrency: None for first 10 withdrawals of each month
Other: None for first 10 withdrawals of each month

Trading Fees

Order amount below USD 200: USD 0.99 - USD 2.99
Order amount over USD 200: 1.49%
Convenience fee: 0.50%
How does play-to-earn work with My Crypto Heroes?
There are several ways you can earn while playing My Crypto Heroes.
Participating in quests and finding rare items that can be sold for ETH.
Participating in online battles to try to win rare Extensions that can be sold for ETH on secondary marketplaces.
Create art and sell it in the Art market for GUM.
Buy and sell your Heroes and Extensions in the game's Shop or third-party markets for a profit.
Recycle your extensions for TOKU points. TOKU points rank you higher in the TOKU season earning you rewards like Heroes, Extensions, GUM or tickets to exchange for rewards.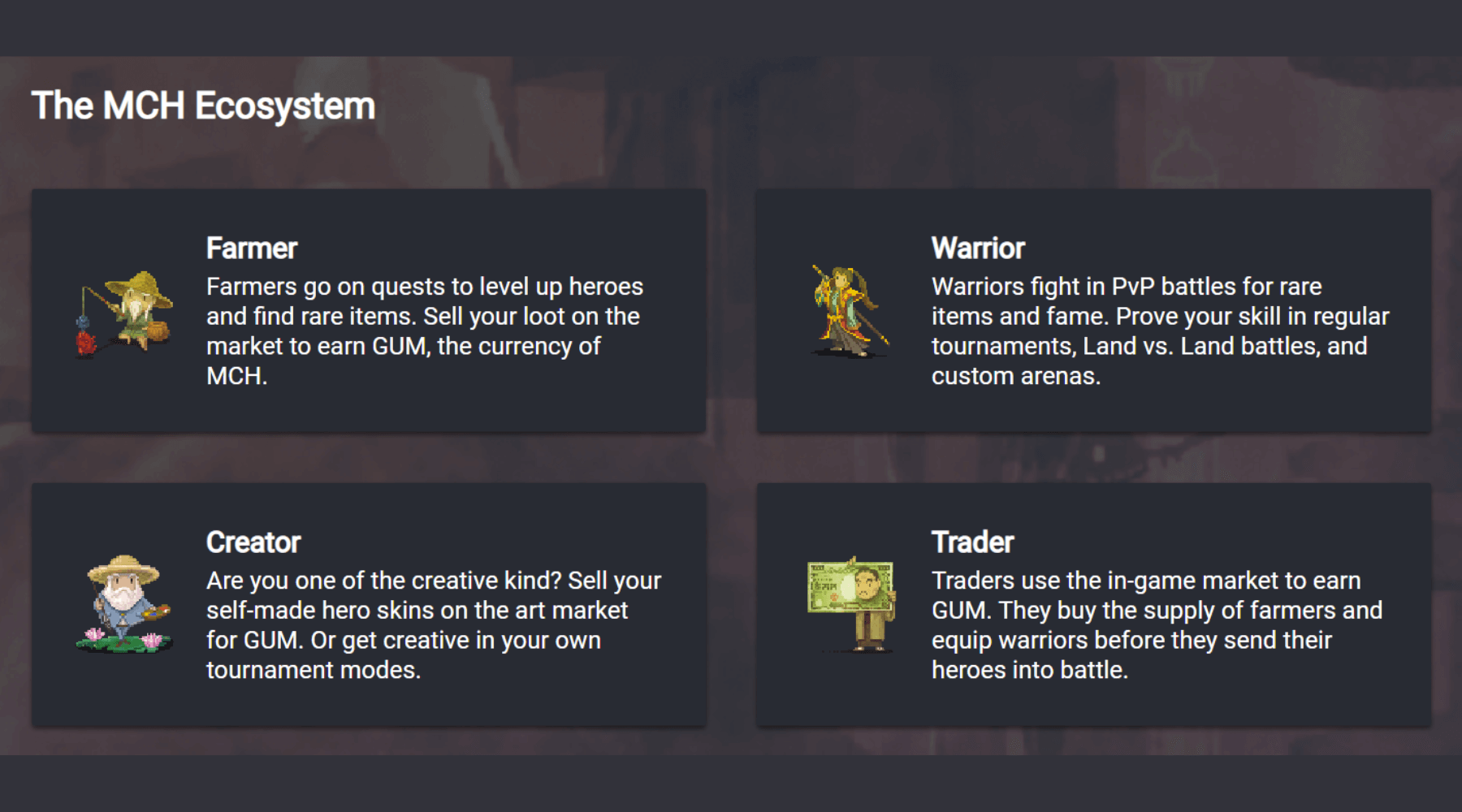 Image source: My Crypto Heroes
What are My Crypto Heroes NFTs?
There are three types of NFTs in the game: Heroes, Extensions and Land.
Heroes
Heroes in My Crypto Heroes' game have two types of skills: active skills and passive skills. Active skills can deal damage and debuff enemies, and heal and buff your Heroes. Passive skills are more powerful than active skills and are triggered under particular conditions.
There are five rarities of Heroes and they have a limited supply.
Legendary: 20, and 10 for Limited Legendary
Epic: 100
Rare: 250
Uncommon: 1,000
Common: 2,400
My Crypto Hero only sells new Heroes in the shop.
Extensions
Extensions are tradable items that can be earned or collected. They're available in two types: original and replica.
Original extensions have more benefits than replica extensions. Original extensions can be upgraded and traded on various NFT marketplaces.
Replica extensions can't. They can be bought in marketplaces or found in dungeons where enemies drop them.
Land
Owning a land comes with several benefits, which include having a share of GUM rewards generated by members of the land. There are also roles in Lands, such as King, Lord, Citizen and more.
There are nine Lands:
Blueberry
Grape
Graphite
Lime
Ocean
Ruby
Sage
Strawberry
Tangerine
You can search for Land on marketplaces such as OpenSea.
How to get NFTs on My Crypto Heroes
Use the My Crypto Heroes marketplace (Shop) to buy NFTs. To do so, you need a crypto wallet and the correct cryptocurrency. My Crypto Heroes doesn't offer refunds, so keep that in mind.
The Shop allows you to buy the in-game currency GUM, Heroes and the Prime Membership — more to follow on that. You can also do peer-to-peer trading.
Simply browse the store to find the NFT you are looking for. Once you find one you want, choose the image and complete the transaction.
You can also buy My Crypto Heroes NFTs on OpenSea.
Image source: OpenSea
Compare marketplaces to buy game NFTs
How to sell NFTs from My Crypto Heroes
To sell your owned My Crypto Heroes NFTs for ETH, visit OpenSea. You can also trade your NFTs with other players on the My Crypto Heroes' Shop for GUM.
You can sell your Heros on My Crypto Heroes' marketplace using a Dutch Auction. The GUM price listed will go down over time until someone buys it.
Or, sell your own My Crypto Heroes pixel art for GUM. Players that buy your art can get an active skill for their Heroes.
Unique game features
A Prime Membership will help you earn free daily GUM, more CE when completing quests, free revivals, and give you access to exclusive levels in nodes and much more. Visit the My Crypto Heroes Shop to buy the Prime Membership.
About the My Crypto Heroes developers
My Crypto Heroes was created by double jump.tokyo, Inc., a Japanese blockchain-developed company established in 2018. It has multiple investors including bitFlyer, Bandai Namco, Access Ventures, Polygon and Protocol Labs.
The founder and CEO of double jump.tokyo, Inc. is Hironobu Ueno. He's the former executive officer and technical fellow of Mobast Co., and has experience directing the design and development of games and smartphone applications.
The people behind double jump.tokyo are featured on the company's site, with full biographies and even photos.
My Crypto Heroes roadmap
The last roadmap that was released for My Crypto Heroes was from July to September 2021. The biggest update coming up is a Crafting system, announced and voted on in May 2022. Other updates and new features include:
Soul Rental
Awakening
Hero Aura
For the latest updates and news around the game, we recommend following the My Crypto Heroes' Twitter, joining the Discord server, or reading the latest My Crypto Heroes blog posts on Medium at Medium.com/mycryptoheroes.
Bottom line
To say this game is complex is an understatement. There are many features and mechanics that take getting used to, but that's not necessarily a bad thing for everyone. The developers put a lot of thought and effort in this game, and many blockchain games are simple … maybe too simple.
For crypto newbies, My Crypto Heroes' learning curve may be steep. Learning how to play can be overwhelming, but if you're a fan of MMORPGs from Japanese developers, this may be your cup of tea.
My Crypto Heroes has many ways to play and earn, and a lot of literature in its Help Center if you have specific questions on game modes or mechanics, and you can play on PC or mobile. My Crypto Heroes also has many ways to earn and multiple game modes, so it has something for all types of crypto enthusiasts.